Jabra Elite 65t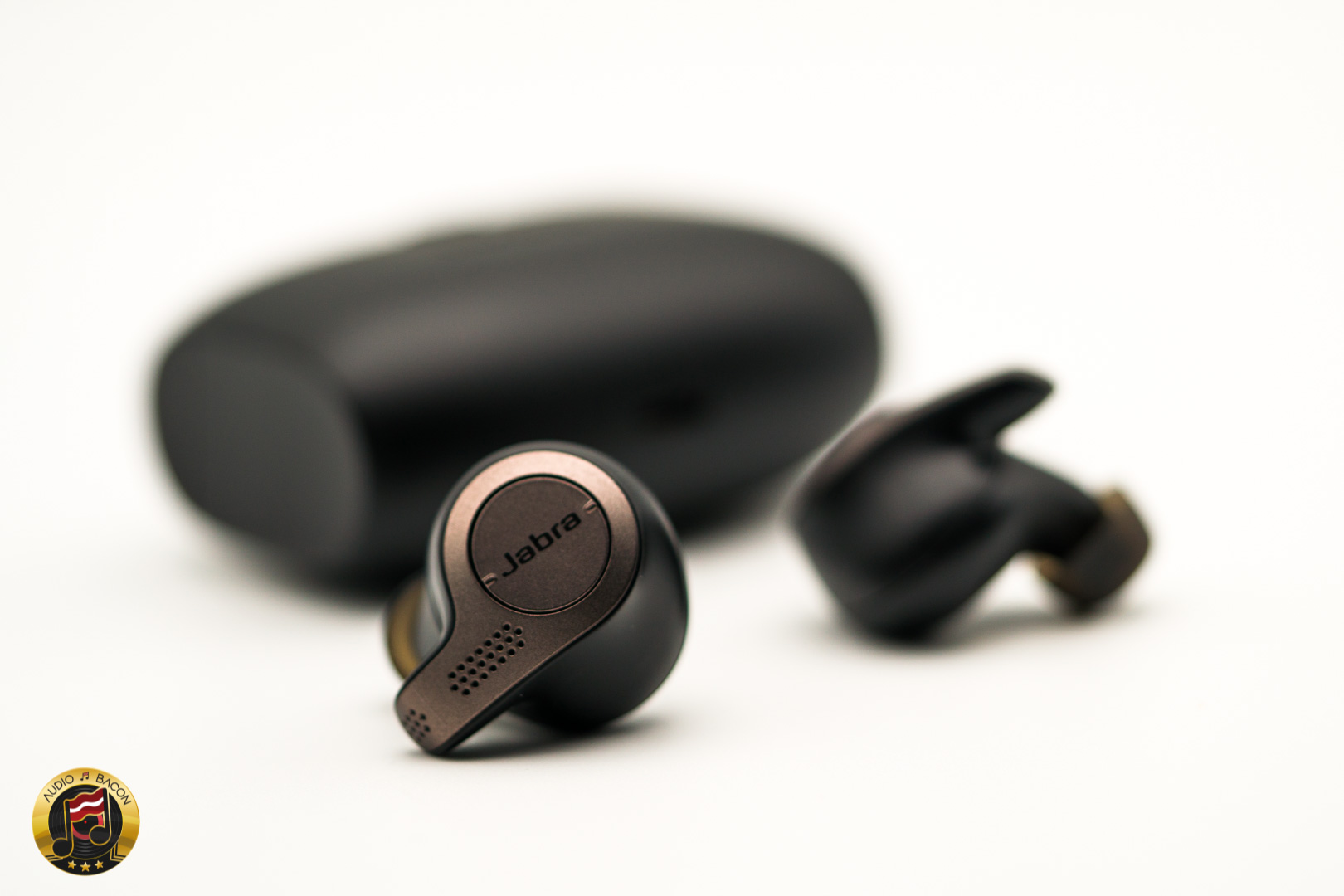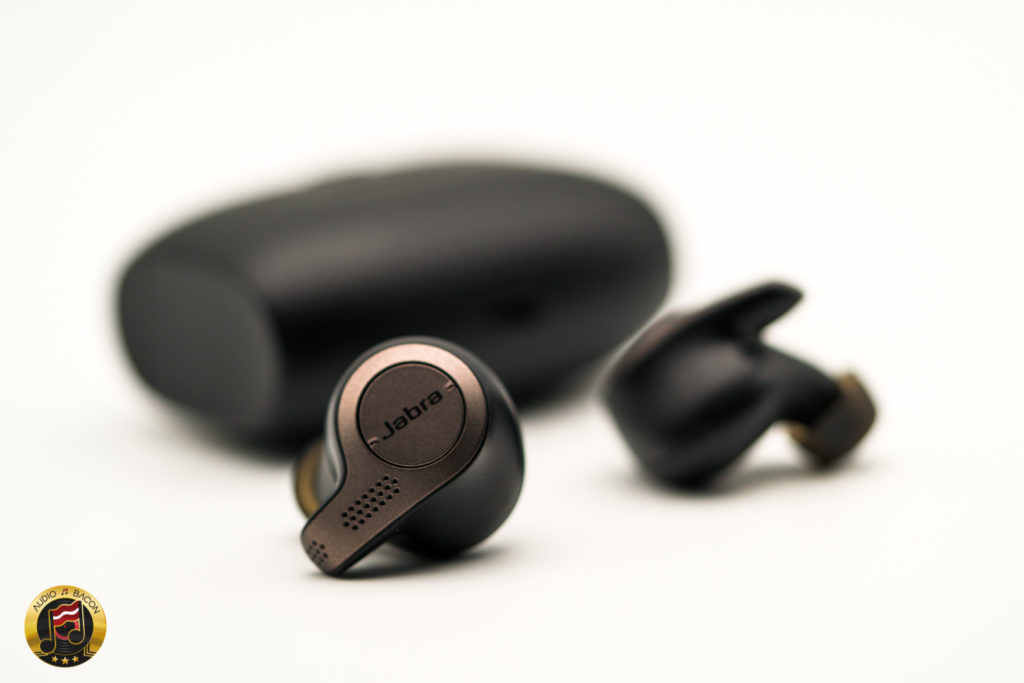 Setup
Firmware: 2.34.0 (1033)
In the Jabra Android app, I boosted the mids and highs a tiny bit to get more meat on the bones while highlighting some air and clarity.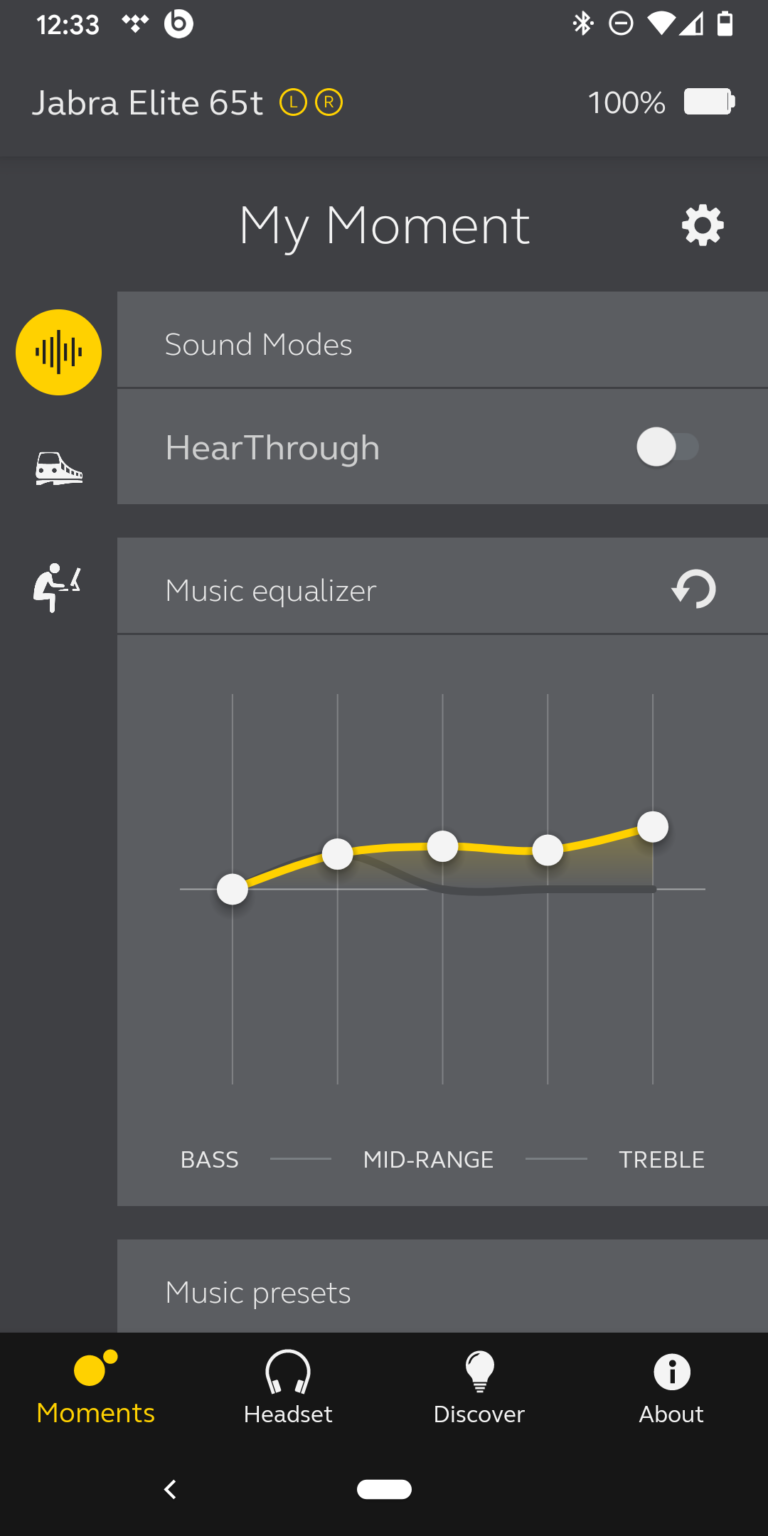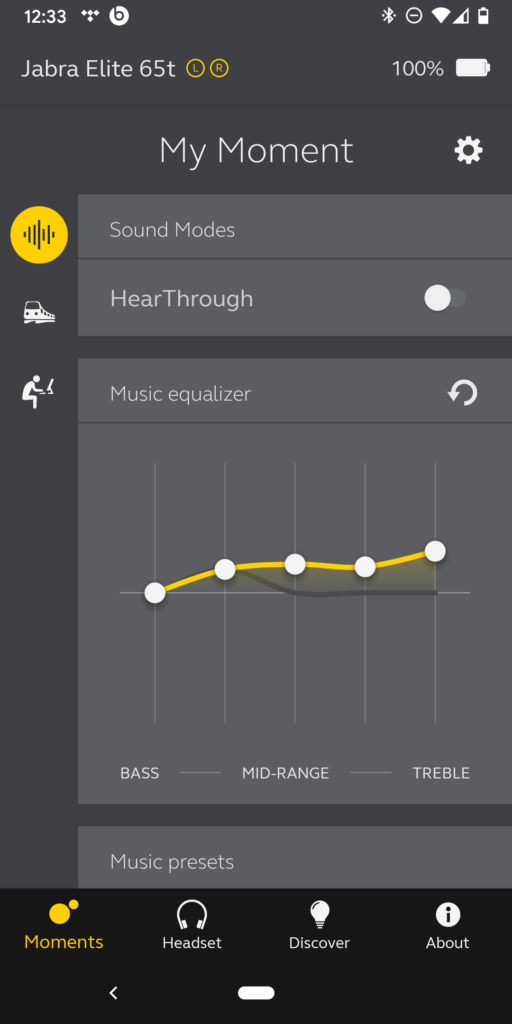 Sound
This earphone is more midrange-focused with a sweeter, soothing sound. Vocal recordings, in particular, sounds very good. It doesn't offer up much resolution, separation, or clarity, however. There were quite a few tracks where I expected more sparkle but it fell flat on its face. If you're looking for transient speed and transparency – look elsewhere. The image is flat and there isn't much of an atmosphere. I also experienced a little bit of channel imbalance (slightly more volume on the left).
That said, it's still a good sounding earbud. Although I wouldn't pay more than $100 for it. The sound is soft, analog-like, but doesn't breathe out in detail and dynamics. There's a slight clouding of textures in every track but that adds warmth and body. To sum it up, it's a mellow, foggier sounding earphone with a sip of Red Bull. There's nothing super special about its sound quality – and nothing super terrible.
Comparisons
Sennheiser Momentum True Wireless: Jabra's tone is more convincing but Sennheiser has better bass and a larger "fun factor." The Sennheiser is also blacker, smoother, and much more atmospheric. Both aren't very warm sounding but the Sennheiser is more engaging over time. The Jabra has a smaller sound, more laid back, but actually has a tighter (albeit edgier) image.
1More ANC TWS: Although the 1More has higher performance qualities – there's a skew to the sound that's a little weird. Like it's bending the sound in a curve. As a result, acoustic positioning is somewhat confusing. The Jabra just sounds more coherent overall. The 1More sounds more natural as far as tone (more soul), but the Jabra is more accurate as far as imaging.
Samsung Galaxy Buds: Although I enjoy the richer tone and smoothness of the Jabra, the Samsung is quieter, more detailed, and more precise. The channel imbalance is also a bit offputting on the Jabra (not sure if this is a common problem). As far as artistic intent, I think the Jabra 65t gets closer. The Samsung is colder, thinner, and a coarser in the mids.
Jabra 75t: The 75t is MUCH better than the 65t. More condensed, warmer, more coherent, and more accurate timbre. Save for the 75t.
Side Notes
The buds aren't magnetically connected to the case – and are easy to fall out.
If that channel imbalance is a real problem that can't be fixed by firmware – it's difficult to recommend the 65t for music.
Who should buy this?
The Jabra 65t does a decent job of balancing tone and resolution. The channel imbalance is quite irksome but might be a one-off case. There are better options at this price point for sound quality – one being their own 75t for $30 more.