Intro
1More has been kicking ass and taking names. Known for their award-winning triple and quad-driver IEMs – they've now entered the wire-free world with their 1More Stylish True Wireless In-Ear headphones.
I've been a huge fan of 1More's "musical" tuning – which is done by Grammy-winning sound engineer, Luca Bignardi. In addition, their packaging, build, quality, and price makes them one of the most popular headphones in the market today.
It wasn't until I started traveling more – when I realized I wanted something more convenient over the larger wireless headphones. They were a bit of a hassle to take out of tight spaces and just felt bulky at times. I wanted something that could fit in my pockets or was easily accessible from a bag. True Wireless Stereo (TWS) earphones seemed to be the solution.
TWS earphones were definitely the craze at CES 2019 – and that's when I was introduced to the 1More Stylish True Wireless In-Ear headphones. Let's jump right in.
Setup
Every TWS earphone seems to follow a different set of rules in pairing and operation. Connecting to some of these earphones just isn't as intuitive. Ironically, the cheaper ones seem to be the easier ones to connect with.
So I find myself looking at the manual more often. As for the 1More, what's funny is that in order to download the manual from the website, you need to sign into Dropbox. And in order to find the English section of the paper manual, you have to flip to "EN" section which is in the first 25 or so pages. Not a big deal – just a bit odd.
Luckily setting up the 1More was hassle-free. Enter the pairing mode on the earbuds (hold for 2 seconds initially), select it on your phone, and you're in. You do have the option to use both or just the right earbud. Just insert the left bud back into the case. This is useful when you need to be aware of your surroundings.
In my weeks of listening, I never had the 1More drop a connection – which in itself impressive. Most TWS earphones are bound to drop out randomly at times – it's almost something that's expected. But, from my experience, the 1More never faltered. Which is nice. As always, YMMV.
Battery Life
1More mentions 6.5 hours of use at 50% volume. I got about 5.5 hours at my typical listening levels. Not bad at all! That's enough for most domestic flights – and anything beyond that is probably not good for your ears anyway. If you do need an extra 3 hours, just place the buds in the charging bay for another 15 minutes. Pretty speedy. The case itself will provide three full charges.
Build
The look of the black buds themselves isn't that stylish – more simplistic. I think aesthetics kick in when you grab one of the gold, green, or pink ones:


As far as the case, it's chubby and very round and oval. It also has a click-lock which is nice. To my surprise, it feels really good in your hands. So much so, I find myself playing with it like those Chinese meditation balls. It's soothing – and kinda zen. You laugh at me now – but you watch. You're going to do it too. It's just so cute and bally.
Control Button
The placement of the control button is very thoughtful. Whereas every other TWS I've tried requires you push into your ear, the control button on the 1More is at the top. This makes it really easy to lightly grip and press. Genius.
But there is one problem in functionality. I can't get to the previous track! Clicking three times repeats the current track most of the time. Other times, it'll actually move the previous track. It's very inconsistent. A bit of bummer when the next track already starts and you really want to quickly go back the previous one. I'll have to do it from my phone. Moving up a track (double click) works flawlessly though.
Now, this could be a one-off as I don't seem to see anyone mentioning this problem from a quick Google search. I'll have to talk to 1More about that.
I have Google Assistant devices in every room in the home so I don't usually use the voice control features of TWS earphones. But if you're a weirdo who likes to use this function in public – just pause the music and double click.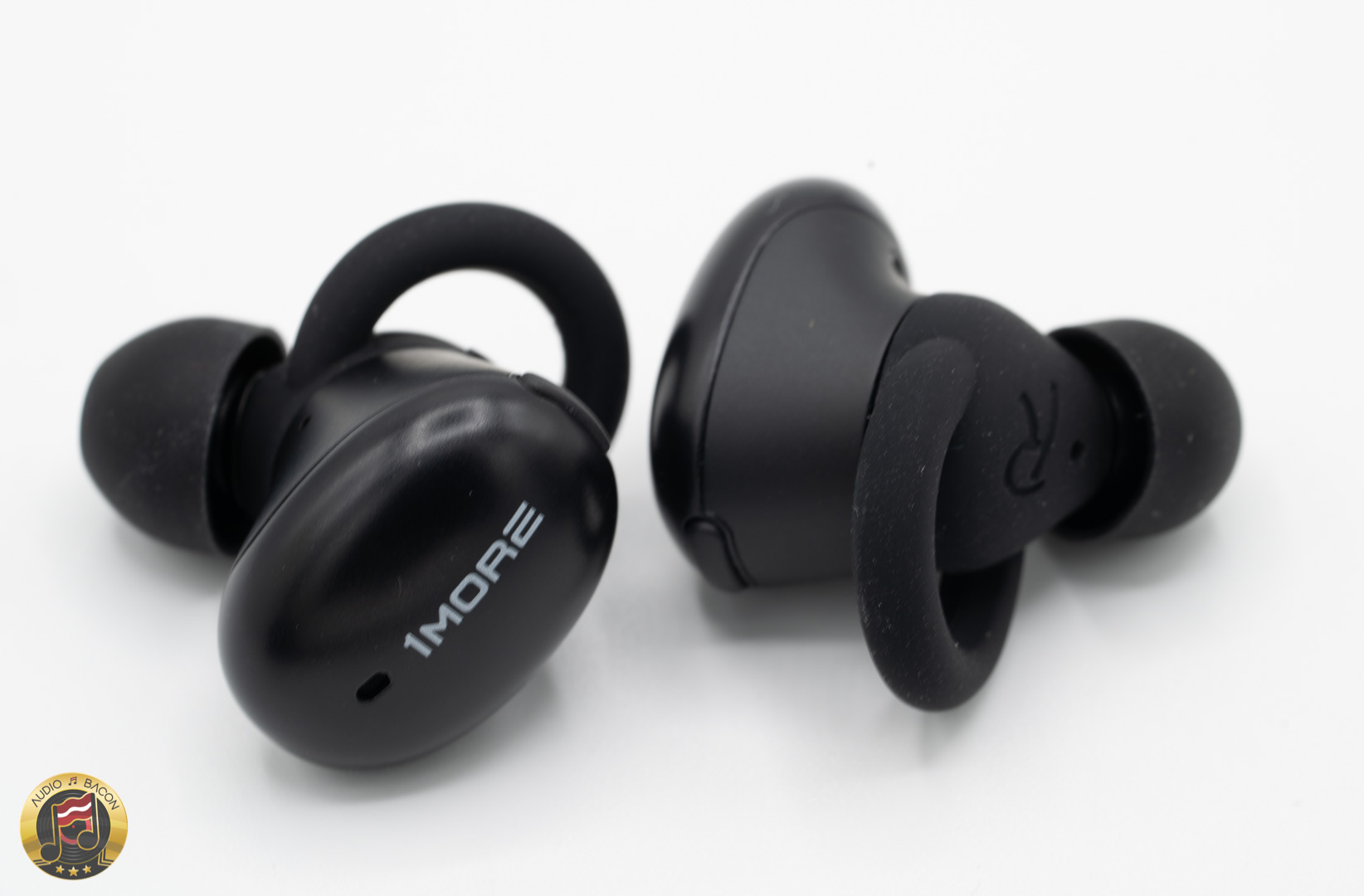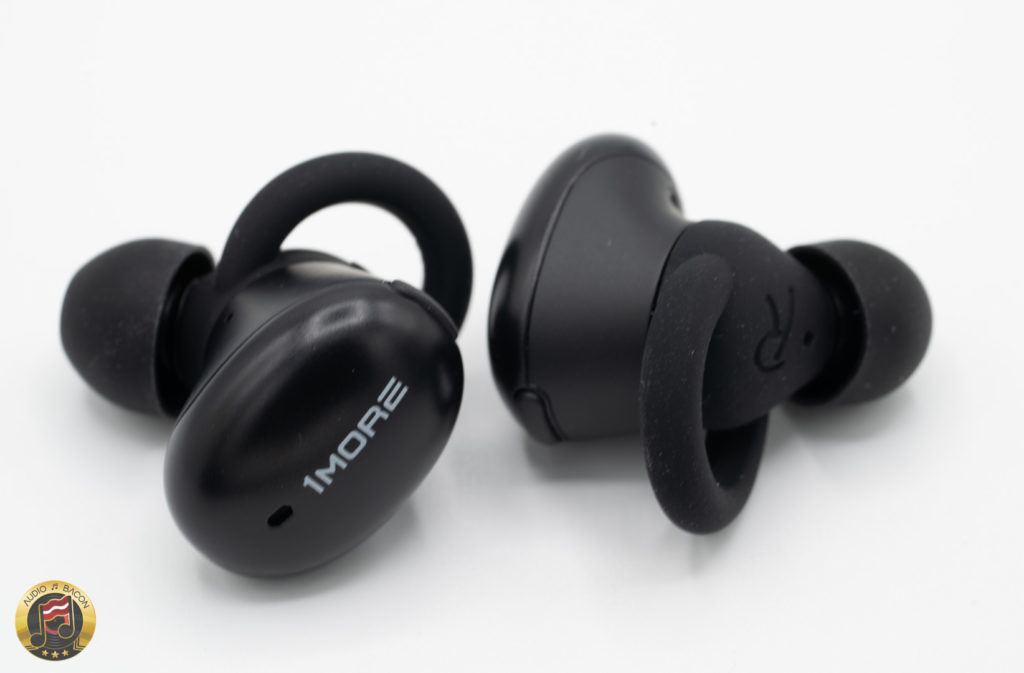 Isolation
Due to its deeper insertion (the earpiece…you pervert), the 1More offers excellent passive isolation. Of course, your ear tip selection will affect the magnitude of isolation. With the AC running a few feet away, it was actually able to block a surprisingly amount of hum. The only true wireless buds that did better were the Sony WF-1000XM3 with their ANC and the Jaybird Vista.
Comfort
As with all earphones, you have to find the right fit. I had to use the 2nd largest tips in order to get a good seal. It's a pretty huge difference, not just in comfort, but in sound and isolation. If you're not getting the ear tips right – you're just not going to enjoy these earphones.
I was able to listen to these earphones for five hours straight without any discomfort. In fact, they're so lightweight, I forgot they were in my ears. Always a good sign.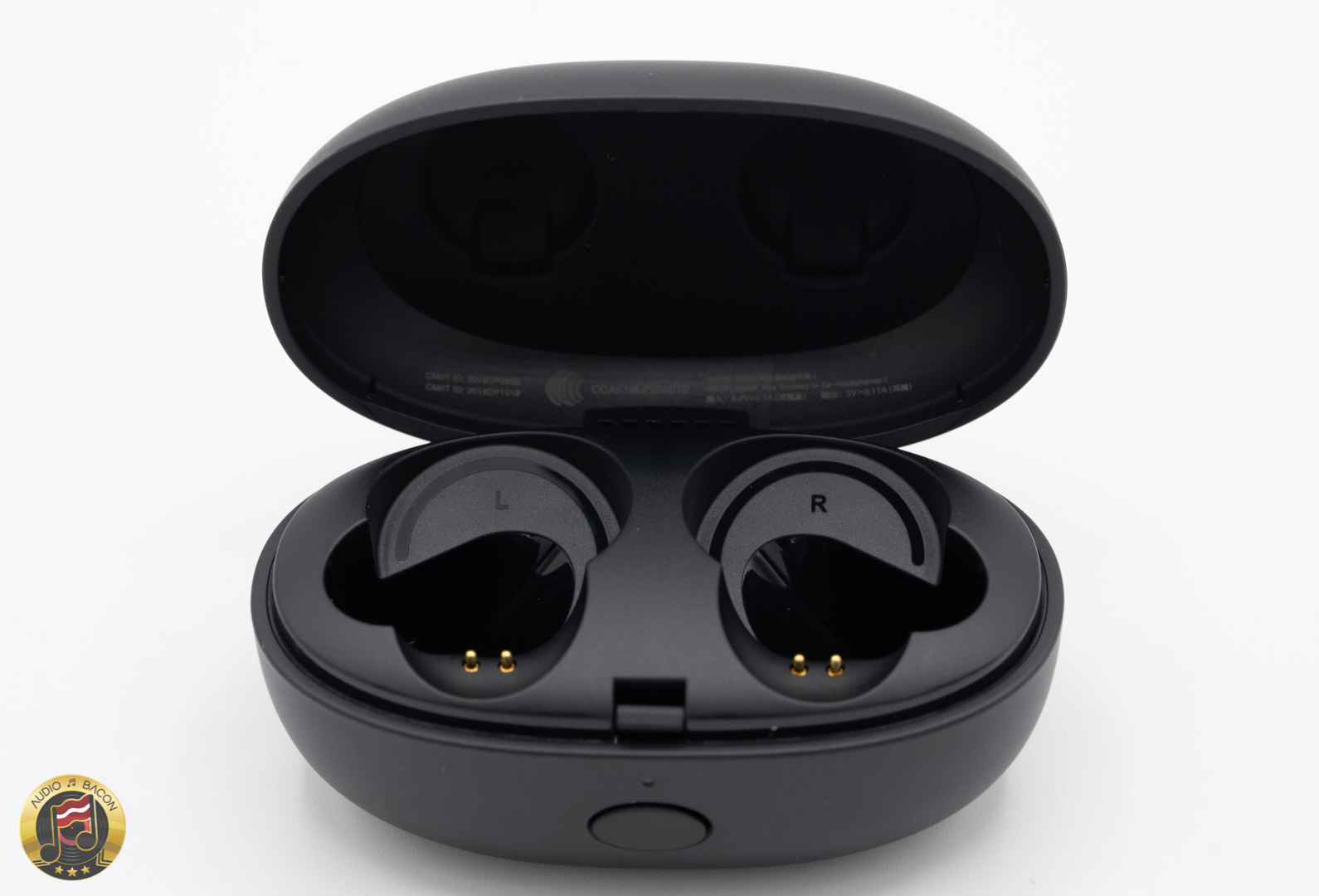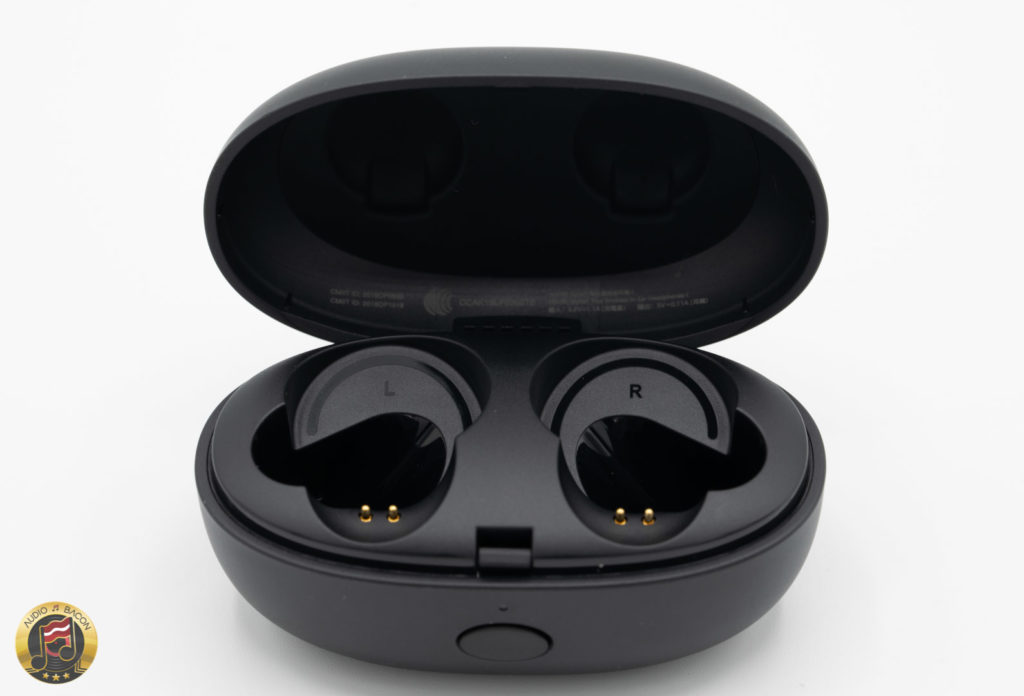 Use Case
My common use case for the 1More Stylish is in the office, on the bed, during a commute, and remote work at a coffee bar. I also brought it around during my travels with no problems. As long as I wasn't jumping up and down or violently tilting my head like a zombie, it worked perfectly fine.
Exercise
As far as sweat, I had no issues with the 1More Stylish. It seems to handle moisture just fine. However, during activity was a different story. I tried using these on a 5K run. It wasn't fun. I had to keep poking them back into my ears – and they did fall out once.
Using Comply foam tips provided much more confidence (they didn't fall out) but it made the sound even richer (too bassy). So in the end, I just didn't use these earphones for workouts – which is a bit of a shame given how fun they sound.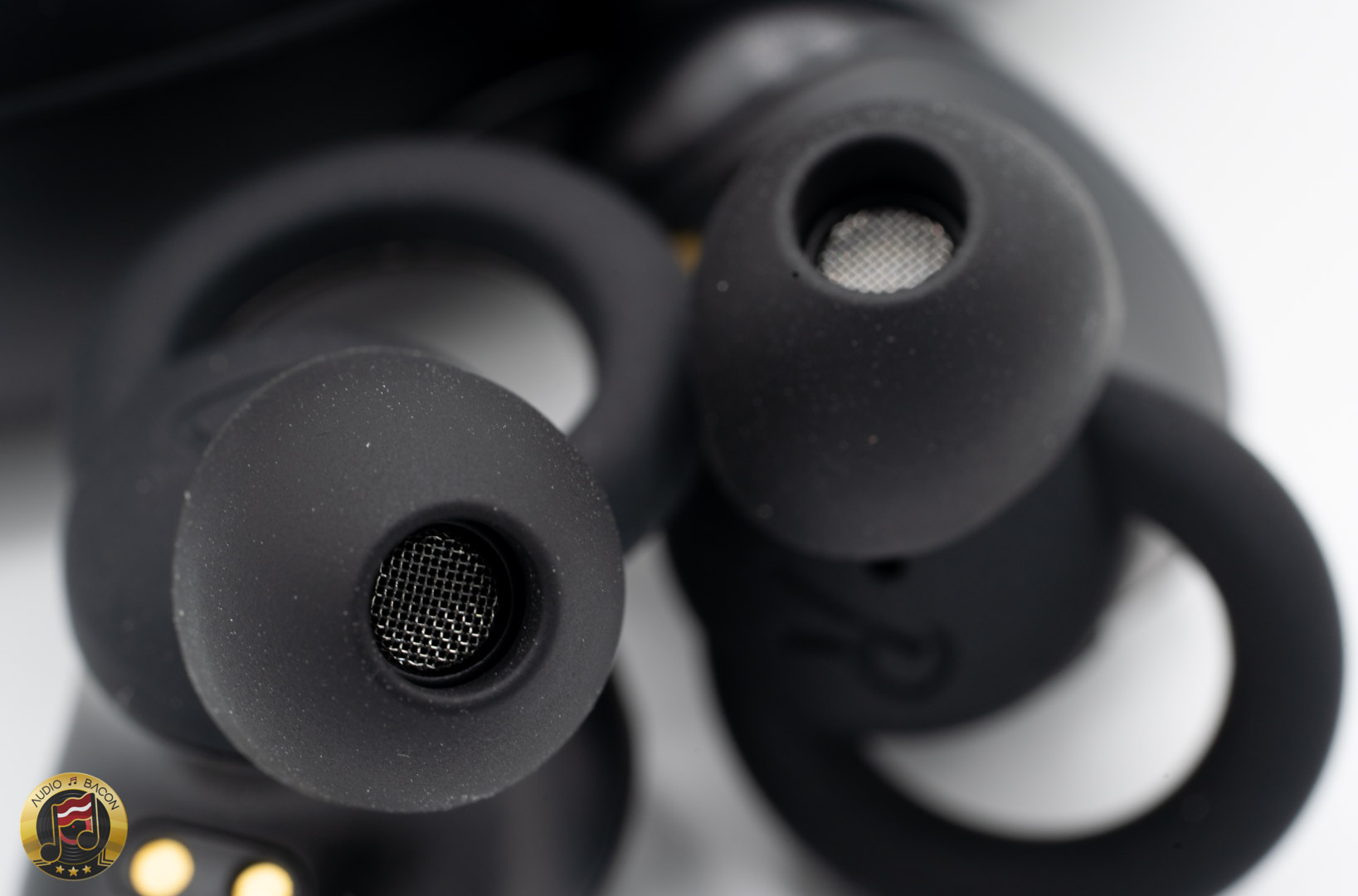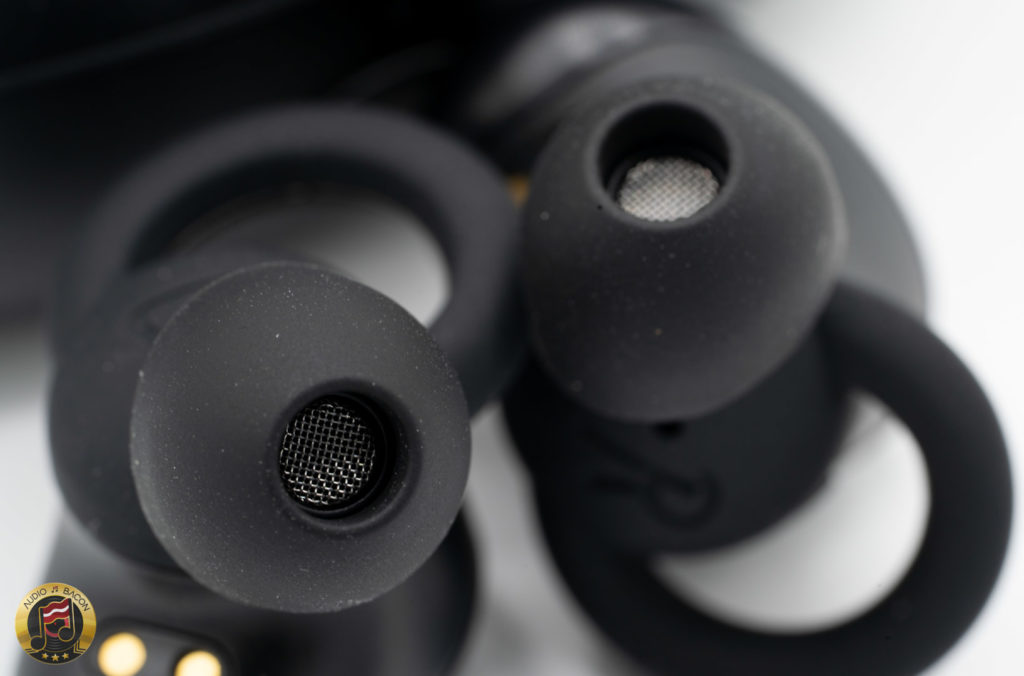 Phone Calls
Let's be honest, the call quality on most true wireless headphones – suck. With the 1More Stylish, it's "usable." With its Environmental Noise Cancelling (ENC) noise-canceling technology, it does cut the noise. But the cost is a flatter more "hand over the mouth" sound.
At times the receiver mentioned a static, a slight echo, robotic, and a grainy sound. Words are still intelligible – but they're going to know you're using a true wireless earbud.
Sound Quality
Unlike many of the other true wireless headphones I've heard, the 1More Stylish TWS earphones sound very musical out the gate. And there's no app and equalizer to fumble with – because you don't need it. It also supports AptX! Bonus points there.
The tuning of the 1More Stylish is obviously towards the bass region. You won't get a lot of shimmer, sizzle, or shine but you'll get plenty of punchy bass, rich vocals, and a much meatier sound. You would think everything would sound smeared and veiled – but it isn't. It's refreshing given how thin and brittle these other true wireless earphones sound.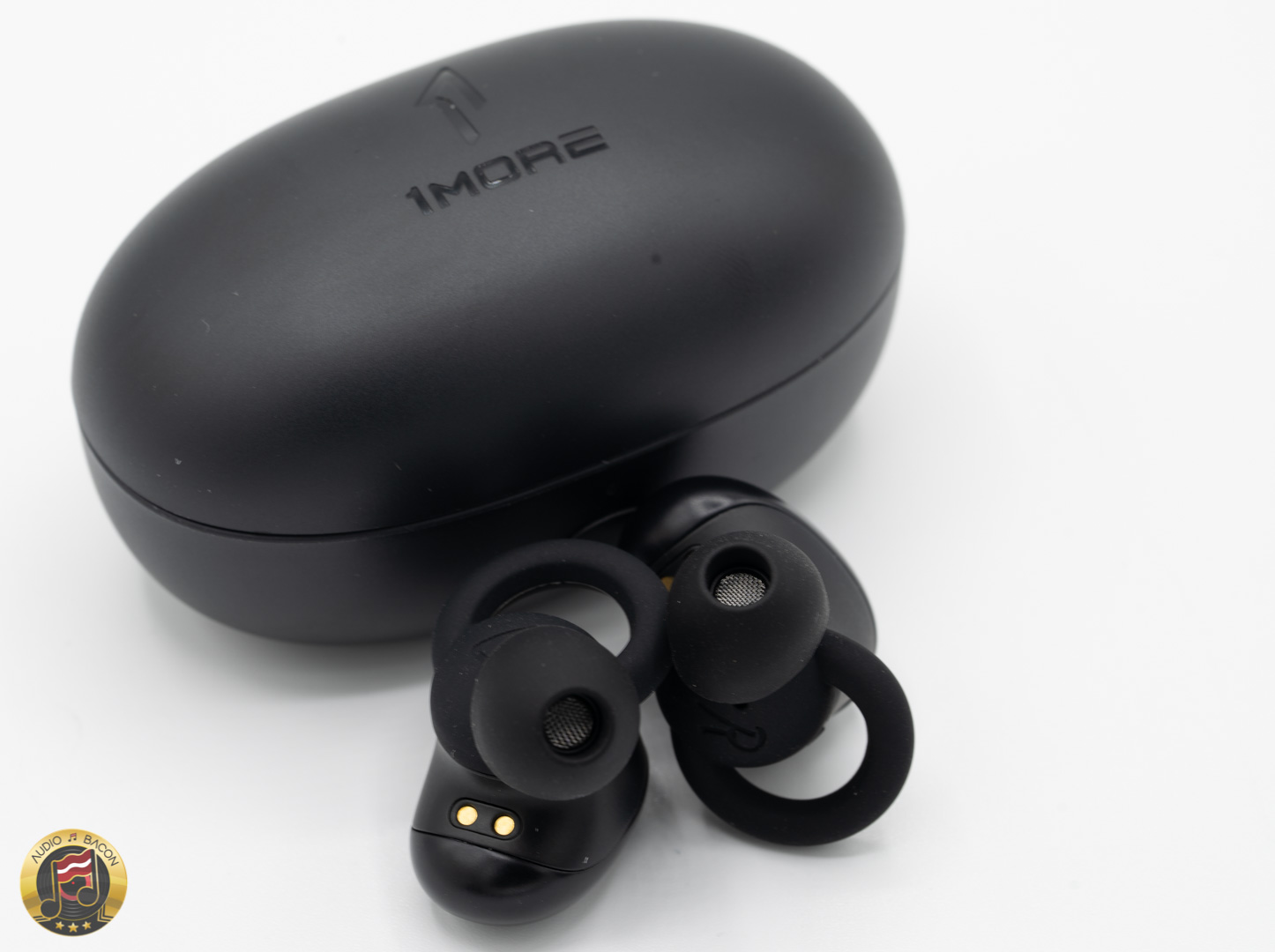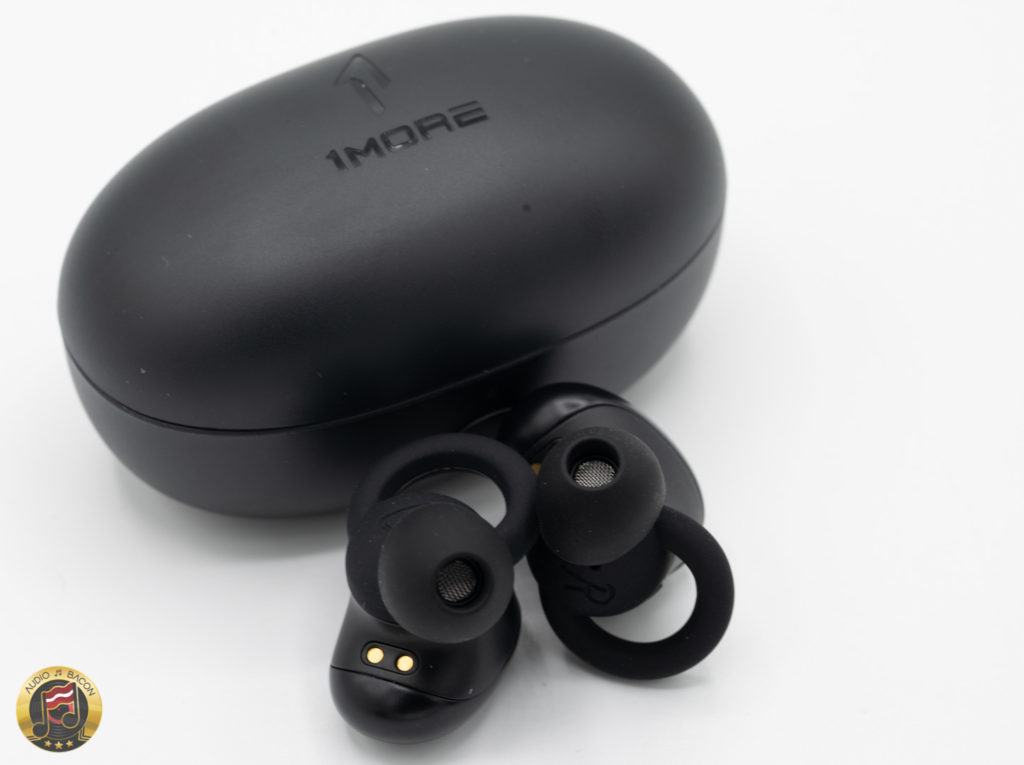 All about that bass…
But let's get back to bass. There's undoubtedly a boost in the sub-bass and mid-bass section. You're surely getting more weight than definition – which isn't bad. This makes listening to electronic music, hip-hop, rock, and any other bass-oriented music really fun. Consequently, piano, organ, brass, and drums sound fantastic.
Now, the bass isn't as tight or controlled but is plentiful. This does mean when things busy, you'll get more of a denser "blob" of sound. But these relentless thumps, rumbles, and slams are pretty much non-existent in most of the true wireless earphones I've heard. As far as casual listening goes – I think this character incites more toe-tapping enjoyment.
No treble…
Although there isn't much air or clarity in the midrange, voices, and instruments are very sweet and melodic. Not to mention dense and palpable. Consequently, music does sound more homogenized with a warmer sound. Some will say it's slightly veiled or muddied. But from a musicality standpoint – it does a very good job.
Those who prefer more transparency, treble presence, or delineation – will be disappointed. You won't get laser-focused imaging or a quiet background. You could also extrapolate from this that the soundstage is more intimate and not as open. That's just not the nature of the 1More. It prefers to get the blood flowing and your head bobbing.
The bottom line: The 1More Stylish True Wireless sounds organic, punchy, full-bodied, and imparts plenty of tasty textures. Although it doesn't really outline the performers or spotlight the treble well – it doesn't sacrifice a more realistically warm and tangible sound.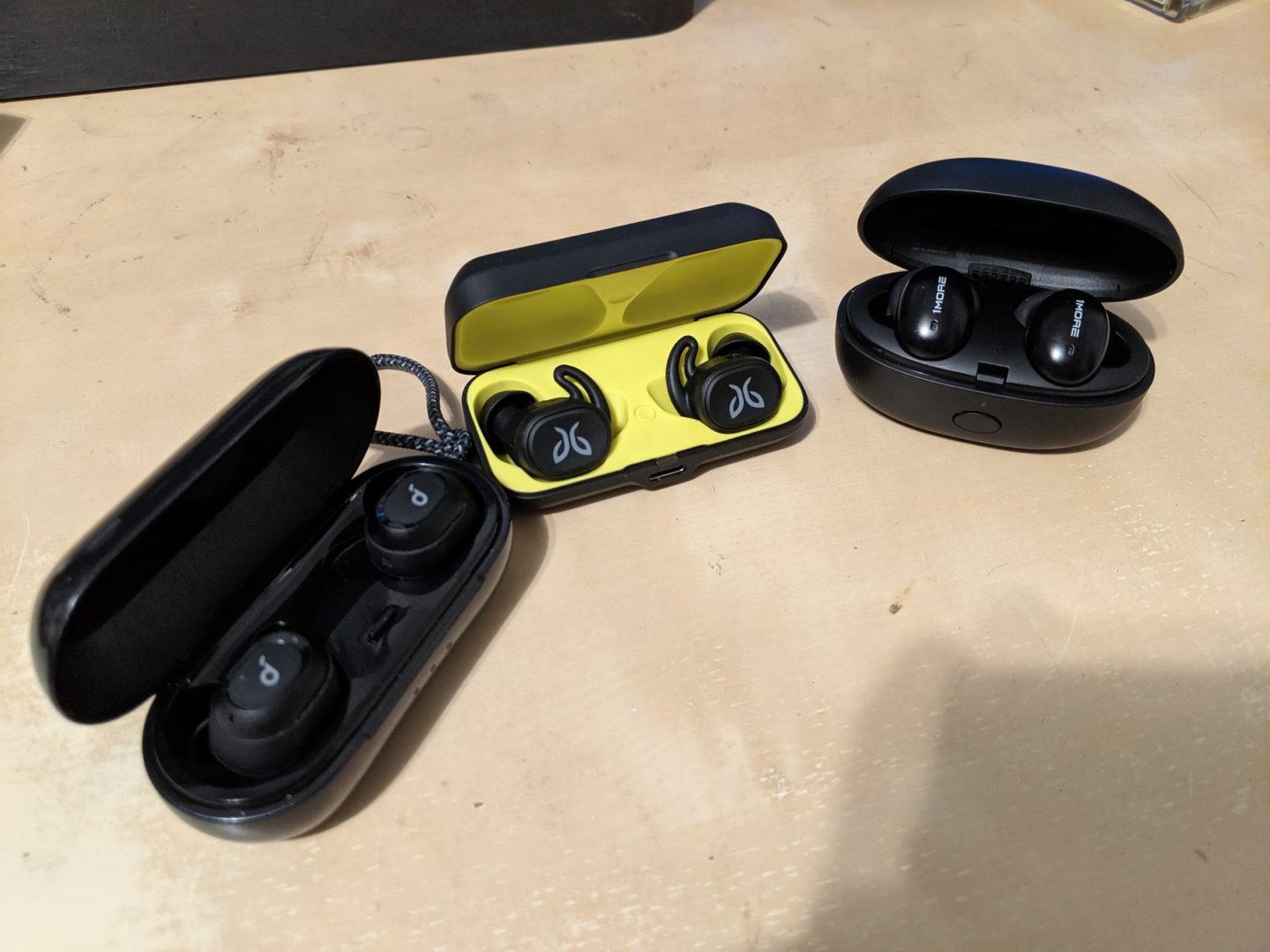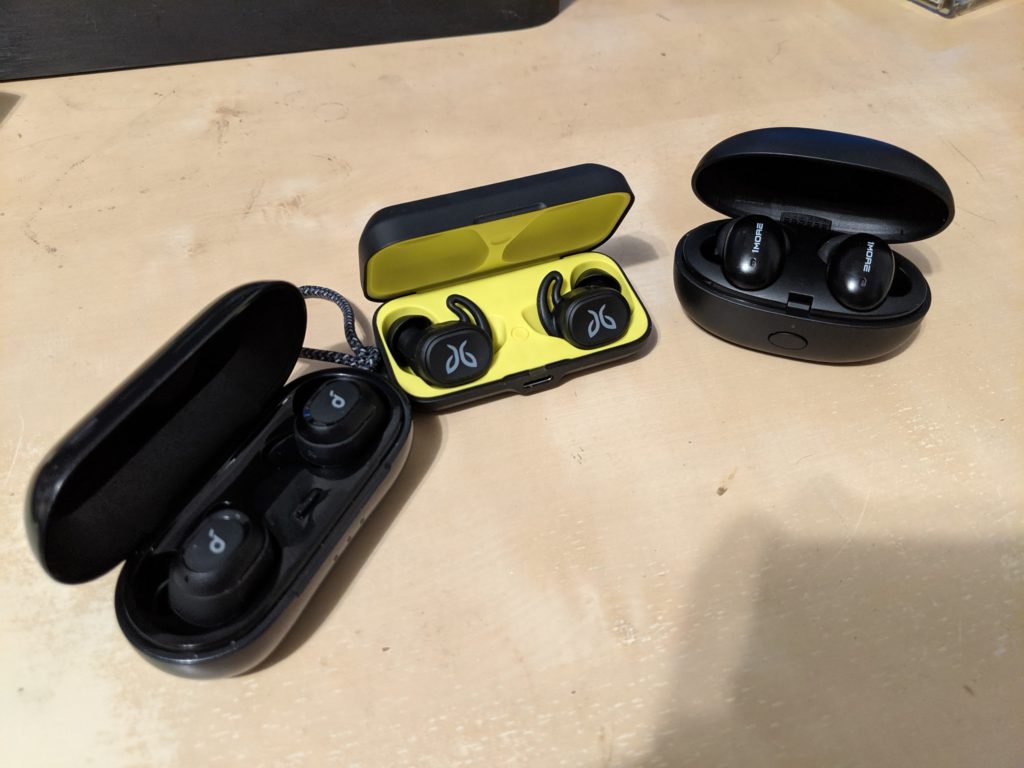 Comparisons & Alternatives
vs. Jaybird Vista ($180)
If you're willing to trade body and warmth for transparency – the Jaybird Vista could be a good alternative. You could also use the Jaybird Vista app to boost and cut where you want. The Jaybird Vista also has a better fit and is a magnitude better at passive isolation.
As far as sound, the Vista has a more laid-back, "HiFi" quality to it. It's quieter, has more precision, more brilliance, and is much cleaner. It also sounds quite thinner in comparison to the 1More – which I find to be less engaging. The 1More is so good at throwing its weight around, and to me, that creates a more impactful experience.
Overall, audiophiles will most likely prefer the Vista (after EQ). But I ran into a lot of connection problems with the Jaybird Vista. In addition, there's also an odd shift in volume from left to right. I most likely have a defective Vista so I'm having a replacement sent.
Update 2/27/2020: I got a replacement Vista and no longer run into connection issues.
vs. Soundcore Liberty Neo ($50)
If $100 is out of your budget, another alternative that sounds great for half the dollars is the Soundcore Liberty Neo. In comparison to the 1More, it has a bias towards treble with a coarser upper midrange. It's a little more aggressive but balances it out with some warmth. It certainly comes off sharp at times but does have more air mixed with some richness.
The 1More is more forward, is smoother, but isn't as open and spatially present as the Soundcore. Overall, the 1More still sounds more cohesive, tangible, and more bass-heavy. But if you're not a stickler for those qualities – save $50 and go for the Soundcore.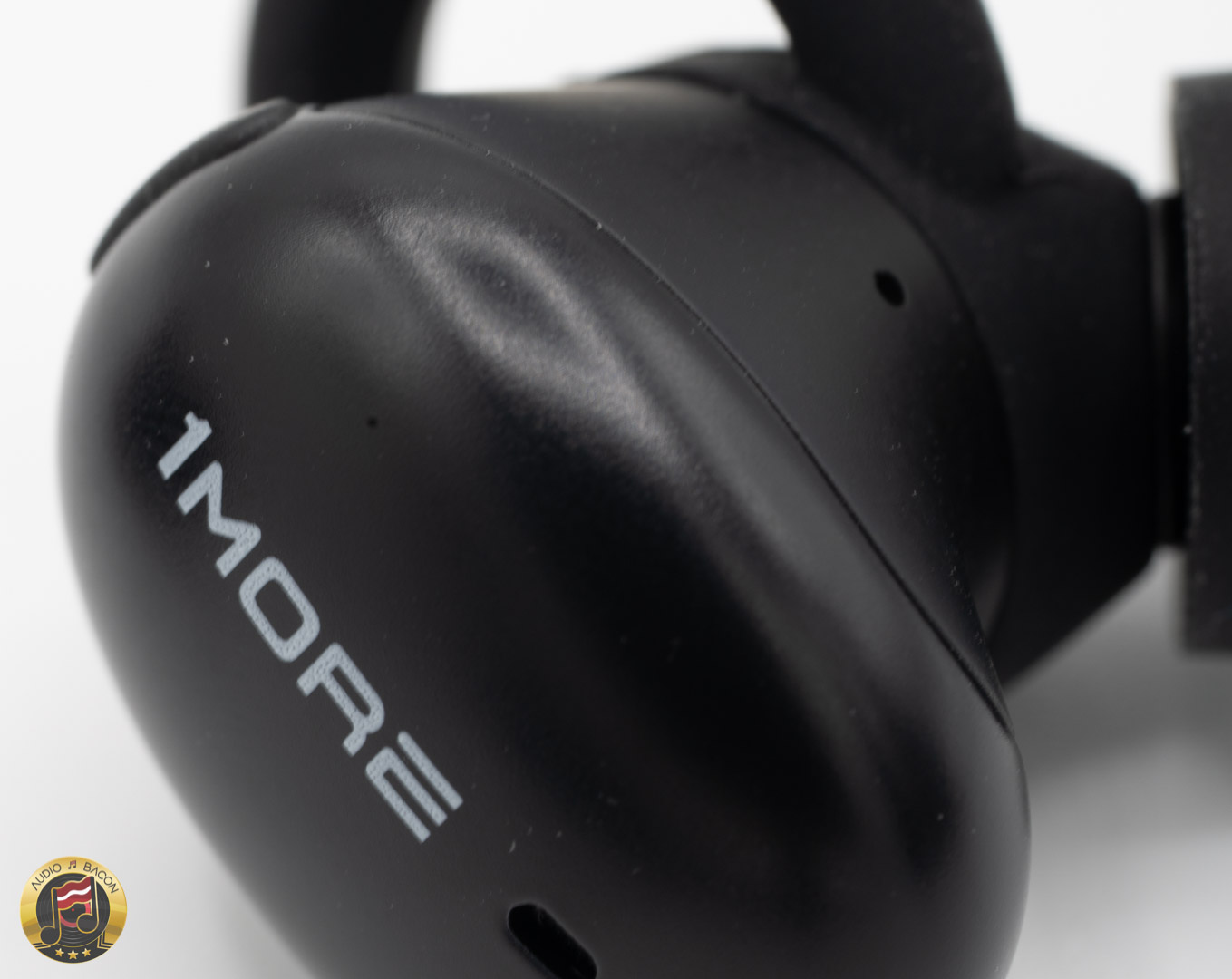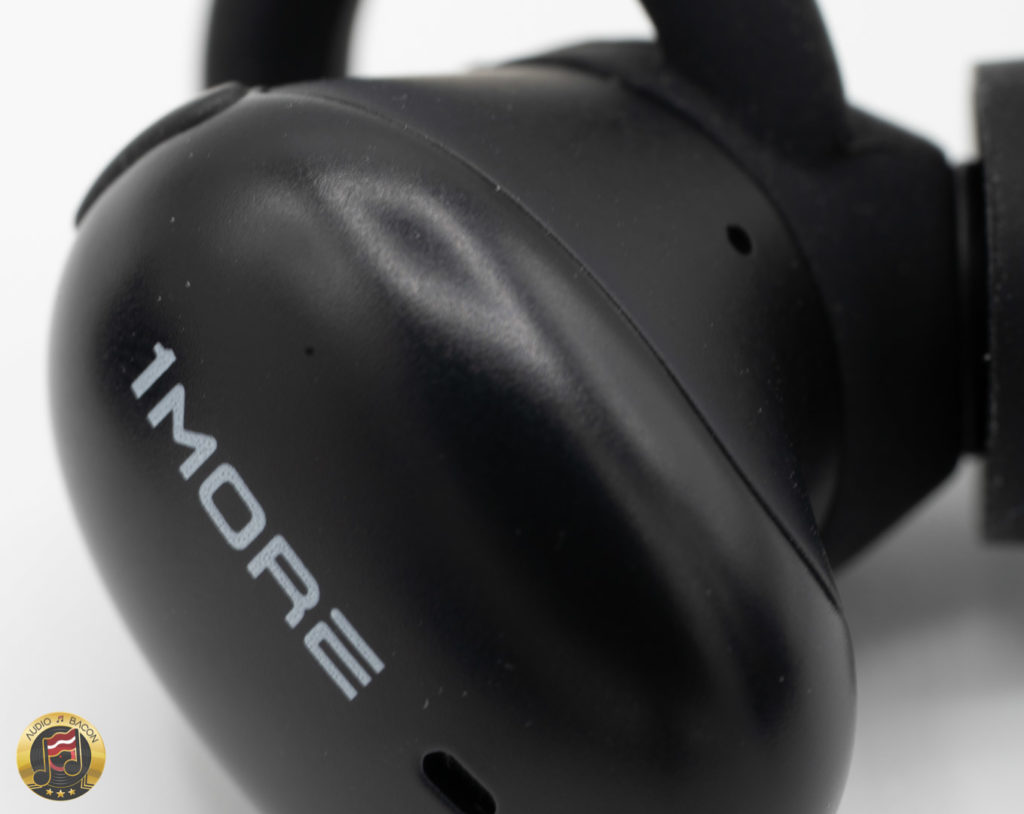 Final Thoughts
When I'm on the go, I want something easy to set up, sounds great, and is comfortable. The 1More Stylish True Wireless IEM fits this profile perfectly. As mentioned, the only gripe I have with it is the problem with going to the previous track consistently. This may be a one-off case since I didn't see anyone else mentioning it.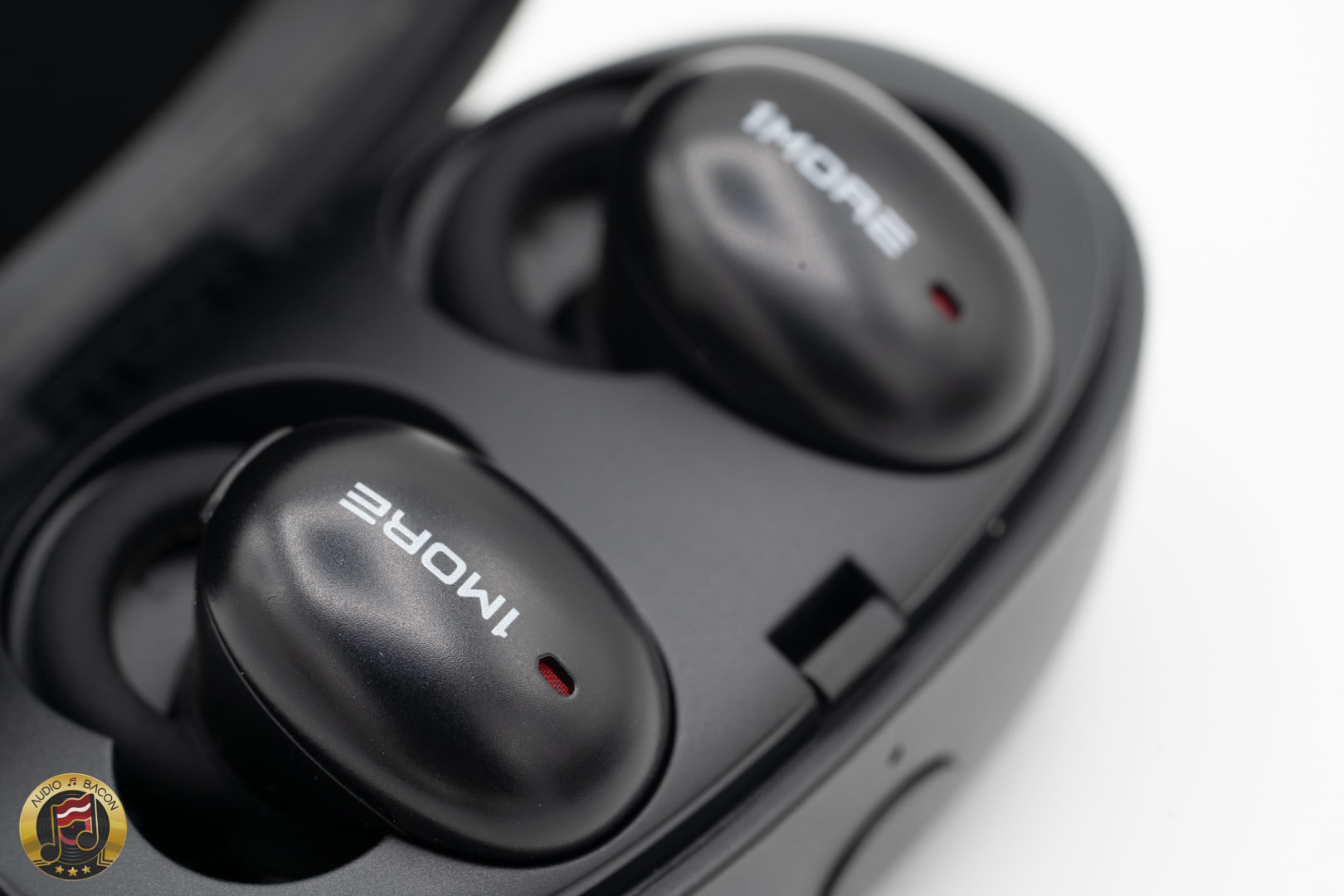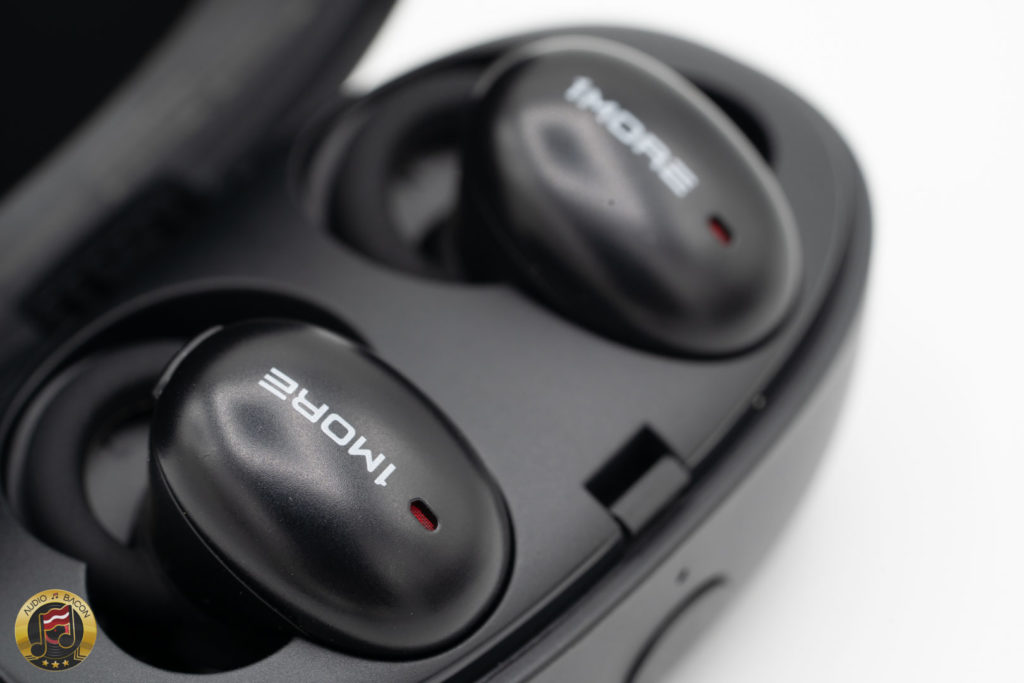 As far as sound quality, no complaints. It's rich, easy to listen to, and has bass for days. They sound smooth and enjoyable for music, movies, and even podcasts. Now, if you enjoy transparency, sparkle, and lots of air and clarity – the 1More will not be a good fit. The HIFIMAN TWS-600 or Sony WF-1000XM3 may be better options.
Notwithstanding faults, I have to admit the 1More Stylish True Wireless In-ear earphones does so many things right. For its battery life, sound quality, ease of use, and price – I've been taking the 1More Stylish True Wireless In-Ear earphones with me everywhere…but the gym. Also, it didn't give me nearly as many headaches as other cheaper or pricer true wireless headphones. For those reasons, I feel compelled to award them the Best in Class.
Purchase ($99.88)