Introduction
I've reviewed quite a few USB conditioners/regenerators and their variants in the past. Their job is to filter noise and reconstruct an accurate and jitter-free signal for your DAC. Many of them apply their own sound signature, which isn't a bad thing, as long as it does its job of phase correction and noise reduction.
When SOtM announced their new USB conditioner, the price and size gave me pause. The SOtM tX-USBultra is the largest (106 mm x 48 mm x 227 mm) and priciest ($990 base) USB conditioner I've ever reviewed. It's composed of SOtM's new superclock sCLK-EX ($700), which is undoubtedly one of the world's best clocks, and I believe a portion of their tX-USBhub. For all the technical details please take a look here.



I could go into features and functionality but I believe I could provide more value by going straight into the setup and sound quality.
Equipment
Over the course of a few weeks, I've used a variety of headphones/speakers and components in order to optimize the system and grasp the overarching benefits of the tX-USBultra.
Source

Chord DAVE + High Fidelity Cables CT-1 Ultimate Power Cord
Gigabyte BRIX Roon Server

Windows Server 2016 Standard
Audiophile Optimizer 2.20 Beta 5
Crucial M4 2.5″ 64GB SATA III MLC (OS)
1 TB Samsung 960 EVO M.2 SATA III MLC (Library)

SOtM sMS-200 + SOtM mBPS-d2s

Power

High Fidelity Cables MC-6 Hemisphere

Vibration Isolation

SVS Soundpath
Isoacoustics Aperta
Isoacoustics Subwoofer

Speakers/Headphones

Omega SUPER 3i
JL Audio Fathom F110 V2
JPS Abyss AB-1266
Meze 99 Classics

Interconnects

Danacable Sapphire Reference IC
High Fidelity Cables CT-1 Enhanced interconnects
High Fidelity Cables Reveal RCA interconnects

Speaker Cables

Danacable Sapphire Reference Mk.2
High Fidelity Cables CT-1 speaker cables
High Fidelity Cables Reveal speaker cables

USB cables

Kimber KS2436 USB
Kimber KS2416 USB
Curious USB
Purist Audio Design Ultimate USB
Purist Audio Design 30th Anniversary USB
Audience AU24 SE Standard USB
Clarity Cable Natural USB
Danacable TruStream USB
Chord Company Silver Plus USB

Ethernet Cables

2 x SOtM dCBL-CAT7 + SOtM iSO-CAT6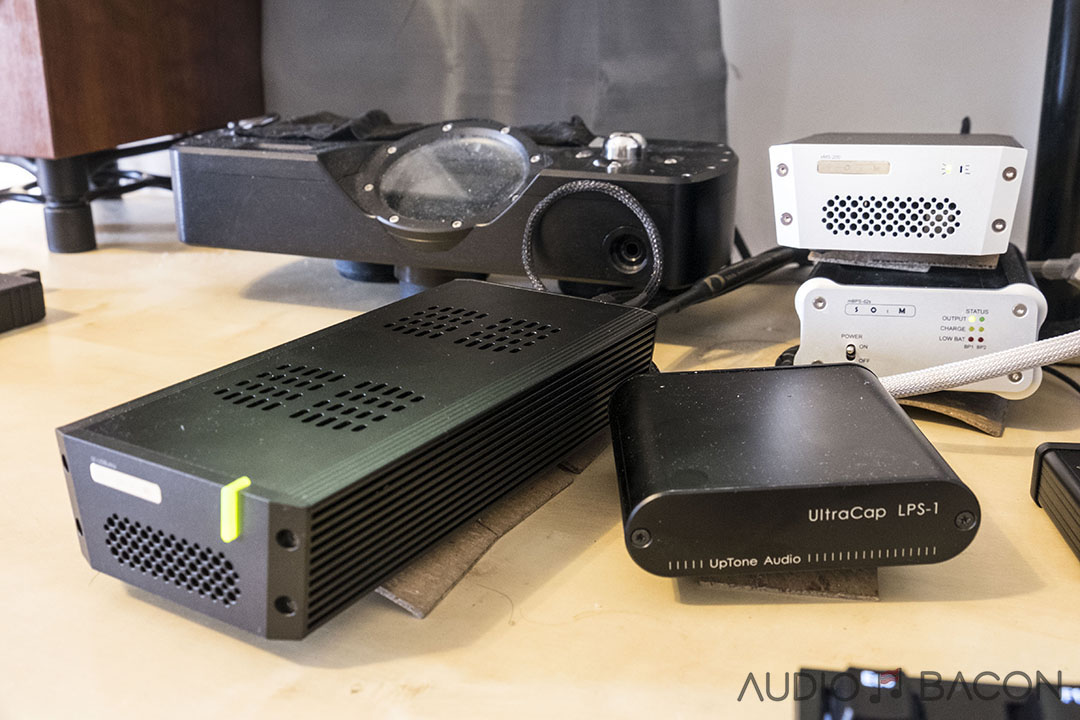 Power Supply
When I first received the SOtM tX-USBultra, it sounded quite abrasive and unbearable. SOtM recommends a minimum of 50-100 hours of burn-in. However, even after burn-in, the tX-USBultra sounded worse than a direct connection to the SOtM sMS-200. After powering it with the SOtM mBPS-d2s I noticed a significant improvement but still a bit cloudy, flat, and looser bass response. With the UpTone Audio UltraCap LPS-1, the benefits of the SOtM tX-USBultra were finally realized. With the lower phase/amplitude distortion, I was able to get much better image stability, tighter bass control, and an enormous soundstage. High bandwidth and low output impedance is the name of the game and the LPS-1 is one damn versatile and "affordable" linear power supply.
At a price of $990 for the standard and $1,200 for the optional master clock, it is quite an outlay for many audiophiles. With the mandatory investment of a quality linear power supply…you're looking at a $1,500 minimum cost. Not to mention you'll need TWO high quality USB cables (can't use short adapters). So now we're at an eye-watering $2,500. Your Paypal account should be quivering uncontrollably at this point.
After spending days with various combinations of cables, this was my preferred setup:
SOtM tX-USBultra standard
UpTone UltraCap LPS-1 (a Sonore DC-4 power cord would've been nice)
Danacable USB + Purist Audio Design 30th Anniversary USB
That's almost $3,700 in components! Rationally speaking, I don't think any USB regenerator/conditioner could offer performance that could merit this much of an investment. Luckily we audiophiles think with our hearts and ears and not with the balance of our checking accounts. I recommend Blispay, no payment/interest for 6 months on things you need. Yeah, I'm a monster. You're welcome.
In order for me to drop this much cash, this thing must make me believe in love again or compel me to write poetry. But first, USB cables…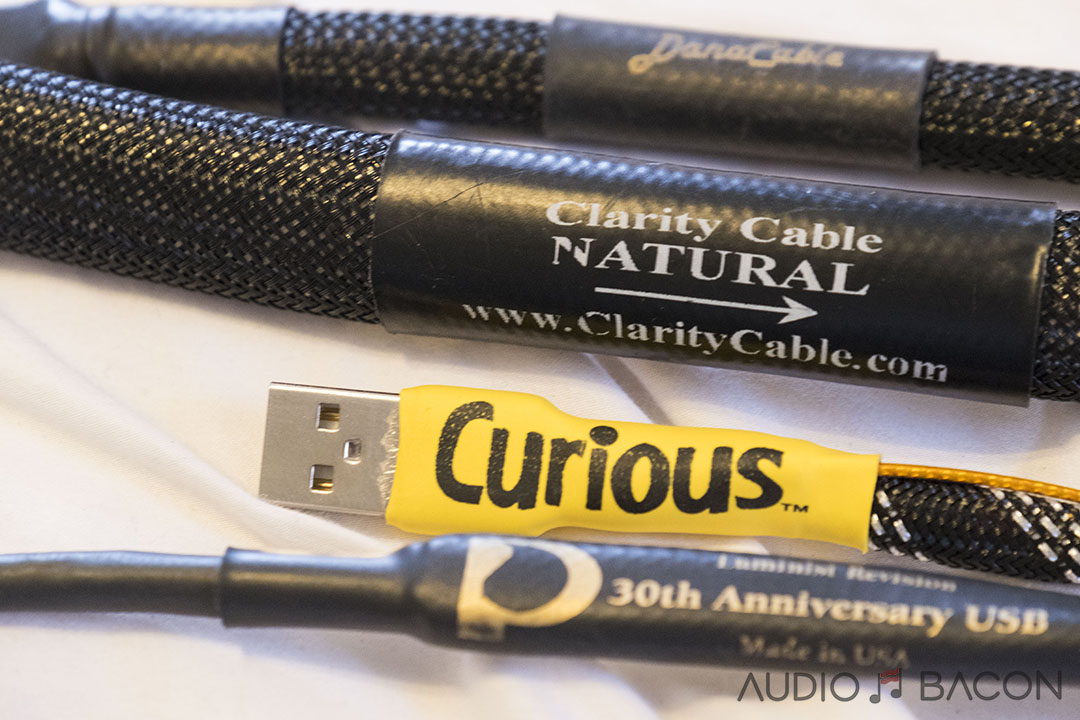 USB Cables
Unlike ethernet cables (which I'll cover in a future review), I've found that many USB cables perform well and for the most part are respective of their price point. Even some generics were acceptable to my ears (gasp).
Unfortunately for truly exceptional performance, the USB cables are mostly priced above the $1,000 mark. These are the three kings:
Clarity Cable Natural USB – $1,250
Danacable TruStream USB – $895
Purist Audio Design 30th Anniversary USB – $1,500
If you aren't ignorant or using your audiophile USB cable on your printer, you'll know that USB cables could improve the sound dramatically. Whether they're worth the asking price, that's another story.
These listed cables provide exceptional clarity, detail, dynamics, and layering. They were also the most holographic sounding of the bunch. First I want to go over the inherent sonic qualities of each cable to provide a good baseline before the mix-n-match experiment on the tX.
Direct from SOtM sMS-200 to Chord DAVE
Clarity Cable Natural USB

Probably the most detailed and resolving USB cable of the bunch. Outstanding resolution.
Incredible reproduction of dynamics
Best cable for separation and layering
Pitch black background with the lowest noise
Vocals have a bit of edginess and more treble energy overall

Danacable TruStream USB

The most natural sounding cable of the bunch. Excellent tone and timbre.
Best bass response
Lacks a bit of clarity, refinement, and delineation

Purist Audio Design 30th Anniversary USB

A wonderfully smooth, laid-back, and huge sound
Tonally more mellow and lean
Focused and detailed
More neutral but has just the right amount of shine
A thin but tight low-end. Lacks slam.
As mentioned, none of the cables are perfect and you kinda wish they could just mate with one another. No worries, the tX-USBultra will help facilitate the creation of this love child.
Since the tX requires two cables, I experimented with a few permutations. During my initial listening, I would say the output USB cable from the tX to the Chord DAVE accounted for 80% of the sound. Generally it's like mixing blue and yellow paint, you'd expect green. Mix two cables with known sonic characteristics and the expectation would align sonically, in this case proportionally 80/20 for output/input. When swapping extremely different sounding USB cables at the input, it doesn't have huge effect on the final output, but some. However, that doesn't necessarily mean that the "better" cable is placed at the output. For example, I've found having the $1,250 Clarity Cable Natural USB at the input of the tX and the $100 Chord Company Silver Plus USB at the output sounded better than the other way around. When the ultra smooth and less-detailed Chord Silver Plus cable was placed at the input, the Clarity Cable wasn't provided enough information to work with and the sound lacked detail and texture. My gut says to put the most detailed cable at the input to provide the tX with a full picture before regeneration. Makes sense.
The Clarity Cable Natural USB was fantastic for classical, orchestral, some rock, and acoustic music. However for voices, it just wasn't smooth enough for my tastes. The Danacable USB had the most natural tone and timbre. It lacks the clarity and resolution, but just sounds more like music. So as far as USB for the tX-USBultra, it has been the "base ingredient" in my listening. It sounds organic and complements nearly all the cables, including the Kimber (silver) and Curious USB.
After days of listening, I suspect the best combination would be to have the Danacable USB at the output and either another Danacable or PAD 30th/Clarity Cable Natural at the input of the tX-USBultra. I couldn't try this combination because there was a capacitance problem with having the Danacable USB at the output which caused an enormous amount of distortion. I'm currently in talks with Danacable for a solution (UPDATE: If you're going to use the Danacable on the output, ask Danacable to shorten the cable so that it has a lower capacitance and will be easier to drive). I think it really comes down to finding the right balance for your ears. Personally, I would trade resolution and soundstage for a bit more warmth and texture.
For that reason (outside of classical) I've stuck with the PAD 30th at the output and Danacable at the input for the rest of this review. Both the Danacable and PAD 30th have proper timbre for instruments and the tX combines their qualities into something that sounds too real to be coming out of speakers. This combination essentially takes the best parts of both cables in nearly the right proportions. I still notice this slight brightness which could be due to the power cable used for the LPS-1. I didn't have a Sonore DC-4 for the review but suspect it'll mitigate that issue. My assumption was based simply on the fact that this pitchiness doesn't exist with USB cables individually or with the mBPS-d2s or even stock power supply. I also remember this problem from the setup with the microRendu.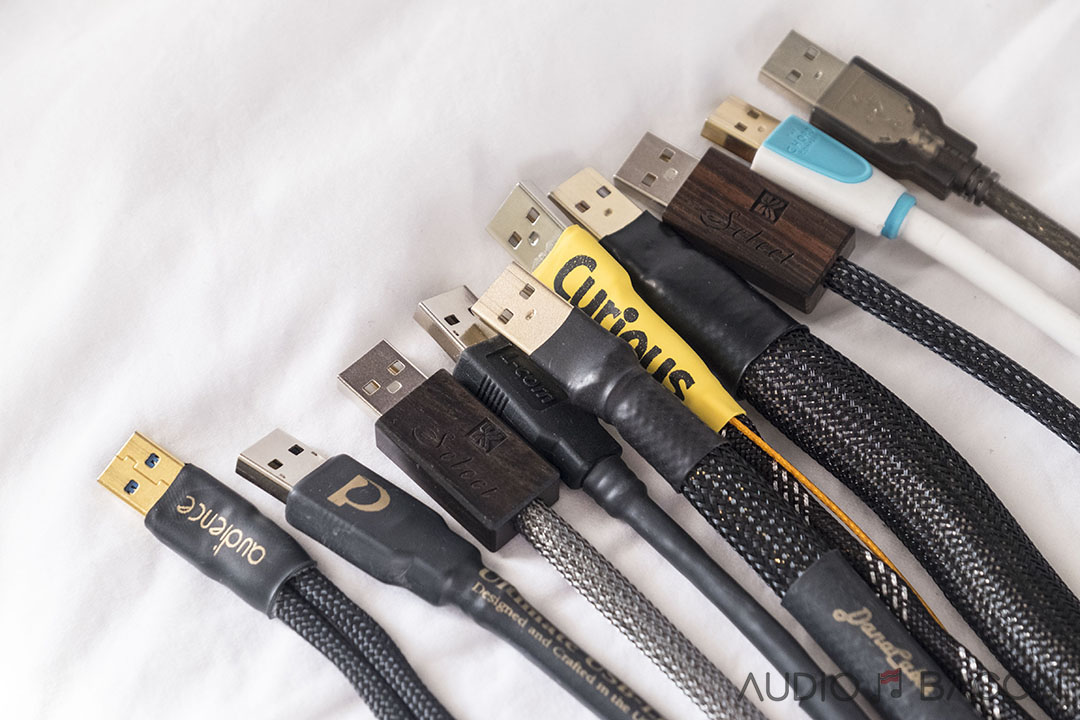 Music
For reviews, I like playing files directly from server (housed in my BRIX server on a NVMe SSD drive). This way, it completely removes the network from the equation. The connection from the server to the sMS-200 is bridged so it doesn't even hit a noisy switch.
I've done enough comparisons between local files and lossless Tidal streams to accept that the sound will be flatter and less dynamic without a proper network infrastructure in place. That said, the tX-USBultra does wonders for streamed music. I never thought a USB regenerator could correct the sound at this level but it does a wonderful job. When A/B'ing with and without the tX…the improvements cannot be understated. So much so, I may consider using more streamed music for testing in the future. Simply put, if your music library is mostly through these music streaming providers, I would consider the tX-USBultra.
Like always I try to cover all genres of music. I've actually written notes for all these recordings but it quickly became overwhelming. I've condensed them into a summary which I'll talk about in the next section.
Incomplete song list:
Allison Krauss – When You Say Nothing At All (44/16)
Daft Punk – The Game of Love (88/24)
Rodrigo y Gabriela (Remastered/Deluxe) – Diablo Ojo/Foc (Live) (44/16)
Buena Vista Social Club – Chan Chan (96/24)
Frank Sinatra – Come Fly With Me (192/24)
Eric Clapton – My Father's Eyes [Take 2] (44/16)
Metallica – Enter Sandman (96/24)
Beatles – Come Together (96/24)
2L – Mozart – Violin Concerto in D Major (Allegro)
The Cars – My Best Friend's Girl (192/24)
Larry Young – Zoltan (192/24)
Eva Cassidy – Over the Rainbow (Tidal)
Norah Jones – Shoot the Moon (192/24)
Christina Perri / Ed Sheeran – Be My Forever (44/16)
Sarah McLachlan – I Will Remember You (Live)
Ingrid Michaelson – Over You (44/16)
Beck – Lost Cause (96/24)
Miles Davis – Blue in Green (192/24)
Jen Chaplin – You Haven't Done Nothin'
Eagles – Witchy Woman
Cannonball Adderley – Autumn Leaves