Intro
At the high-end audio shows, you have your usual suspects. They're usually in the same rooms and they usually have a familiar sonic signature. This consistency settles in – year after year. Of course, there are plenty of standout rooms – but even then, true "audiophile gems" are a rarity.
As it turns out, there was one room that particularly surprised me at AXPONA 2019. Both in performance and in price. It was the only time I was about to pull out my wallet on the spot. Which I think says a lot.
Underwood HiFi
This was the Underwood HiFi room. They may sound familiar because they've recently purchased Core Power Technologies.
Underwood HiFi Inc. is the home of Underwoodwally, a name very familiar to AudiogoN shoppers as the e-mail alias and user name of Walter Liederman. Walter is a 48-year industry veteran who spent 23 years as one of the partners in the 10-store Atlanta-based chain HiFi Buys. He worked as its Corporate Buyer for the home audio and mobile division while being intimately involved in corporate strategy sessions.

When this $100 Million/year operation sold to 'The Tweeter Group', in 1997 Walter worked as a consultant for Infinity speakers and Acoustic Research for 3 years. He also helped fund and became a partner in Perpetual Technologies, a leading player in DSP speaker correction and digital audio technology.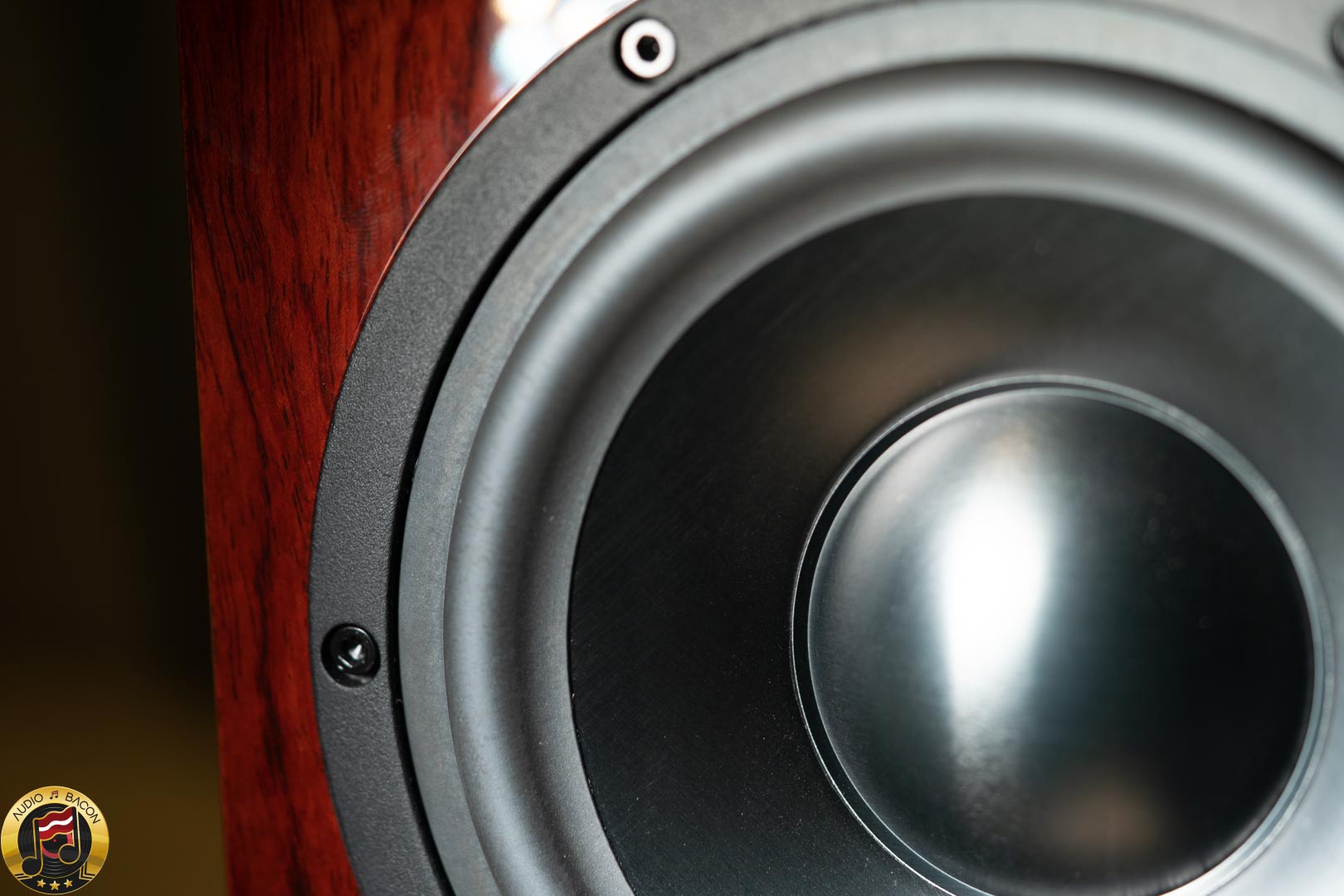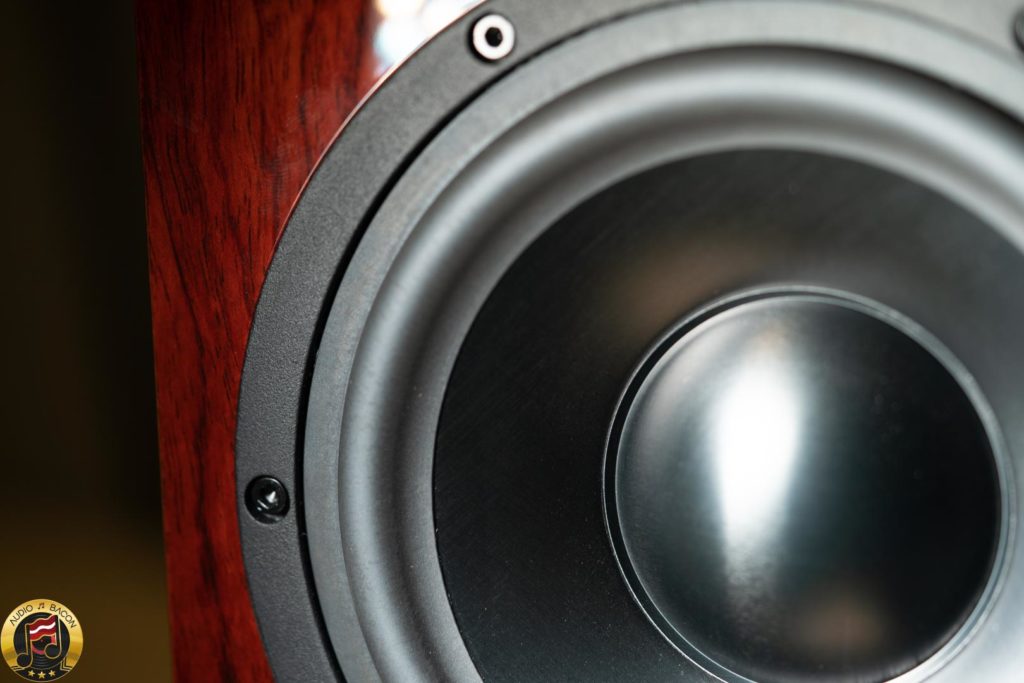 Underwood HiFi sell many brands, including Core Power Technologies Rethm, A/V, Audeze, Scansonic, Peachtree Audio, Emerald Physics, Quad Electroacoustic, and of course – Living Sounds Audio (LSA).
LSA (Living Sounds Audio) is proud to introduce the new LSA 10 loudspeakers. Upgrading the original LSA speakers was our goal with the intro of this new line.

Reviews of the original LSA-1 and LSA-2 speakers were all excellent and they set a performance standard in their price ranges. Our goal was to set a new standard in affordable Internet Direct loudspeakers and compete with far more expensive products.

To that end we gave Dan Wiggins and his team a free hand in the design with their mission being to offer far more value than the original speakers. These new models go lower, have better dynamics and transparency, and image better, while keeping the LSA legendary musicality with greater resolution.

The new LSA-10 Statement raises the bar in affordable state of the art monitor and competes with more expensive high-end speakers at factory direct pricing. Our goal was to outperform our favorite $7,750.00 monitors. We think we have accomplished this goal and are extremely proud of these new speakers.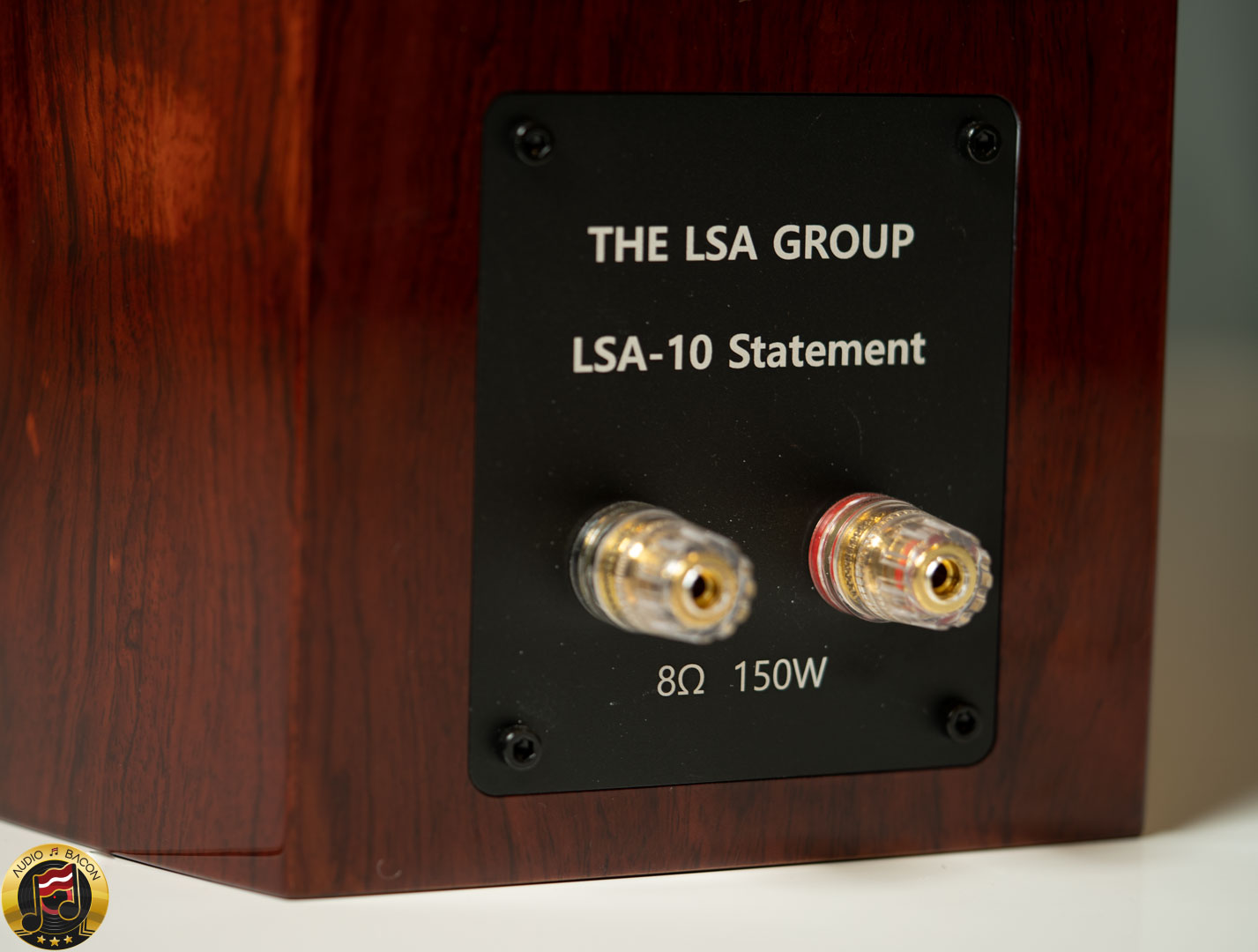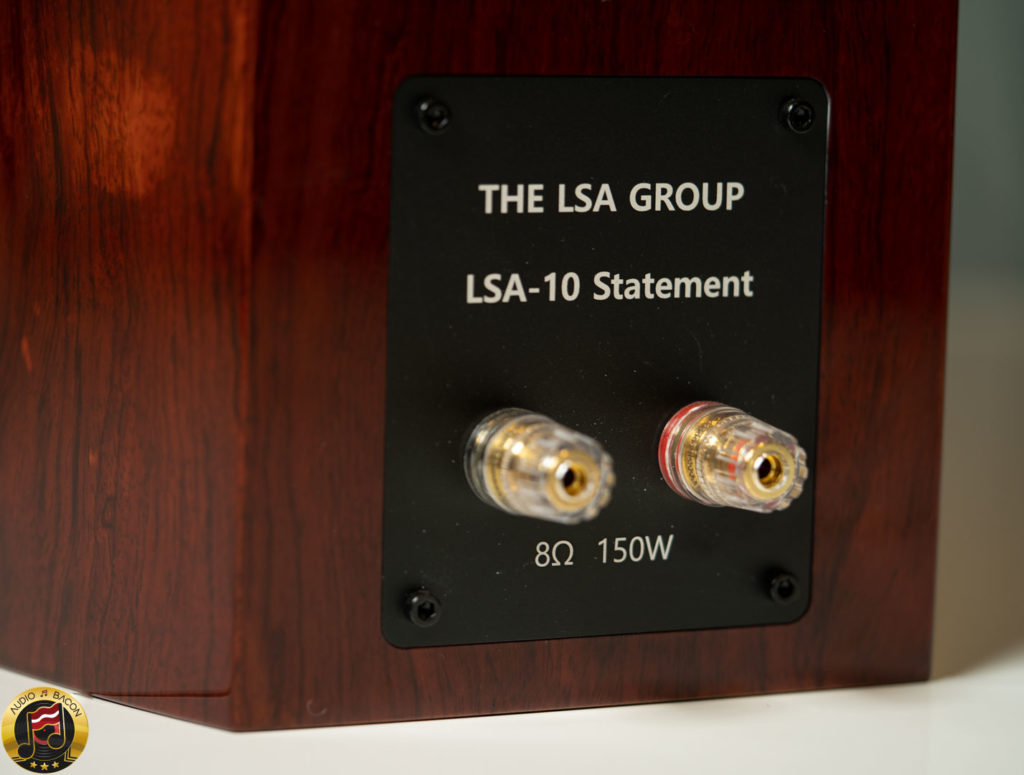 The room…
What was interesting about this room was that…there weren't any room treatments. The setup wasn't particularly flashy – and if anything, a little dim. Admittedly, I didn't have any expectations – just an open mind. I also recall being exhausted as it was towards the end of the day.
Once the music started playing – I found myself in the sweet spot for the next 45 minutes. Although my schedule was tight, The following day, I made an effort to give it a second listen. "That system sounded too good for the money." is what I kept thinking.
Obviously, you can't tell which component is doing most of the singing – but I suspected the LSA-10 Signature loudspeakers. I'd like to mention – none of these drivers could be purchased off-the-shelf. They're all custom made for LSA. So, I had to hear these in my own room.
For the list of components check them out here.
Coincidentally, I didn't realize (until finishing up this review) that this is the same Dan Wiggins of Periodic Audio. The maker of some of my favorite IEMs. In retrospect, it makes a lot of sense. He has a fantastic ear. To learn more about XBL2 check out the details here.
After discussing my impressions with Underwood HiFi's Walter Liederman – I decided to skip straight for the LSA-10 Statement – which includes an 8th order crossover. This turns out to play a huge part in what makes this speaker so special.
The loudspeakers were bundled with the Emerald Physics 100.2SE power amplifier and DSPeaker Anti-Mode 2.0 Duo Core preamp/DAC. As always, I'll be focusing on subjective impressions.
Equipment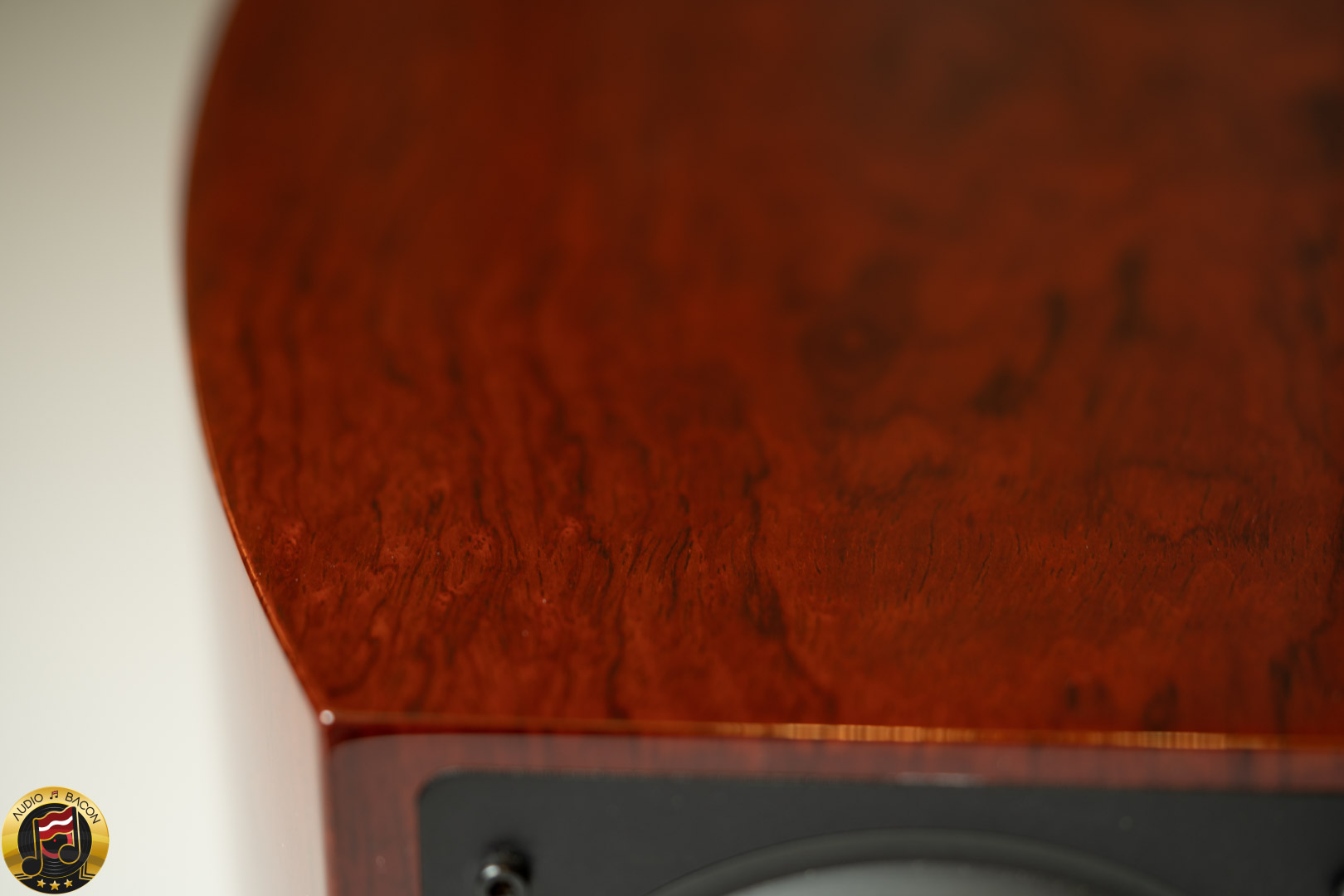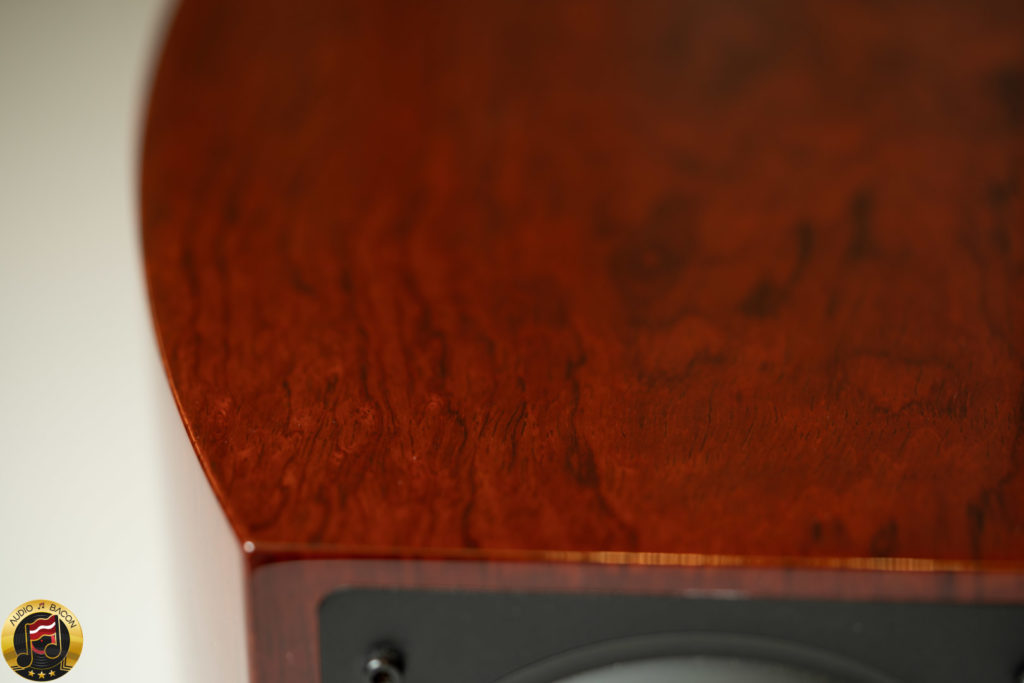 LSA-10 Statement Specifications
Frequency Response: 32Hz-30Khz +/- 3dB
Sensitivity: 83dB in room
Impedance: 10 ohms for super easy drivability
Finish: Piano gloss chocolate Rosewood veneer
Woofer: Custom 6.5″ Aluminum XBL2 driver
Tweeter: Custom 1″copper beryllium dome tweeter w/compact neodymium XBL2 magnet structure in shallow waveguide
Sub-bass radiator: 5×7 custom driver
Stands: Optional custom stands
Grill: Magnetically attached
Crossover: 8th order computer designed with proper phase
Binding posts: Single pair Custom gold plated for phase coherency
Power handling: 20 watts-200 watts
Size: 13.5″ H x 14.25″ D x 8.0″ (baffle). Widest W dimension is 9.5″
Weight: 27 pounds each
Shipping weight: 62 pounds a pair in one box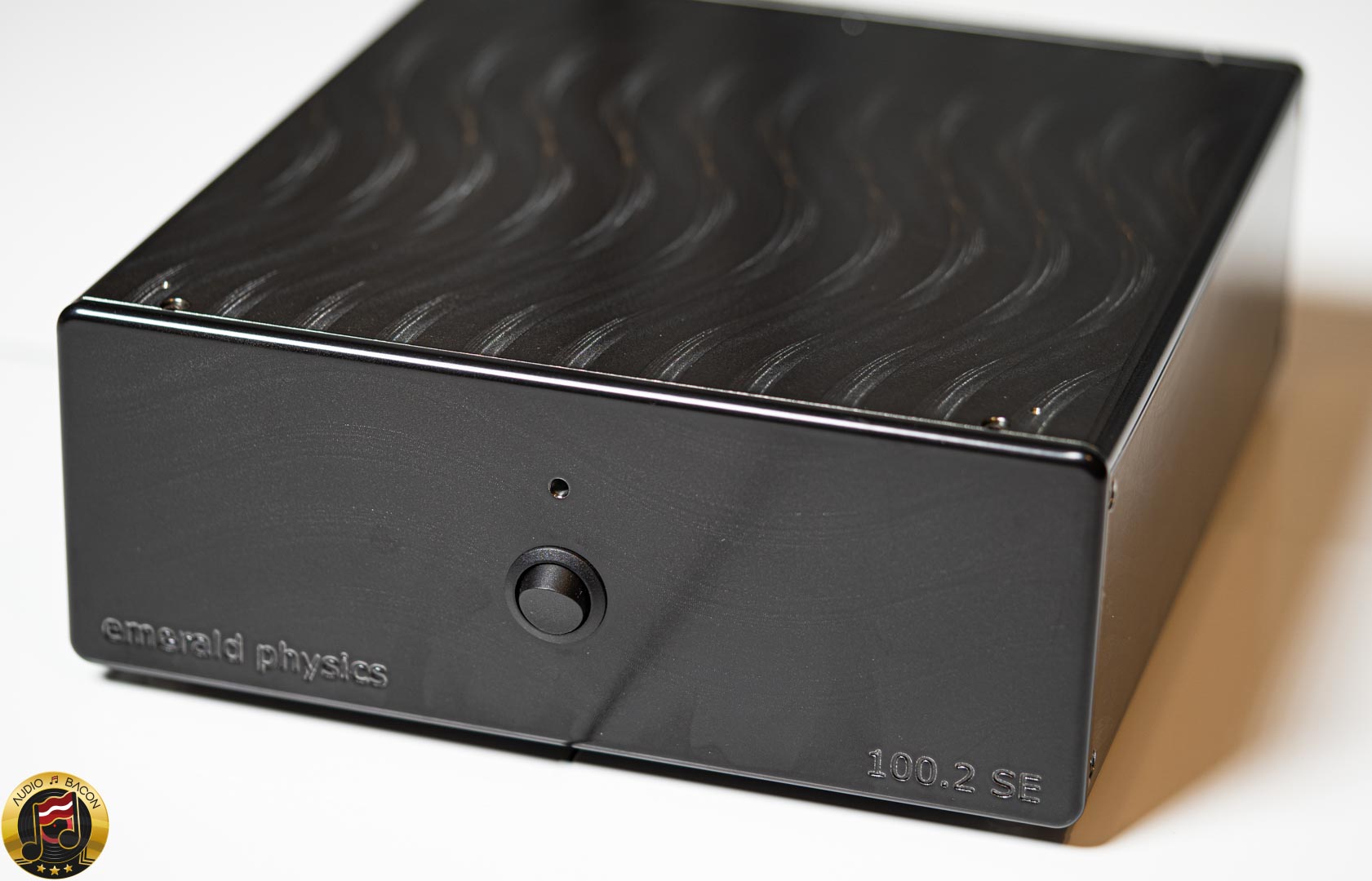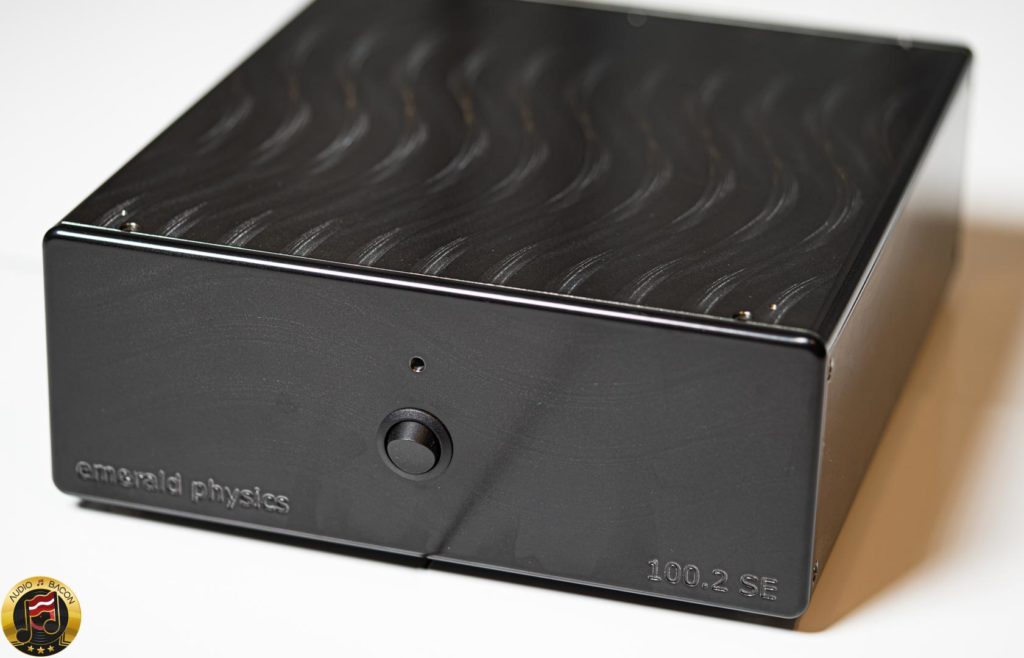 Emerald Physics EP-100.2SE
100 watts/channel hybrid amplifier with an Emerald Physics designed digital amp and custom analog power supply.
The 100.2SE, shown in beautiful powder coated cosmetic and available in translucent black or silver,
Can be used as a straight 100 watts per channel (150 watts @ 4 ohms) power amp or run at 275 watts in mono (8 ohms) (450 watts @ 4 ohms)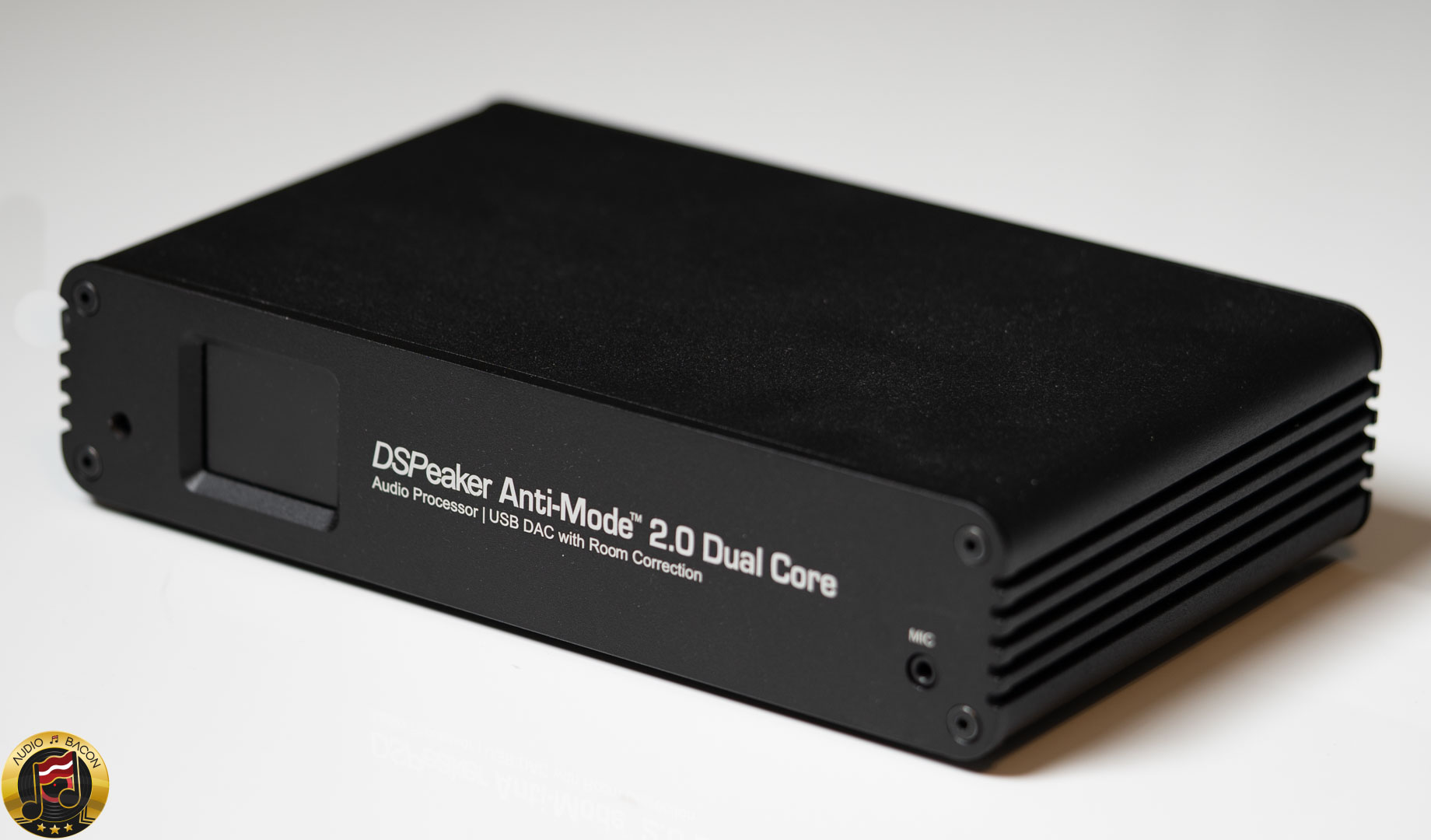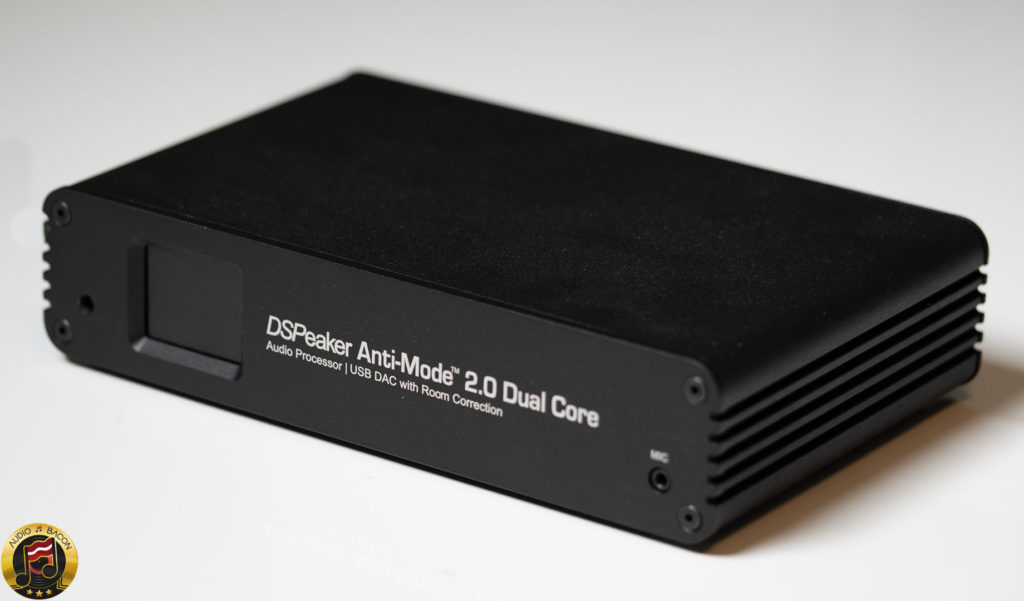 DSPeaker Anti-Mode 2.0 Dual Core
The preamp and DAC (with room correction) is the DSPeaker Anti-Mode 2.0 Dual Core. It accepts digital or analog inputs. I'll go into detail about this interesting product below.