The High Fidelity Cables's Reveal line has gotten a lot of attention – particularly for its notably high performance-to-price ratio. Although considered their "entry-level" cables, it's a bit of a misnomer as some audiophiles preferred their Reveal line over some of their "higher-end" offerings. Apparently, many customers have also taken them up on their trade-in program – trading in their much pricer cables for a piece of this magnetic conduction technology.
"Magnetic Conduction, is a patented method of building conductors. It utilizes magnetic fields through permanent magnets to control the electrons. It reverses the B-field direction and causes electrons to center into the middle of cable."
More is explained on High Fidelity Cables' website www.highfidelitycables.com.
We really enjoyed the Reveal Interconnects (RCA & XLR). It's a favorite when it comes to value. The Reveal BNC cable also received our "Best in Class" award a few months ago. For me, it brought a level of solidity and body that was missing at the time. And during testing of various iterations for The Linear Solutions OXCO Audiophile Switch, I was utterly surprised by how much impact the High Fidelity Reveal Power Cable impacted the results. The Reveal power cord will be part of a larger review piece in the upcoming months.
Inspired by what was heard, I was able to put together a full loom of the High Fidelity Cables Reveal cables. This episode of the Full Loom Series will include the HFC Reveal series XLR interconnects, speaker cables, and power cables for the major components. Before we jump into the details of the system synergy, check out Audio Bacon's summary of HFC's magnetic conduction theory here.
The Cables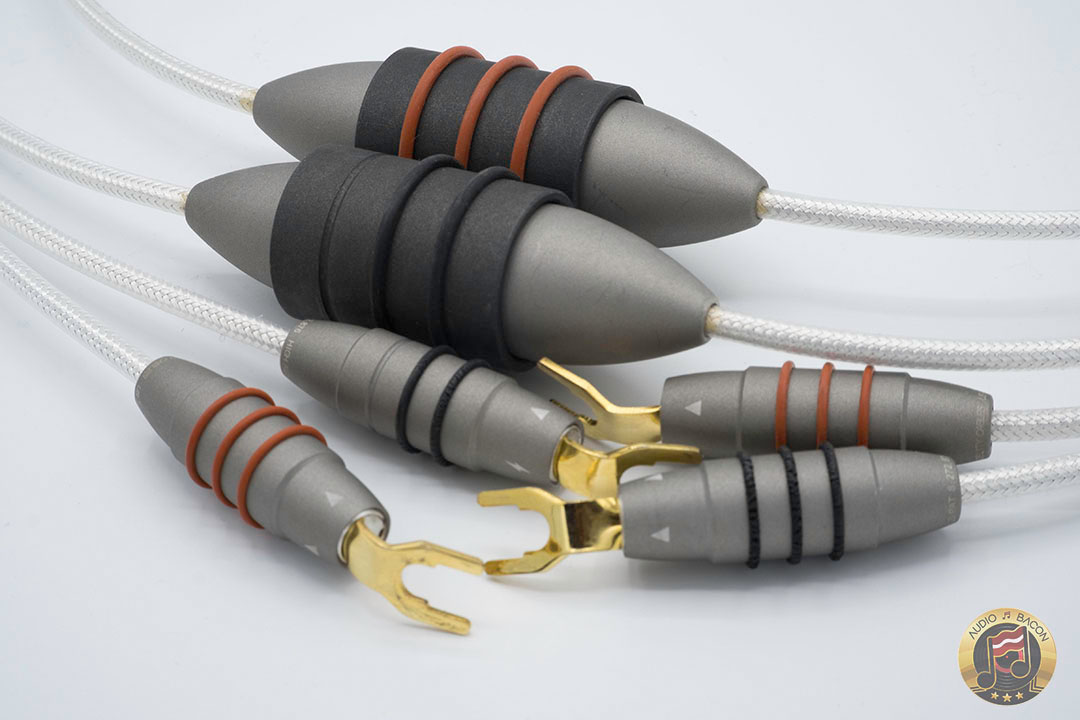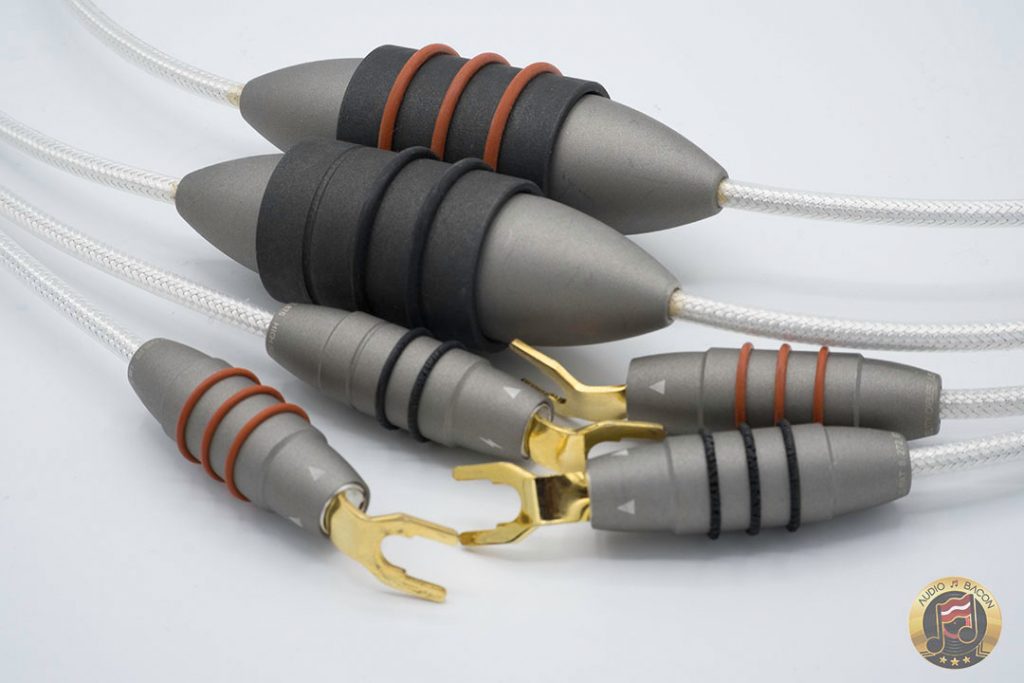 Physically, the cables are quite a sight – and not quite something you could DIY. It's thin with some gorgeous braided material topped with a clear lacquer type material. It's fairly flexible, but maybe not as much as you might think for a cable so thin.
There are multiple huge oval egg-shaped magnets in the middle of it that presumably drives the magnet conduction. One thing we did observe with the cable, particular for the XLR and power cables is that there may be a "twist game" involved to maneuver the plugs in the right place. It might require one to plan a bit more length because of the orientation of the cables.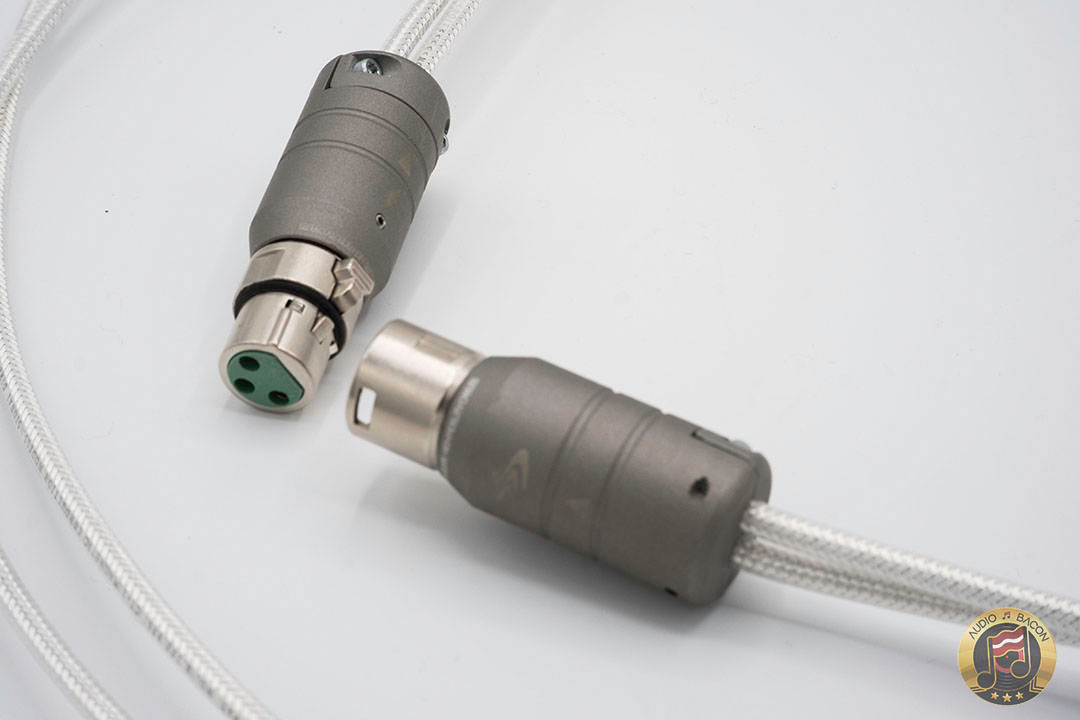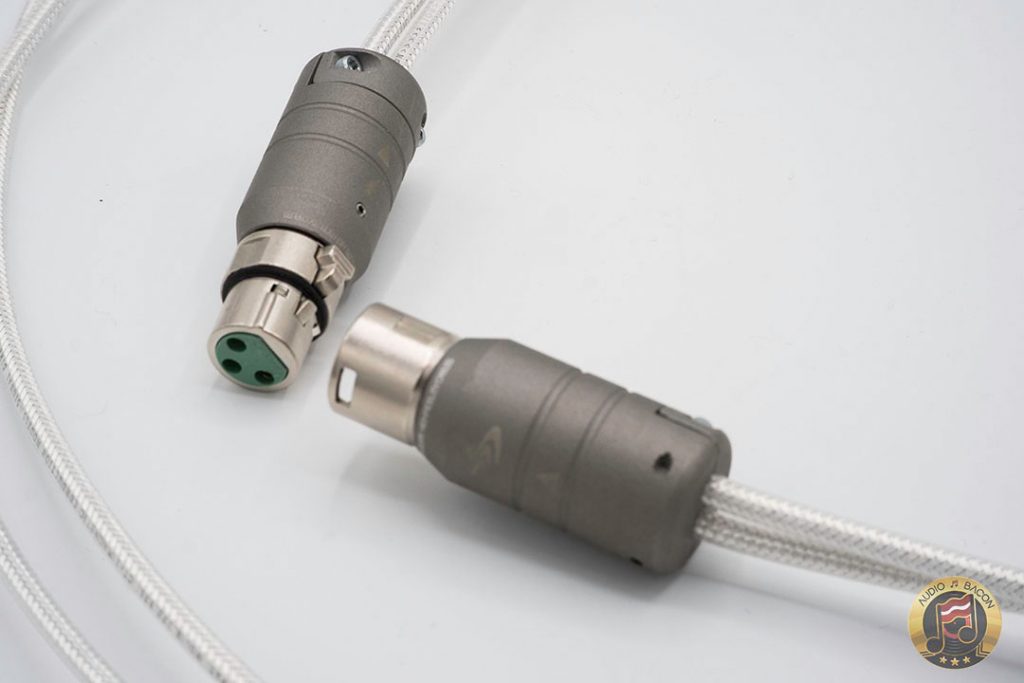 We enjoy the solidity and flexibility of the design. They are sturdy and snap into place firmly. Also, the magnet will be heavy, so it'll weigh down a little if you're running it laterally across certain a rack. Lastly, it's important to note that these cables are designed to be directional. You'll be able to note the source or destination end on the plug ends.
Break-in Period
Magnetic conduction requires much more time to break-in over your typical audiophile cable. Our impressions were done after four weeks of break-in – about 800 hours. High Fidelity Cables recommends about double this amount of time. The is because these cables need more time to "magnetize" all of the connected components as well.
Due to system flux of this reviewer's system, this was the maximum amount of time we were able to allocate before evaluation.
So what could you expect at around 1,500 hours?
Rick Schultz, founder and lead designer of High Fidelity Cables, has mentioned it'll still sound superb but a full loom break-in is from 1,000 to 1,500 hours.
At that point, the full potential of the loom, and the intended sonic signature is unleashed. In other words – it gets better. Upper-end extension and overall clarity as well as a sense of "air." The cable starts to become more transparent and lose that midrange bloom. It becomes very linear and musical.
The beauty is that you don't have to "start over" if you were to unplug the cables – give it another 50-100 hours and you're back in business. You're essentially able to break-in the cables where you left off.
The System
High Fidelity Cables always have a place in our systems. Sometimes it's the power conditioner, other times it's a power cable or an interconnect for some specific component. While the Reveal interconnects have been covered in the past, this particular piece is focused on how all these cables sound holistically.
Power Conditioning:
Source:
Preamplifier:

PS Audio BHK Signature Preamp

Interconnects: HFC Reveal XLR
Power: High Fidelity Cables Reveal Power Cable

Amplifier:

PS Audio BHK Signature 250 Stereo Amp

Interconnects: High Fidelity Cables Reveal XLR cables
Power: High Fidelity Cables Reveal Power Cable

Speakers:

B&W 804D2

Speaker cables: High Fidelity Cables Reveal Speaker Cables

Network:

Router/Switch: TP-Link CR1900 Cable Modem Router, The Linear Solution OXCO switch with their LPS
Ethernet: SOtM dCBL-CAT7 set, Synergistic Research Atmosphere X Reference Ethernet cable set
Power: SOtM SPS-500 Power Supply (Vovox Textura Power Cord)
Roon Nucleus with 2TB SSD (standard wallwort adapter)
As in our other posts in this series, a full loom consists of power cords for the main components, the use of XLR connecting the source, preamp, and amp, and speaker cables to the B&W 804D2 loudspeakers. The Synergistic Research PowerCell 12 has its own unique Neutrik connector, so we use the Galileo cable that came with the upgrade. If a manufacturer has a corresponding ethernet cable, we will use that too. Lastly, tracks are all local files on the Roon Nucleus with a minimum resolution of 44.1kHz / 16bit in FLAC format.