When I first heard about "audiophile-grade" ethernet switches (and cables), my eyes slowly started to roll. Slowly because, as we know, everything matters in Hi-Fi – but this wasn't a DAC, or server, or even USB related.
But, like most things in digital audio, it involves a clock – and we know how crucial an accurate clock is for audio. Anyway, after much exploration – these seemingly innocuous components could be more impactful than you'd think.
Adrian Wun of The Linear Solution (TLS) sent me one of their greatest audiophile networking solutions – the OCXO Audiophile Switch with its optional linear power supply (LPS). He also threw in their latest TLS Reference CAT7 ethernet cable.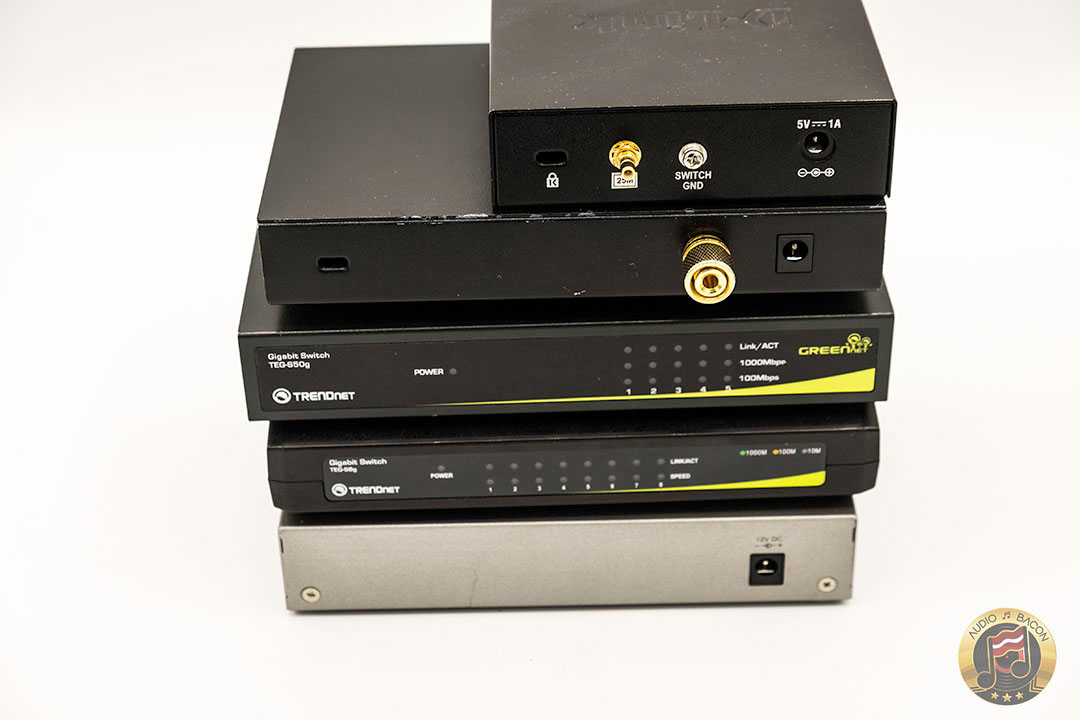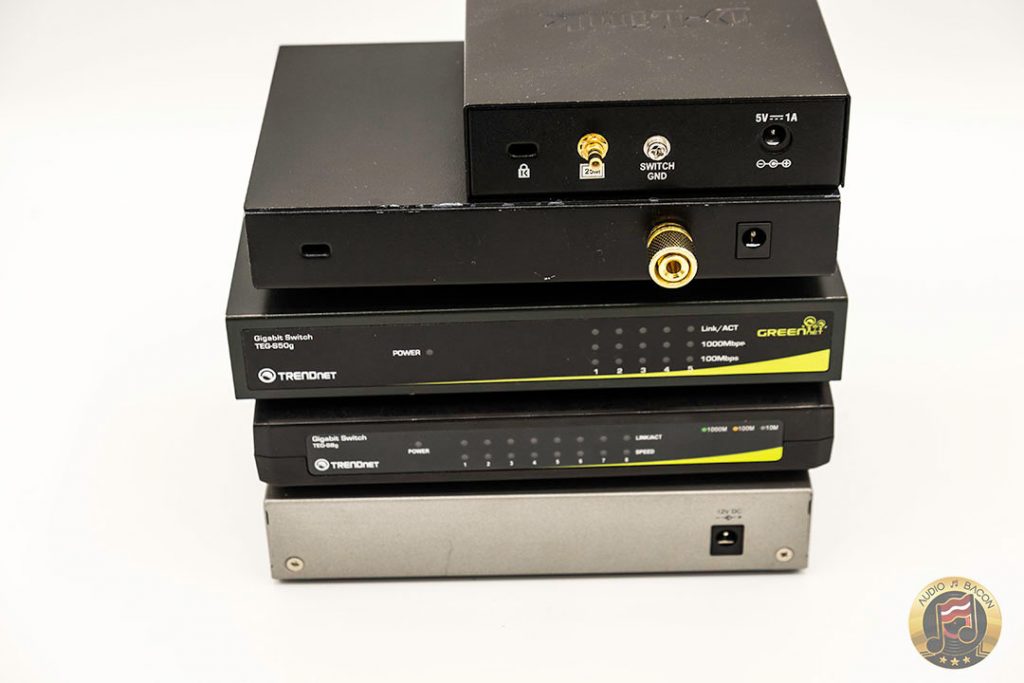 Features
The OCXO Audiophile Switch is a heavily modified TP-Link TL-SG108:
Upgraded audio-grade capacitors
OCXO ultra high precision clock
24K gold circuit trace – provides extra stability for the oscillator module.
Ultra stable regulator design
Zero ground circuitry – it continuously drives the ground signal and greatly reduces noise (jitter) caused by unstable volts.
Ground connector
7N UPOCC wiring all throughout
Taking a peek at the innards and you'll realize TLS is obsessed with performance. The first thing I noticed was the red 7N UPOCC copper wiring. Always a great choice. A few capacitors are swapped with "audio-grade" ones and perhaps some EMI/RFI rejection tape over the chips. You'll also see their proprietary 24 MHz clock module and grounding connections. TLS left no stone unturned when it came to maximizing what they could out of this switch.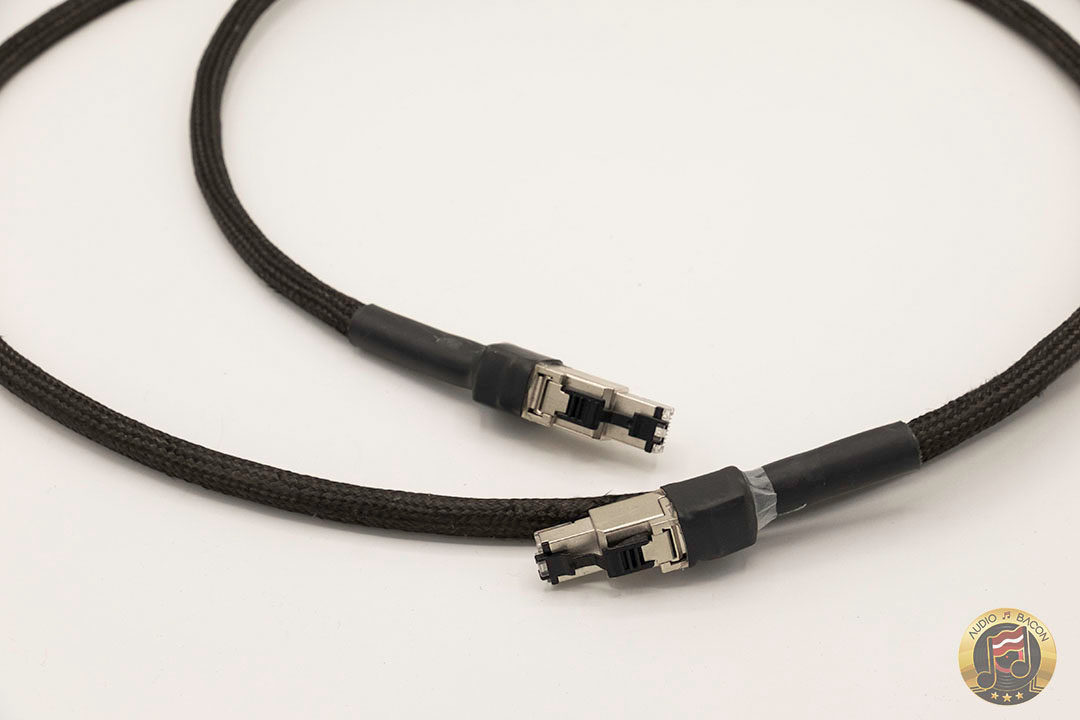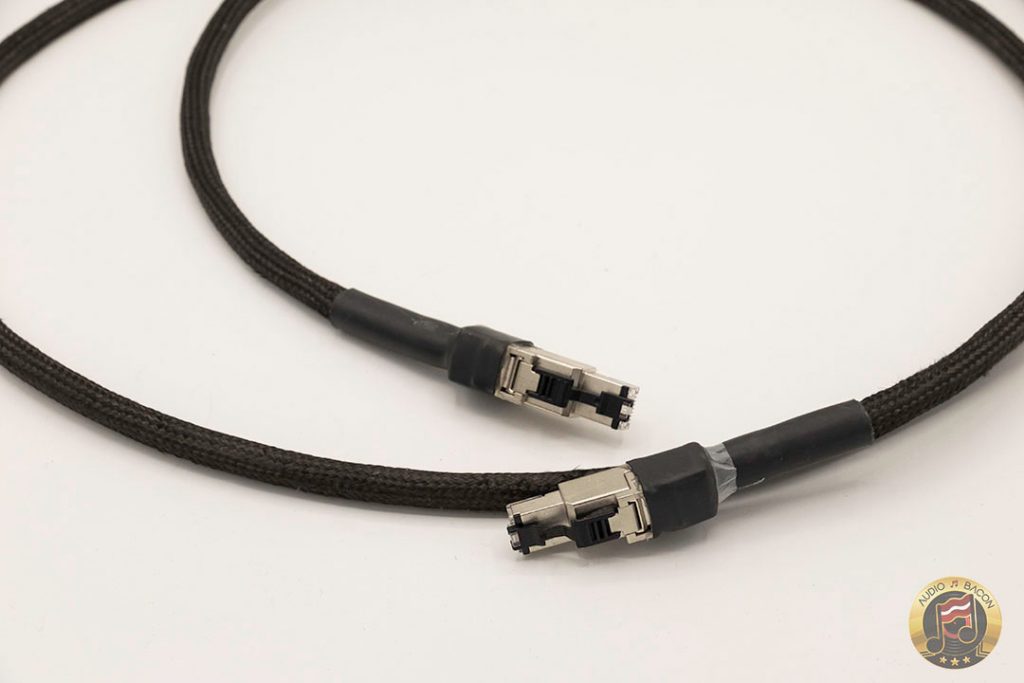 Setup & Musings
As a sanity check, I wanted to compare the OCXO switch to some (unmodified) generics I had on hand.
In order to keep the power supply constant, I used a Paul Hynes SR4. I actually ended up using every single voltage option (5V, 7V, 9V, 12V) – a very handy piece of gear.
TRENDnet TEG-S8g (5V)
TRENDnet TEG-S50g (7.5V)
Cisco SG100D-08 (12V)
D-Link DGS-105 (5V) – This switch is part of the SOtM Trifecta with a 25 MHz input – clocked by the SOtM tX-USBultra
If you're going to use The Linear Solution linear power supply, the High Fidelity Cables Reveal power cord is a perfect match. If you're going to use the Paul Hynes SR4, the Vovox Textura pairs very well. We're using Zenwave Audio 7N copper DC cables for testing.
Grounding the TLS OCXO with a Synergistic Research HD ground cable to a Synergistic Research passive ground block solidifies the warms up the sound. Some shimmer is lost and the dynamic snaps aren't as incisive. But I feel there's truer tone in the midrange. I could go either way with this although I feel the switch is more genre-independent when it's grounded. Much more warmblooded.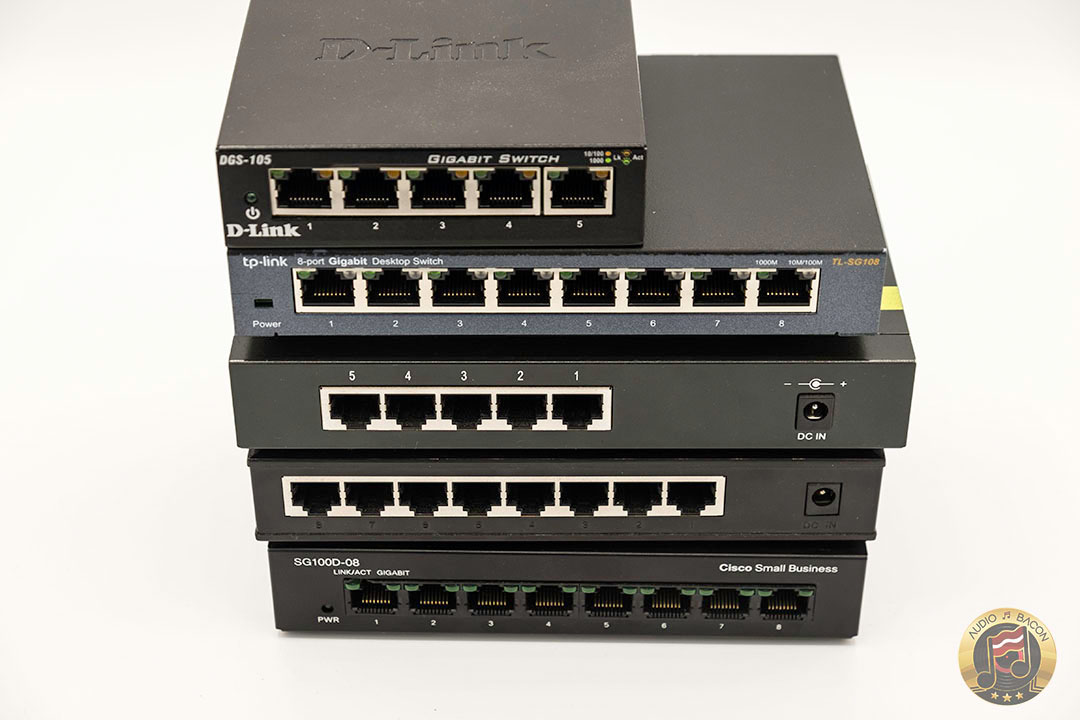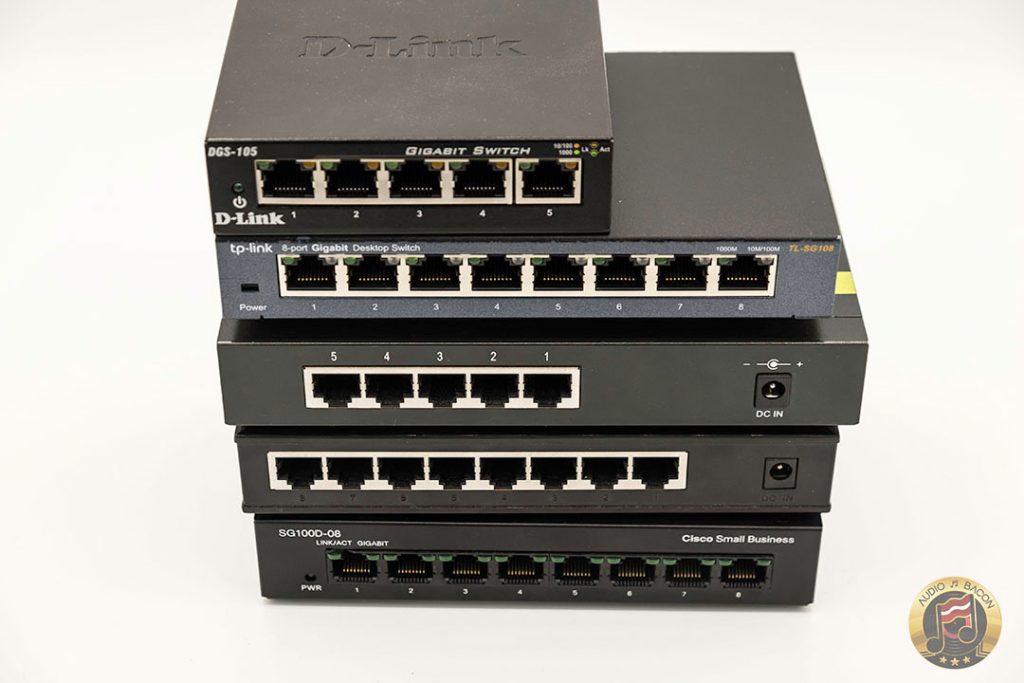 How important is the switch in the chain?
We have a TP-Link router + modem combo that we've been using for our larger system. We've been using its built-in LAN ports to connect our Roon Nucleus server and Lumin S1. When we included The Linear Solution OCXO switch – the differences were enormous. In some ways, it seems to isolate and consolidate centrally. Music is more collected and refine – and quieter. The only time having the switch in the chain sounded worse was when we used a Monoprice power cable on the TLS linear power supply (powering the OCXO switch). Even then, the music was still smoother.
From our testing – having a better switch is the difference between music that sounds hazy, diffused, and light versus something more gradated and solid. Many believe a switch will only help streamed content from services such as Spotify, Tidal, or Qobuz or from a network-attached storage (NAS). But even if you're playing music directly off a hard drive from a server (that doesn't hit the network but goes straight from USB to your DAC) – your switch matters. Not only that but the ethernet cable attached to the server matters as well.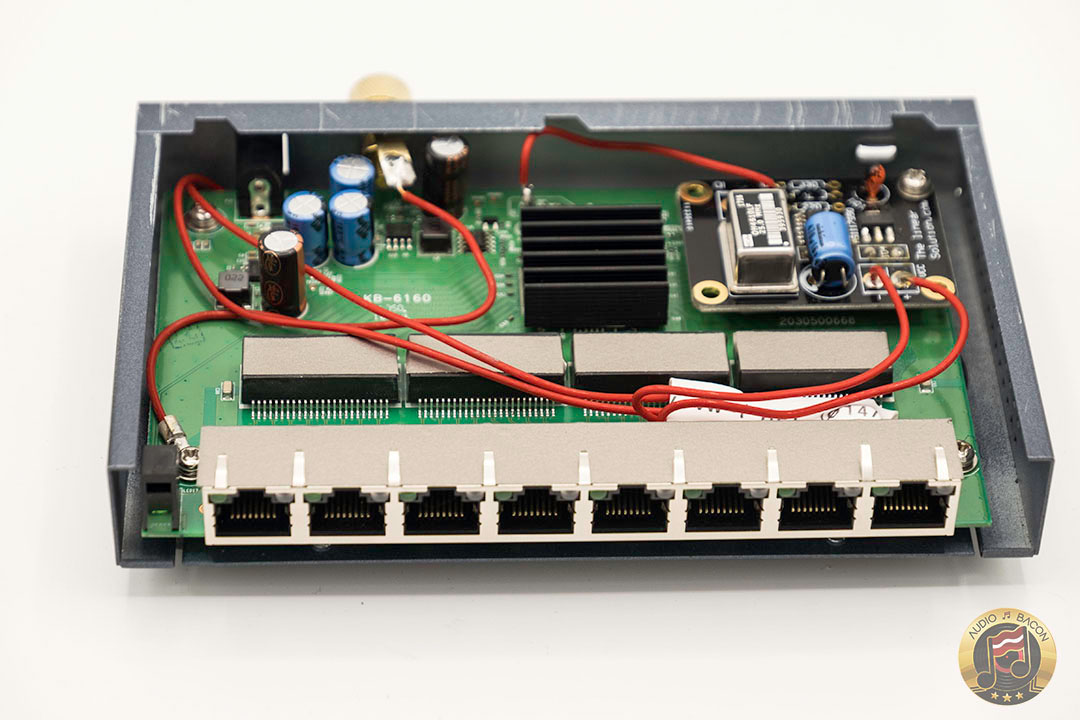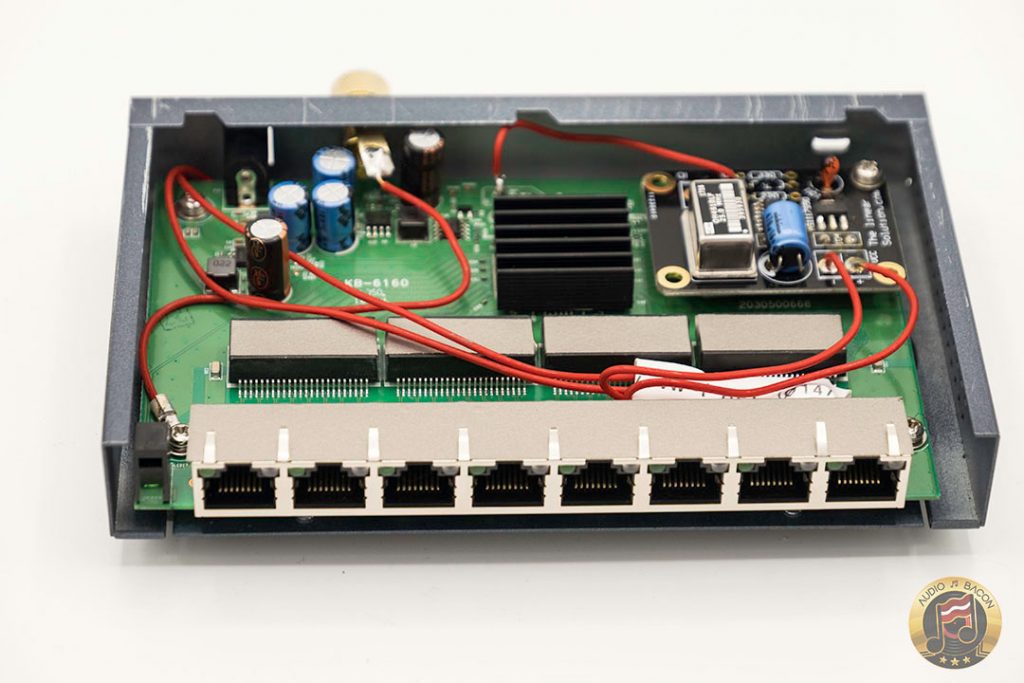 Yes, even though technically the ethernet cable is only being used to let Roon tell the server to play a certain song off the internal hard disk (say off an Innuos Zenith SE music server), that ethernet cable still affects the sound of the local files. Using different ethernet switches and cables on the Innuos changes the sound of the local files being played off its SSD hard drive. I know it doesn't make any sense, but you could try it yourself. We've tested this on multiple systems.
Reason for this is most likely due to noise permeating through the ethernet switch and cable to the hard disks and other circuitry. We did an experiment where we tested streaming an album from Tidal and playing that same album that's stored locally. Theoretically, using a cheaper power cable (such as the Monoprice) on the router should affect streamed content more heavily. Instead we found that it was relatively more detrimental to the music stored in our local library. Streamed content from Tidal was worse but not too far off from using a much better power cord at the router.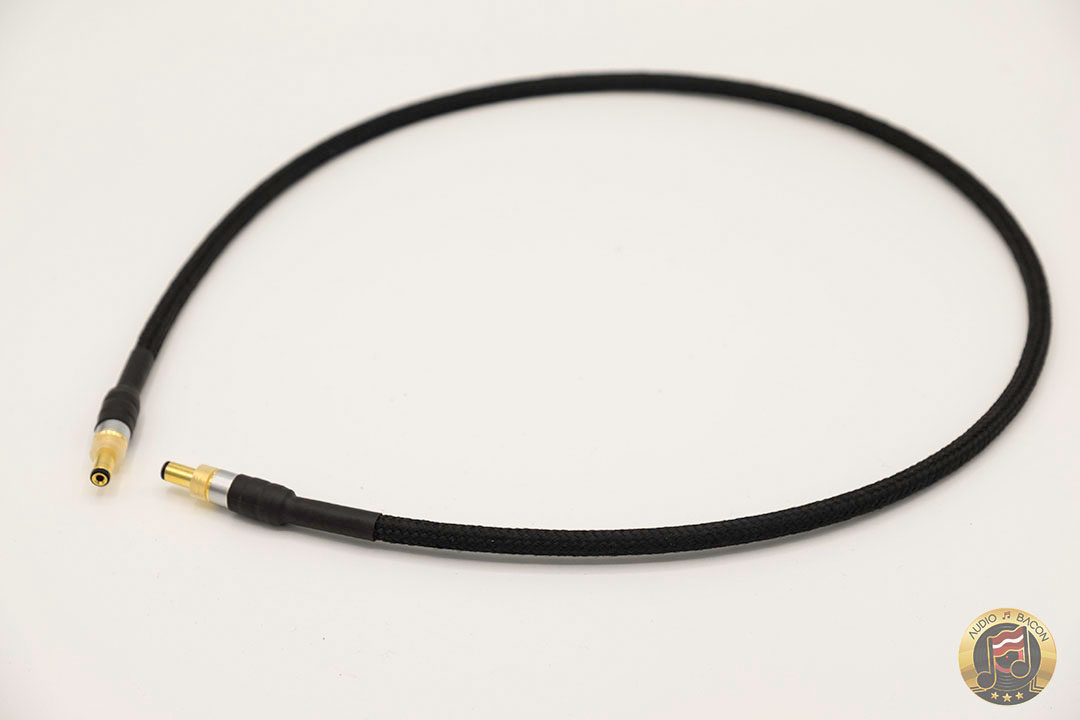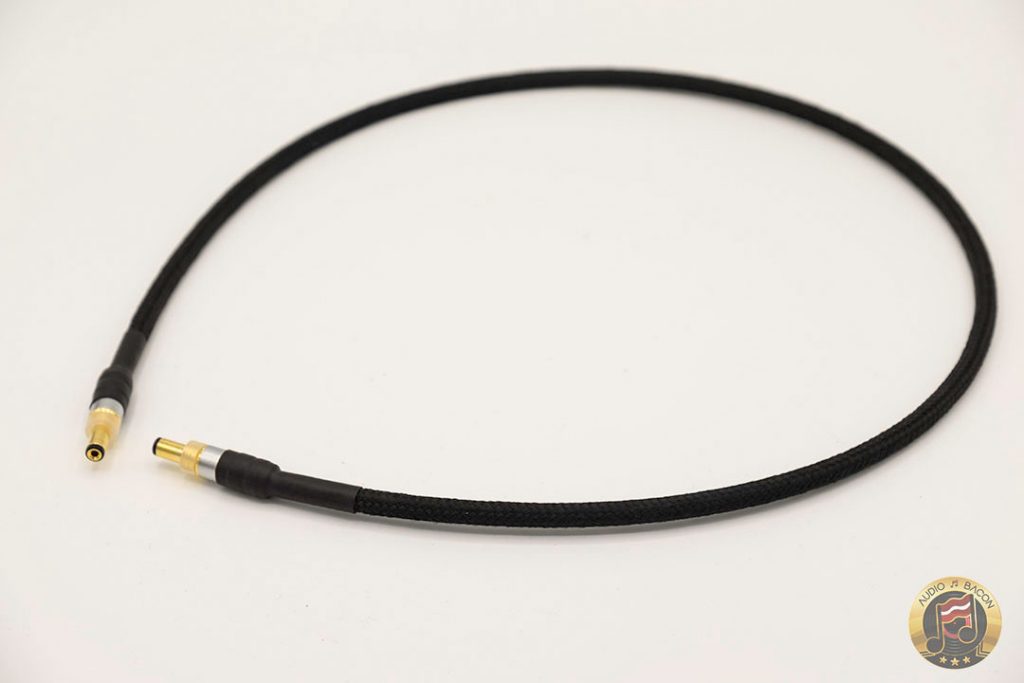 We surmise this is due to the noise touching more of the system, including the storage interfaces of the music server. In any case, the TLS OCXO switch was able to still provide much better audio quality versus going directly from the ports of the router. It provides a appreciable amount of isolation from the noise.