"It was all a dream." – Notorious B.I.G.
In the 80s, Dejan Dobrins's love for music had him pondering about how to improve his enjoyment. He wanted something better than what was out there – and so immersed himself in the world of DIY audio. He developed his own loudspeakers, amplifiers, and eventually the entire chain. When friends and family started praising his work, it only made sense to share these creations with the rest of the world.
In 1991, he founded Dayens and started his legacy. Today, Dayens is a family-owned business that currently manufactures amplifiers, speakers, and even high-end cables. All of their products are also handmade in Serbia.
The Dayens Ampino stereo amplifier is one of their most popular products and is highly praised in many audio circles. The Dayens Menuetto is supposedly a nice step up in performance from the Ampino, and so I elected to review it. Here we go.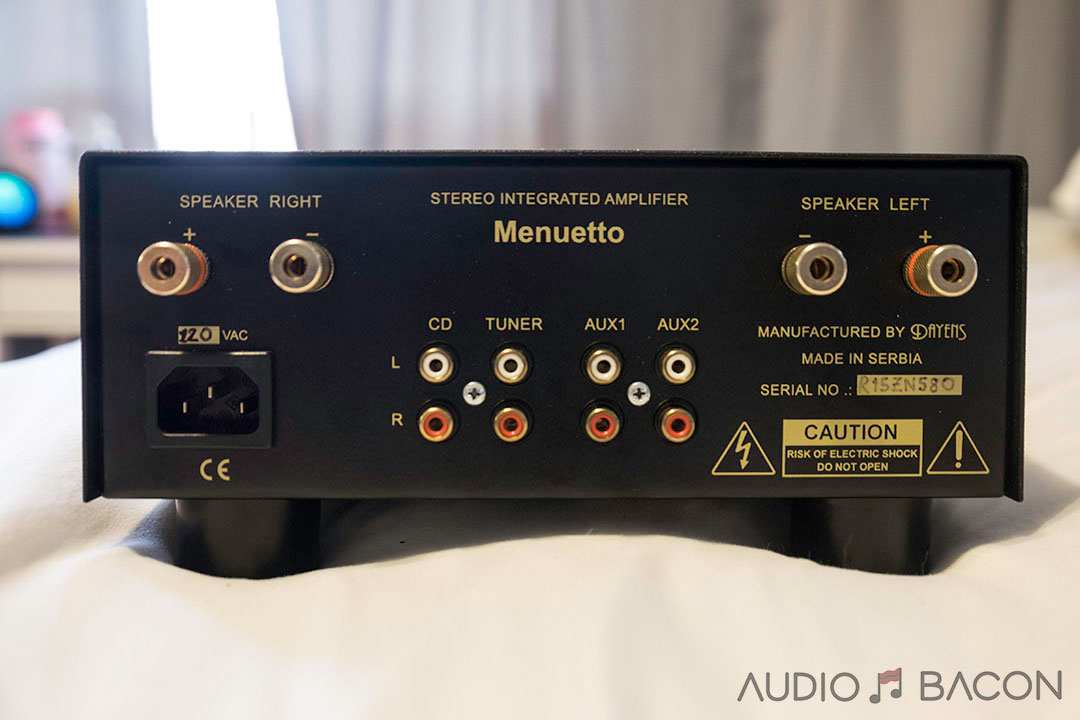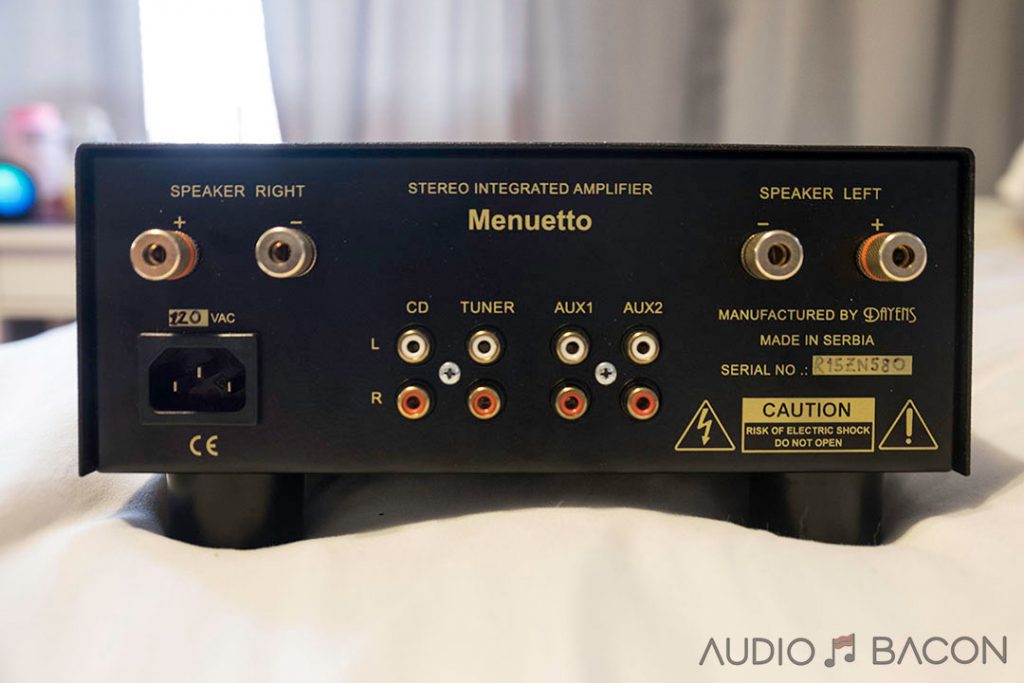 Build & Design
I'm a huge fan of the glossy black acrylic faceplate and shiny knobs. I also enjoy the symmetric layout with the centered green-lit power switch. Definitely one of the more attractive amplifiers I've had on my desk.
The input selector snaps firmly in place and the volume control provides enough resistance and smoothness to make precise adjustments. It's also sold with a remote.
The five-way, gold-plated binding posts were sturdy enough for the heavy speaker cables. Speaker cable and interconnect connections were also a breeze to get situated.
The amplifier is warm to the touch. I sit about 4 feet away and never felt it radiated an enormous amount of heat.
Short signal paths,

Mundorf capacitors, and Alps Blue Velvet potentiometers all help in improving sound quality.

Keep in mind the Mundorf capacitors do require some time to break in.

A high-quality toroidal transformer used in its linear power supply.
High-quality bipolar transistors.
The overall build quality of this amplifier is excellent. I've seen lesser quality from pricier amplifiers. No complaints on this front whatsoever.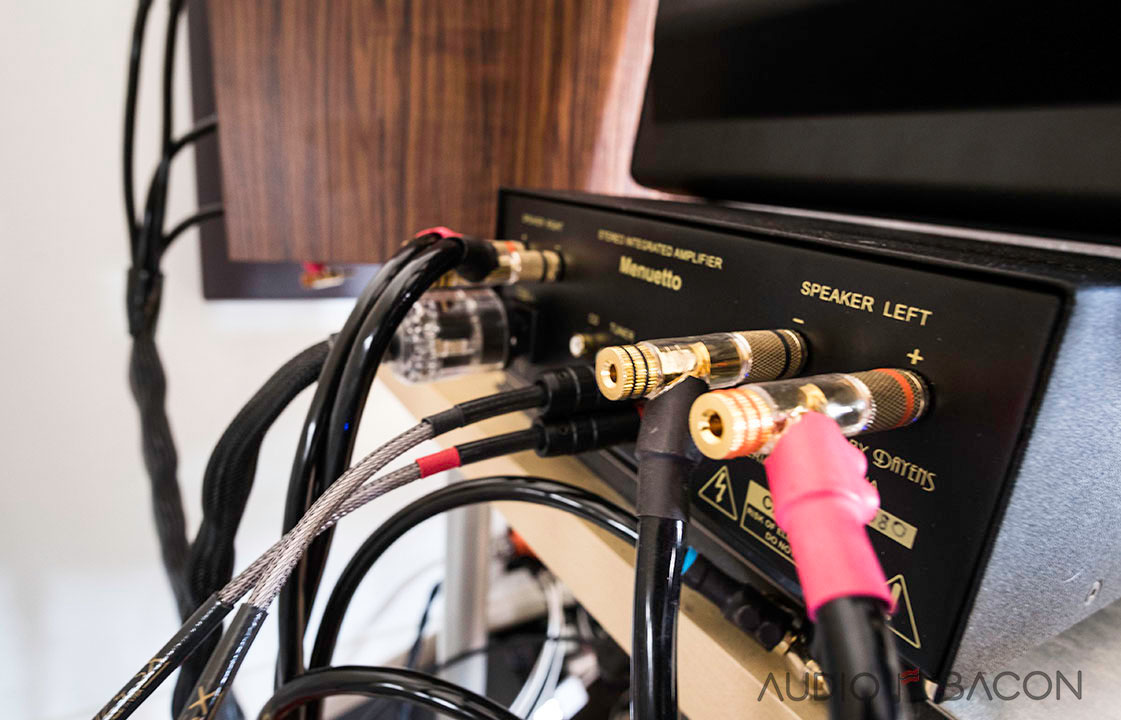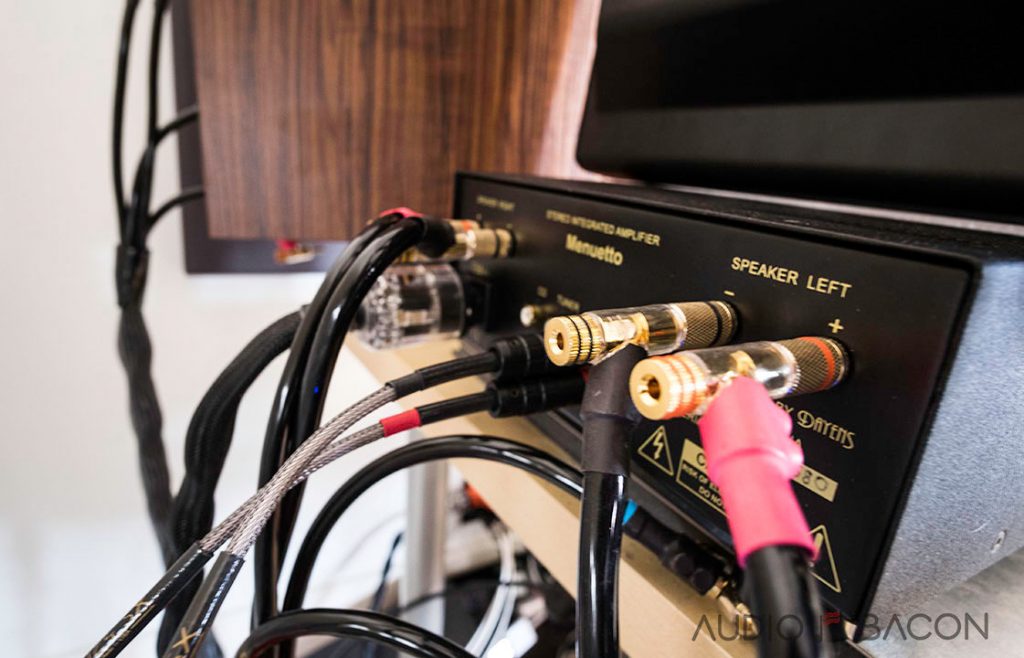 Equipment
Interconnects
Speaker Cables
Power Cords
Speakers

Omega Compact Alnico Monitors
JL Audio Fathom F110 V2 subwoofer
Specifications
Power (Watt):      

2 × 50 watts @ 8 Ohms
2 x 70 watts @ 4 Ohms

Inputs:

4 x RCA (CD, Tuner, AUX1, AUX2

Frequency response (Hz):     
SNR (dB): 
Dimensions: 
Weight (kg):

14.3 pounds

15.4 pounds shipped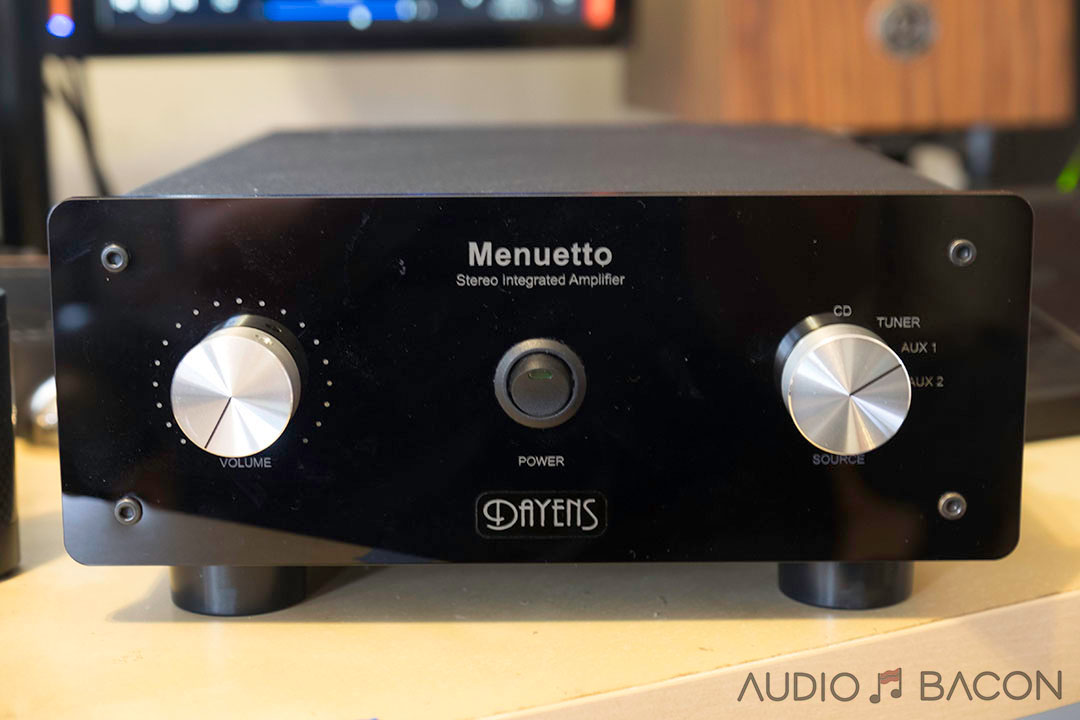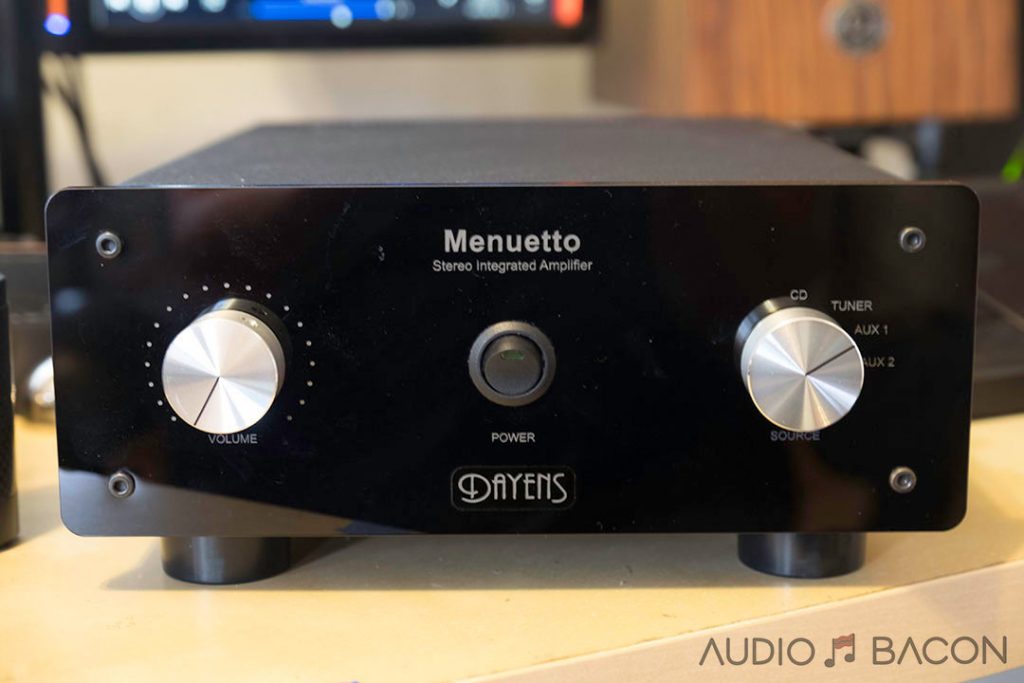 Sound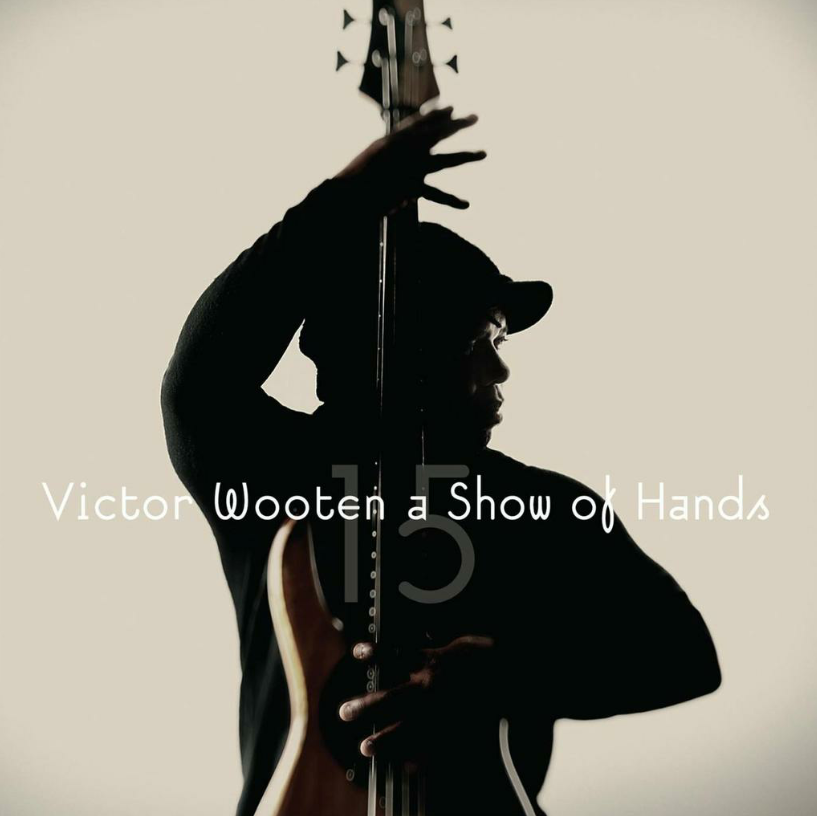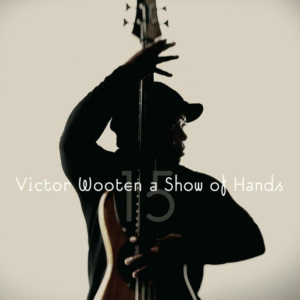 Once I got the Menuetto warmed up, I was immediately startled by the large enveloping soundscape around me. It generated not only a sense of atmosphere but a palpable presence. First up is Victor Wooten's More Love track from his A Show of Hands album. The master bass guitarist's fingerwork is refined and organically material while the background vocals sit coherently to the rear. Though not an aggressive track, still has plenty of rhymic flair and energy. The Menuetto draws you into the musical nuances of the recordings without being overbearing.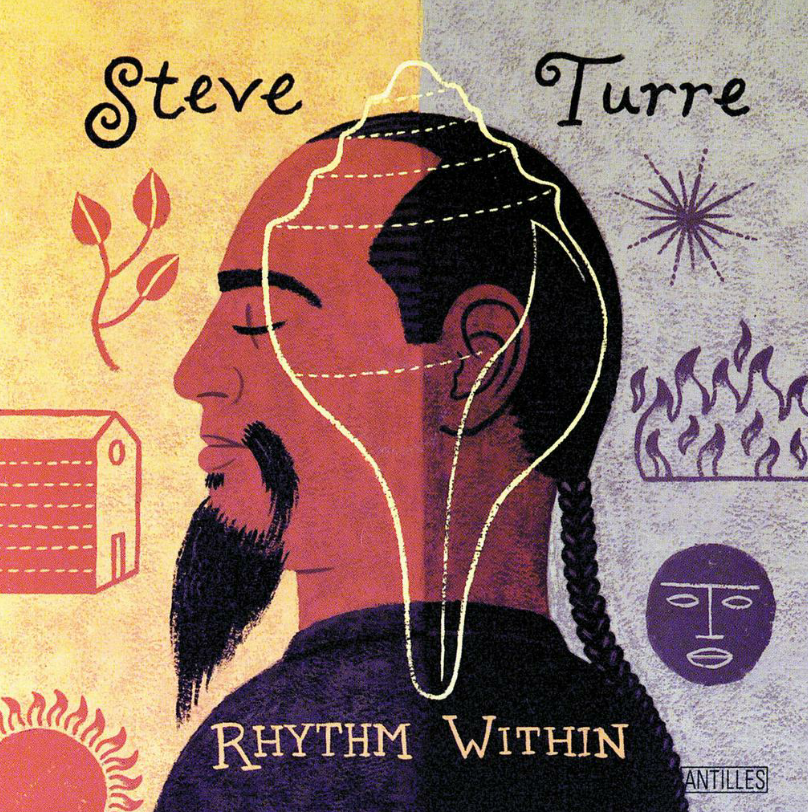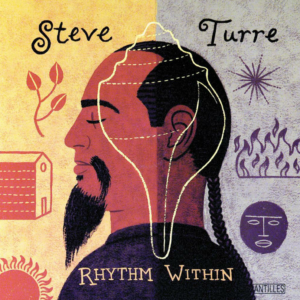 In a slightly busier track, Morning off of Steve Turre's Rhythm Within, the Menuetto's ability to relay tonal contrast and scale is realized. There's a textured smoothness within all the instrumental complexities. From the trombonists to the percussionists, and even the sounds from the conch shells – there's plenty of extension in both directions with an engaging vibrant texture throughout. It always maintains its composure in its details and dynamic strength. I was compelled to stay in my seat for the entirety of this album.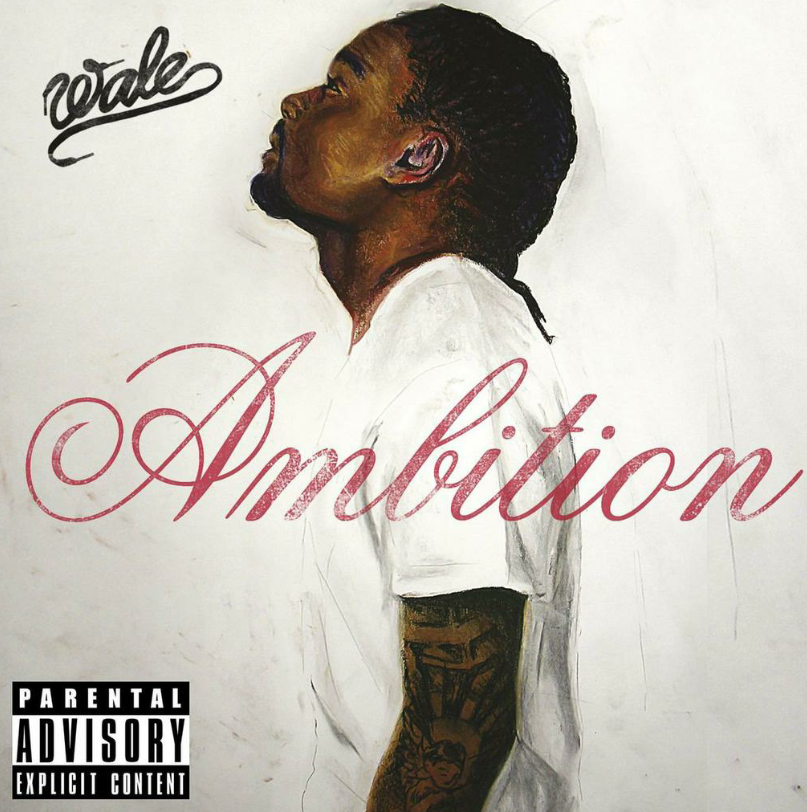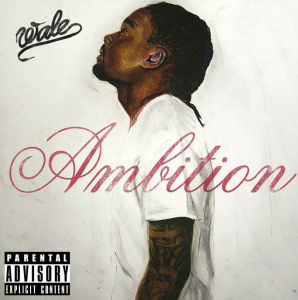 The Menuetto is the Great Gatsby of amplifiers. It's inviting, grandiose, and knows how to show you a great time. He's such a lovely host, it's really hard to fault him for anything. Shifting over to hip-hop, Wale's Ambition has grit and grunt. Bass is also incredibly punchy, goes deep, and remains tight. The Menuetto effortlessly layers out the voices and instruments with clean and spatial clarity. You could hear the warmth, beauty, and positivity of the message. The multitude of male vocals is also tonally differentiated. There's no ambiguity about who's holding the mic.