Best of Show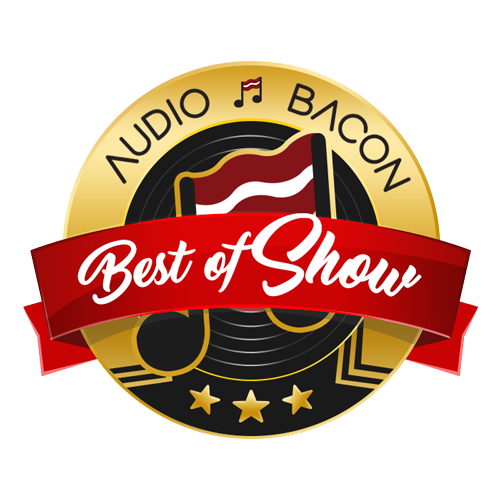 Gershman Acoustics
Gershman Acoustics has done the impossible – Best of Show for two years in a row. As far as speaker design, it's obvious Eli Gershman knows what he's doing. I hadn't even heard of Gershman Acoustics until last year's AXPONA.
These new Grande Avant Garde X loudspeakers ($13,590/pair) made a very memorable impression. It only took a few seconds for goosebumps to flood in and the musical immersion to commence. There aren't many speakers which could soundstage and image like these. Especially while preserving clarity, proper tone, and accurate timbre.
Voices were locked in, textural cues were prominent, and the acoustic mold is definitive and precise. This is exactly what a musically holographic sound should sound like. There's this huge acoustic image with some of the deepest and widest soundstage I've ever heard. It's also scary in how it delineates the tonal variations of every recording. In comparison to their $129,000 POSH Statement, these Grande Avant Garde X loudspeakers seem to also have the touch of warmth I craved for.
After being enthralled in the listening experience. The first thing that crossed my mind was "It's obvious these guys make music listening, an intrinsic part of their lives. It's what they live for."
And so, I asked Eli and Ofra Gershman "How often do you listen to live music?"
Ofra replies "Every weekend."
"Well, it shows. Everything sounds true to life. I'm glad we have passionate music lovers like yourselves designing speakers. It is a gift to the industry."
Hopefully, the Grande Avant Garde X loudspeakers will the first on my list of speakers I'd like to review in a new listening room I'm building. I really miss their sound and hope to hear them again at Munich this week. Worthy of the highest award.
System
GRAND Avant Garde X – $13,000

The Grand Avant Garde is handcrafted by highly professional craftsmen. Italian Piano finish is a standard (other colors are available).
In order to provide our costumers more choices to accommodate various styles of home decor, we recently introduced an option which provides a choice of Black or wood Veneered grills.

VAC Statement 450S iQ dual mono amp
VAC Master preamp with internal phono option
Nordost cables
VPI Avenge Turntable and Phono-stage
Audio Technica ART1000 Moving Coil Cartridge
Oracle CD player.

Grande Avant Garde Gershman Acoustics brought out the legendary speaker Avant Garde in 1994, Gershman's goal when designing the Grande Avant Garde was to create a speaker which maintained all the main attributes that rendered the success of the Avant Garde for the past 25 yearsThe new design had to deliver an even more!

For the past few years, the designers at Gershman Acoustics, were hard at work, innovating, engineering and testing new conceptsThe result was Gershman Acoustics proprietary BCT- Backwave Control Technology. Engineered and used only by Gershman Acoustics. The BCT – Back wave Control Technology was developed to act as a Back wave base trap.In Most speakers design the challenge is to control the back wave which travels back through the cone of the woofer resulting in a muddy sound and uncontrolled bass.