Best Sounds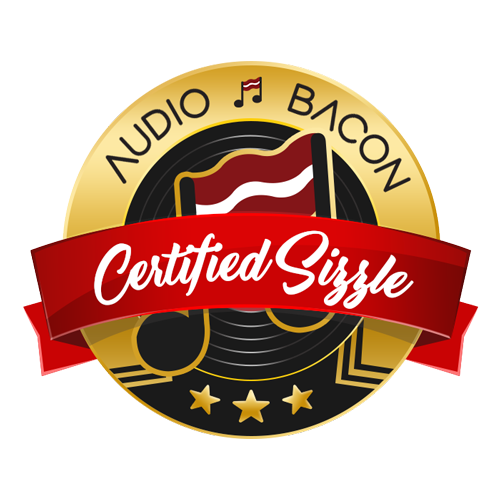 BAYZ Audio Counterpoint
As I was making my rounds, a few of my buddies asked me if I heard the interesting "paperclip" speakers. "You'll know when you see them."
The BAYZ Audio Counterpoint loudspeakers (debut) were surely hard to miss – one of the most unique looking speakers I've ever seen. I had no idea what the price was and for whatever reason, my expectations weren't very high.
Plenty of recordings with stringed instruments were played – and I was beyond impressed. "That sounds like a real cello to me." The tonal variations, transient clarity, and level of tactility were off the frickin' charts. The experience was convincing – both in timbre and soundstage. It's just so physical. One of the few most memorable loudspeakers in recent memory. I look forward to hearing these again in Munich.
The Counterpoint loudspeaker achieves state-of-the-art status in consumer electronics by utilizing the internationally patented Bay Radial Speaker (BRS). The Counterpoint is a radical design change and marks a quantum leap in loudspeaker technology. The BRS was developed by inventor Zoltán Bay as an idealized way to provide a superior, phase coherent pulse that radiates a sound field in a full 360 degrees with vanishing low distortions and inaudible ringing. The development of the BRS took over a decade of painstaking development to meet Zoltan's exacting performance capabilities.
Pricing: $97,100
Digital Source: BɅYZ Audio – Custom Server
Amplification: CH Precision – i1 integrated amplifier
Loudspeaker: BɅYZ Audio – Counterpoint
Speaker Cables: Synergistic Research – Atmospheric X Level 3 Euphoria
Power Conditioner: Synergistic Research – Power Cell 8 UEF SE
Power Cords: Synergistic Research – Atmospheric X Level 2 AC Power Cord
Currently, BɅYZ Audio offers the Counterpoint and the Courante. In the fall of 2019, BɅYZ Audio should be offering a smaller model than the Courante and priced accordingly.
| | | | |
| --- | --- | --- | --- |
| Product | Counterpoint | Courante | Courante P |
| Freq Resp | 24Hz – 22kHz | 27Hz – 22kHz | 27Hz – 22kHz |
| Impedance | 4Ω | 4Ω | 4Ω |
| Sensitivity | 94 dB | 90 dB | 90 dB |
| SPLmax | 114 dB (Anechoic) | 114 dB (Anechoic) | 114 dB (Anechoic) |
| Power | 200W continuous | 140W Continuous | 140W Continuous |
| Configuration | 2 way | 2 way | 2 way |
| Crossover | Approx. 2 kHz | Approx. 2 kHz | Approx. 2 kHz |
| Price | $97,100 | $45,000 | $42,000 |
| Warranty | 5 year | 5 year | 5 year |
| Trial Period | 30 days | 30 days | 30 days |
| Height | 1.9m (75") | 1.4m (55") | 1.4m (55") |
| Weight | 77 Kg (170 Lbs) | 30 Kg (66 Lbs) | 30 Kg (66 Lbs) |
| Material | Carbon Fiber (full) | Carbon Fiber (full) | Painted Glass Fiber |
---
Rethm Maarga V2
Jacob George of Rethm loudspeakers did a wonderful job with this redesign. Aesthetically, it's more contemporary yet still very elegant. The biggest gains were in the design of the speakers themselves.
Mark Sossa of Well Pleased AV goes into the details below. This is the best their room has ever sounded. The recording in the review does a decent job of imparting the level of clarity and articulation of this setup.
---
Wynn Audio
One of the best sounding rooms wasn't in a hotel room. Interestingly enough, this one was located in the Record Fair area at AXPONA.
I've seen Wynn Audio's "sound box" at previous shows but every time I visit, nothing was playing. I peeked my head in again – and was mesmerized by what I was hearing. It was almost like a live band was projected in front of me. Supremely quiet, well-formed, with tangible grip across the spectrum. I guess it's a little unsurprising – as this "listening room" has been carefully constructed for optimal listening. If you have ever seen this golden box, duck into it and give it a listen.
Kalista DreamPlay ONE CD Player – $43,000
Crystal Cable CCi Integrated Amp – $19,995
Crystal Cable Arabesque Minissimo Diamond speakers – $19,995
All cables are Crystal Cable Future Dream series
---
Verity Audio
Verity Audio made a statement with their huge $1 million system at RMAF 2018. In contrast, when I met with designer Julien Pelchat at AXPONA, he was sitting beside a more modest looking system.
Verity Audio was introducing their new Lakmé loudspeaker along with their new DAC/Preamp, and Amp-45. At first blush, their entry-level loudspeakers themselves looked a little unassuming. A closer look at the designer fabric and overall build – and you start to realize the craftsmanship and thoughtfulness involved.
This is one of the smoothest and most fleshed out systems at the show. Not only that, it had such naturalistic detail and acoustic layering. With most digital playback systems, there's always some level of artificialness. In the case of Verity Audio, there were no hints of digital grain, edge, or sharpness. And it didn't matter what genre of music was being played. One of two rooms I had to revisit before the end of the show. Beautiful sound.
Speakers Verity Audio "Lakme Loudspeaker" * $13,995
Preamp Verity Audio "DAC-PRE" Digital Preamplifier & DAC * $25,000
Amplifier Verity Audio "AMP-45" Stereo Amplifier * $25,000
Digital Melco N1ZH Mk. 2 $4,995
IC Cables Signal Projects Interconnect and Speaker Cables $8,500
Pwr Cables Vibex V3 Power Cables $3,750
Pwr Cond. Vibex Granada Dual DC and Alhambra AC Mains Power Filters $5,000
---
Audio Thesis
One of the first rooms I visited – and one of the most memorable. Wonderfully snappy, well-controlled, and very impactful. In addition, a full-bodied and properly toned sound. There was plenty of textural cues and dynamic heft from these Rosso Fiorentino Fiesole loudspeakers. Especially for the 6.5″ Nomex woofer and 1″ silk dome tweeter. A very resolving and engaging presentation.
Lumin U1 Mini streaming Tidal – $2,000
Norma DS-1 CD Player (using USB input from Lumin) – $5,250
Norma SC-2B Preamp (discontinued, new model is SC-2 LN – $7,000 base)
Norma 8.7 MR Monos (discontinued, new model is PA 160 MR – $18,500)
Rosso Fiorentino Fiesole, newest generation – $7,500
Wireworld Platinum Cabling throughout
Star Sound Technologies Platforms and Stands throughout
Riot Acoustics Shield room treatments
---
Gold Note & Rutherford Audio
The performance to footprint ratio was very high for this setup. An addictively intimate sound that flows delicately yet densely across the room. We spent quite a bit of time here – nodding in approval. A beautifully silky midrange and highs that were sweet yet not overly vibrant.
It was difficult to believe how much power and grip could come from such a simplistic looking (and relatively inexpensive) system. These components sounded like they belonged together.
Mediterraneo turntable – $7,899
Gold Note PH-10 Phonostage – $1,599
Gold Note IS-1000 Integrated Amplifier – $5,099
Wilson Sabrina Loudspeakers – $18,000