Best in Class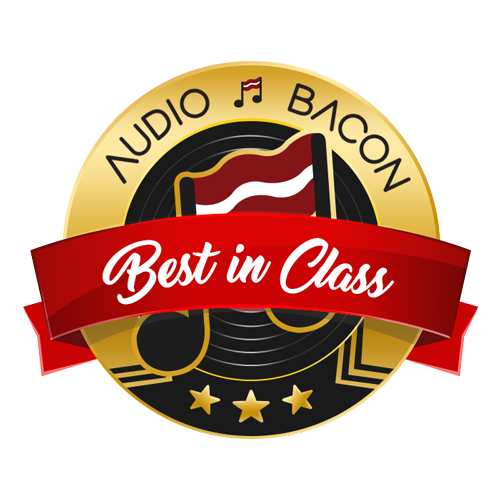 Underwood HiFi
With so many rooms to cover, when a reviewer revisits a room – there's something special in the air. The Underwood HiFi room was one of two of my revisits at AXPONA (the other being Verity Audio). I just had to reaffirm what I was hearing – as the pricing was extremely attractive. This entire system clocks in under $10,000.
As far as sheer musical enjoyment, this room made it in my top 3. First, the imaging capabilities of these LSA-10 loudspeakers are astounding. You get perfectly positioned instruments and confidently grounded vocals. Secondly, a lifelike body and tone encompass all the listening sessions. Everything was believably present. In essence, it sounded like warmblooded performers were molded and placed three-dimensionally into the room.
Usually, this would mean softer highs and veiled details – but this isn't the case. Cymbals and violins still have a sufficient amount of vibrancy while percussions are pronounced with weight and gravitas. It was difficult to imagine anyone not enjoying this sound.
Best in class and probably a best-kept secret in HiFi. You really don't need to spend a lot of money for really good sound. If you ever have a chance to listen to this setup at future shows – it'll be worth your time.
Needless to say, I've requested a review unit and will be taking a closer look in the upcoming months.
LSA 10 Signature monitors

The new LSA-10 Signature uses our custom aluminum cast basket 6.5" XBL 2 long throw woofer, and a single rear mounted 5" x 7" sub-bass radiator.
These are blended with the LSA custom 1" soft dome tweeters with a compact neodymium XBL 2 magnet structure and a shallow waveguide to better integrate with the woofer.
These new drivers deliver greater linearity and lower distortion than our previous models along with speed, transparency and lack of smear only found in the most expensive loudspeakers.
Bass is flat to 35Hz.

Sensitivity is 87dB.
Shown in standard beautiful Rosewood satin.
Retail: $2,495.00/pr

The speakers are driven by the new Emerald Physics EP100.2SE 100 watts/ch hybrid amplifier with an Emerald Physics designed digital amp and custom analog power supply.

The 100.2SE, shown in our beautiful powder coated cosmetic and available in translucent black or silver, can be used as a straight 100 watts per channel (150 watts @ 4 ohms) power amp or run at
275 watts in mono (8 ohms) (450 watts @ 4 ohms)
Retail: $2195.00


The preamp and DAC with room correction are the DSPeaker Anti-Mode 2.0 Dual Core.
The optional 1200 watt Syzygy SLF-870 12" wireless subwoofer is shown for those who need true 20Hz bass reinforcement in larger rooms.

It is app-controlled & has in room correction thru the app.
Retail: $999.00

Power conditioning is the new Core Power Technologies Equi=Core 1800, 15 amp balanced power unit.
The 1800 is run thru the new Deep=Core 1800 being introduced here.
The sources are Qobuz or hard drive audio run thru an Auralic Aries G1 and Marantz CD player used as a transport run into the DSPeaker.
Sources and Wireworld cables are not included in the prices above.