AXPONA 2018: Best of Show – Gershman Acoustics
ROOM #710
POSH Statement loudspeaker ($129,000)
Studio ll

 Our entry level monitors ($3595)
MASTER PRE with Phono  ($40,000)
Statement 450S Amplifier 

($46,000)
ORACLE CD player ($4,500)
The Story
Gershman Acoustics has been in the audio game since 1993. They've since gathered a substantial number of award-winning loudspeakers under their belt.
Using such technology advanced facility as The National Research Council to develop, design and test all of Gershman Acoustics Modles, as well as having such passionate, knowledgeable and creative chief designer as Mr. Eli Gershman provides Gershman Acoustics with the advantage of designing and manufacturing Award Winning modles such as the Black Swan, Sonogram and Avant Garde and worldwide recognition..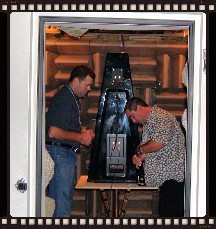 Build
Handcrafted in Ottawa, Canada. The magic seems to happen in their Acoustic Un-Echoic Chamber. 
A careful peek at the cabinet design and overall structure and you start to get a sense that the designer has given this speaker plenty of thought.
The Posh Statement loudspeakers are constructed with a new approach incorporating two entirely separate enclosures. These enclosures are placed seamlessly one above the other.
Each loudspeaker has a double woofer enclosure placed on impressively custom-designed Tiptoes.
An A-shaped enclosure is suspended above the woofers by two solid steel structures. There's one on each side to suspend and completely separate the midrange and tweeter enclosure. When placed appropriately, the loudspeaker looks like a single cabinet.
Features
1″ HDF Wood and 1/4″ stainless steel panels use to heavily fortify the enclosure
The cross-over is constructed with point-to-point silver solder.
Mundorf MResist SUPREME resistors

A special fire-resistant casting compound is manually applied. This helps mitigate and stabilizes the resistor winding thus protecting it against microphony effects. So even during high loads, there's no deterioration of sound quality.

Mundorf MCap SUPREME SilverGold.oil capacitors

These TOTL caps exhibit micro-dynamics, acoustic neutrality, and realistic musical reproduction.

Morel-dome tweeter

Revealing and sweet without being fatiguing.

Accuton Cell 5″ Ceramic Midrange

Full-featured Cell Concept

Furutech internal and exterior wiring

Connects the tweeter and midrange to the woofers
Gold plated connectors

Two -8" Aluminum Alloy double magnet woofers (Gershman's design)

The aluminum cone on this driver is extremely rigid yet well damped. This means a very clean and low-distortion bass and midbass region while being able to produce a very tight bass response down to 19 Hz.

Gold-plated Mundorf binding posts

For the best speaker cable connection, the Posh design incorporates these top-of-the-line posts.
The Experience
The Gershman Acoustics Posh Statement was just recently announced so this was the first time I (and many others) were able to hear it. As I stepped into the room, it immediately captivated me – both sonically and aesthetically. It wasn't the most elegant looking speaker but it gave a no-bullshit and all-business kind of vibe. My first thought was "This beast looks like it only cares about sound." However, the more I observed and listened, the more I really appreciated the "purist" and "mechanical" design. The high-gloss lacquer piano finish, shape of the supporting steel structures, and unconventional driver placement kinda works.
I'm not a huge fan of neutral but the Posh Statement had just the right layer of richness that kept me in my seat. I would definitely appreciate a denser and lusher tone. But due to its performance, I felt a bit guilty nitpicking about that. The Posh Statement was able to also maintain this level of warmth while maintaining a nimble presence. The music was detailed, supremely airy, and transparent without sounding sterile or harsh. Imaging was some of the best I've ever heard on any system. Placement of vocalists and instruments were precise and coherent. As far as soundstage, it was realistically sized in regards to breadth and depth. It checks all the audiophile boxes on my list.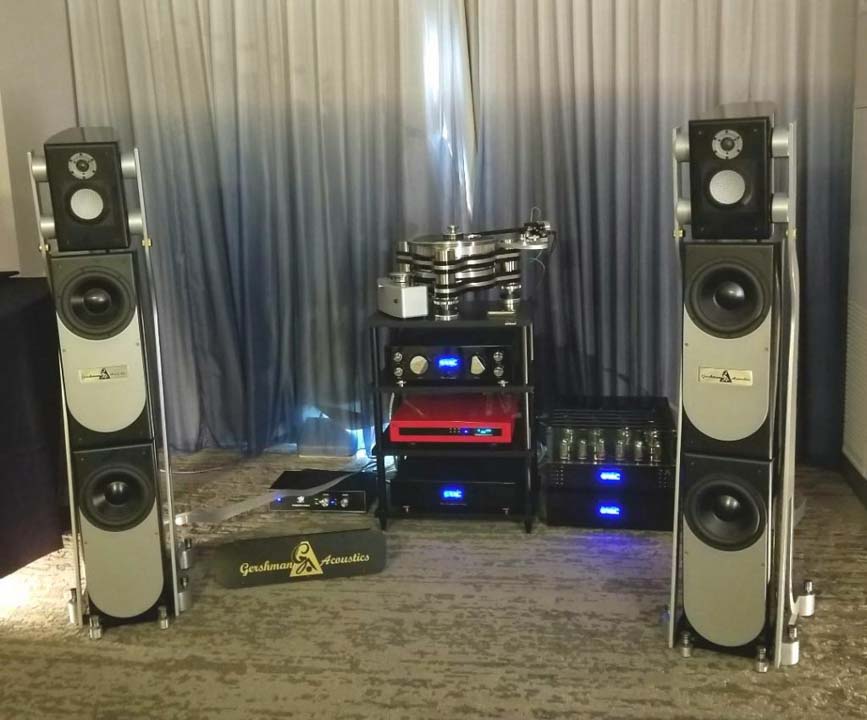 A few exceptional systems have these boxes checked as well. What made the Posh Statement so special?
After listening to hundreds of systems, I realized there's one thing that's difficult for many of these systems to convey – physicality. Even in some quarter-million-dollar setups with beefy amplifiers, they seem to fall short in making that strike on a kick drum or brush across a cymbal sound believable. It's just difficult to hear the tactility of fingered fretwork on a guitar or the exertion of air out of a saxophone on many of these systems.
The Posh Statement in conjunction with the VAC tube amps exhibits an undeniable level of textural physicality. You could literally "feel" the music. The sonic bends in the acoustic space, the shape of the singers and instruments, and the overall emotional and physical investment of the recording. It just sounded tangible. It just sounded live.
I had no clue what the price point was on this loudspeaker until my revisit on the last day of the show. I was hoping for something "obtainable" but hey, sometimes you get what you pay for.
Congratulations to Gershman Acoustics for obtaining the Best of Show.