Certified Sizzle
These carefully selected systems were considered for the Best of Show. And the ones I revisited the most. It was a very difficult decision as these world-class systems all have their own special qualities. This is the type of sound that is emotionally involving – and naturally convincing. But what they all have in common – is superiority in the reproduction of music.
The following systems will be awarded the Certified Sizzle award.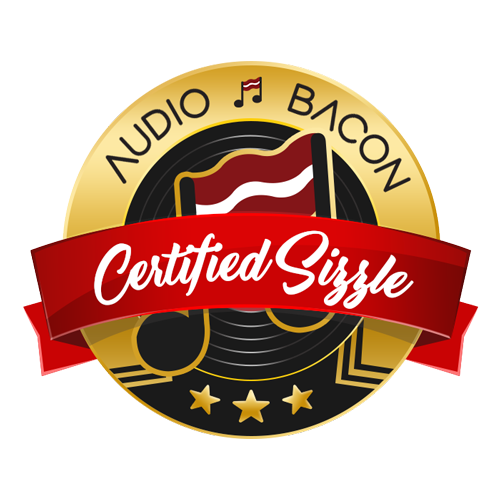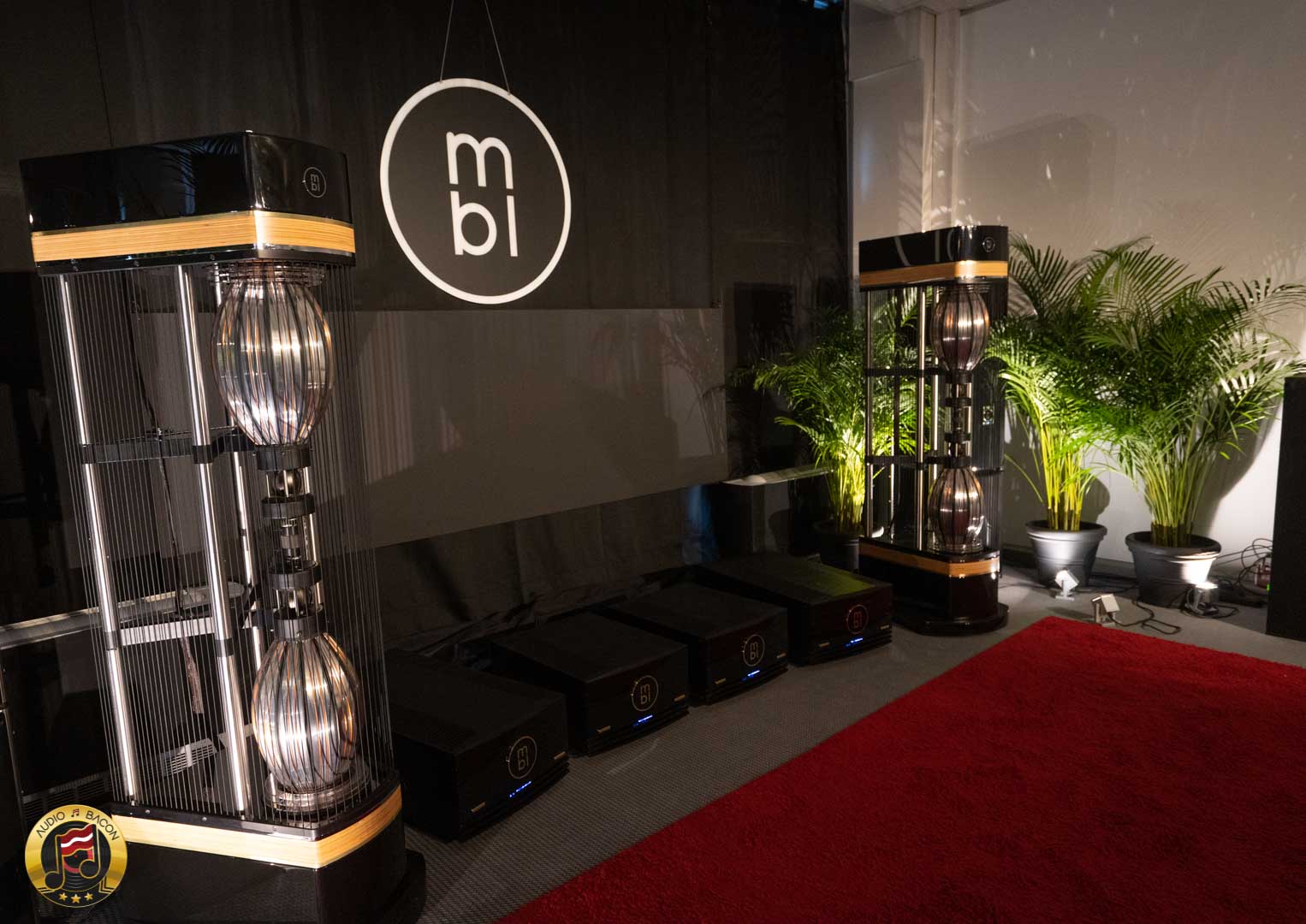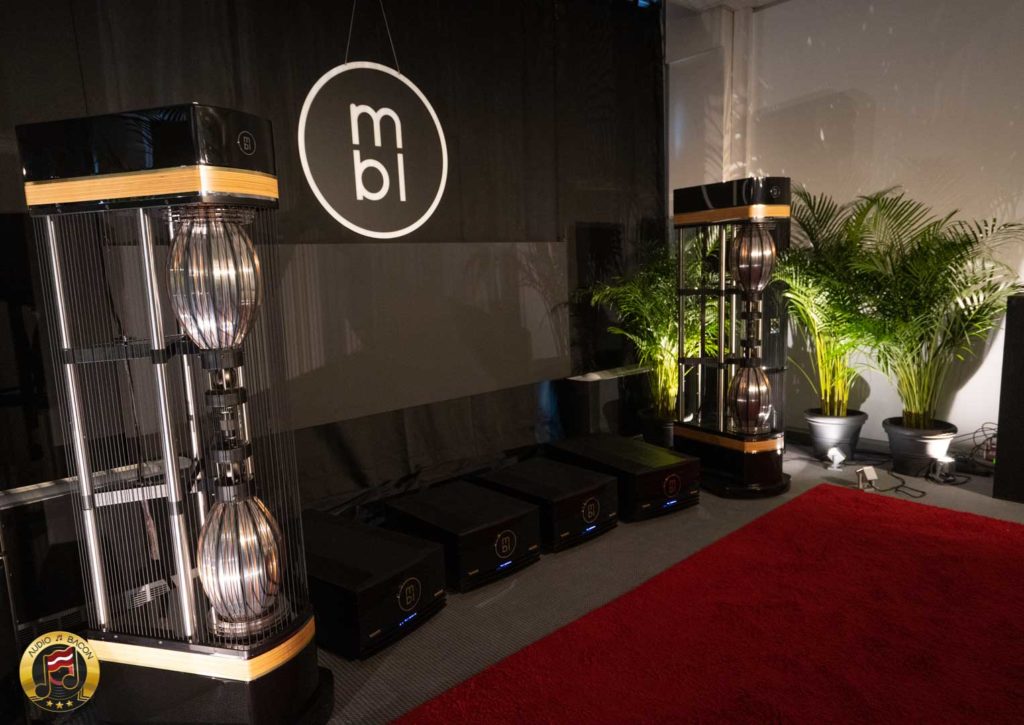 MBL
Anyone who isn't impressed by these X-treme speakers – have damaged ears. MBL is known to have some of the very best sounds at any of these shows. With that said, I've never heard MBL sound this AMAZING. Holy crap. Needless to say, I'm a believer in their designs. Bow…down.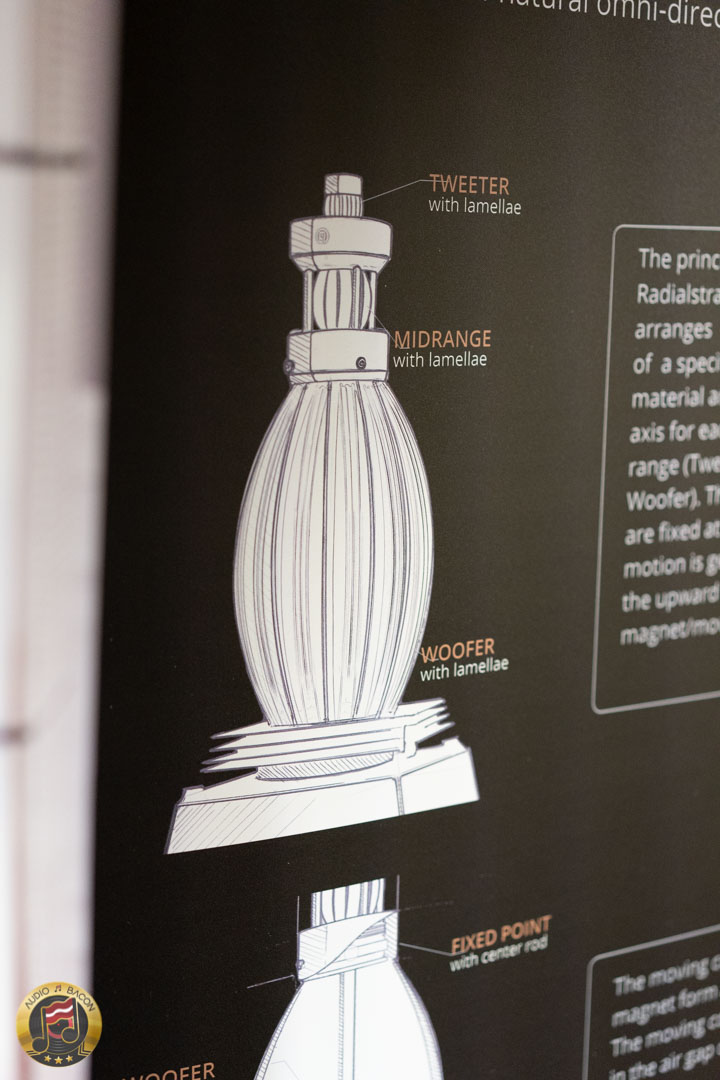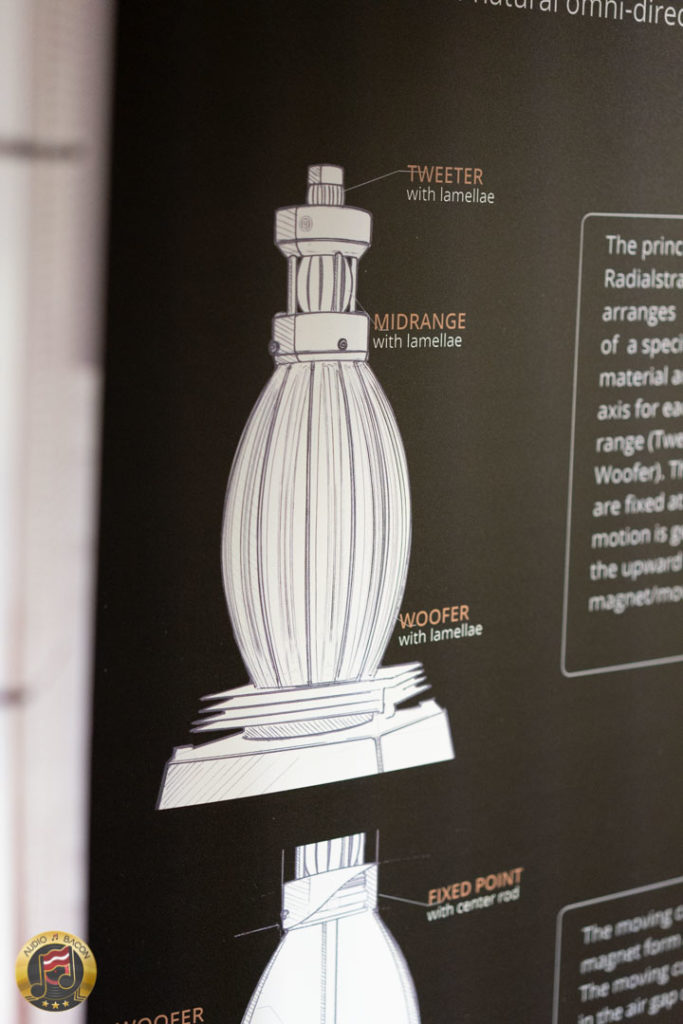 "Close your eyes, and the performers were in the room."
If there were a time to say those cliches, this would be it. Seriously. Largo al factotum was presented with insane speed, articulation, and unimpeded resolution. And this was my impression listening from the far side of one speaker. Violin and voices simply sound real. The low-end was also clean, crisp, and provided a leathery, palpable feel that is unheard of in almost every system.
This system engages and envelopes your sense at another level. The entire cost of this system moves towards $1 million – but you don't have to be able to afford it to appreciate its status as a state-of-the-art masterpiece.
---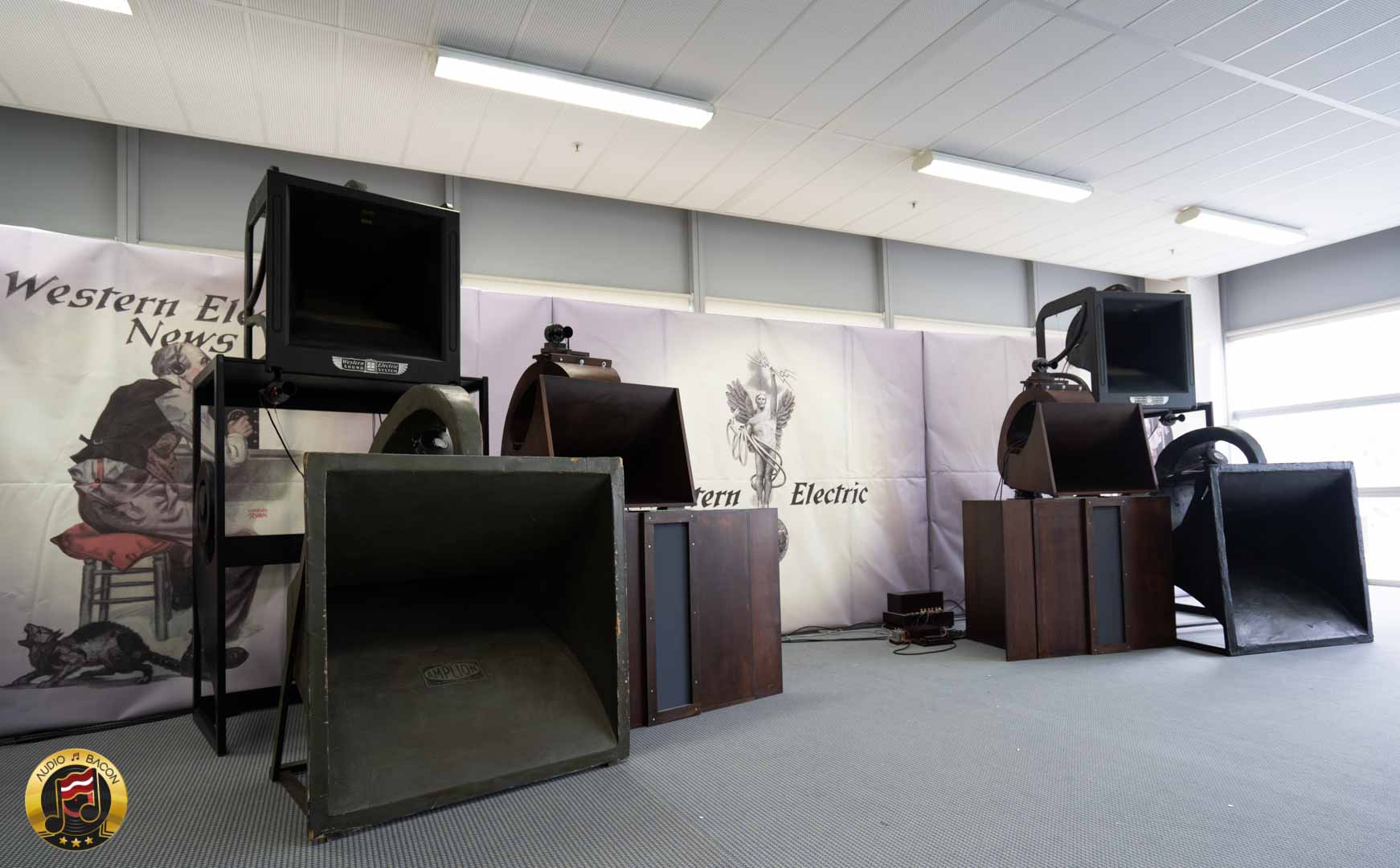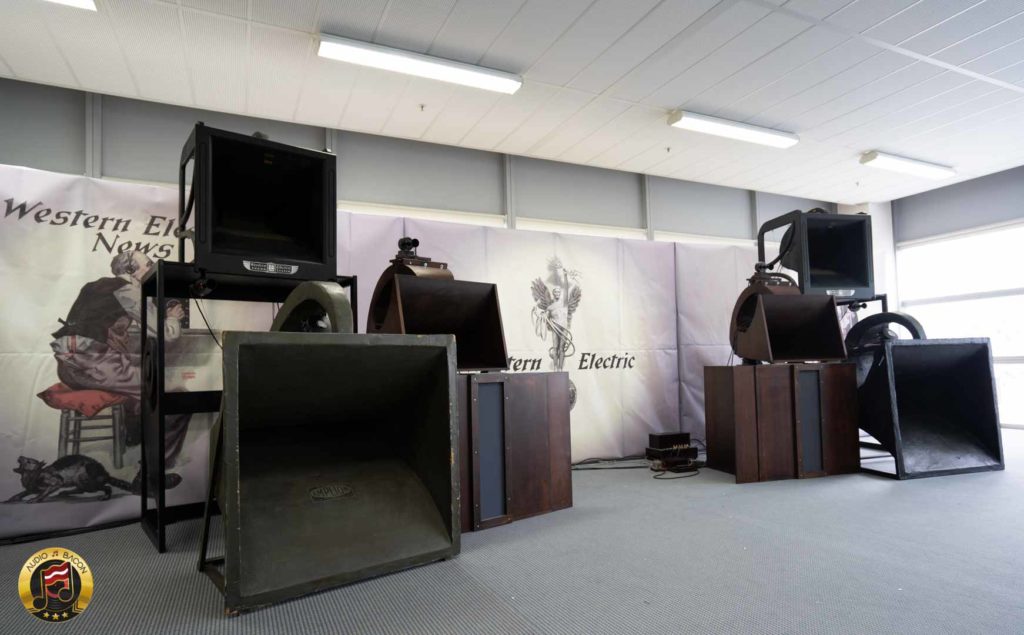 Silbatone & Western Electric
Good luck getting the Wife Approval Factor here.
By far the most interesting looking setup at the show. Something about these vintage Western Electric horns makes you want to take a closer look. Some of the cabinets are made from paper mâché – so you know they're pretty damn scarce.
These horns are driven by tube amplifiers from Silbatone – and are priceless. You can't buy them.
The sound. Coated with a "rustic" atmosphere, it sounded like "real" performers were inside those speakers. Like scary real. Voices have blood flowing through them – full of life. And appropriately aged. Instrumental timbre was very convincing.
You can't judge a book by its cover. One of the most truly mesmerizing and memorable listening experience.
---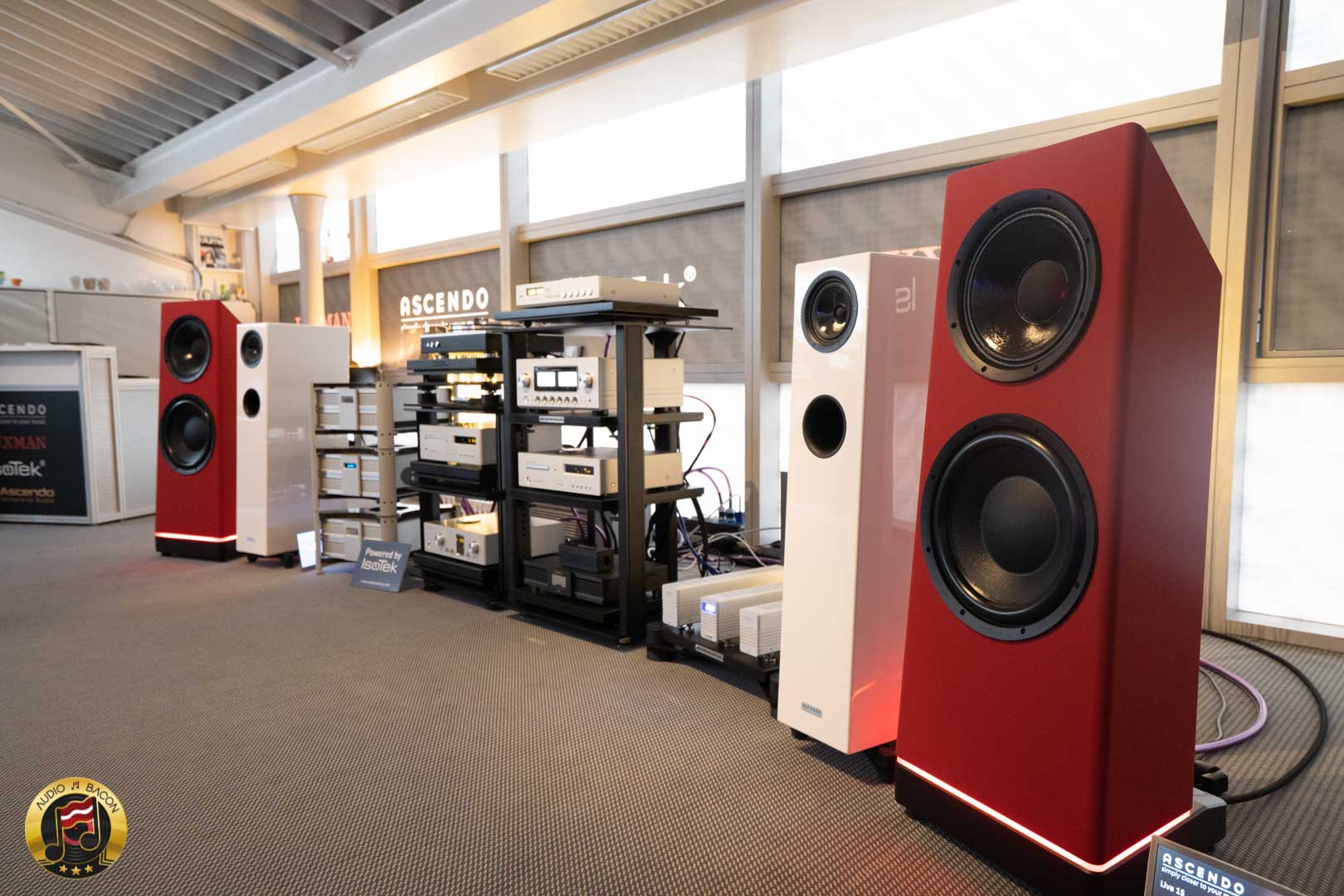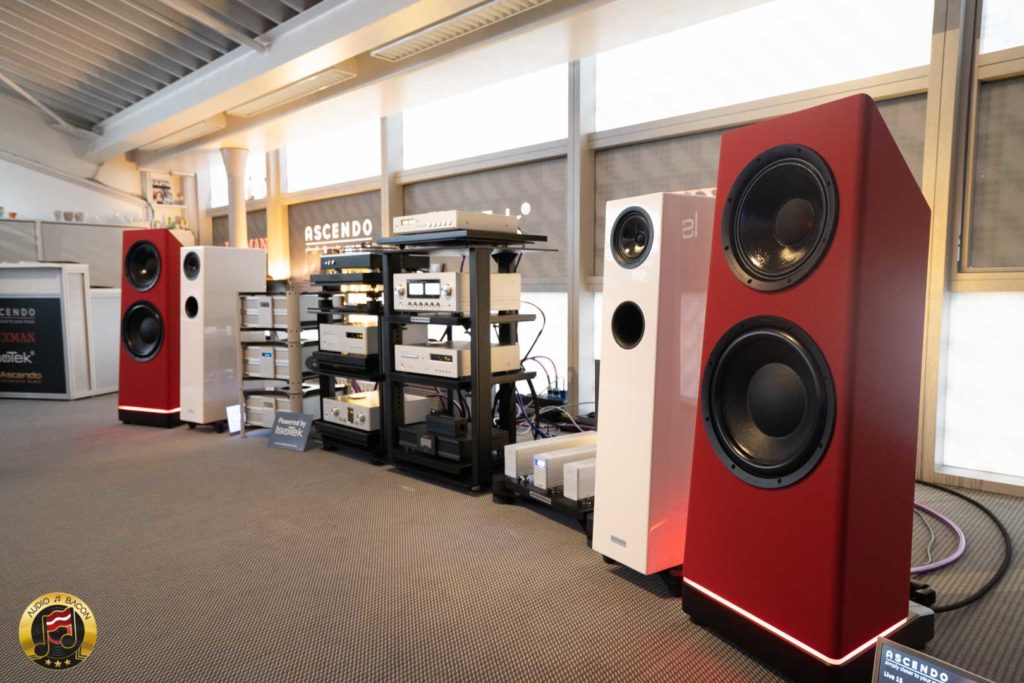 Luxman, Ascendo, and Isotek
Although many systems strive to reproduce the feeling of a live concert – it's rarely the case that it does. Especially at a show. Well, the Luxman, Ascendo, and Isotek room was quite the rarity. It brought me to Madison Square Garden in New York City for the Crossroads Guitar Festival in 2013.
While listening to the Ascendo Live 15 loudspeakers on the Luxman turntable, the word that comes to mind is "perspective." As Eric Clapton was performing Tears in Heaven, there's a depth and color to the cheers of the audience. This also applies to the vocal overlaps and multitude of guitars in play. As such, the harmony of this ballad is held together by stringy and tactile rhythms. Given its context, it was appropriately somber – yet beautiful. And 100% convincing.
Interestingly, these 1,650 watts/channel German-made active loudspeakers also have digital inputs and DSP built-in. The presentation was quiet – yet powerful and dynamic. This could also be attributed to the power conditioning provided by IsoTek. Their new IsoTek EVO3 Super Nova (made for front-end components that have constant current draw) is one thoughtful piece of gear. It even has UPOCC copper with IsoTek's VAD (Virtual Air Dielectric) for each of its 8 outlets.
A wonderful sounding system with fantastic synergy all around.
Ascendo Live 15 loudspeakers – $25,000 Euros
Luxman PD-171A turntable – $6,995
Luxman PD-151 turntable – $3,895
IsoTek EVO3 Titan One
IsoTek EVO3 Nova One
IsoTek EVO3 Genesis One
IsoTek EVO3 Super Nova – 9,995 Euros
---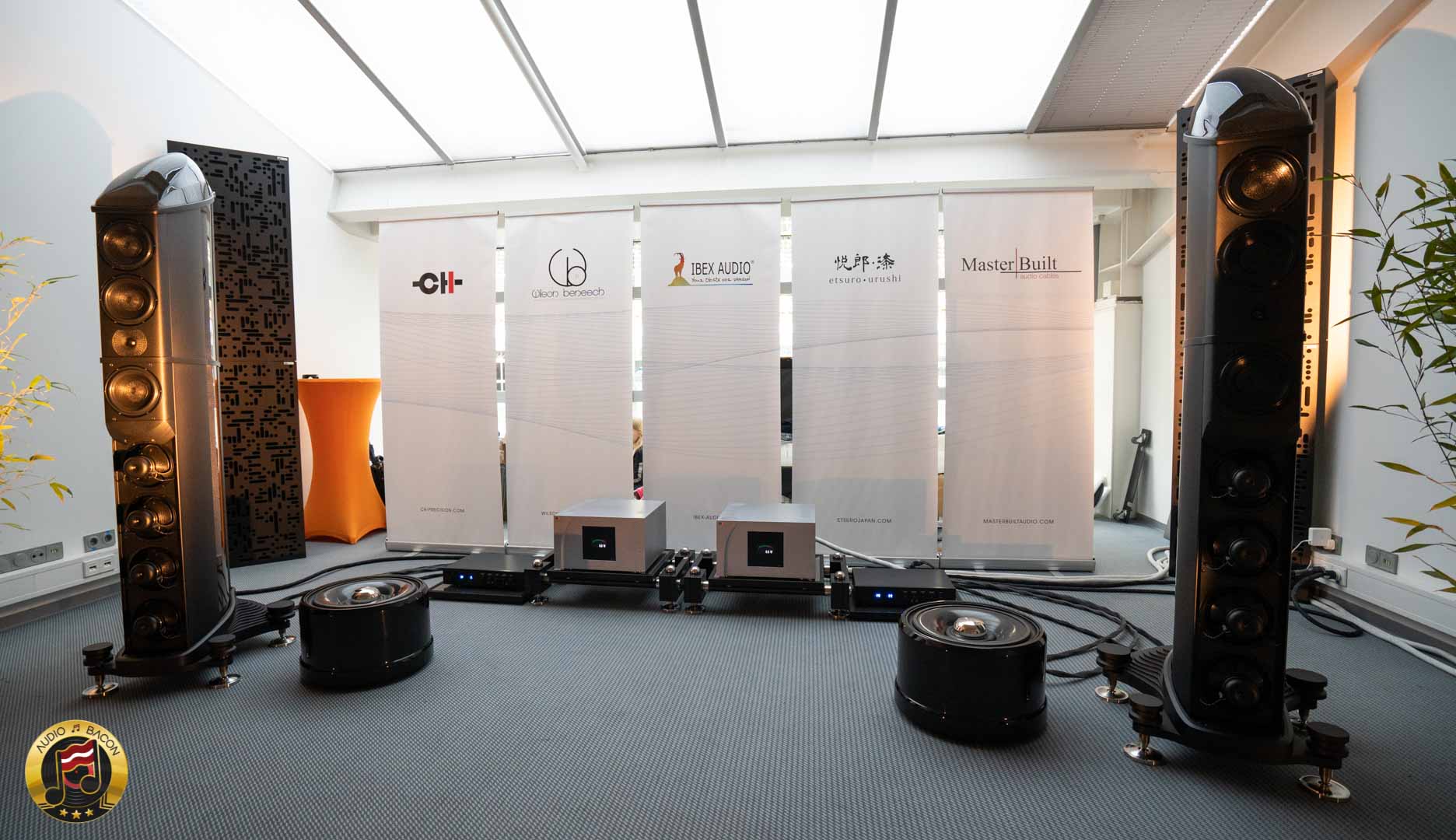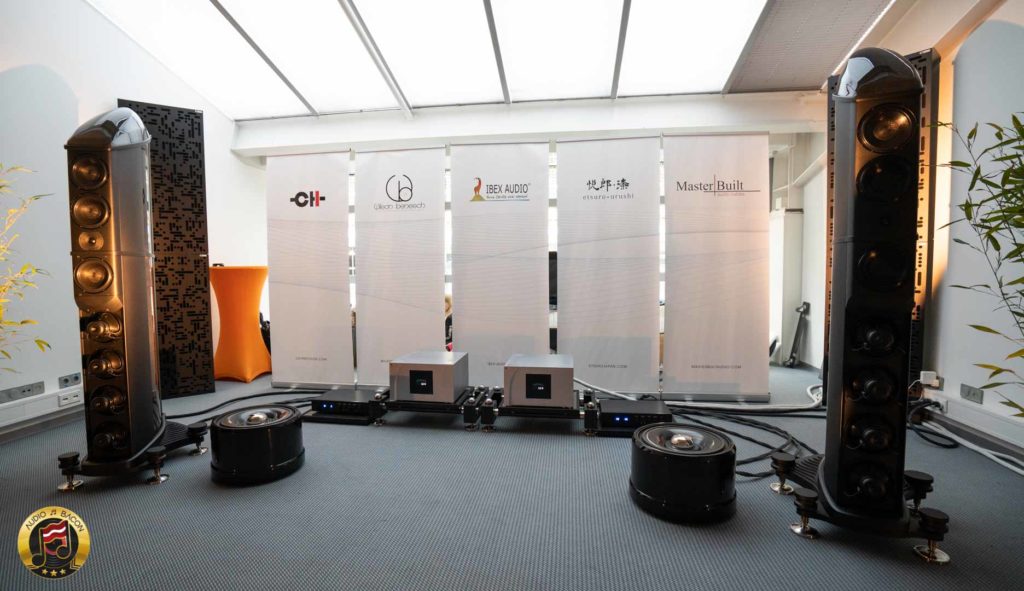 Wilson Benesch & CH Precision
Celebrating their 30th anniversary, Wilson Benesch loudspeakers are undoubtedly some of the most natural-sounding and highly-performant speakers in the world. It's amazing in how it articulates the entire spectrum with such accuracy and ease.
This system sounded honest with every recording thrown at it. Rammstein's LOS was meaty, groovy, and wonderfully engaging. Same for tracks by London Grammar and Rebecca Pidgeon. I probably stayed in this room for a good 45 minutes. Tracks will play through, and I couldn't find a single fault in what I was hearing.
I'm not sure how this system was able to effortlessly juggle warmth, shine, transparency, and resolution. But it's the best at it. Wilson Benesch's flagship loudspeaker driven by CH Precision electronics makes you wish you invested in Bitcoin earlier. At least, that's what crossed my mind.
---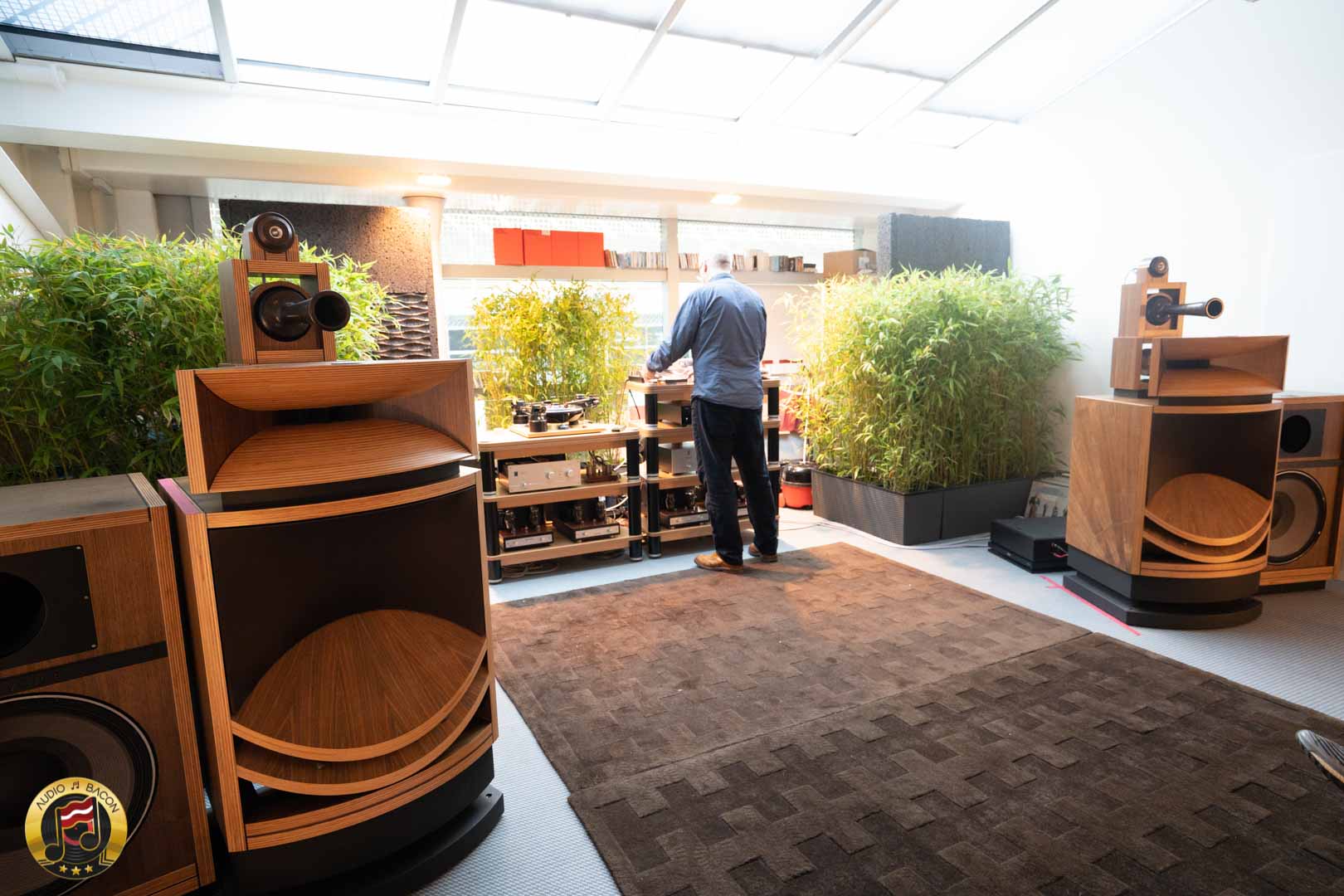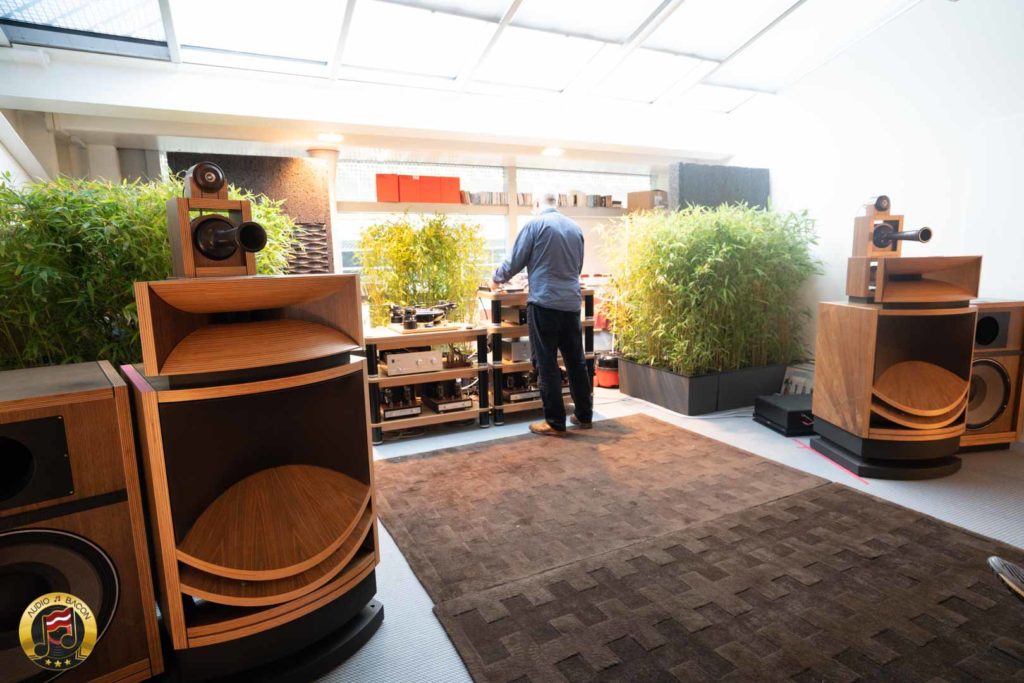 Living Voice & Kondo Audio Note
Sometimes there are rooms where you'd rather listen than to take notes. This was one of them.
These Living Voice Vox Palladian/Basso speakers had some of the best musicality I've ever heard – period. Having had no clue what the price of this system was when I entered – after listening, I can't say I'm surprised.
Eric Dolphy's Something Sweet, Something Tender had such organically weighted and "intentional" sound. I've never heard a bass clarinet sound so realistic. The number of instruments could get cluttered on many systems – but all I heard was a world-class layering of colors, decays, and musical exertion. Each instrument had its own air and space. Undoubtedly one of my most memorable listening experiences.
---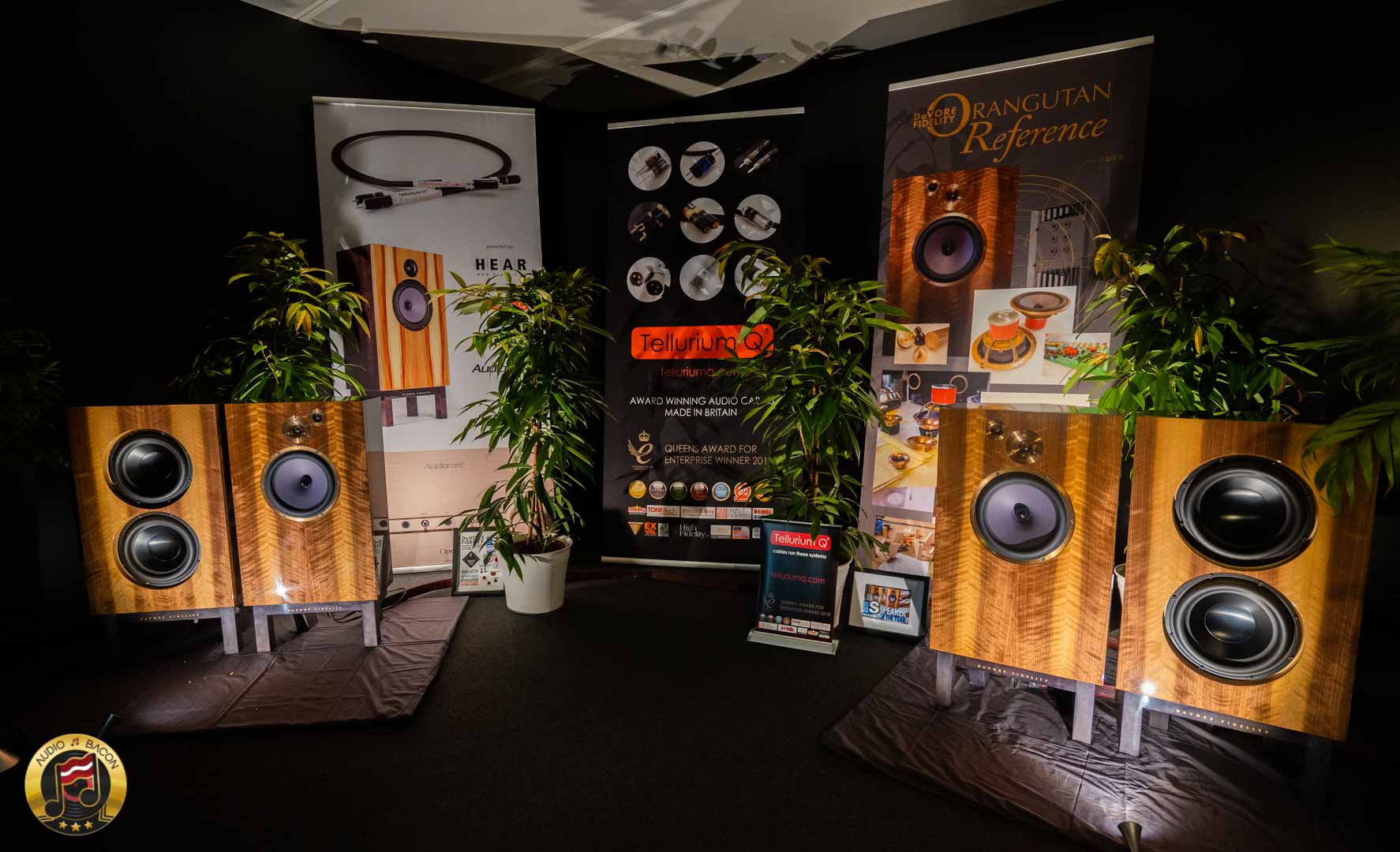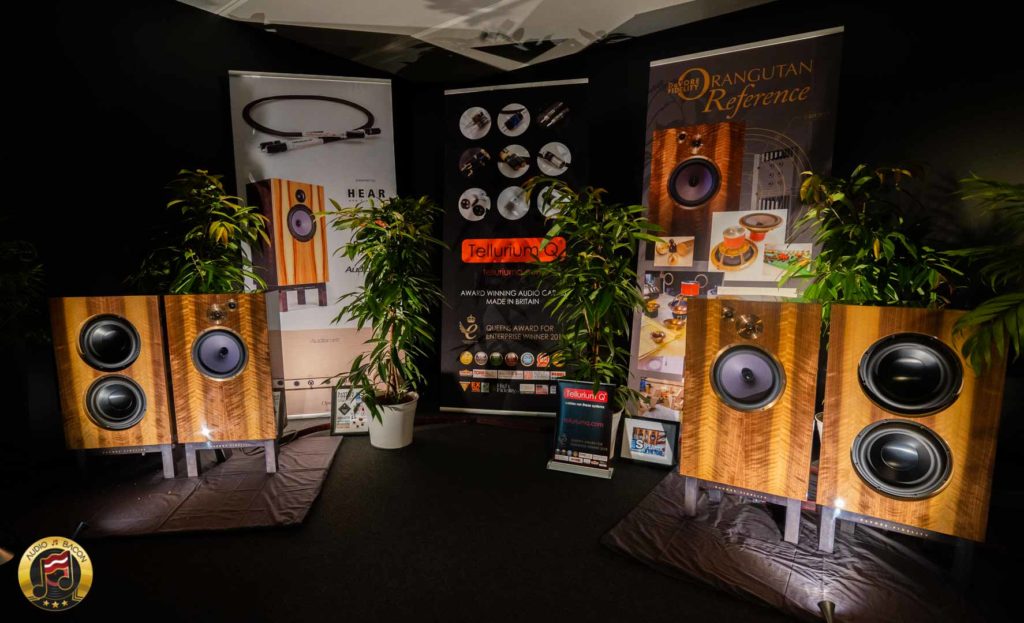 DeVore Fidelity
I've thoroughly enjoyed the DeVore Fidelity Orangutan References at the other shows. John DeVore has been making many tweaks since then. In short, this 4-piece system sounds utterly majestic.
11-inch reinforced aluminum woofer and all-new motor system capable of a massive 2 1/4 inch excursion.
11-inch reinforced aluminum passive radiator naturally tuned below 20Hz in-cabinet with no equalization.
Rigid two-inch thick birch plywood front baffle and solid machined brass input-plate to reduce vibration.
Dedicated 700-watt amplifier and all analog signal path including fully adjustable low-pass crossover, variable phase, subsonic filter, and equalization at 20Hz and 35Hz to tailor the response to different room installations.
The strings in Pascal Pinon's 53 had an unbelievable amount of texture mixed with the right amount of air. Also, vocals had a natural layer of grit that made for a truly euphoric listening experience. I love the atmosphere and mood this system was able to create. It just sings into the space – beautifully. Not to mention, it also has one of the most naturally molded and tonally accurate sounds I've ever heard.
---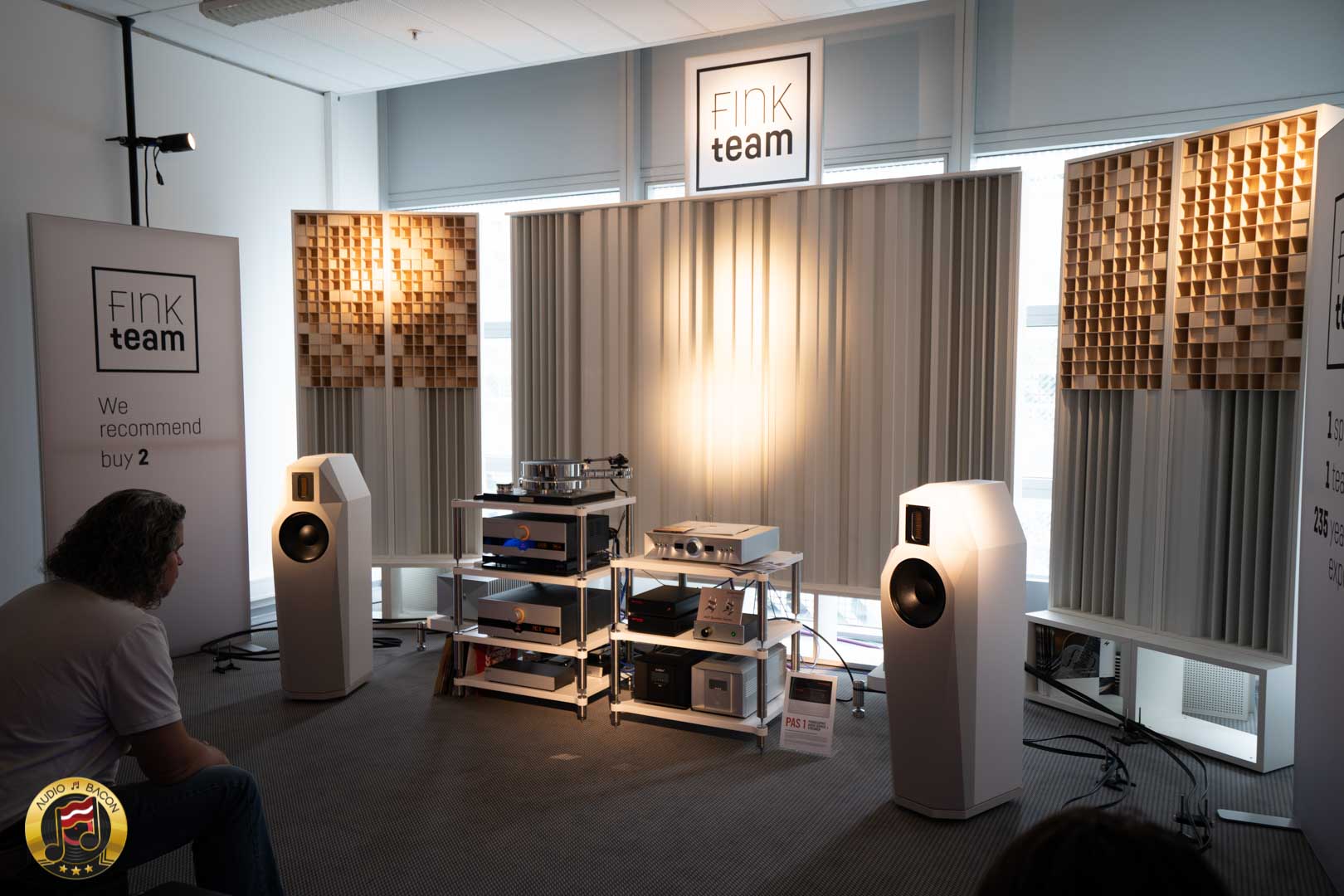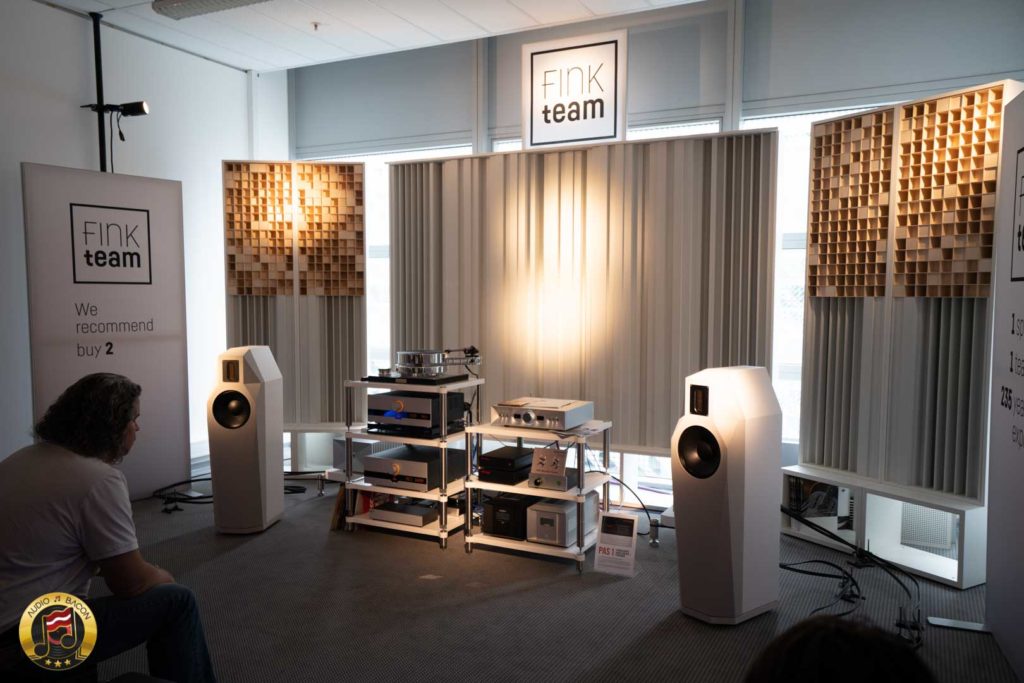 FinkTeam
I heard about the FinkTeam Borg speakers a little while back – but never had the chance to hear them. It turned out to be one of my favorite sounding rooms at the show.
This FinkTeam system is characterized by accuracy in musicality. It is technical but is able to encapsulate soul and heart into its flow. A very difficult balance to achieve.
Keyboard, guitar, drums, and gentle cymbal crashes are never overshadowed by Jose James' immaculate baritone voice in Ain't No Sunshine. There is a clear delineation of each of the performers. Consequently, this provides a very holographic but natural atmosphere. Moving onto Paul Gonsalves' Chocataw and the piano sits further back while this talented tenor saxophonist grooves it out beautifully with the brassiest of textures.
Karl-Heinz Fink is the developer behind many well-known brands including Q Acoustics, Tannoy, and NAIM.
FinkTeam's Borg is two-way floor standing design featuring a 10.25 inch high-power mid/bass driver and an Air Motion Transformer (AMT) tweeter.

Borg is a significant design exercise as knitting a 10.25 inch mid/bass, albeit an extremely fine one, with a HF unit is never easy. To combine the two drivers to achieve a flat frequency response and, more importantly, a slow even mid/HF roll off in the power response is a significant feat of engineering. There is no off-axis hole in the middle effect.
---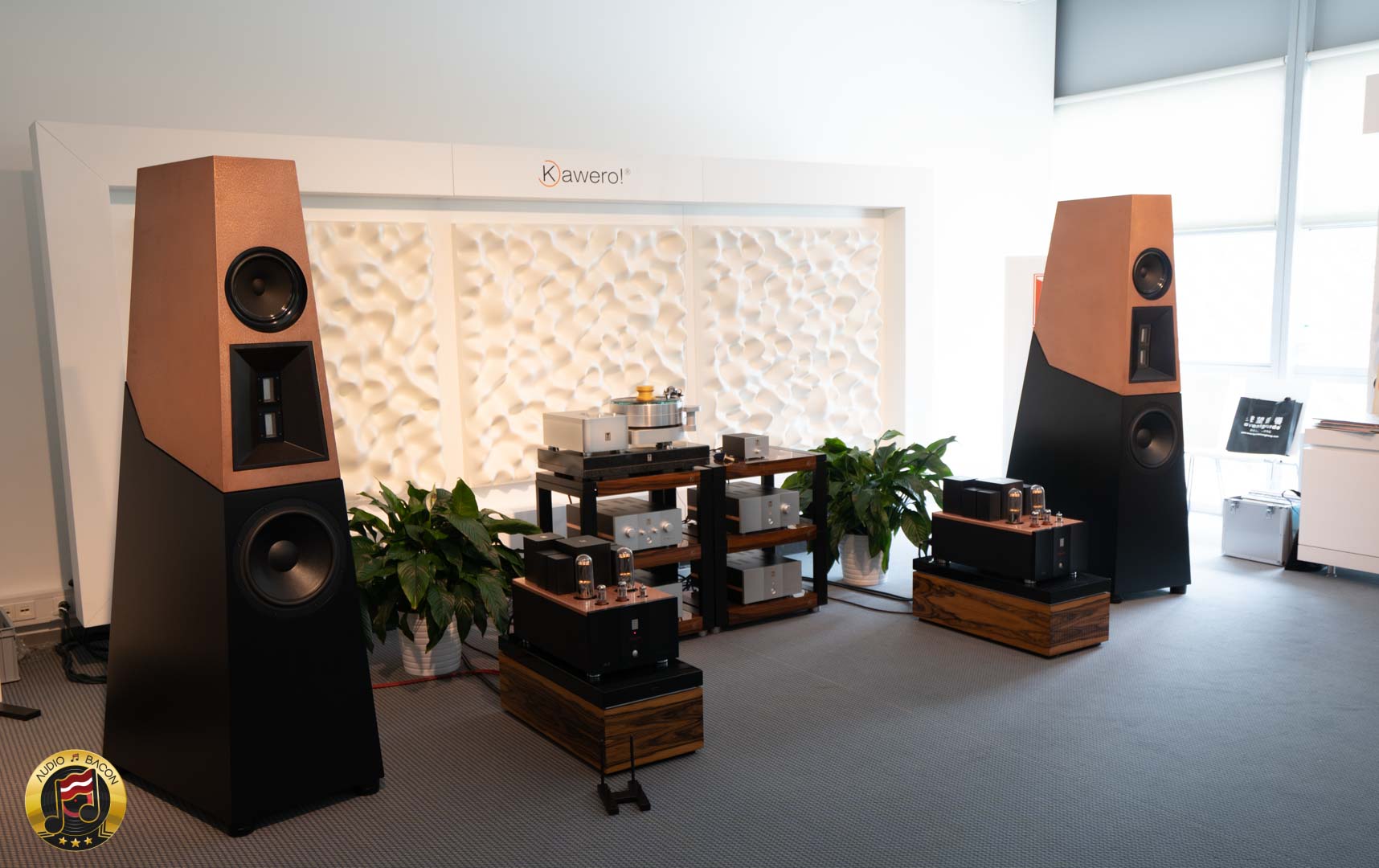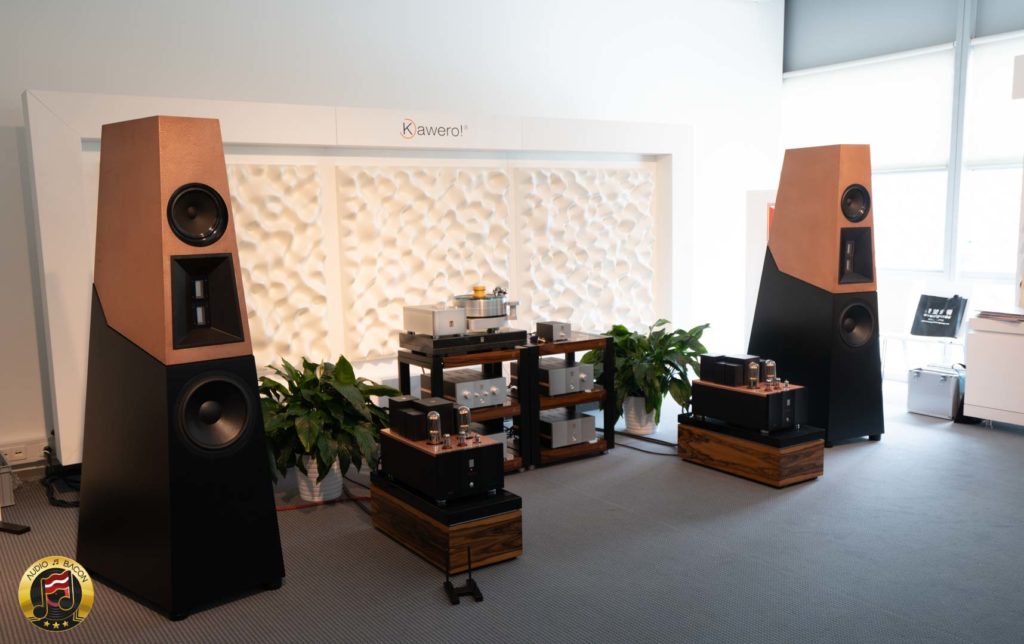 Kawero! & Kondo Audio Note
You can't miss the woman in the kimono. An always-filled room at the show – and for good reason. It's one of the more musically involving systems at the show. The synergy between Japanese and German engineering is undeniably spectacular.
The harmony of voices in Where the green grass grows by Eric Bib was layered with such a natural sense of depth and space. An incredible show of the variations in tone and strength. In addition, the gentle guitar and drums have an uncanny sense of gravitas. This also applied to Paul Simon's Homeless. There are a gravitational presence and soul to the multitude of voices in these recordings. As a result, a very fleshed out and lifelike presentation.
Kawero!'s new flagship loudspeaker: Grande
Designed by Rainer Weber
15″ drivers at the rear
3-way, 4 drivers.
Dual, time-delayed ribbon tweeters
Also…no price tags to be found 🙂
---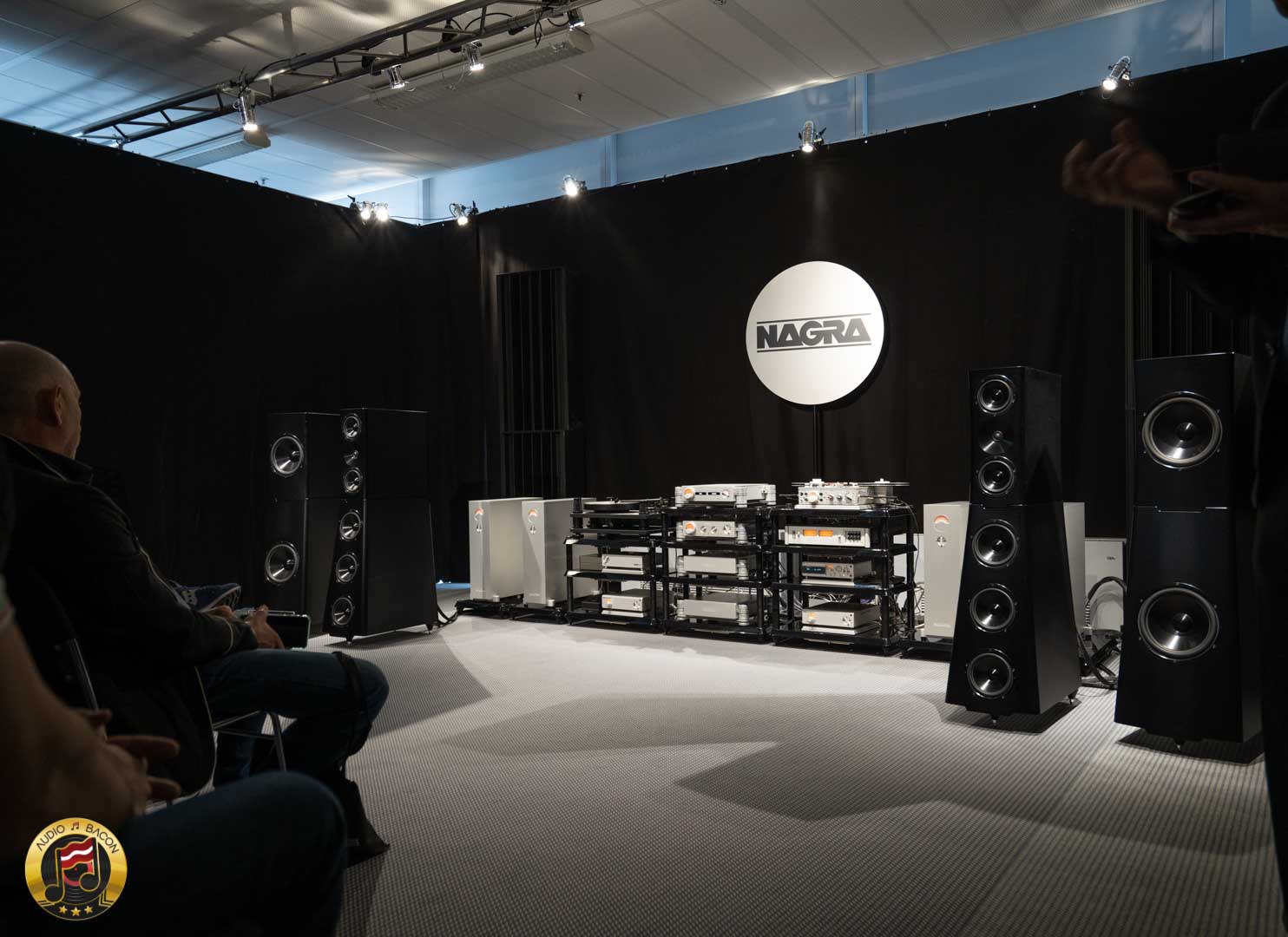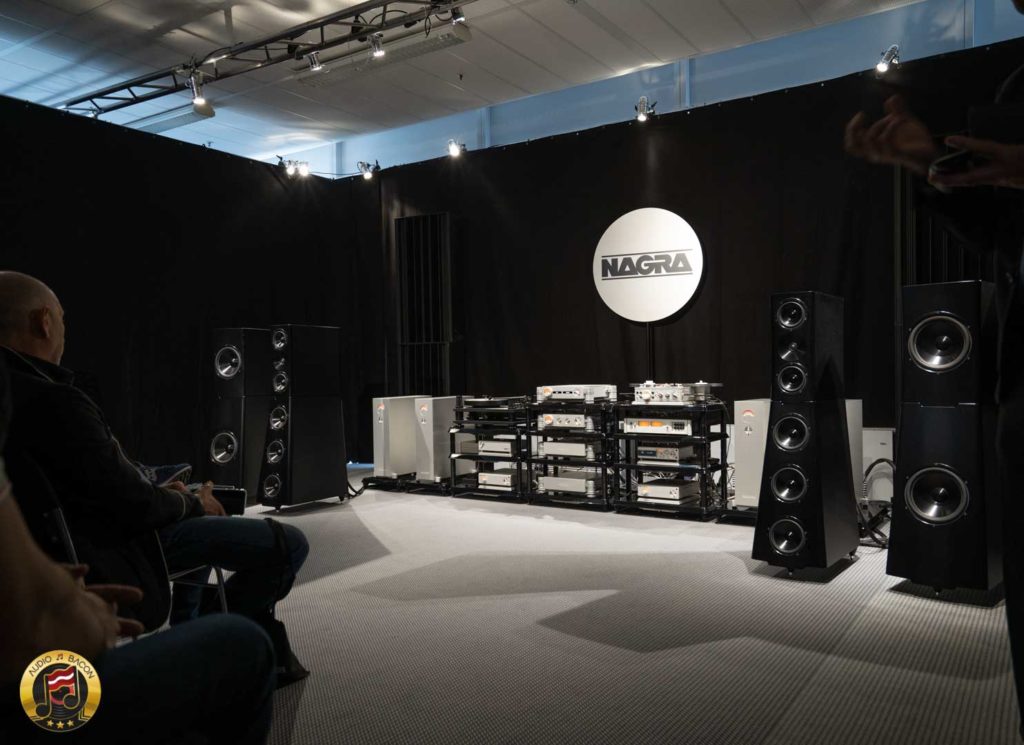 Nagra & YG Acoustics
There was a powerful presence at the show: a full Nagra HD setup and YG Acoustics loudspeakers. This system was certainly in my Top 3 at High End Munich 2019.
Along with plenty of pipe organ tracks – Beethoven's Symphony No. 5 in C minor was probably the meatiest I've heard at a show. String and percussive sections were not just weighted and palpable – there were textures that molded the sound. A very nice balance of richness and detail. Every recording sounded so physically present – and genuine.
Oh yeah, the bass. That YG InVincible subwoofer surely does make its presence known – but I ain't complaining. Although it wasn't blended perfectly, the authority and slam provided were most welcomed. Mo' Bass Please!