I first witnessed the PS Audio Sprout100 at AXPONA 2018. Guarding the tiny device was the great Bill Leebens (PS Audio's Director of Marketing). He explained it was a new design being released in May 2018.
Come to think of it, I haven't reviewed a piece of PS Audio gear since the impressive LANRover. The Sprout100 sounded better than I expected so I asked for a review piece. Bill snapped his fingers and a few days later the Sprout100 arrived at my door.
PS Audio is generally known to voice their stuff very musically. We currently have a PS Audio BHK Signature Preamplifier and BHK Signature 250 stereo power amplifier. These components provide great synergy in our B&W reference system. In its class, the PS Audio BHK Stereo 250 power amplifier is the best sounding stereo amplifier we've heard on this system (and we've compared quite a few).
So for the past two years, Paul McGowan, his son Scott, and Darren Myers have been busy working on the new Sprout. The Sprout100 has substantial improvements over the original. Other than dimensions and the real walnut aesthetics (which makes each Sprout100 unique), much has changed:
Vs Original Sprout
Double output power for renewed efficiency and lower distortion

2 x 50 watts @ 8 ohms
2 x 100 watts @ 4 ohms

Round machined aluminum knobs
ESS Sabre 9016 DAC (vs Wolfson WM8524)

Optical
USB

Up to PCM 384/24
Up to DSD128

Magnetic Remote – Slap it on the metal legs of your desk. The build quality of this remote is incredible. It has a nice weight and I would hold onto it for no reason. It just feels good in your hands.

Mute – Comes in very handy
Volume controls – You could press and hold rather than individual presses.
Off/On

Indicator light

Bass Boost Enabled – White (default)
Bass Boost Disabled – Blue
Mute – Dimmed White
Blinks when adjusting the volume

Defeatable Bass Boost

I much prefer to have this option

on

when using the internal DAC. Unless you're a bass head, you'll be pretty pleased with the low-end output and clarity. It's not at all overdone or artificial sounding. With an external DAC, it'll sound better with this option

off

.
Without this option on, the sound is a bit edgy and clinical (Sabre DAC). Bass Boost actually sounds much fuller and more natural anyway. It masks the digital grain of the DAC in a very unintrusive way.
For headphones, make sure you set the Bass Boost before plugging in your headphones.
I'm quite certain PS Audio voiced the Sprout100 with the Bass Boost on.

Optical input
Better ventilation
Subwoofer mono output
RCA analog in/out 
RIAA phono-stage
Newly designed z-feedback low-impedance headphone amplifier
A new universal internal power supply

Increases headroom and lowers noise floor
The Knobs
Input Selector

Pretty self-explanatory. Keep in mind that if both optical and USB are plugged in, a powered USB connection takes priority.
When switching inputs, make sure the volume levels are matched. If you were using the analog input from a DAC outputting 1V, you're in for a big surprise when you switch to a digital source. 3V seems to get it close.

Volume

Also serves as the ON/OFF and Bass Boost switch (press and hold). I love multi-purpose buttons.
It's an infinite wheel which allows for remote use and more granular control of volume.
It's also a little vague as to what the volume level is at when turned back on from standby (It remembers the last setting). If you're swapping a lot of components around, might be a good idea to spin down a few times before playing music.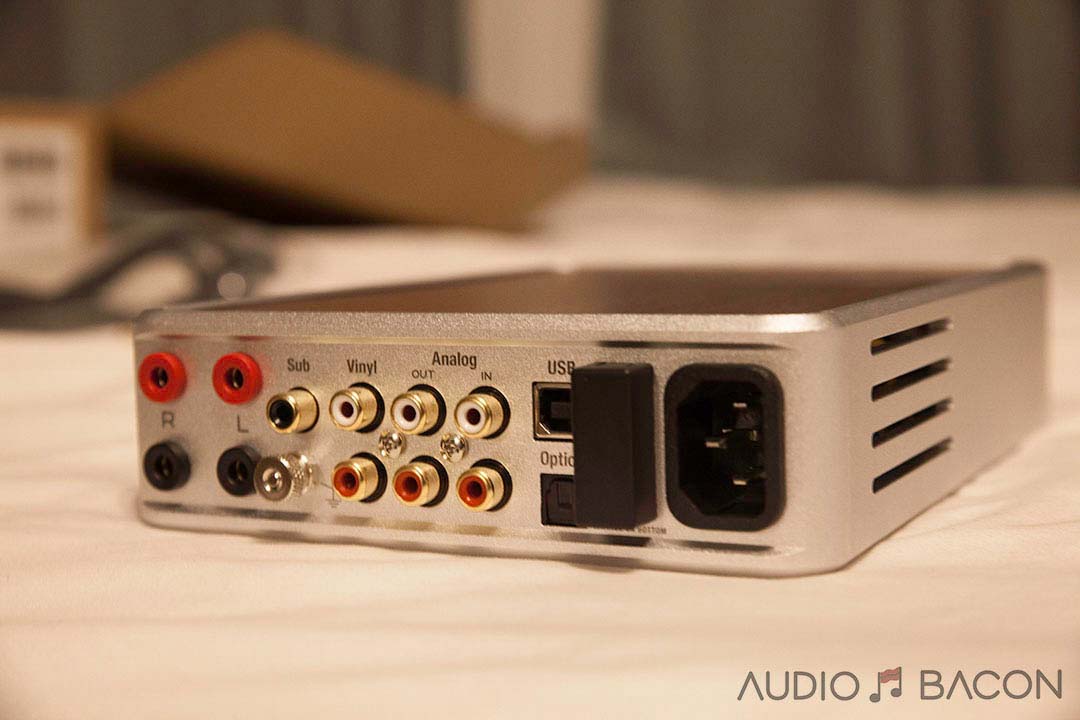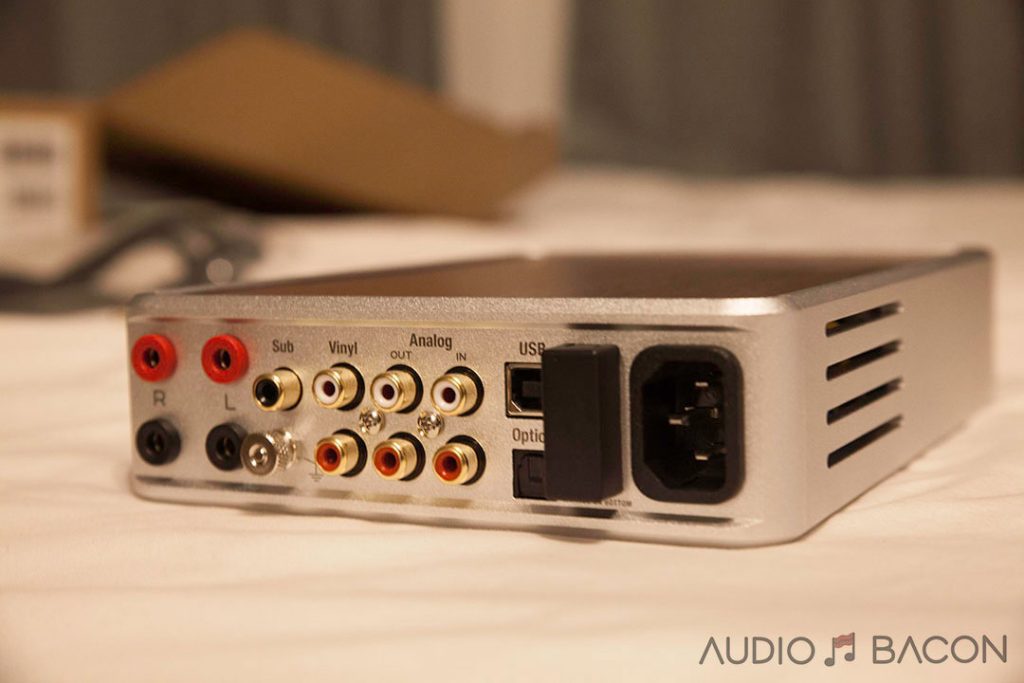 Connections
Speaker terminals

The speaker terminals are for banana plugs only. But PS Audio provides high-quality, metal adapters that will enable you to use bare wires or spades.
When using spades, the connectors could get pretty close so make sure they're not touching. I didn't have any issues with the cables I had on hand but it could be a problem with larger spade connectors.

Subwoofer

Variable output to your subwoofer via RCA. I didn't use this during my review. I found the Bass Boost to be sufficient.

Ground lug

It's worth grounding the Sprout100. As far as improvements, it'll solidify the sound (less diffused) and present a quieter background.
Throwing a spade ground connector from a Synergistic Passive Ground block got a little tight but worked.
If using a turntable, connect this ground lug to your turntable.

Vinyl

Vinyl input is optimized for 5-6mV moving magnet cartridges. Supports 3-10mV.
I'll let other reviews cover this inconvenient tech. 🙂

Analog out

Buffered stereo-line output. Whatever you're listening to will appear on this output.

Analog in

If you're outsourcing your DAC duties, this is where you'll be plugging in.

USB/Optical

If you'd like to use the internal Sabre DAC, connect the output of your music server here.
Optical only supports up to 96/24. If you have higher-res files, USB is your best bet. You could also have your player down-sample before output.
Which digital input sounds better really depends on your server. FWIW, I had better sound coming via optical to the Sprout100 with a Mapleshade TOSLINK cable from an Oppo UDP-203 player than with USB from my laptop.

 Bluetooth Antenna

That's the black rectangular box next to the power plug. Rub it for good luck.
Took a few seconds to setup and worked flawlessly. Spotify/Tidal streams perfectly from my Pixel phone.
It has great range and I never had dropouts when moving around the 700 sq ft apartment.
Bluetooth audio, in general, is great when you're walking around the house but not very suitable for critical listening. Stick to USB/optical/analog for sound quality.

AC Power Input

One of the beauties of the Sprout100 is the option to use your own cable and scale up when you have the means to. Pretty awesome.
Stock cable sounds fine but higher-grade cables sound much better.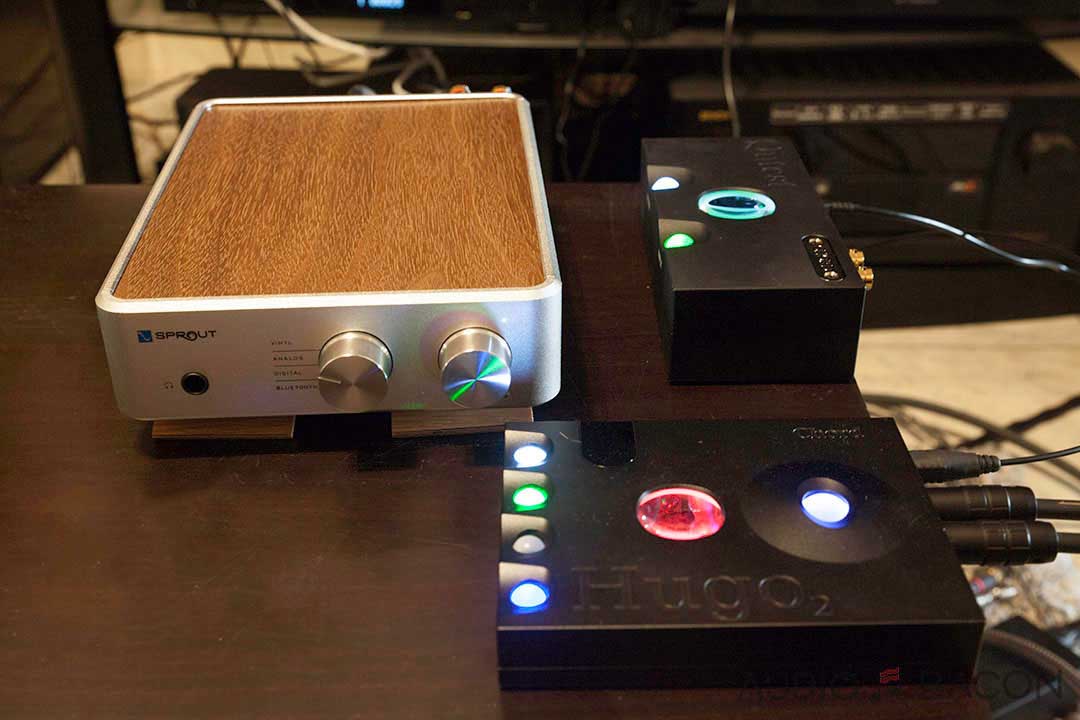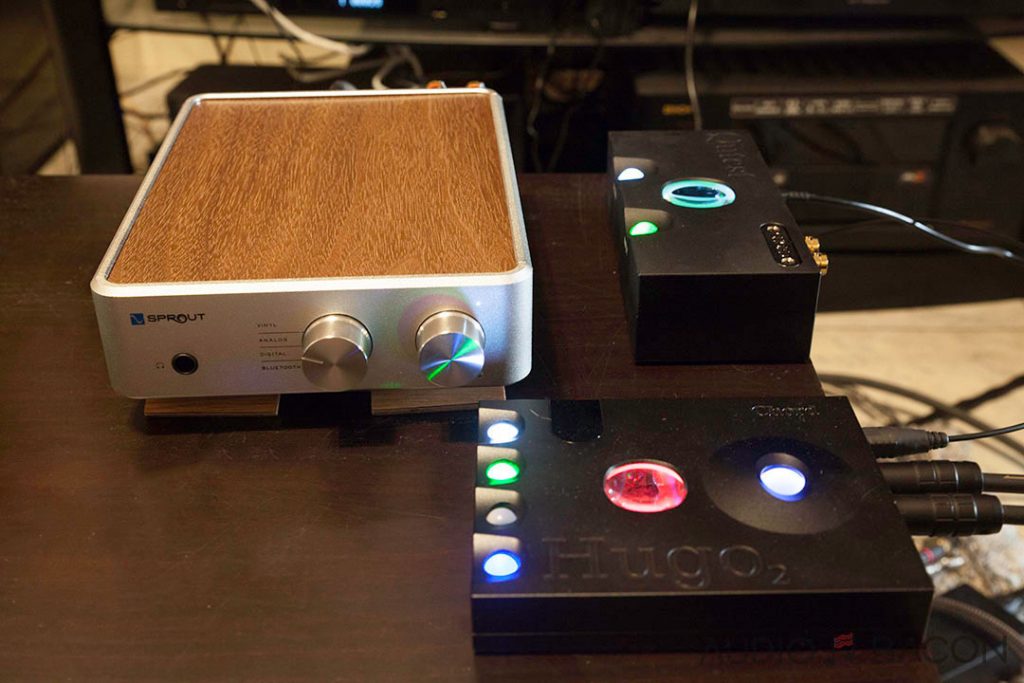 The Sound
Many amplifiers will color the sound for better or worse. While testing amplifiers between systems, it's surprising how you sometimes hear more of the amplifier than the speakers themselves. It's almost like a sonic override.
The beauty of the Chord DAVE is that they could drive high-efficiency speakers directly (it has an output impedance of 0.055 ohms). No amplifier or speaker cables required. This effectively enabled me to hear exactly what an amplifier (and speaker cable) does to the source signal.
I've compared the Sprout100 with many amplifiers, including the First Watt J2 ($4,000) and F7 ($3,000). Although these amplifiers are technically impressive with great resolving abilities, they drastically color the original signal. There's nothing wrong with that – they were intentionally voiced that way. Amplifiers allow you to add smokey overtones or large buckets of warmth to achieve synergy.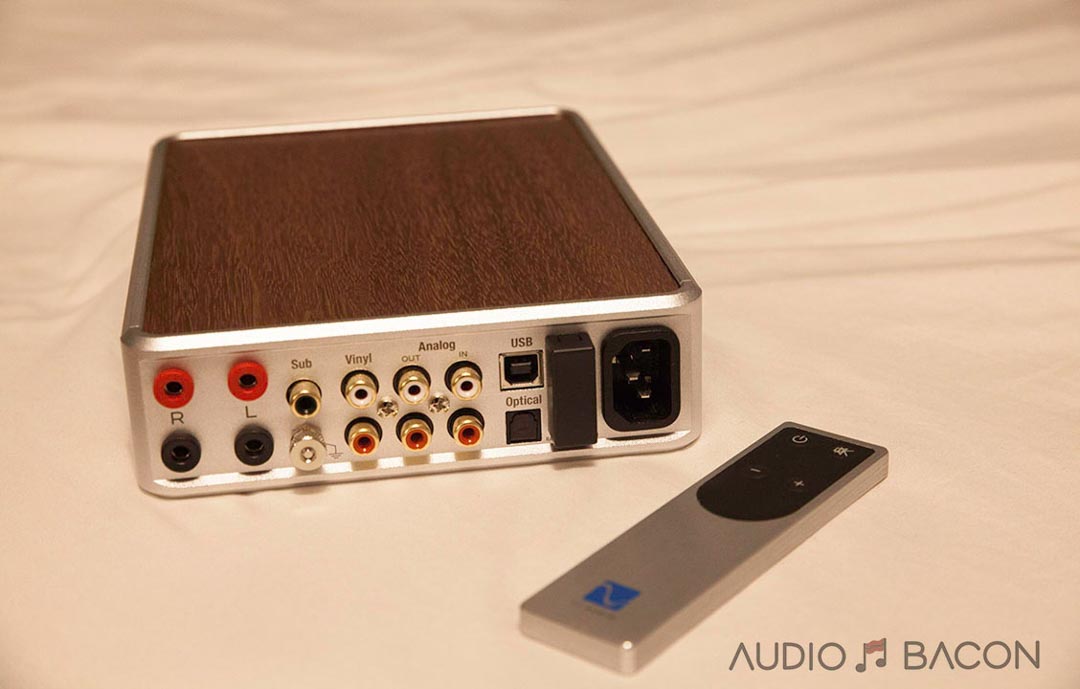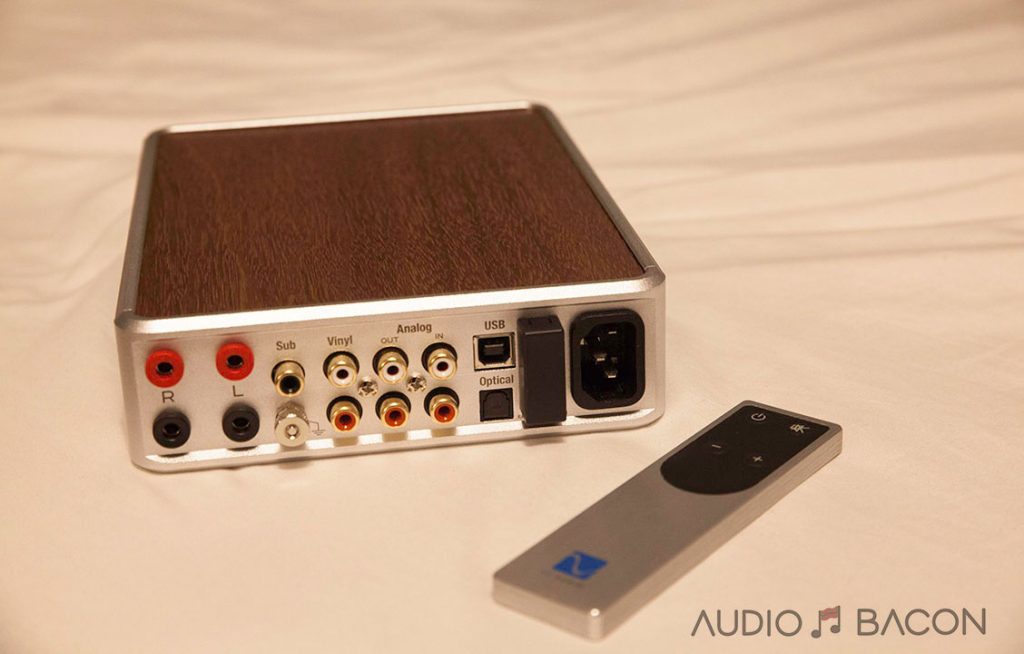 However, since I've spent a large amount of time improving source quality (while driving speakers directly from the DAC), I personally would rather have as close to an unadulterated signal as possible.
Fortunately, the Sprout100 maintains the tonal integrity of the original signal. It can't match the dynamic drive or layering capabilities of the pricier amps. But the Sprout100 had a more natural presentation. Prioritizing timbre above all else, I gravitated towards the Sprout100, over the more expensive amps, for most of my listening. It doesn't give me the impression that "they're in the room" but does provide convincing tone for voices and instruments. It's a bold statement but the heart knows what it wants.
The Sprout100 has a rightness to its sound. With Bass Boost on, it has a warm-blooded and well-textured sound. It doesn't exaggerate and doesn't try to romanticize. Just pure toe-tapping, musicality with the right balance of nimble presence and acoustic clarity. The treble is a bit gentle but has an appreciable amount of air. The low-end was surprisingly much punchier and tighter than I thought possible. Instrumental focus and vocal outlines were a little fuzzy but didn't detract from the imaging. And I never felt the music was smeared or muddied.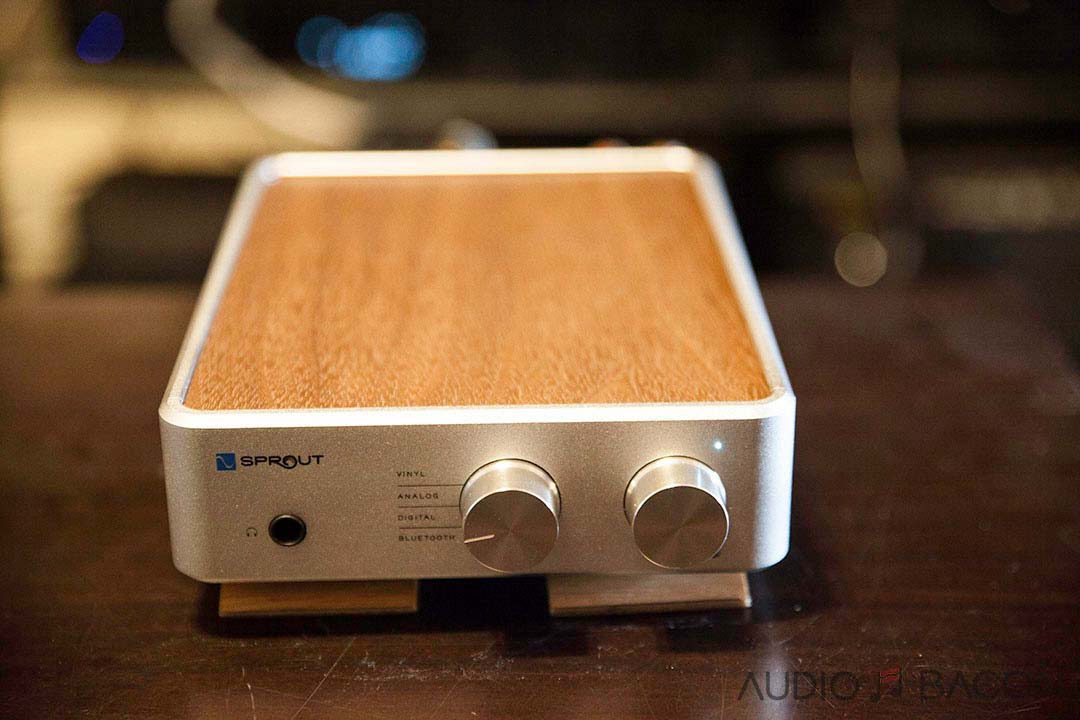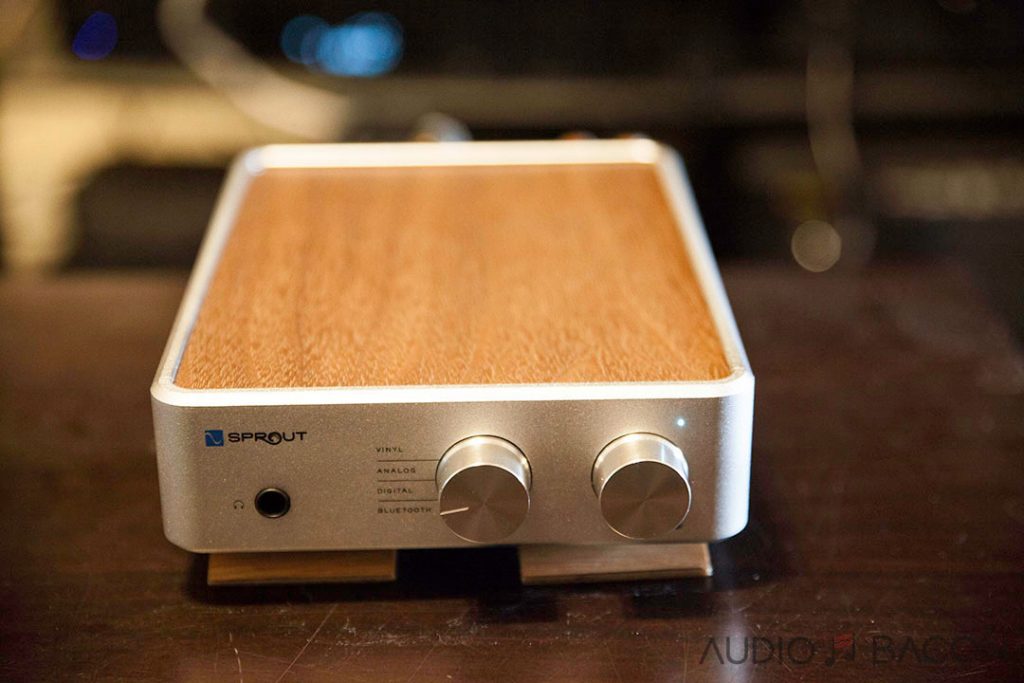 Value products typically have some glaring fault in the sound, but I couldn't find one with the Sprout100. It may not have the depth, liquidity, and shaped presentation of pricier amplifiers, but I'm not thinking about that when I'm listening to it. The "flaws" aren't obvious because the recordings have accurate color. Including the right amount of density, detail, dynamics, and aural nuances.
The Sprout100 is honest to your source. It simply allows the music to be expressed freely across all genres of music.
Headphones
1More Triple-Driver Over-Ear
Sennheiser HD6XX
Keep in mind, plugging in headphones will automatically defeat the speaker outputs. Also, the volume level will automatically be reduced to safe levels when switching between speakers and headphones. This ensures you don't blow out your ears when swapping. Thank you for looking out, PS Audio.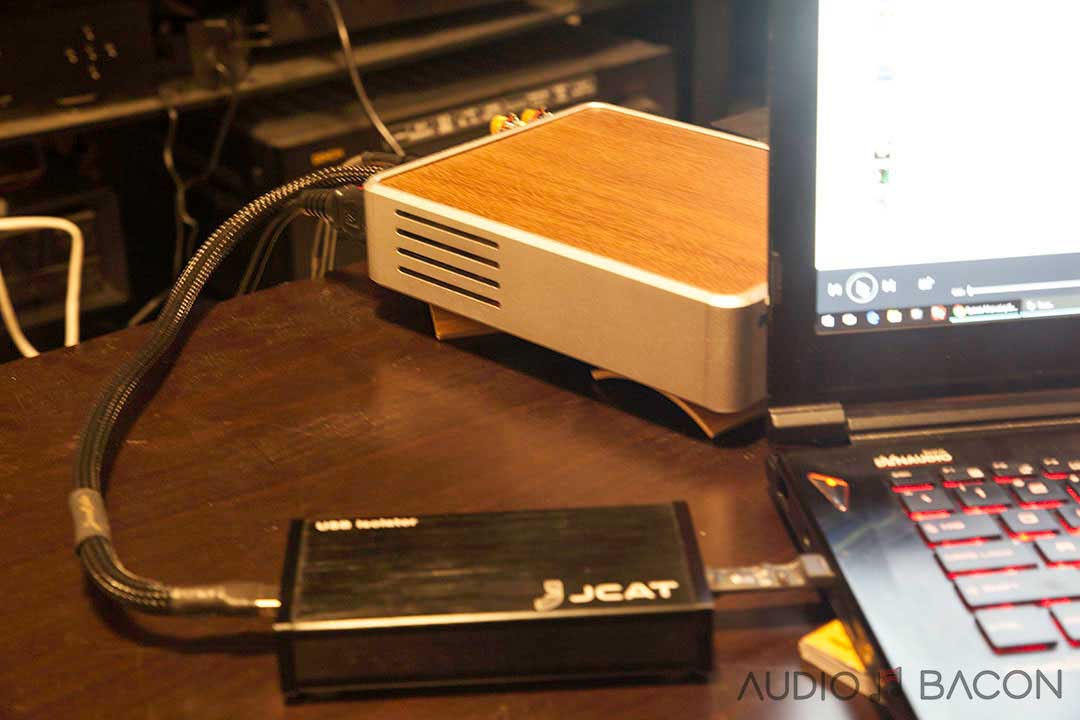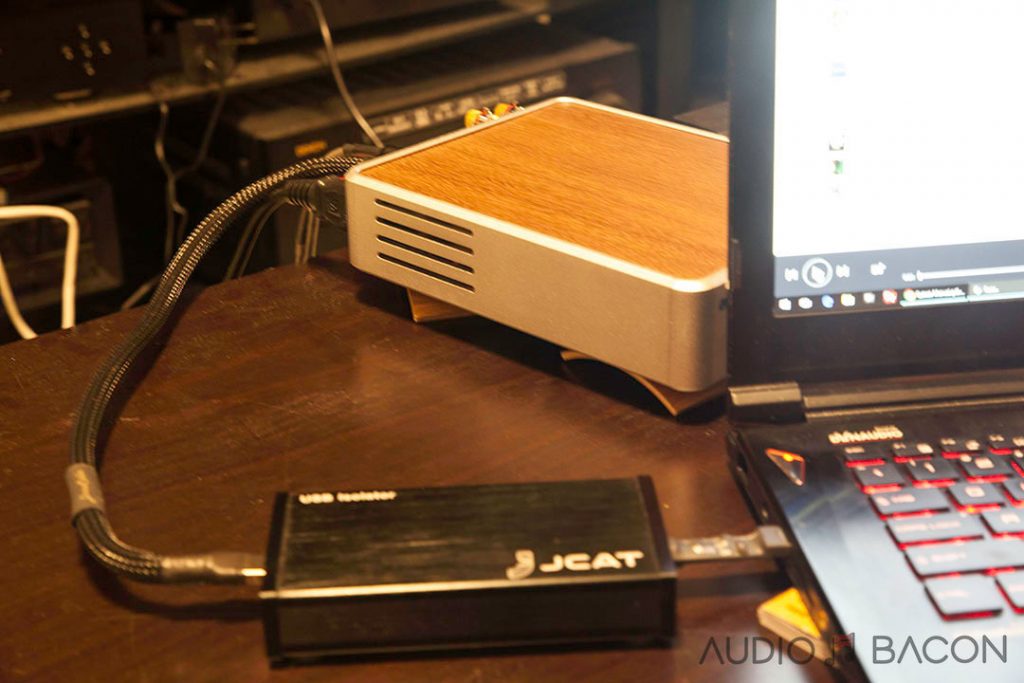 The Sprout100 drove these headphones just fine. I never felt the sound was ever veiled or misrepresented. Super smooth, clear, and coherent across all headphones. You might get better punch and body with a dedicated headphone amp but I personally didn't feel I was missing out. It still sounded musical.
If you're using the internal DAC, make sure you have the Bass Boost turned on prior to connecting your headphones. When using an external DAC, it may sound better with the Bass Boost turned off. With the Qutest and Chord Hugo 2, the Bass Boost actually thins out the sound (shrug).
Now for speakers…
The Aurum Cantus Setup
Speakers

Aurum Cantus LS 2SV MKII Bookshelves
SOtM sCBL-SS8 speaker cables

Source

Roon / Tidal
Oppo UDP-203 (Optical)
Google Chromecast Audio (Optical) – Works nicely with Google Assistant.
Chord Qutest
Chord Hugo 2
MSI GS40 Laptop

Digital
Analog

Danacable Sapphire Reference RCA cables

Isolation
A fantastic sounding "budget" system at about $3,000 (~$6,000 with external DAC + ICs). Streaming Roon through the Oppo UDP-203's optical seems to sound better than the USB route. YMMV. This setup really reminds me of how good a budget system could sound, especially with the right source.
The floor was literally shaking from the combination of the Sprout100 and Aurum Cantus speakers. A subwoofer would've helped with the lower octaves but I felt it might've been a bit overkill in this setup. These speakers have wonderful tone and Bass Boost of the Sprout100 was very well tuned.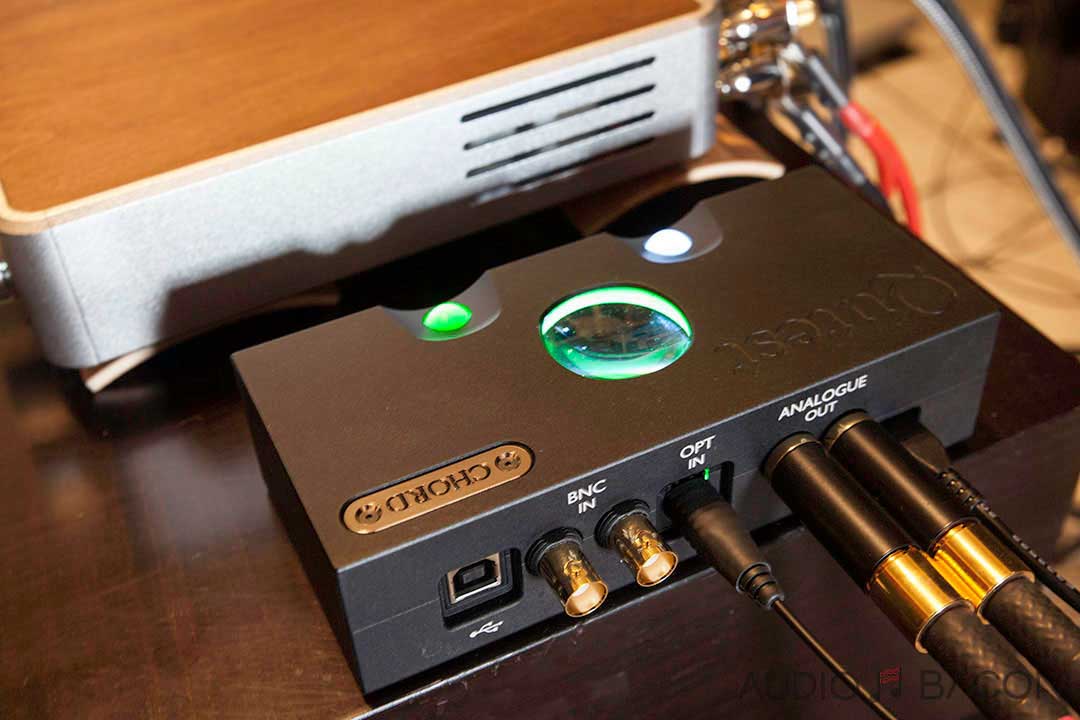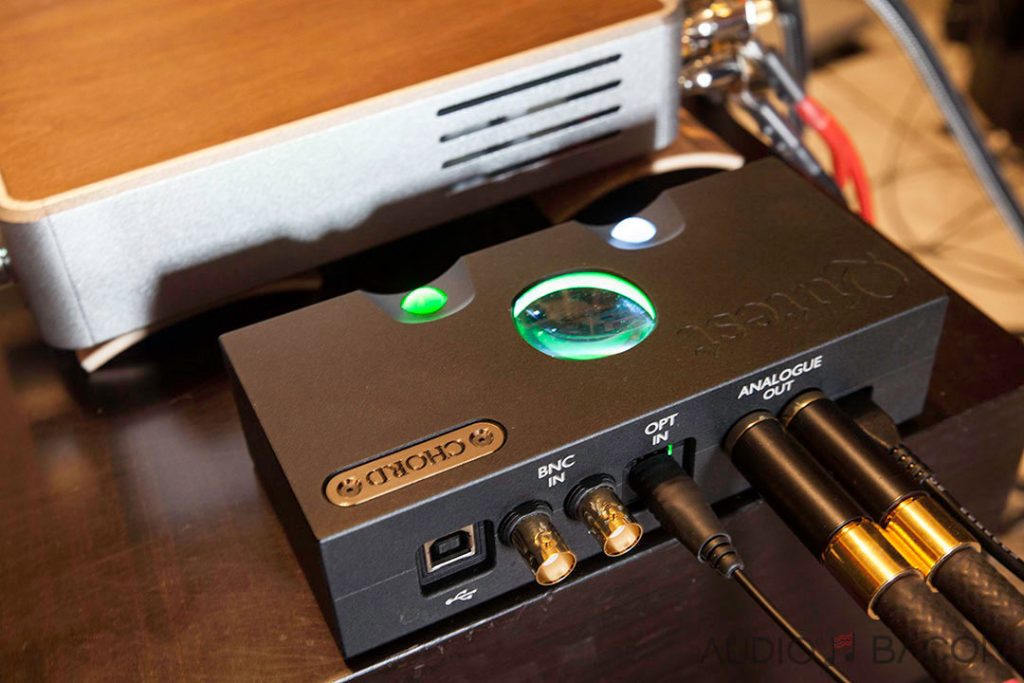 The internal Sabre DAC of the Sprout100 sounds very good when used with Bass Boost (and quite terrible without). But the gains of using a higher quality DAC (with Bass Boost off) are enormous. You'll get a truer tone and a more dimensional and realistic sound. The Chord Qutest, for example, sounds absolutely incredible when paired with the Sprout100. You'll be hard-pressed to get greater emotional fidelity with a better amplifier.
Side note: For those who are interested, the Chord Qutest sounded fuller, less detailed, and more euphoric over the Chord Hugo 2 with the exact same 3V output. The Hugo 2 was more resolving, airy, and spacious. When the Qutest was powered by the battery of the laptop (as opposed to the dedicated outlet), it met a very nice middle ground.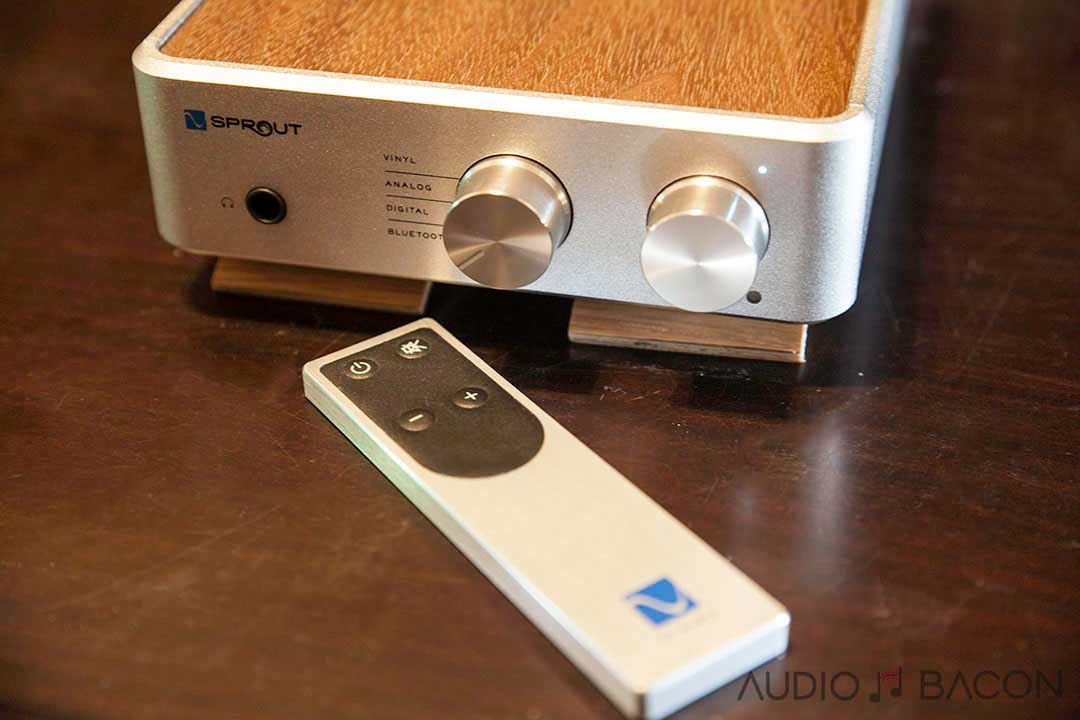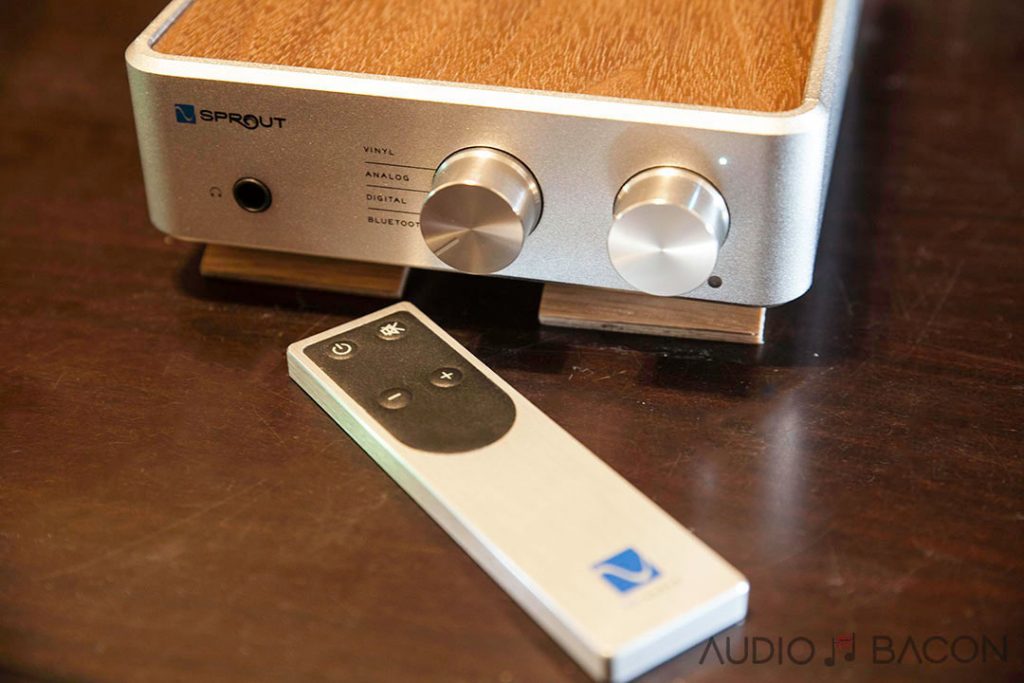 A thickly colored amplifier, like the Emotiva A-100 BasX, will probably still mask your DAC upgrades. A Vista Spark might reveal too much. The wonderful thing about the Sprout100 is that it'll scale when you're ready. You could significantly improve sound quality by upgrading your DAC and power cord down the line. Most importantly, the Sprout100 will provide transparency and won't muck up the signal and inhibit the gains you paid for.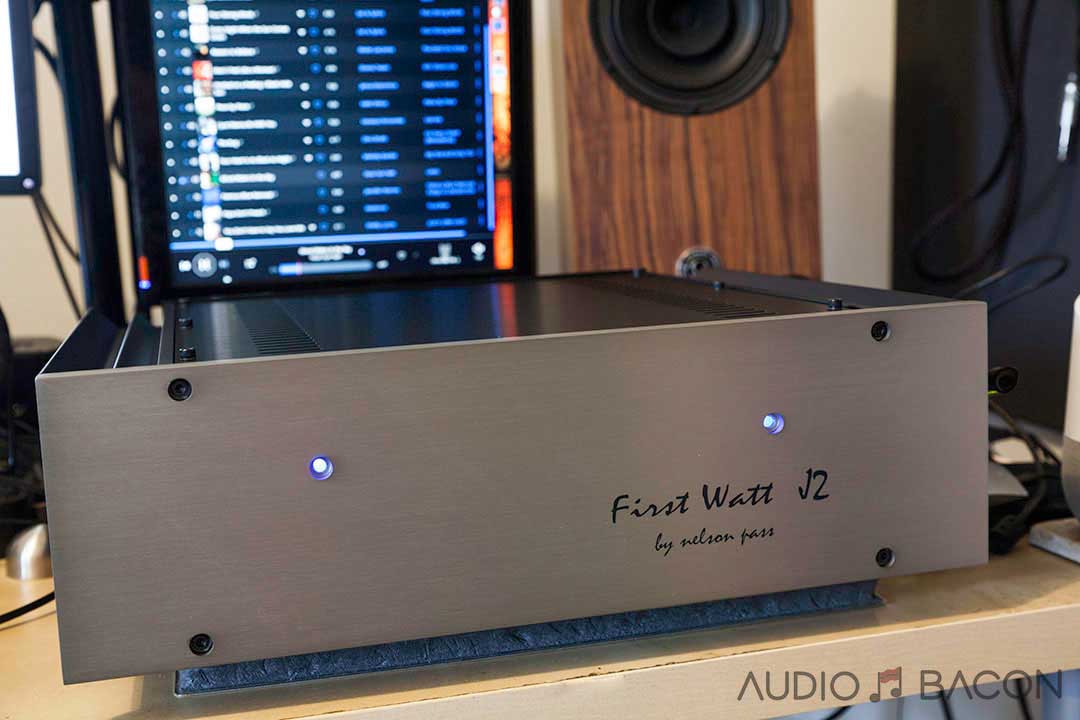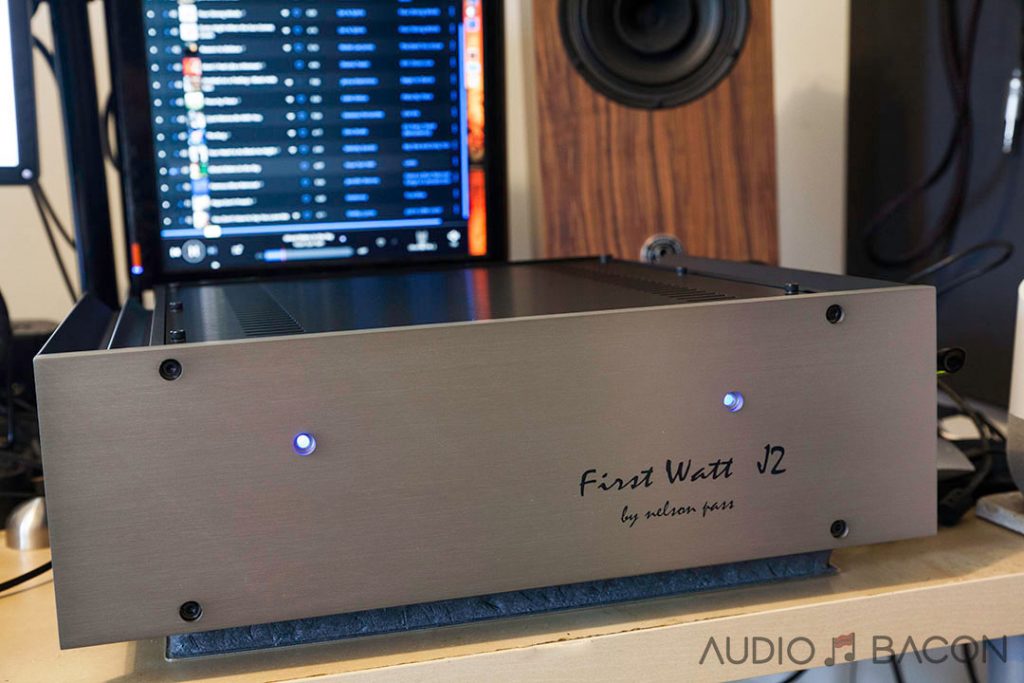 The Omega Compact Alnico Setup
Too many components to name but here's the meat of it:
Speakers

Custom Omega Compact Alnico Monitors

Source

Innuos Zenith SE music server

Power

Zenwave Furutech DPS-4 power cord
Audience Au24 SX powerChords
Paul Hynes power supplies

Digital
Throwing the Sprout100 into this ~$70,000 near-field rig demonstrated how well the Sprout100 scaled. With a much better source, power components, cabling, and servers…the Sprout100 didn't lose composure and relayed all the musical bits with authority and finesse. Also, grounding the Sprout100 improved the noise floor and solidity of acoustic elements.
This system also reveals the limitations of the Sprout100. In short, there aren't many. As mentioned, it doesn't quite have the protrusive drive or separation capabilities of much pricier amplifiers. It's also not as contoured or rounded in its sound. These characteristics weren't expected from a full-featured $600 integrated, anyway.
Where the Sprout100 excels is in…you guessed it…tonality. It still sounds very natural and makes listening to music enjoyable. Because of this, I have no qualms in saying I still preferred it over amps costing more than triple its price.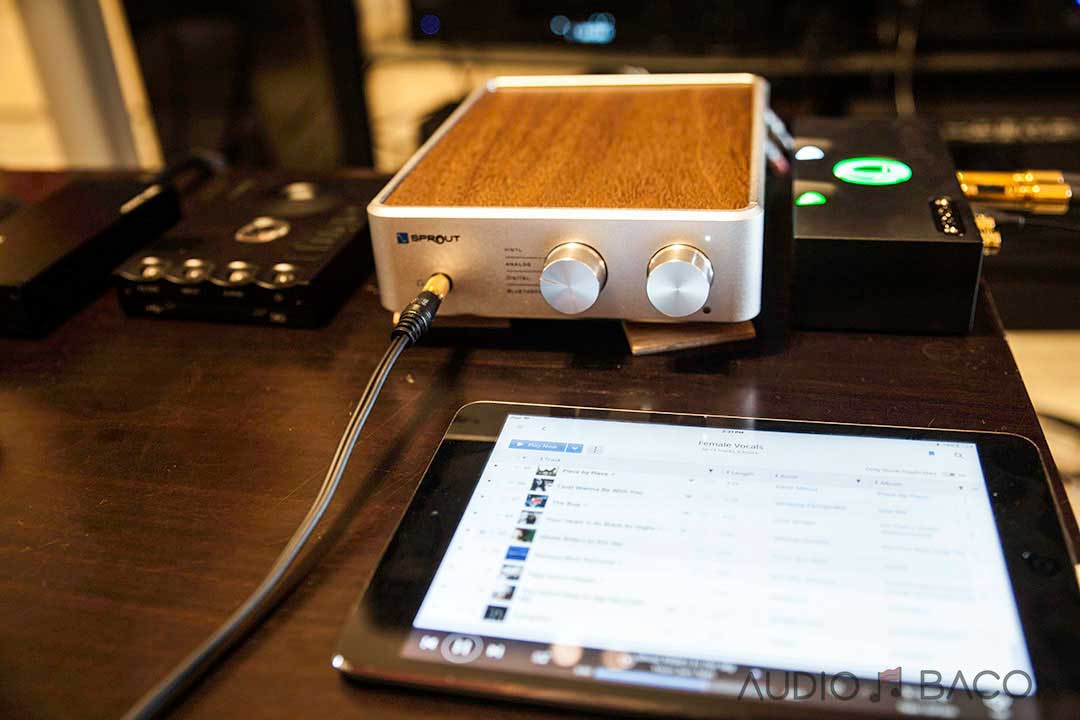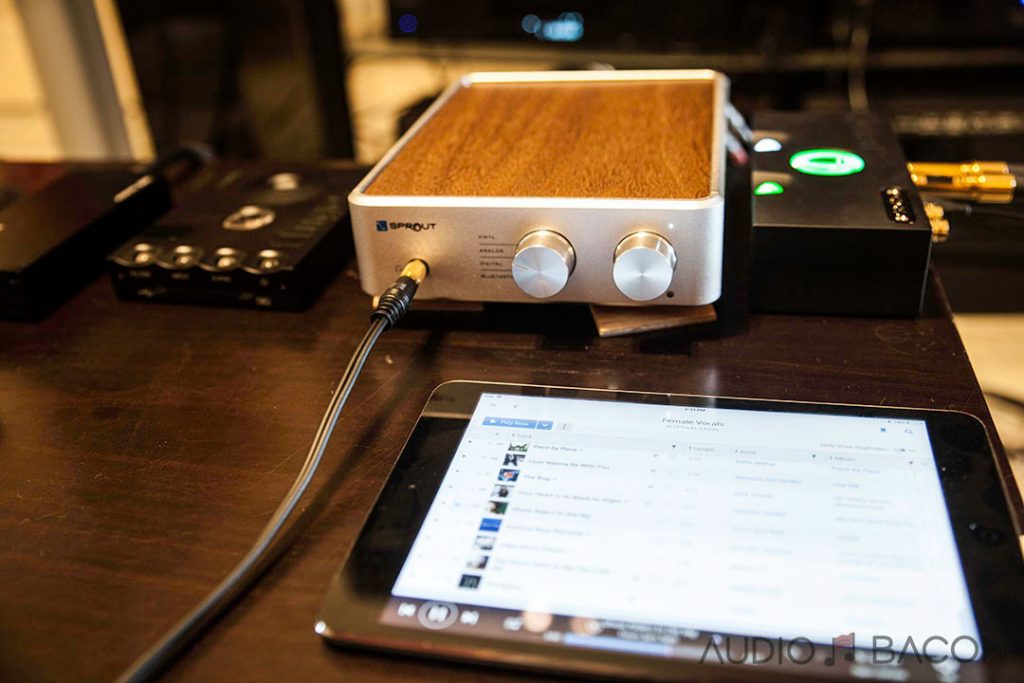 Final Thoughts
The PS Audio Sprout100 was supposed to be a part of the new "Bacon Bits" review series where we outline the Pros and Cons and provide a quick summary. But due to the number of features and how (unexpectedly) good it sounded fresh out the box – I wanted to dig deeper. With its price, build quality, versatility, power output, lifestyle appeal, high-quality accessories, and fancy remote – I was under the impression the sound had to be mediocre. I couldn't have been more wrong.
I really had to struggle to find faults with the PS Audio Sprout100.  Bad recordings sounded good and good recordings sounded great (especially with an external DAC). While listening to the Sprout100, I never thought "I wish it had more…"
Woodwinds and stringed instruments sounded accurate and engaging. Percussions had palpable texture, dynamics, and slam. Cymbals didn't quite have the shine but were never brittle, tinny, or abrasive. Voices didn't quite have that lifelike smoothness but there was always enough meat on the bones. The Sprout100 isn't perfect but there's a wonderful holistic balance. I just found it difficult to be hypercritical – but found it easy to just enjoy the music.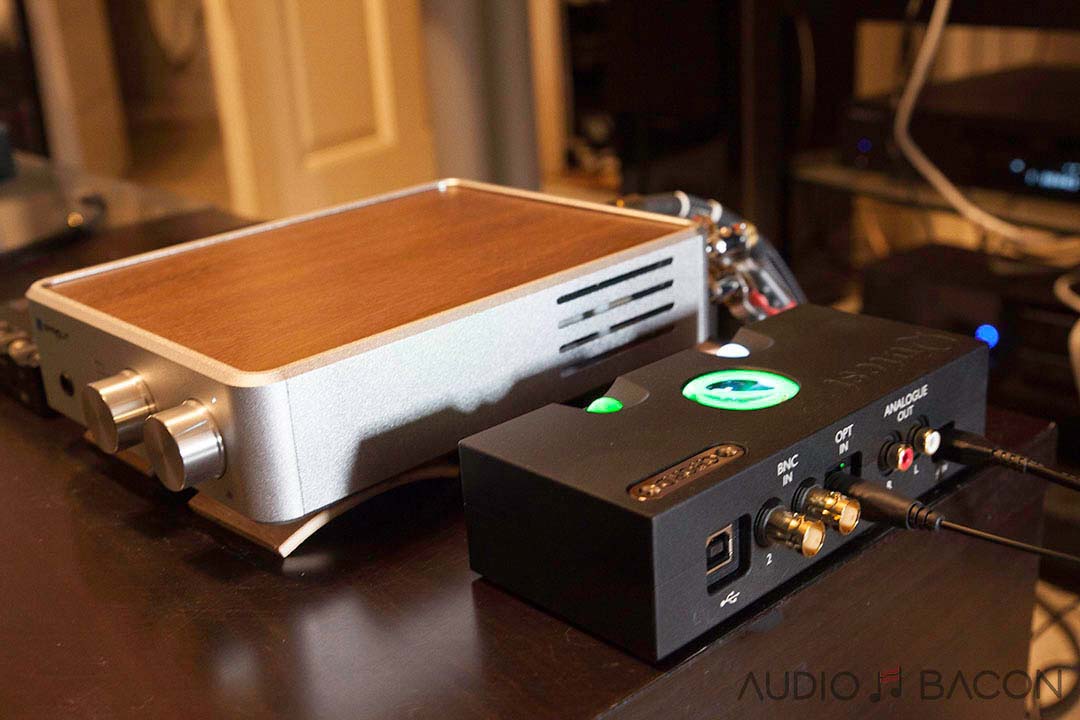 PS Audio knows the importance of maintaining tonal integrity and placing musicality above all else. No matter how smartly engineered, elegant, or expensive a piece of gear is…it's fruitless if it ignores these key ingredients. These qualities are what makes something captivating and keeps you in your seat.
It's obvious a lot of thought, passion, and heart went into the design of the Sprout100. It has been beautifully voiced by some hardcore music lovers. At only $599 (which is cheaper than my USB cable) I consider the Sprout100 to be one of the best-kept secrets in audio. One of those rare times you could steal your cake and eat it too.
The goal of the Sprout100 was to provide quality sound without the hassle. They've not only succeeded but also went above and beyond. Instead of being a stepping stone into great sound, I think the PS Audio Sprout100 could be your long-term cornerstone as you scale up. It has the power. It has the flexibility. And it definitely has the sound.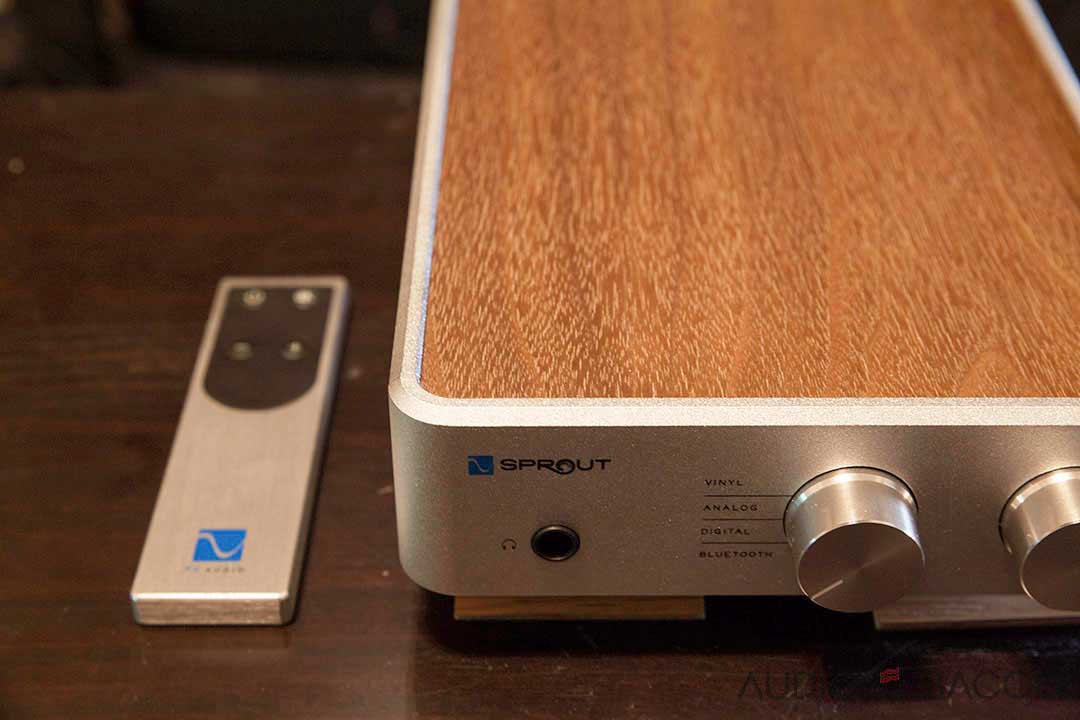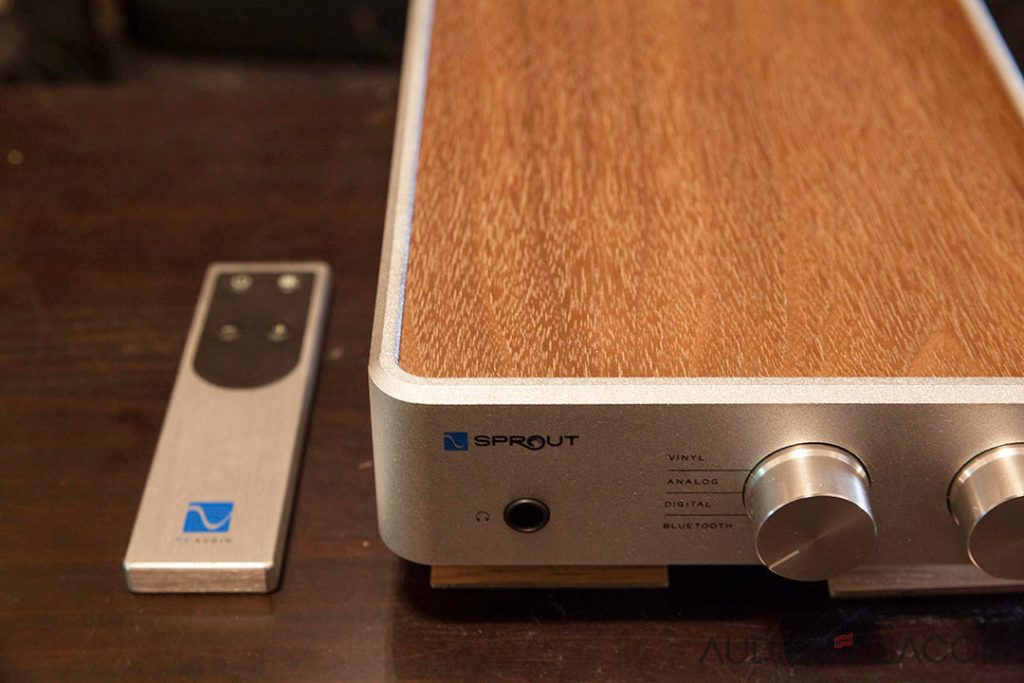 This overachiever gets rewarded Audio Bacon's Best in Class.
If you've enjoyed this review, follow Audio Bacon on Facebook! For more information and for purchasing, head to the PS Audio Sprout100 page. Be sure to also check out their educational Ask Paul series!