Best in Class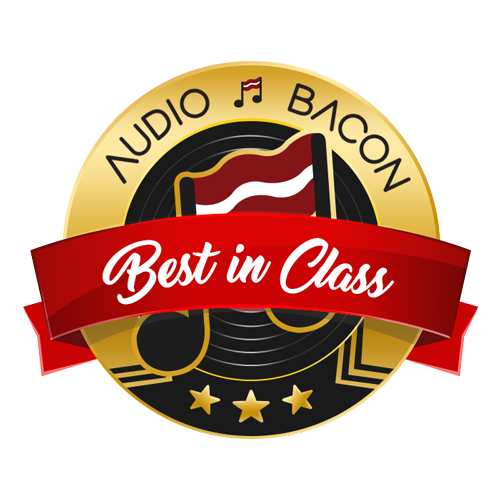 The "Best in Class" category features an outstanding collection of listening rooms that offer unparalleled value for money. These rooms have been carefully curated to ensure that each one presents an exceptional audio experience that punches well above its price point.
With a keen focus on affordability and performance, the "Best in Class" section truly encapsulates the essence of getting the most bang for your buck. In this highly competitive world of audio, the "Best in Class" rooms serve as a testament to the fact that you don't need to spend a fortune to enjoy world-class sound. They stand as shining examples of what can be achieved through a harmonious blend of passion, innovation, and dedication to the art of audio.
---
Mofi Electronics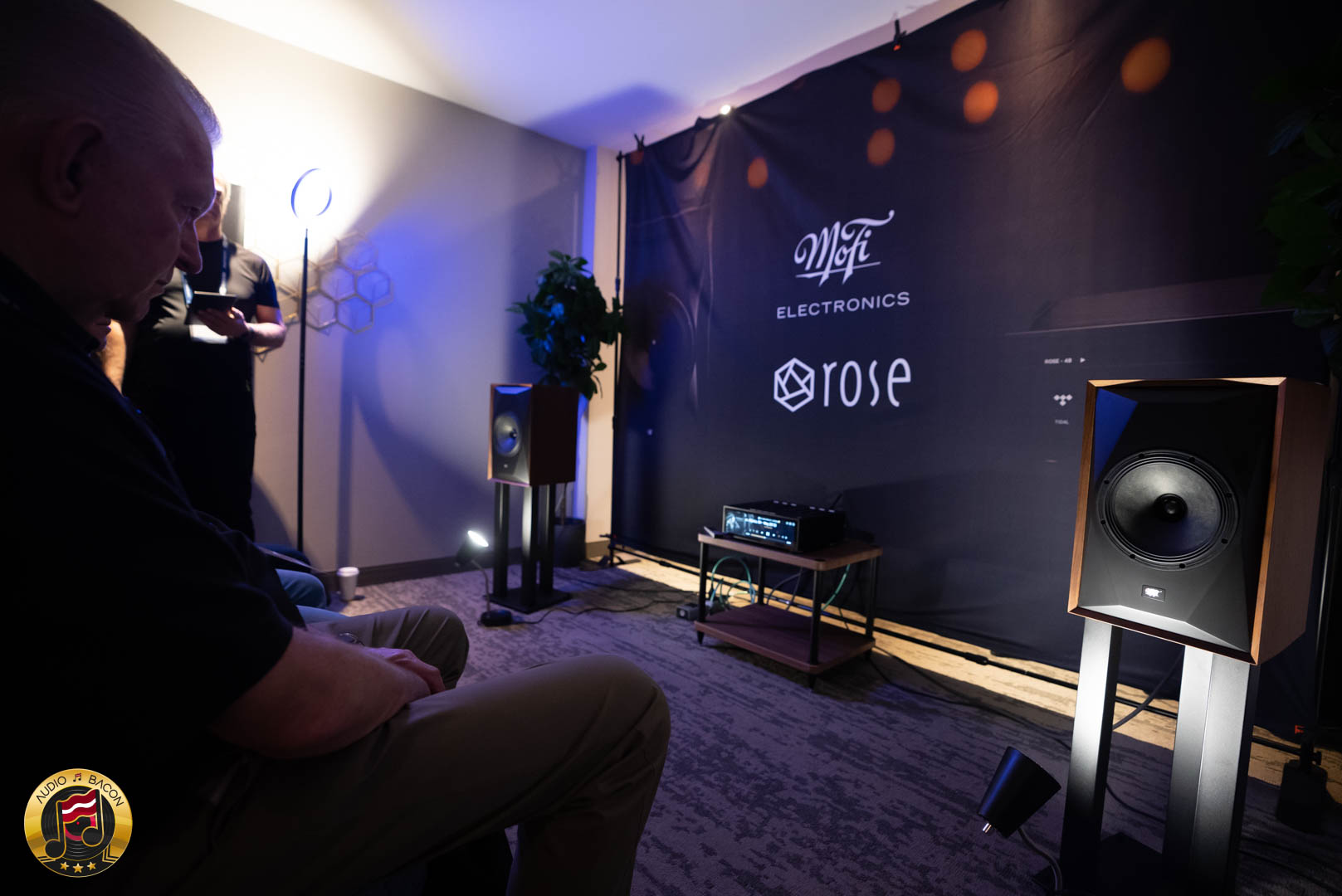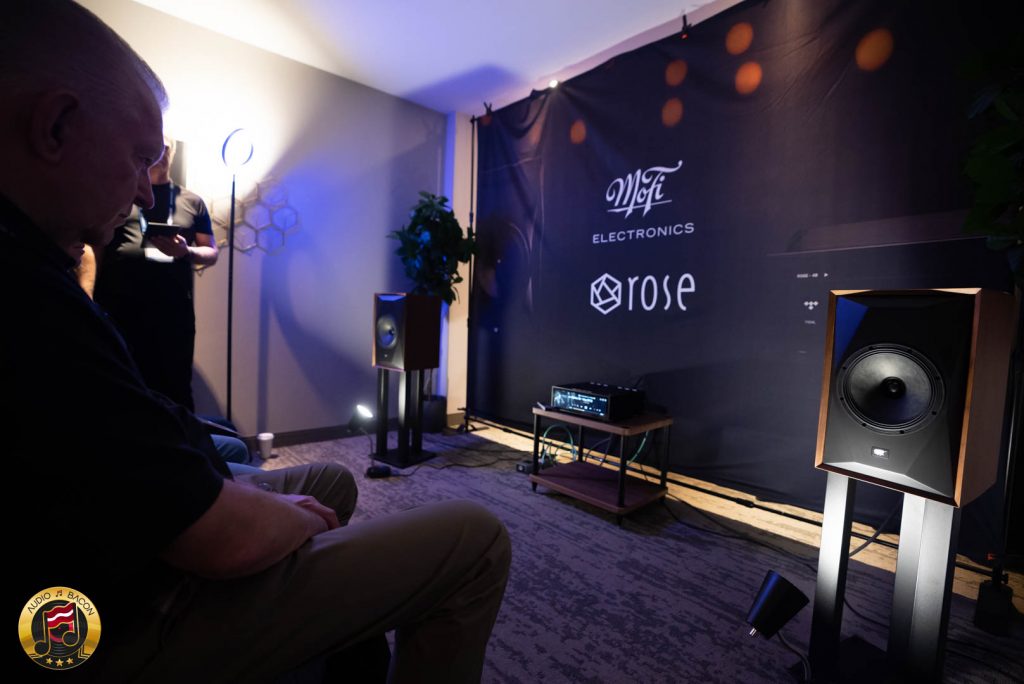 You've surely heard about the latest speaker release from MoFi Electronics. They've teamed up with world renowned speaker designer Andrew Jones to create the SourcePoint 8, a smaller and more affordable version of the widely acclaimed SourcePoint 10.
Andrew Jones is famous for his signature concentric driver designs, and the SourcePoint 8 is no exception. It features a custom-made eight-inch concentric driver with MoFi's innovative Twin-Drive high-flux magnet structure, as well as a 1.25-inch soft dome tweeter with a large-diameter voice coil and wide surround.
Jones was explaining how the paper pulp mix cone shape with its brand-new corrugated surround is optimized for resonant behavior and tweeter waveguide requirements. The soft dome tweeter with large-diameter voice coil and wide surround extends both the low- and high-frequency response of the tweeter. The SourcePoint 8 also incorporates new advancements, such as a sculpted, multi-faceted 1.5-inch thick baffle that reduces diffraction.
And if you're worried about space, don't be. The SourcePoint 8 is a bookshelf speaker that measures 18 x 11.4 x 13.2 inches (HWD) and weighs just under 28 pounds. It's made of 3/4-inch-thick MDF panels for the sides, top, bottom, and back, and comes in a real wood veneer of satin walnut, black ash, or a painted satin white. I can say without a doubt, most will prefer the smaller form factor of the SourcePoint 8. Seeing them side by side, the 10s will probably be too large for the majority of "listening rooms."
So how did it sound?
In two words: absolutely fabulous. Aside from a very full, "projective," and enveloping sound, it had some of the truest tonal color I've ever heard from a bookshelf. In both Vanessa Fernandez's I Love You More Than You'll Ever Know and an older recording (1959?) of Harry Belafonte's A Fool for You (RIP), vocals were rich and textured while strings and woodwinds just had this velvety, tangible pull. Part of it is the transparency but also its capability of faithfully reproducing timbre. I was impressed by how it simply brought these recordings to life.
And the best part? The SourcePoint 8 will be available for shipping in May at a price of $2,750 USD per pair, or $2,999 per pair with matching stands. So, if you're looking for a high-quality speaker that won't take up much space, the SourcePoint 8 might just be the perfect fit for you. In fact, it's probably the best value single item I've heard at the show. As far as reviews go, I would definitely put the Sourcepoint 8 at the top of my queue. I have a feeling Mofi will be selling a lot of these.
---
Cabasse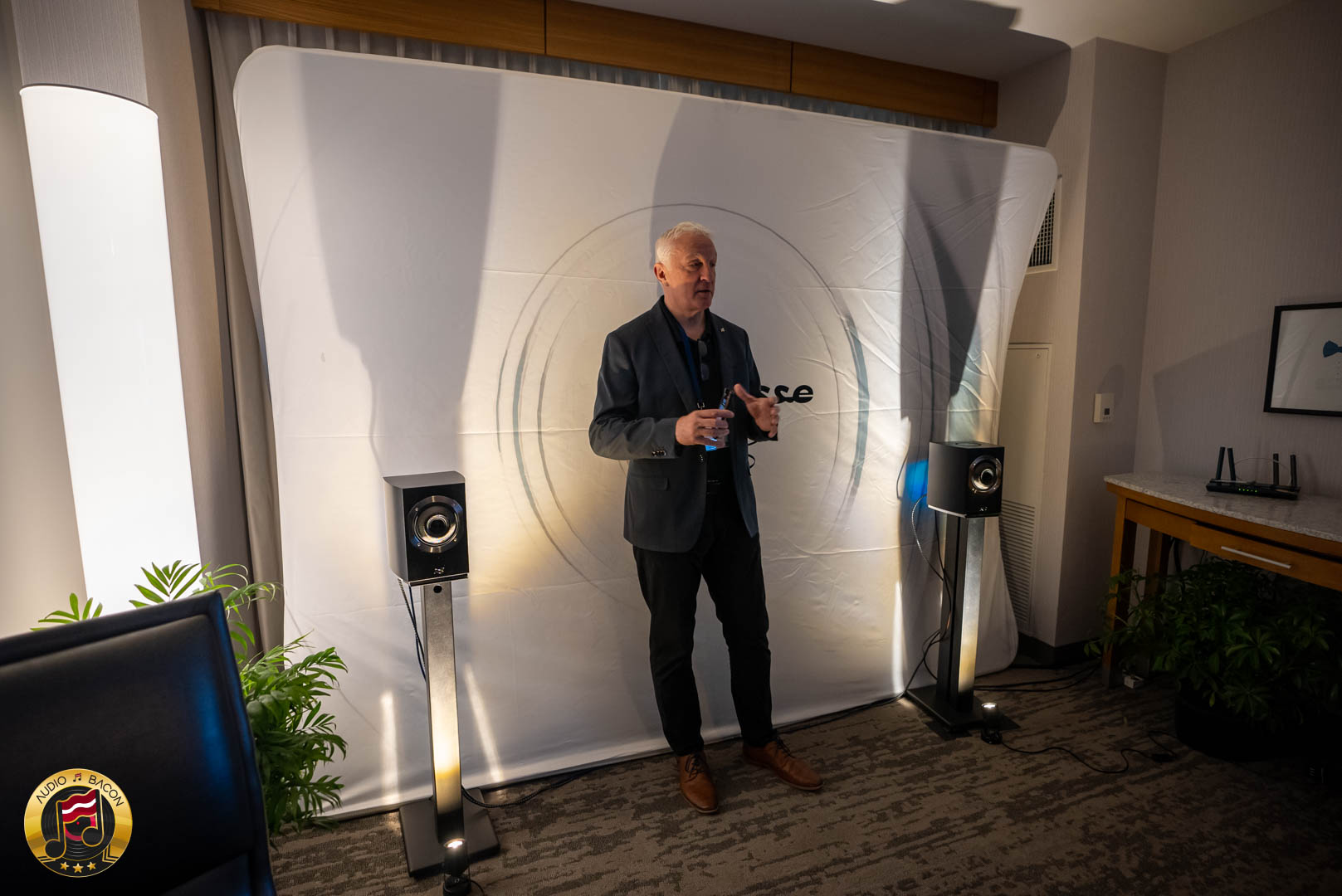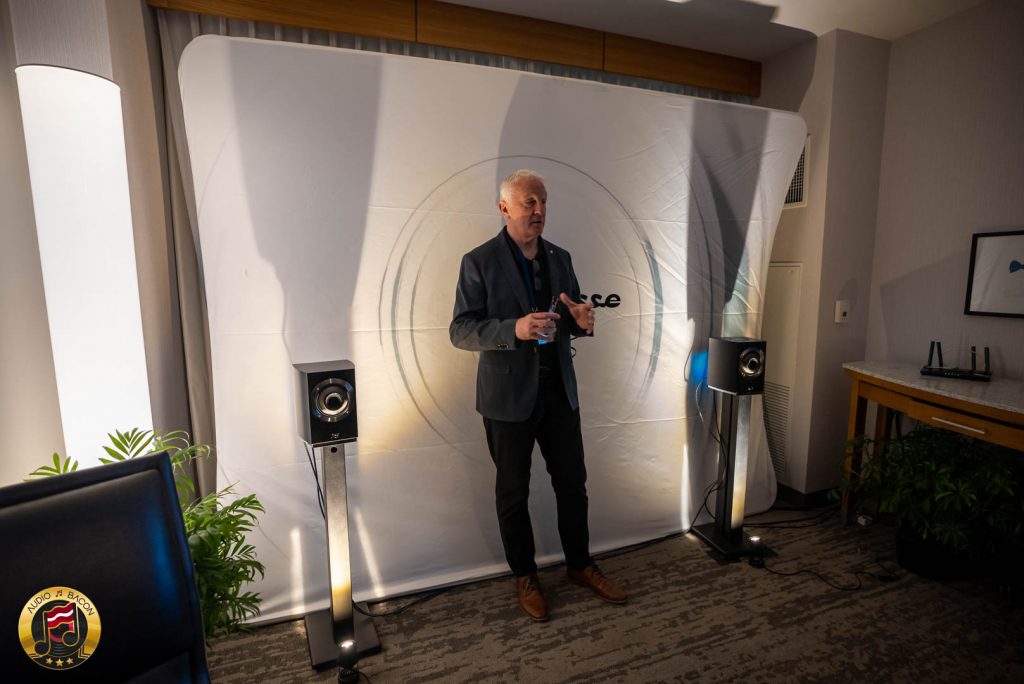 I randomly bumped into these guys in the cafeteria at the hotel I was staying at. And coincidentally, they were next on my list of rooms to visit! I was given a 20-minute pre-show demo of their new Abyss Amplifier and Rialto active loudspeaker.
First, the Cabasse Rialto wireless loudspeakers were very small but sleek. Definitely a lifestyle product. But it did pack a punch and projected a surprisingly large soundstage. Now, to my ears, it was on the more transparent, resolving, and brighter side of the spectrum. It wasn't sharp or fatiguing but you're going to have to prefer a cooler tonal color. Plenty of textures and spatial cues and admittedly, a high-fidelity sound. For what you get…$3,995 will be a great value for many.
More importantly, I was impressed by their demo of the Abyss amplifier paired with their passive speakers. The tone was warmer and the sound was more grounded and dense. The amplifier itself looked sleek and clean, similar to their Rialto. In addition, this feature-packed amplifier was tiny but had 120 watts of output per channel into 8 Ohms.
The one feature that caught my attention was the DSP processing that evens out the low-end frequency response of the room for any speaker you attach to it. But when Cabasse attached one of their own passive speakers, and the programmed DSP applied specific adjustments for that speaker. The result was a far more dynamic, quieter, and fuller sound, making it almost sound like a different speaker altogether.
Overall, it seemed like a fully-featured amplifier for its price point of $1,795. If you're looking for a lifestyle product that is affordable, compact, gets your spouse's approval, and sounds great, it's worth taking a look into the Cabasse line of products.
Cabasse Abyss Amplifier
120Wpc integrated amplifier with built-in streaming
DSP processing greatly improves the sound of any speaker
DSP allows you to adjust frequency response for smoother bass and tonal balance with integral tilt controls
When used with a passive Cabasse speaker, the amplifier engages a DSP program specific to that speaker to smooth out response
DSP filter has 30 bands for precise adjustment
Non-Cabasse speakers benefit from a generic DSP algorithm
Patented processing algorithm called Dynamic Fidelity Enhancer (DFE) modifies the signal to restore music's dynamics and bass extension at low listening levels
Price: $1,795
Cabasse RIALTO
Small cube design combining a concentric forward-facing driver with a rear-firing woofer, integral amplification, streaming, and DSP room correction
Two powered speakers linked together, with one designated as the primary speaker and the other as the secondary speaker
Primary speaker includes a selection of audio input connections and Bluetooth antenna; audio signals can be transferred from primary to secondary speaker via Ethernet or Digital Optical connection link
Cabasse Stream CONTROL app provides additional listening personalization
Coaxial speaker design allows all sound waves to spread out from a single source point without interference and artificial coloring of sound
HELD (High Excursion Low Distortion) woofers enable powerful, deep, accurate, and distortion-free bass
DEAP (Digital Enhancements Acoustical Interface) enhances loudspeaker performance via dynamic multi-band signal processing with feedback loops
Built-in sound calibration utilizing a built-in microphone provides automatic room calibration
HDMI-eARC allows you to listen to TV sound and control volume of the Rialto using the TV's remote control
USB input allows playback of digital audio files in multiple formats
Bluetooth receiver supports aptX for "CD-quality" audio streaming from compatible devices
Streaming services include Qobuz, Deezer, TIDAL, Spotify, Web Radio, Napster
Primary speaker includes an easy-to-use touch screen for volume/mute, input selection, and playback control with color LCD video screen displaying album covers for music being played
Works with Google Assistant
Price: $4,000
---
Endow Audio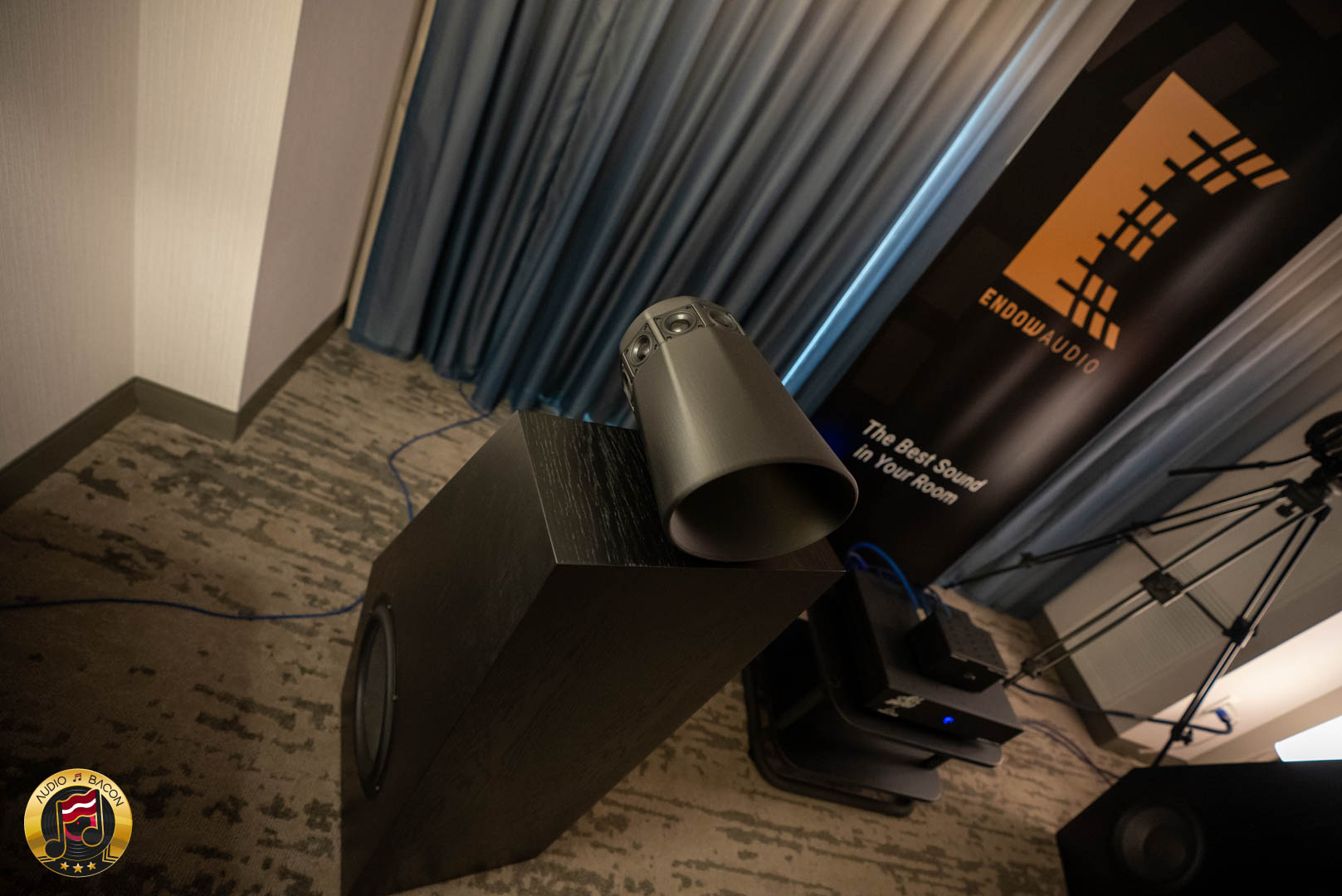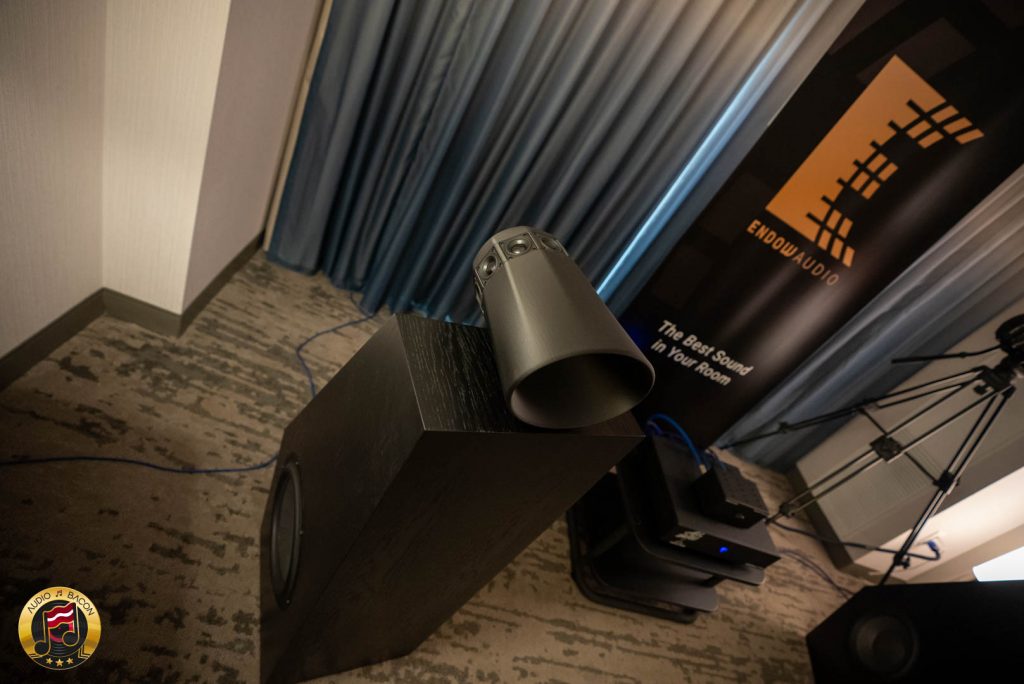 About the speakers
The Endow Audio Bravura 7 Microtower speakers stand at just 21 inches tall, but they deliver exceptional clarity, detail, and imaging in the sweet spot, with consistent sound quality throughout the entire room. These speakers utilize the innovative Point Array speaker technology, which combines precise on-axis imaging with off-axis sonics to create a one-of-a-kind listening experience. The Bravura 7 speakers are designed with nine 1.5″ midrange drivers arranged in a unique ring array design, along with a 22mm tweeter that delivers silky smooth highs up to 20 kHz without sounding shrill or harsh. Additionally, a dedicated 7″ woofer provides powerful low-end sonics, while the custom-tuned 7″ passive radiator port delivers bass down to an F10 roll-off of 41 Hz. The speakers are suitable for small to mid-sized spaces, with a recommended 150-watt amplifier and a frequency response range of 41 Hz to 20 kHz.

What's more impressive is that this exceptional sound quality is achieved despite the speakers' compact size and clean design, making them suitable for any listening environment. Endow Audio has invested over 10 years and hundreds of prototypes in developing their Point Array speaker technology, utilizing 3D printing and evaluating dozens of crossover circuits and wire types to achieve the precise sound they were aiming for. The result is a patent-pending speaker technology with midrange drivers mounted in a ring, facing perpendicular to the listening "sweet spot," along with a unique 3D-printed horn that delivers incredible sonic performance. The tweeter is located in the acoustic center of the midrange drivers, minimizing interference between the two components. The Bravura 7 speakers are a testament to Endow Audio's commitment to creating a listening experience that allows users to hear music as if it were being recorded in their personal listening space, with elevated levels of detail, improved imaging, and great sound across the entire room.
The Sound
Not the prettiest of speakers but the Endow Audio Bravura 7 loudspeakers did sonically stand out from the crowd. Especially for its total system price point. The Bravura speakers feature a unique Point Array arrangement of drivers that is only made possible through 3D printing. There's a horn-loaded tweeter but an array of tweeters surrounding the backside to provide a more omnidirectional midrange.
Now some of the guys mentioned an issue with the midrange but I didn't really hear a big issue. There was something "different" about the sound but I still enjoyed the music. Given the very unique design, there is a captivating and expressive quality that is easily heard.
The track that was played was Chris Stapleton's "Sometimes I Cry," and it delivered a memorable listening experience from start to finish. During the recording, the bass is prominent and well-defined, providing a solid foundation for the rest of the music. The midrange is clear and articulate, which allows the vocals to be expressive and dynamic. The treble is extended and detailed, allowing the cymbals to sparkle and decay naturally. Transients are quick and precise, ensuring that each note is delivered with accuracy and speed. The system captures the emotion and energy of the music, making it an exciting listening experience.
In those calm and quiet parts, Endow's system really comes alive. It keeps that warm and rich vibe going, with each note feeling full and deep. The speakers serve up an energetic and powerful performance, capturing all the emotion and excitement in the music. I thought this room sounded fantastic.
Equipment List
Endow Audio Bravura 7 loudspeakers – $6,900
Endow Audio Bravura Cable – $700
Orchard Starkrimson Stereo Ultra – $2,300
Orchard PicanPi+ Streamer DAC – $875
---
Well Pleased AV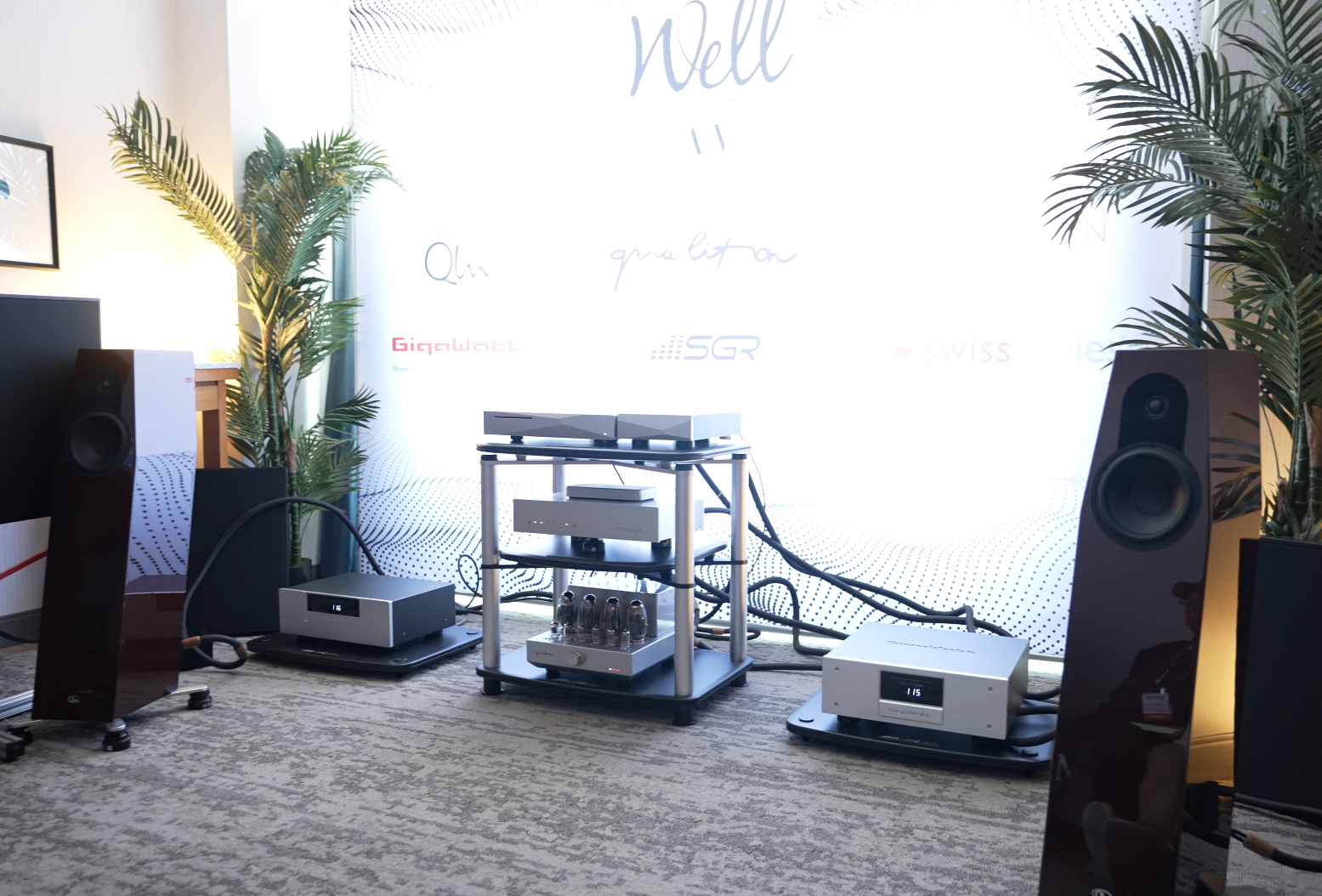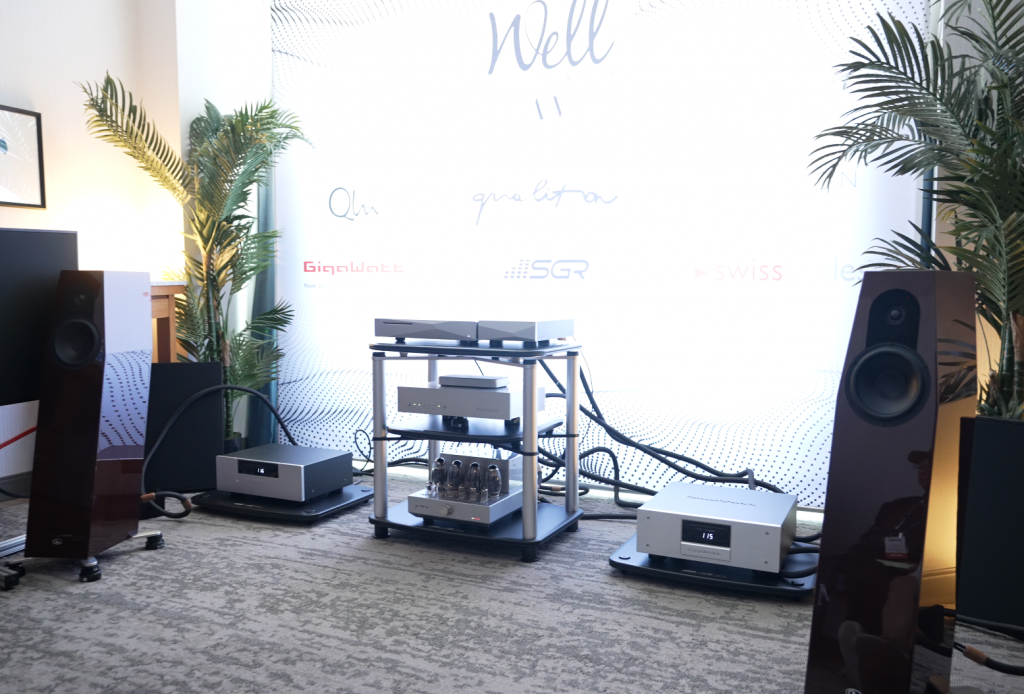 The Qln Prestige 3 is a 2-way floor-standing speaker that incorporates four decades of speaker research and design, based on the classic Qln Signature 3 design. Its slanted baffle provides perfect time alignment between the woofer and tweeter, while the truncated pyramid cabinet top suppresses standing waves and improves imaging. The cabinet construction uses Qln's unique Qboard technology to eliminate structural resonances, and the crossover has been completely redesigned with high-quality components. The bass/midrange and treble drivers are custom-developed by ScanSpeak, offering advanced driver technology with minimal distortion.

The Kevlar bass/midrange driver has built-in copper rings in the magnet system for symmetric drive and higher dynamics in the midrange while suppressing intermodulation distortion. The unique tweeter has excellent off-axis dispersion and superb vocal rendition. Internal cabling is specially designed and produced in Sweden, and speaker terminals are WBT Nextgen connectors with minimal connection material made of silver/copper. All parts have non-resonant behavior, which suppresses noise and offers better dynamics and silence between the tones.
The Sound
I've got to admit, the high-end "value" contenders were tougher to find. But this room stood out as one of the top experiences for me. I've observed that whenever a Qln loudspeaker is part of the setup, I just can't resist spending some extra time there. It's no wonder that Well Pleased AV took home Best of Show at THE SHOW 2022 with their Qln bookshelf and Nagra electronics – this system was extraordinary.
As Victor Wooten's "Miller Time" began, I was instantly struck by the exceptional musicality. The sound was rich, cohesive, and downright funky – I found myself nodding my head and tapping my feet, just jamming to the beat. Every instrument was a treat to listen to, from the bass and electric guitar to the keyboard and drums. The kicks had a authoritative and punchy quality, never overshadowing the other elements, while the string resonances were perfectly timed with just the right amount of decay in the room.
What truly brought the live performance to life were the authentic cheers and whistles from the audience, particularly at the track's end. It felt like I was right there, immersed in the crowd and enjoying the show. Even the cymbals sparkled and shimmered, without ever interfering with the melody. I could effortlessly picture the musicians having a blast on stage, and I was captivated by the sound.
This system easily ranked among the most unforgettable experiences at the show, and I believe this track perfectly highlighted the magic of this setup. Major kudos to Mark Sossa for creating such a phenomenal room.
Equipment List
QLN Prestige 3 Loudspeakers (Piano Walnut) – $12,000
Qualiton a75i Integrated Amplier – $9,250
Merason DAC1 MKII – $8,000
GigaWatt PC-4 EVO+ Power Conditioner (w/LS-2) – $14,500
Innuos ZENith Mk3 Music Server – $5,400
Innuos Phoenix USB Re-Clocker – $3,750
Swisscables Diamond Series Cabling

Power (1.5m) – $2,800
ICs (1.5m) – $3,450
Speaker (3.5m) – $7,150

SGR Audio Model 5/3/1 Symphony rack

Model 1 – $1,200
Model 3 – $2,000
Model 5 – $3,000
---
Odyssey Audio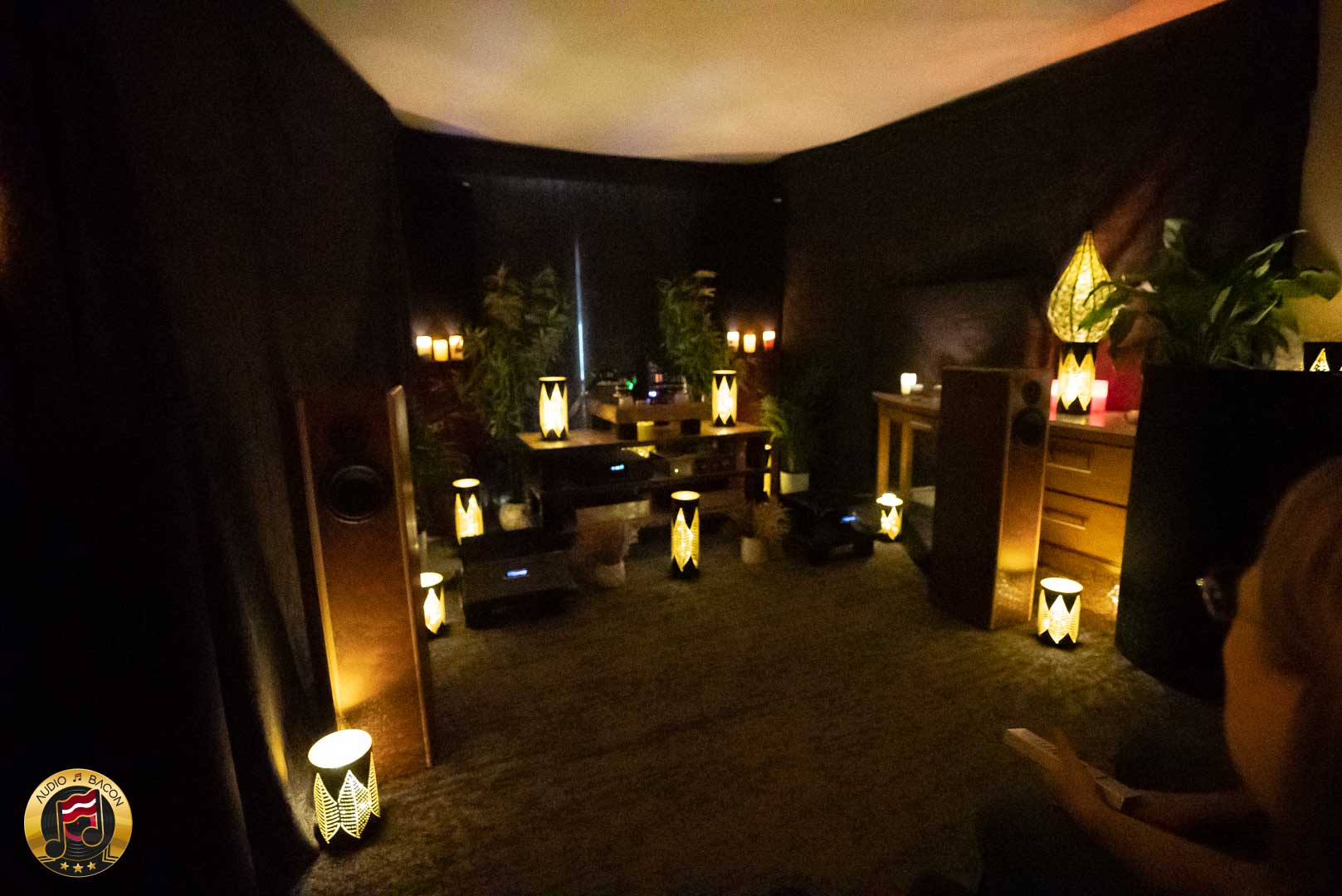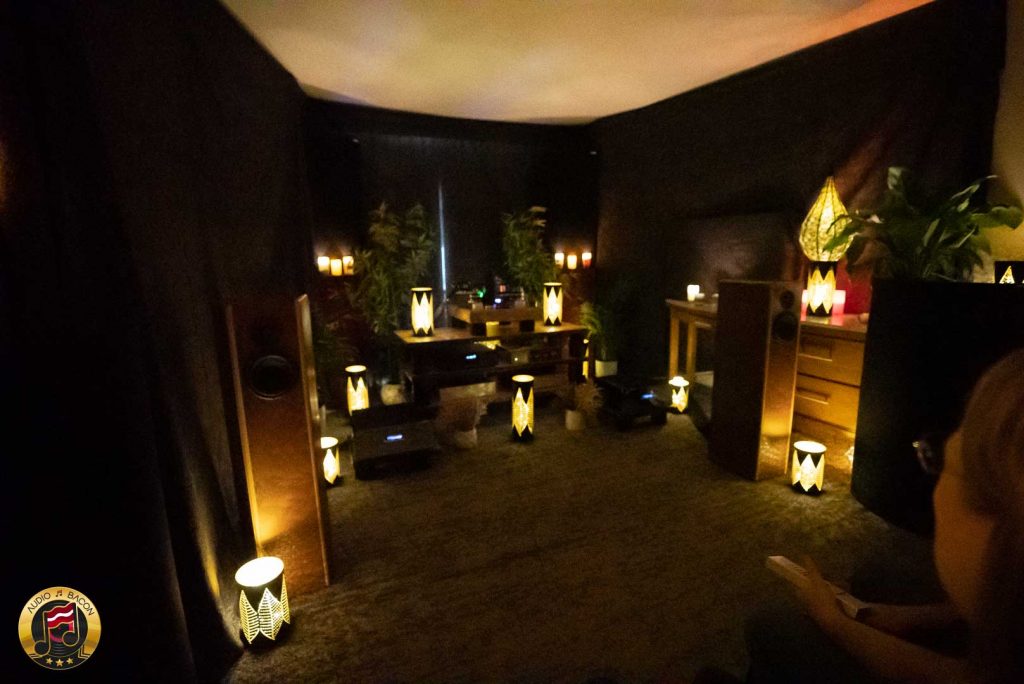 Step into the most enigmatic and atmospheric room of the show, where warm LED candles cast a gentle glow, complemented by the shimmer off nearby plants. Klaus Bunge, the mastermind behind this intriguing space, aimed for visitors to rely on their sense of hearing to fully immerse themselves in the experience. Music takes center stage here! Allow yourself to absorb the ambiance and let your ears and body lead the way.
Focusing on the Odyssey Kismet floorstanders, these speakers employ a two-way design, showcasing a ScanSpeak Revelator for the woofer and a ScanSpeak Beryllium for the tweeter. The standout feature of these speakers is the incorporation of the specific beryllium drivers ($550 each), which rank among the finest drivers available. Additionally, the speaker's crossover is of remarkable quality, a crucial factor in achieving accurate audio signal reproduction.
Magnan Cables were chosen for this setup due to their innovative construction. Their distinctive flat, ribbon-like design minimizes skin effect, which can lead to distortion and loss of detail in the audio signal. This ribbon design also reduces the cable's capacitance and inductance, enhancing frequency response and overall sound quality. Magnan Cables utilize a proprietary dielectric material to minimize signal loss and interference. This high-tech polymer exhibits low distortion and low loss properties. Their exclusive shielding system wards off electromagnetic interference from other electronic devices, producing a clean, transparent, and detailed sound.
Regarding acoustic treatment, the room features basic diffusers that diminish reflections and improve overall sound quality. This is especially vital in smaller listening spaces like this one, where reflections can cause sound waves to bounce erratically, creating unwanted echoes and distortions. It's clear that Klaus did an outstanding job treating this room.
The Sound
The Odyssey room was truly remarkable, far exceeding my expectations. Regardless of cost, it ranked among the best listening rooms at AXPONA this year. In fact, I'd say it was second only to the Best of Show (which we'll discuss later) – likely at less than 5% of the price. While other systems may have offered lower-level refinement, transparency, and other technicals, this one resonated directly with the soul. I suspect many experienced attendees and reviewers would concur.
As Hugh Masekela's "Stimela (The Coal Train)" live track played (a common pick at HiFi shows), I was astonished by the realism in the spoken word sections. Progressing to the climactic African percussion drumming, I could feel my chest thump and my heart rate rise. The rhythm and texture of the brass and bass guitar, backed by the gentle, dreamy keyboard, left me utterly captivated and spellbound. The soundstage was impressively wide and incredibly deep, with ample air surrounding vocal harmonies and audience cheers. The system showcased vast extension on both ends of the spectrum, and regardless of the music's complexity, the harmonics were layered with ease. I must admit, the sensory experience was likely amplified by the enveloping darkness of the room.
I entered the room with modest expectations but left utterly awestruck. Music sounded incredibly natural, dynamic, and utterly persuasive. Kudos to Klaus Bunge for setting up such a fantastic room – all your hard work paid off splendidly.
On a side note, this actually got me curious about auditioning the Odyssey Stratos Mono Extremes for my Avant Gardes…but we'll see.
Equipment list
Symphonic Line CD player
VPI Avenger direct drive
Graham tonearm
vdHul Colibri cart
Symphonic Line Erleuchtung preamp
Symphonic Line Reference Phono Stage
All Magnan cables. Prices vary, starting at under $1,000
Odyssey Stratos Mono amps $2,700./ pr
Odyssey Kismet floorstanders $4,200./ pr