Stanley Wong is an audiophile and an avid gamer. He's a guest reviewer on Audio Bacon for gaming-related audio gear.
---
Unboxing
Straight to the Crunch
Pros
Cons
Very Comfortable
Great Pricing
Light Weight
Quick Volume Adjustments
No Bluetooth
No Custom Sound Profiles
Setup Challenges
Mic Use – USB Only
| | | | | | | |
| --- | --- | --- | --- | --- | --- | --- |
| Comfort | 🥓 | 🥓 | 🥓 | 🥓 | 🥓 | |
| Audio | 🥓 | 🥓 | 🥓 | 🥓 | | |
| Quality | 🥓 | 🥓 | 🥓 | 🥓 | 🥓 | |
| Design | 🥓 | 🥓 | 🥓 | | | |
| Total | | | | | 85% | 17/20 🥓 |
Overall
The HyperX Cloud Alpha S gaming headset is built with premium comfort and is upgraded with quality of life improvements. Equipped with 50 mm dual-chamber drivers, it kicks out sounds in a distinct fashion. From the lows, mids, and highs – frequencies are clearly separated.
In addition, a slider on each side allows the user to adjust the bass on 3 different levels. There's also an easy-to-access switch to adjust chat and in-game volume.
If you are in the market for top-notch comfort, kick-ass 7.1 gameplay sounds, and ease of volume adjustment – HyperX Cloud Alpha S gaming headset to get.
---
Full Review
Specifications
Cloud Alpha S
Cloud Alpha
MSRP
$129.99
$99.99
Driver
50mm Dual Chamber
50mm Dual Chamber
Weight
321g
309g
Type
Total Ear Coverage
Closed Back
Total Ear Coverage
Closed Back
Frequency
13Hz – 27,000Hz
13Hz – 27,000Hz
Sound Pressure
99dB
98dB
Connection
USB/3.5mm Analog
3.5mm Analog
Microphone
Electret Condenser
Bi-Directional
Noise Cancelling
Electret Condenser
Bi-Directional
Noise Cancelling
Sensitivity : -38dBV
Sensitivity: -43dBv
Additional
In-Line Audio Control
In-Line Audio Control
7.1 Surround Sound
Bass Adjustment Slider
Game/Chat Audio Control
Contents
Headphone/ Carry Bag
Detachable Flexible Microphone
2M – USB Fabric Coated Audio Control Mixer
1M – 3.5mm Fabric Coated Standard Analog Cable
Pair of Additional Fabric Ear Pads
A Legendary Lineage
Since 2017, the HyperX Cloud Alpha has earned 1,100 reviews on Amazon with a solid 4-star rating, and with 61% of the reviewers giving it a 5-star rating. Wow! This beats similarly priced headphones of Steelseries Arctis 7 with 3.9-star rating/ 56% 5-Star and Logitech G935 at 3.3-star rating/ 37% 5-star.
With strong backing from its predecessor, the Cloud Alpha S is set to shine. The stats speak for itself so look no further. But if you are curious – keep on scrolling.
---
Comfort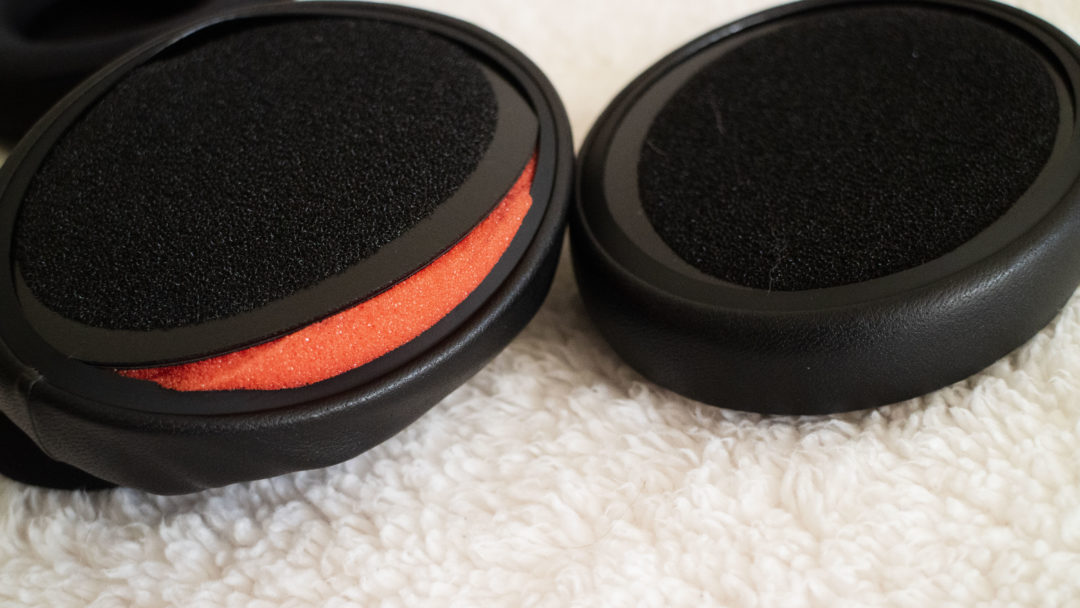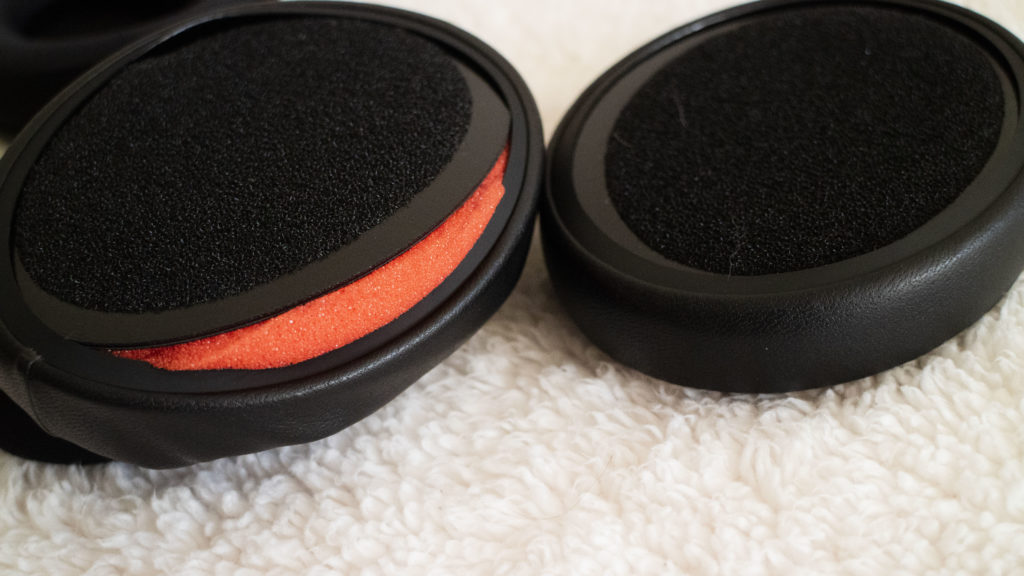 Hands-down ✋🤚 this is one of the most comfortable headsets I have worn. It is lightweight and built with an aluminum steel frame that gives it flexibility and heat dispersion. On top of that, it has a full cushioned headband and interchangeable memory foam fabric/leatherette ear cushions. I've found that the fabric ear cushion provided more breathability and is slightly lighter. However, I've come to love the soft leatherette cushion that provided additional noise reduction.
Whether you are a binging on finishing your long overdue Witcher III, streaming for friends and followers, or simply sitting long hours using a headphone, the HyperX Cloud Alpha S will provide you the comfort to plow through hours with minimal fatigue. Also, if I had a telemarketing job I would definitely ask my boss to hook me up with one of this! 🙂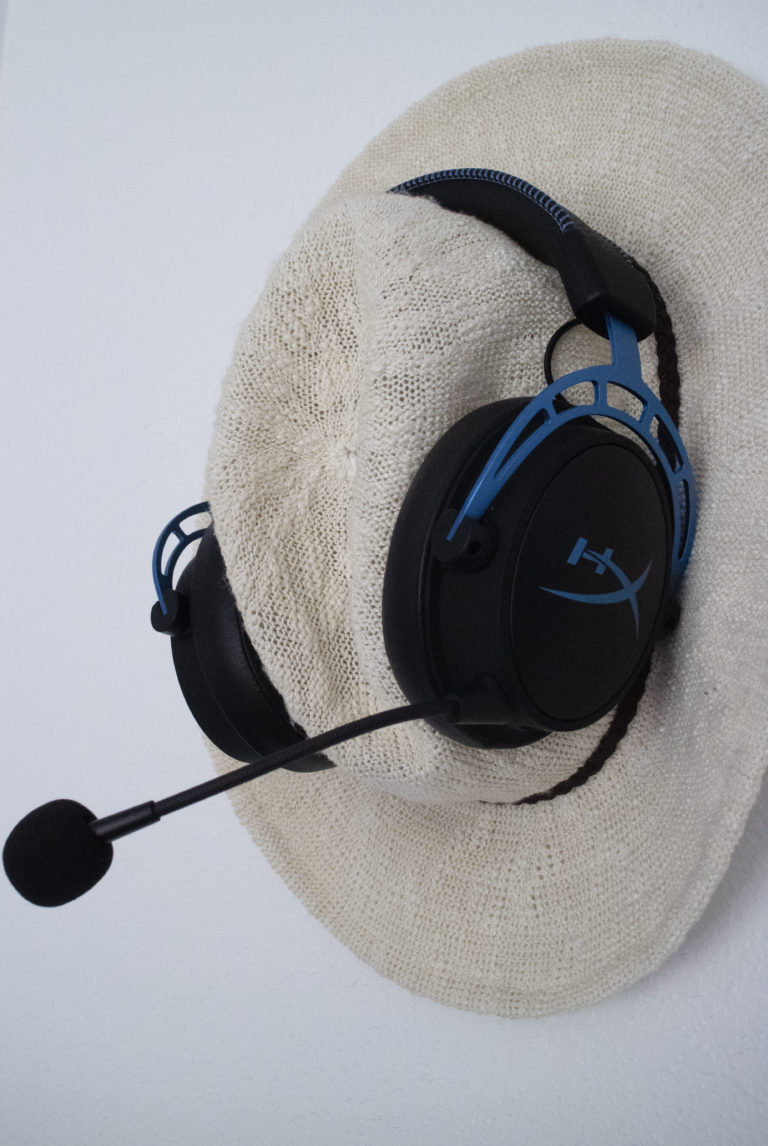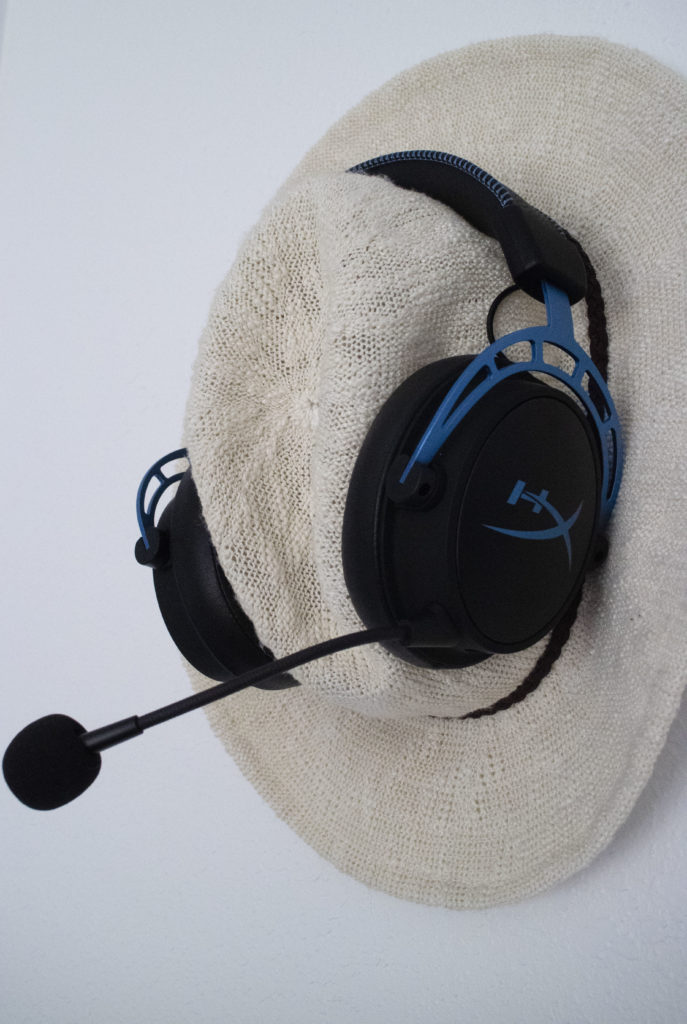 Dual Chamber Drivers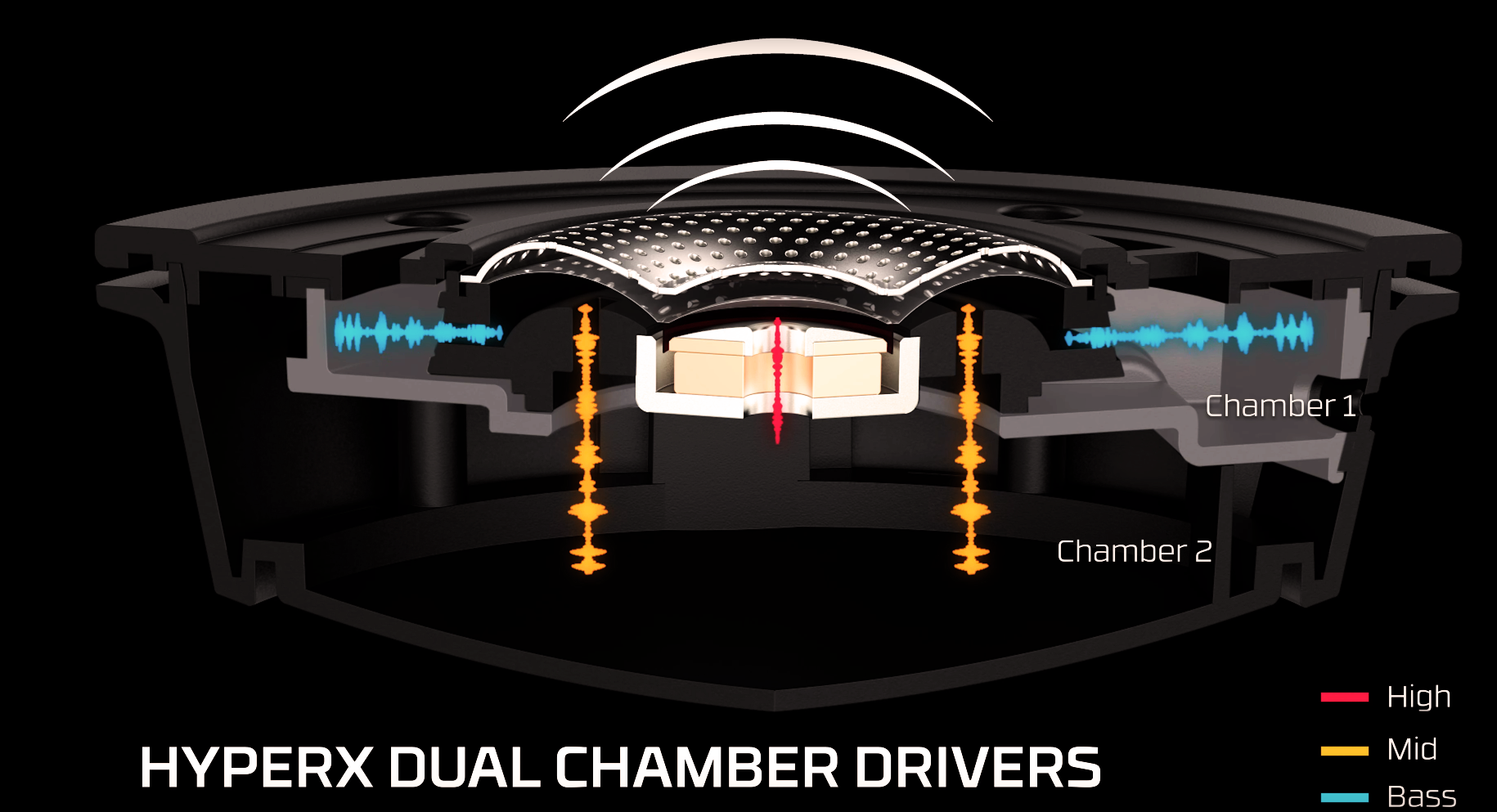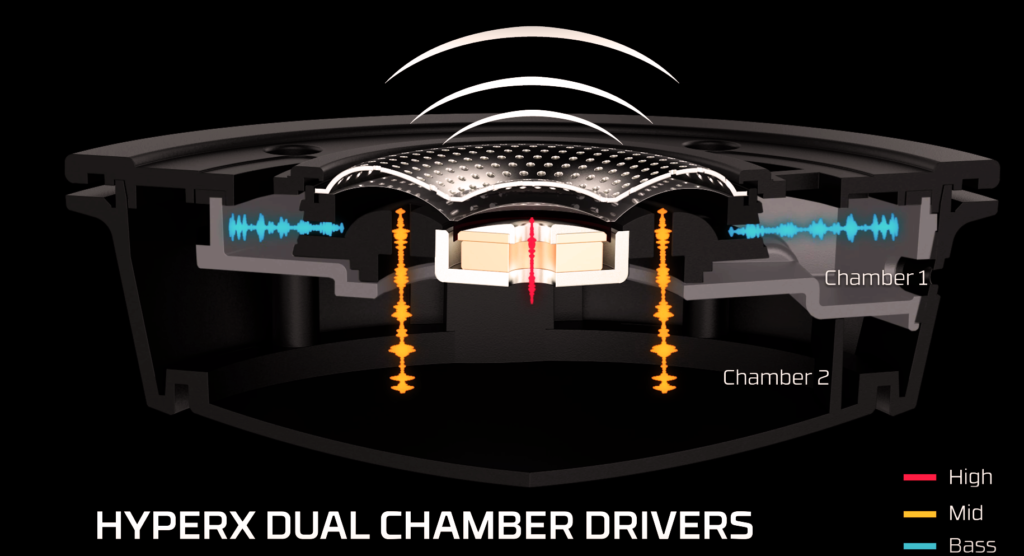 What's HyperX's signature Dual Chamber drivers all about? Lucky us, HyperX has an awesome short video telling us all about it. Simply put, the separated drivers for the high, mid, and bass allows the sounds to be produced with minimal interference and thus increasing clarity.
The idea is that when sound waves share the same space, they collide and affect the strength and frequency of the sounds they produce. In some cases, one may overpower the other, creating a dampening effect which causes sounds to come out muddy or distorted. Therefore, separating the chambers where the volumes are produced, minimizes the distortion.
Simply the Headphone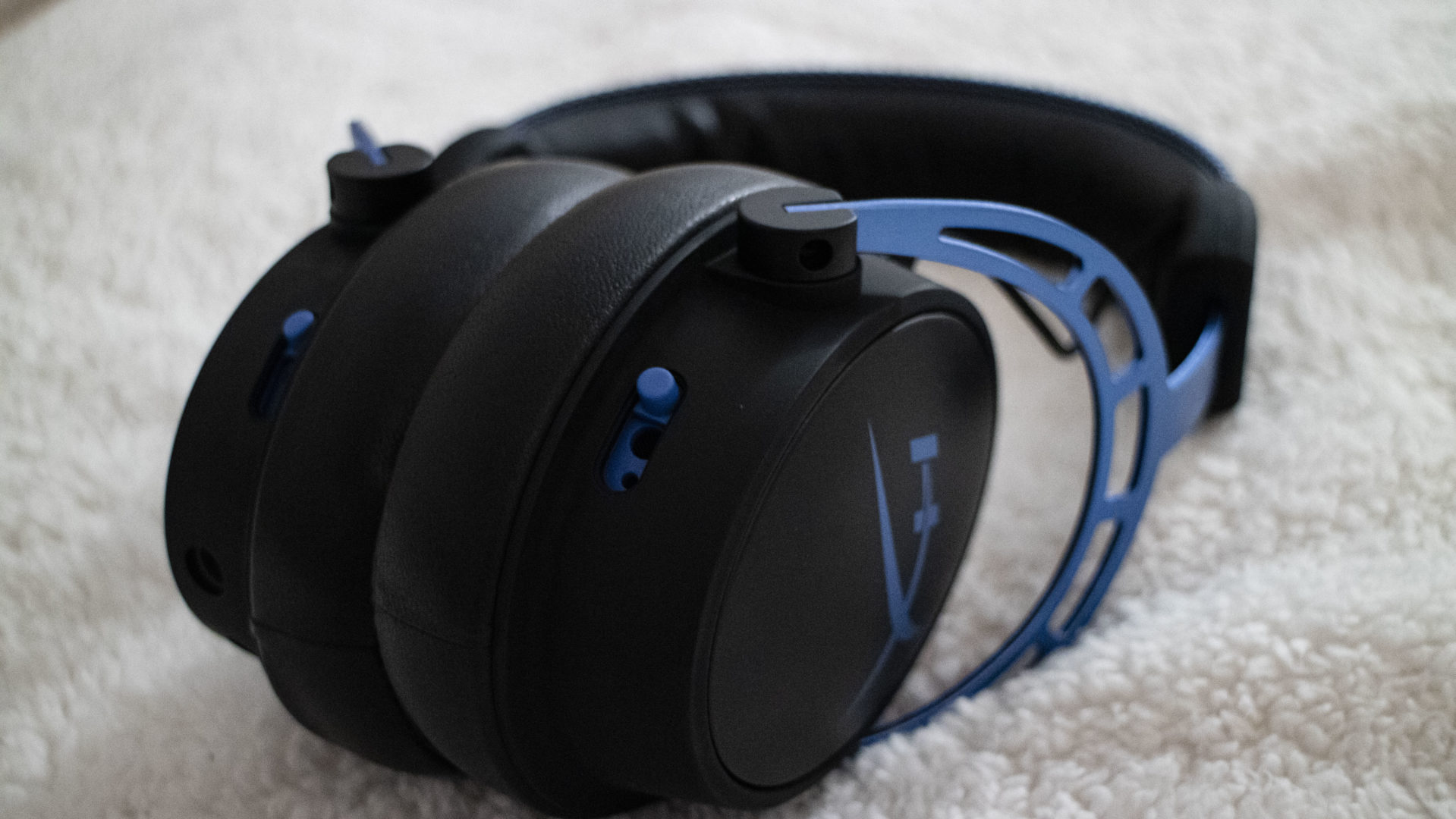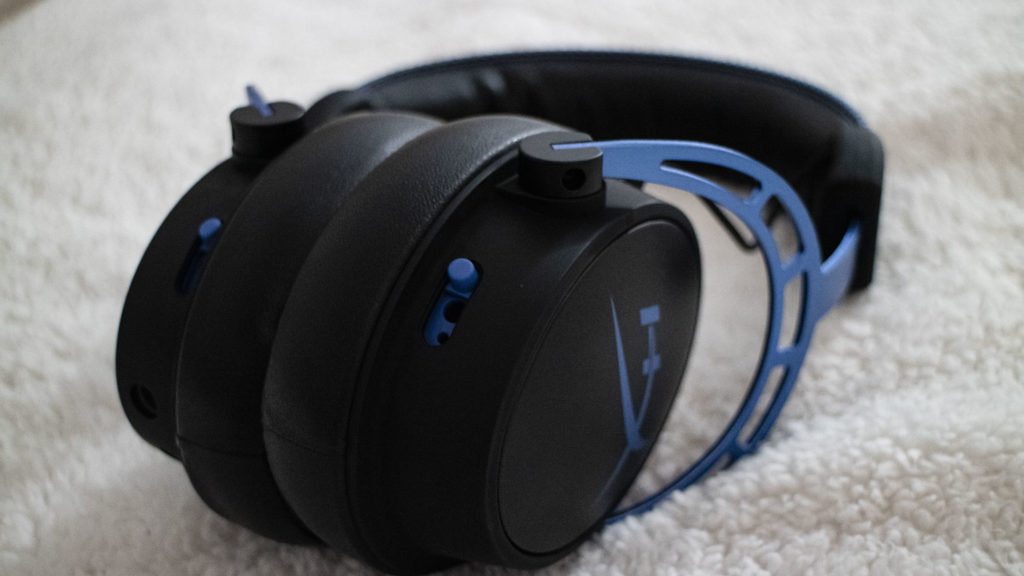 In its basic form, the headphone provides excellent stereo sound that produces clear mid, highs, and lows. This headset is definitely built with first player shooter games in mind because when I unloaded my shells from Apex Legend's Peacekeeper the first time, oh wow… there was definitely no peace and I felt the KICK.
While bullets and gunfire are amplified, my music was safe from the bullets. Listening to music on this headphone was ambient and personal, loved it. Also, the unique piece about this headphone is the bass sliders on each side. This allows me to adjust the bass by closing or opening the vents. I mainly leave them on as I enjoy the bass from my music and the explosions of my grenades. I can see it being useful where some games may have loud guns or character abilities that may impair you from reaching your gaming objective.
7.1 Surround Sound!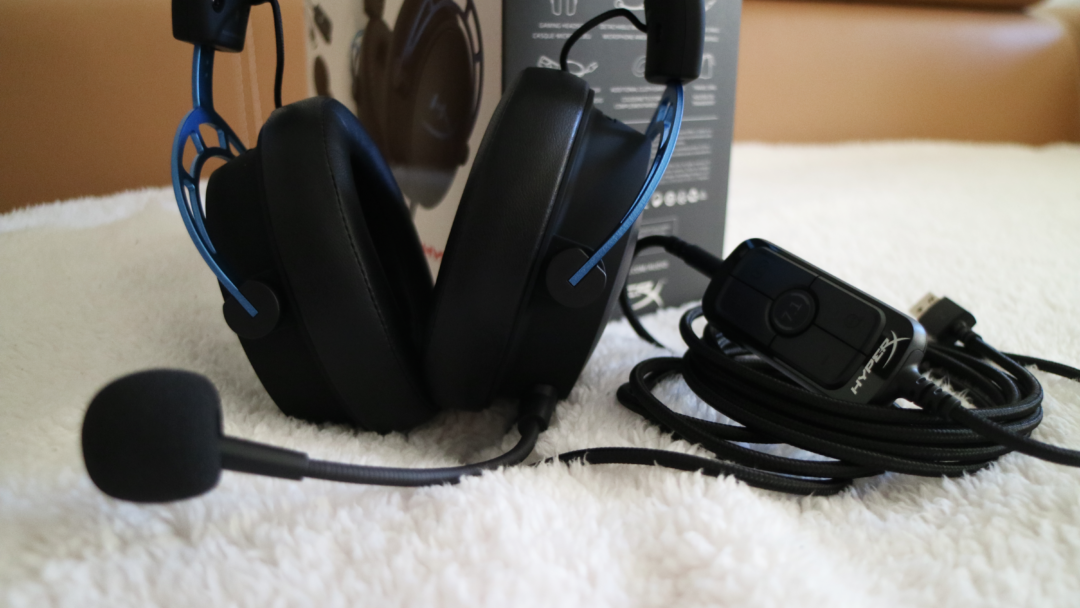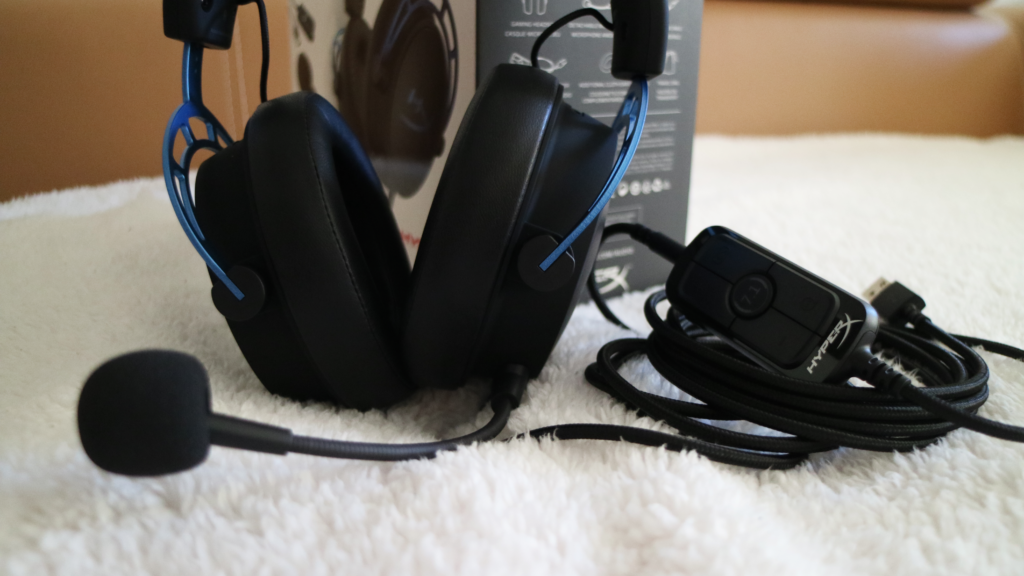 In its evolved form, the headset is equipped with a control dongle that powers the 7.1 surround sound, enables quick volume adjustments, and gives the ability to adjust chat and game volume with a press of a button.
The 7.1 surround sound has two firmware upgrades available, EQ 4101 and EQ4103. The 4101 is optimized for gunshots and FPS games and the 4103 is tuned for a sound widening experience.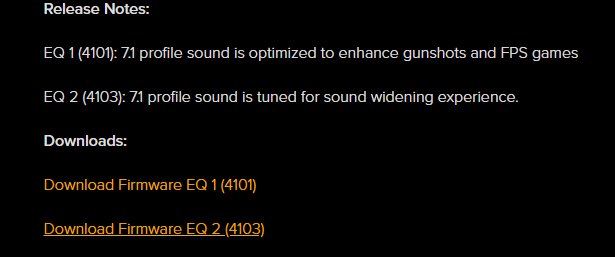 EQ4101: I found this EQ distracting. It transforms me into a vampire with extremely heightened senses. Consequently, the sounds were too loud and overpowering for my taste. Also, when this profile was on, everything sounded glassy, sibilance was strong, gunshots were kicking extra hard, and claps were very sharp. luckily, this was easily remedied by switching to the other EQ.
EQ4103: This EQ provided a general widening experience that made me feel closer and deeper into the enriching sound experience. High and mid-range sounds became clearer and louder, but the trade-off is that the bass becomes slightly less deep.
However, if you are looking to taste music and gameplay sounds sculpted perfectly with a fine balance, definitely check out the HyperX Cloud Orbit S – you will feel the difference…literally. Albeit as a much higher price tag.
The Dongle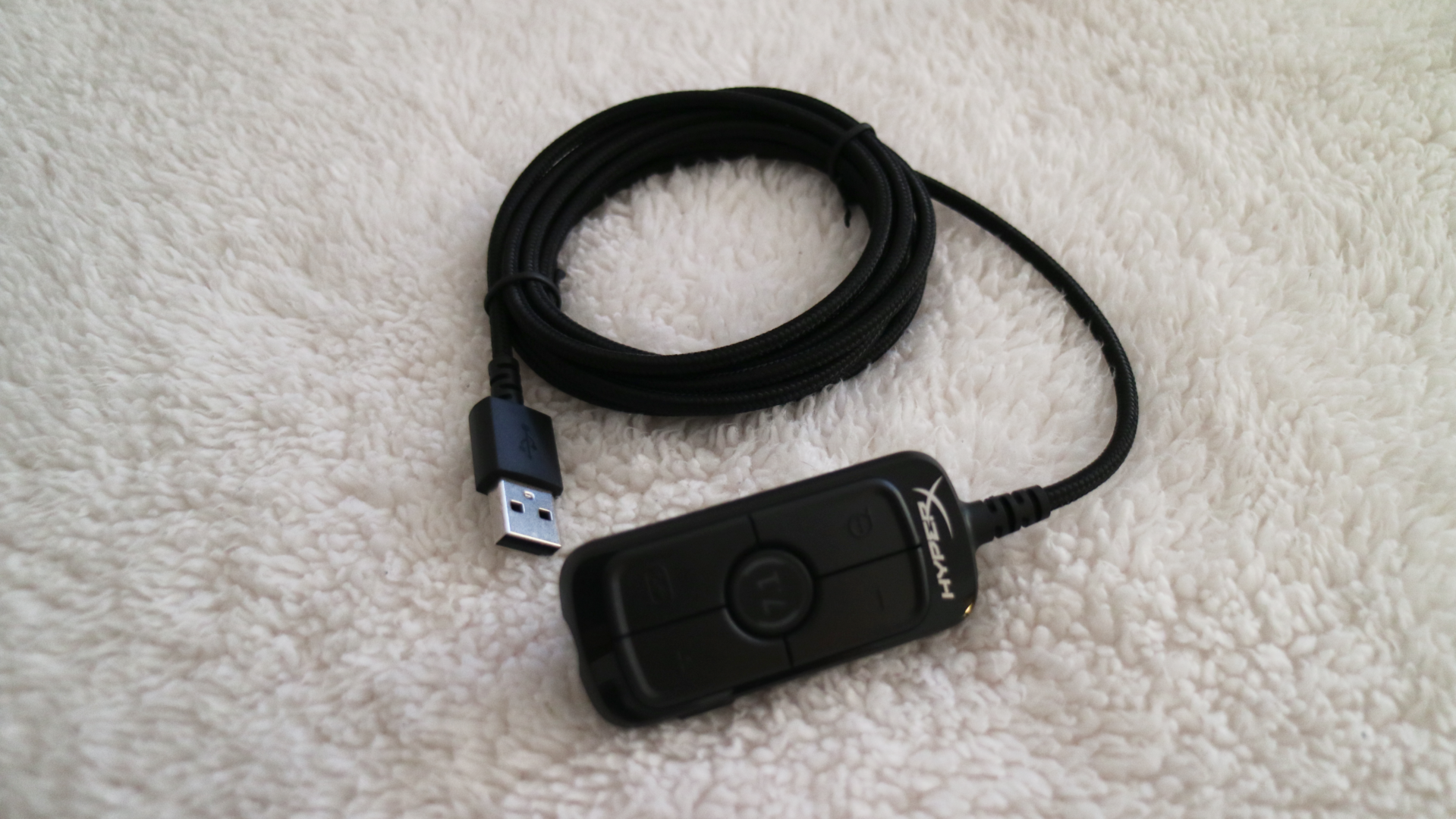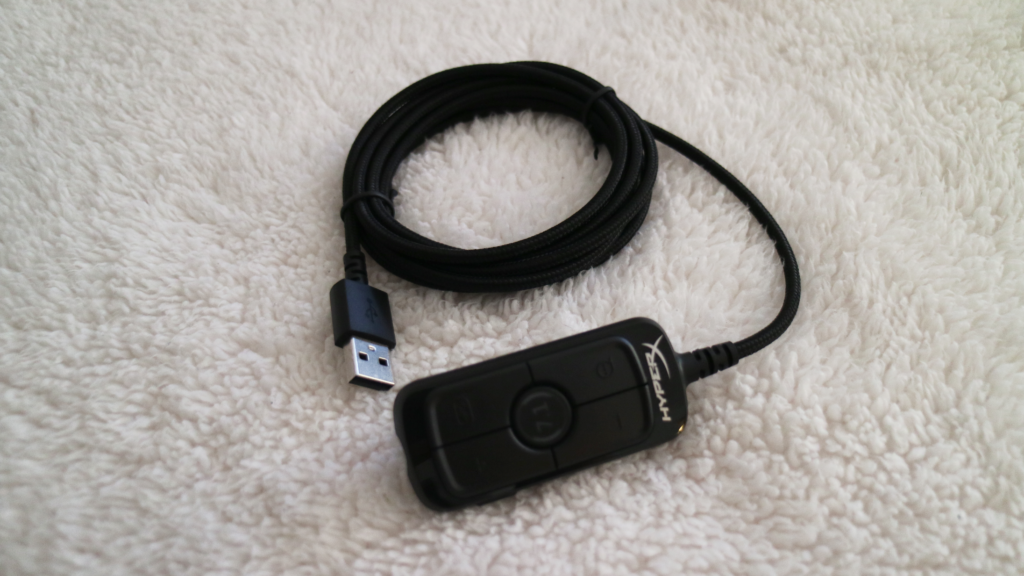 The dongle gives the headset an extra 2 meters in length and reduces the volume of the headset when attached. Which can be easily balanced by increasing the game or computer volume. It allows the user to quickly switch between stereo and 7.1.
Unfortunately, it seems that this dongle is required for the microphone to work which limits which systems this headphone is compatible with. The dongle works with other HyperX headphones, but not with a different brand.


The 7.1 lights up white when it is active and the mute button becomes red when muting is active. The noteworthy aspect of this dongle is its ability to manage chat and game volume. Although initially, it may be confusing to set up, once you set the output sound of your communication programs to HyperX Alpha S Chat instead of HyperX Alpha S Game, all is ready to go! You'll know you set up incorrectly if the game/chat volume button reacts oppositely.
Microphone
The electret condenser with a boom filter helps capture your voice clearly and seemingly mutes background noise. You can hear how it nicely picks up my voice, which enables my teammates to have less distortion to worry about.
You can listen to a raw comparison of my Rode NT1A microphone against the Cloud Alpha S here: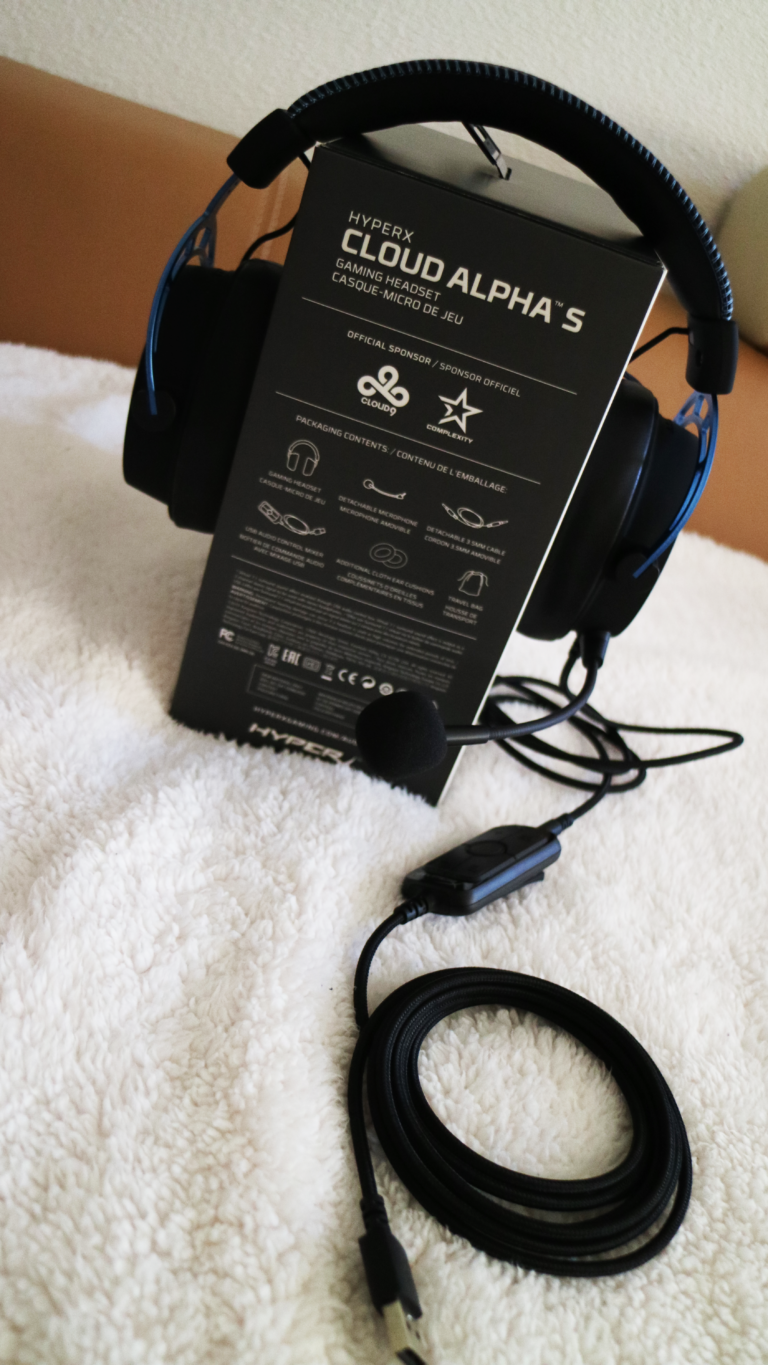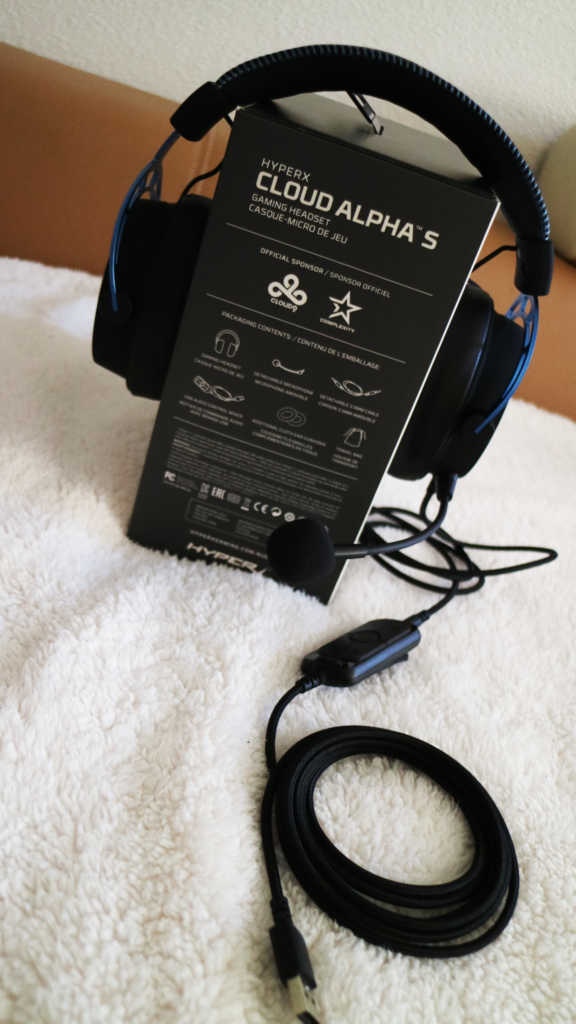 Final Crunch
Backed by a solid reputation, the HyperX Cloud Alpha S evolved with:
Upgraded leatherette that gives it 8x breathability
Bass sliders to personalize sound
7.1 dongle that gives you quick control of sounds while gaming
At a very affordable price point, this headset is versatile enough – even for the most enthusiastic of gamers. This especially applies to the level of comfort – which, for longer gaming sessions, I find to be better than their pricer HyperX Orbit Cloud S (EQ4103 firmware). Although, if you're a sound quality snob – the Orbit Cloud S is very difficult to beat. That headset will spoil your ears.
Bottom line, the HyperX Cloud Alpha S is a feature-rich headset that won't break the bank. It's a complete package that is highly resolving and immersive for both movie watching – and gaming.