Listening Notes
After letting the cables settle in the system; a couple of things stood out immediately within a few minutes of listening. Audience is definitely onto something. In addition to a smooth and naturalistic tone, it's very transparent and resolving of lower level details. The soundstage is a little more laid back with oodles of spatial depth. It's also very articulate in how it manages the flow and positioning of the musical elements.
The aforementioned qualities are on full display in Sara Bareilles' live performance of '(Sittin' on) The Dock of the Bay' from one of our favorite albums, 'Brave Enough: Live at the Variety Playhouse'. As the crowd settles down from 'Love Song' and she begins to warm up the guitar, it becomes really easy to pick out the individual audience members with their various woo's, snaps, and chatter. You can even pick up the shutter snap of a camera popping out ever so subtly from the right side. These details are precise, palpable, and stand out against the pitch of a very quiet background.
As the crowd begins to quiet down, Sara will pipe in that first verse with a bit of natural sibilance. This can get out of control with a less neutral cable but comes across just right with the Au24 SX loom. When she starts belting 'Georgia' halfway into that verse, you really get a sense of her power and emotion without it getting into your face. Physically, I would characterize it as sitting mid venue at the Playhouse. You can tease out the details of the crowd around you; yet be close enough to get the full experience of the performer.
Audience's ability to relay spatial cues are apparent in the Cannonball Adderley Quintet's 1959 performance at the San Francisco Jazz Workshop. As 'Straight, No Chaser' kicks off, Cannonball's initiating snap pops forward indicating his placement on the intimate stage. In the meanwhile, Sam Jones starts to rift the bass coming front right. It's when Louis Hayes comes in, you really get an appreciation on the detailed focus and placement of the soundstage. The delicate pacing of the cymbals has focused height and depth information to help you visualize him just a bit more centered but further behind Sam. The overall tonality is neutral-ish with a touch of sweet – which works really well for this recording.
Micro-detailing and imaging capabilities are reflected when Bobby Timmons and Cannonball start their thing on the left side of the stage (about a minute into the track). Bobby's piano play is clearly in the back with just the right level of presence to support but not overtake the band. This allows Cannonball to be upfront, shine and get going with the sax. You really feel the swing of Cannonball's movement as the sax blares up and forward, and back and low. There's a curvature that's both expressive and tactile in feel.
Some of the notes that I repeatedly kept jotting down as I did my listening was romantic, controlled, and studio. With the Audience loom, it feels like I am being transported to the studio, listening to music from the recording engineer's seat. This quality sets the mood for the loom.
Controlled in that you're hearing the placement of instruments and effects exactly as the engineer intended. Nothing is out of control, too loud, or too dull. The color and tone are just right with natural coloration.
Romantic in that the vocals are hitting with the just the energy, nimble presence, and emotion the recording engineer was looking for. Some might see that as being tepid with less raw – but more sophisticated energy. There's something incredibly gratifying when everything is just hitting with that right balance.
Suzanne Vega's Luka captures this spirit. Her vocal is as romantic as can be. She's natural, never sounding strained but fully expressive in her energy. The synth pops and layers in exactly how the recording engineer wanted it. The guitars notes are individual but with enough build up and decay between the notes to form the right melodic feel for the song. As a band, no one member seems to be playing over or louder than anyone. This could seem like it's muddled and busy, but everyone manages their own controlled space and individuality.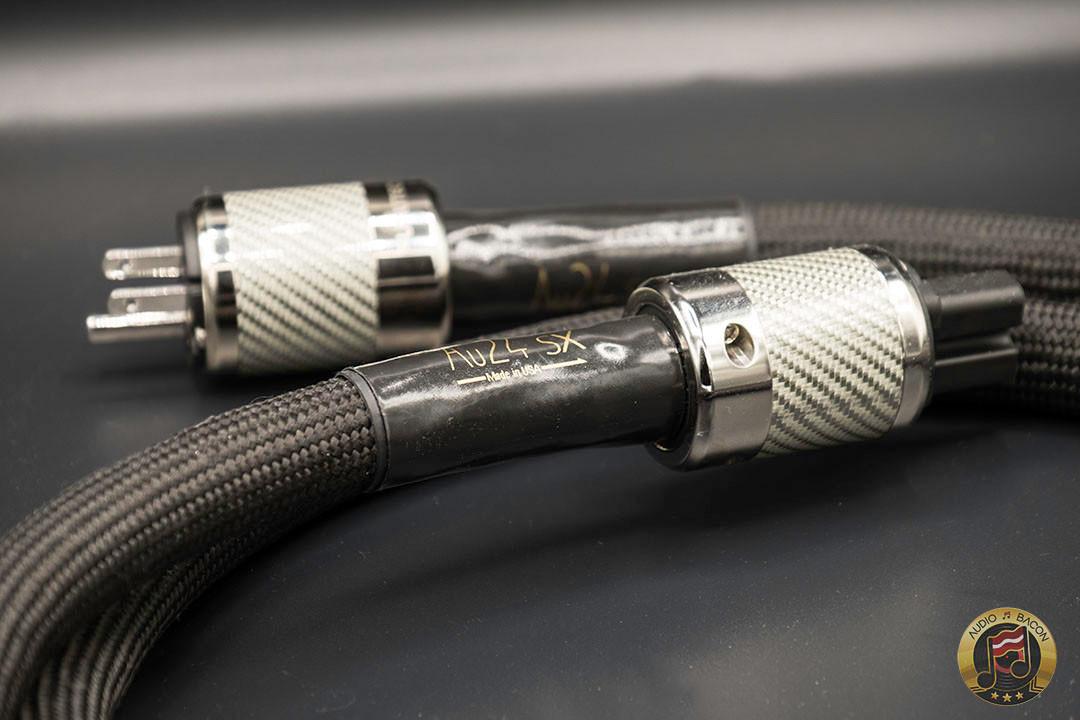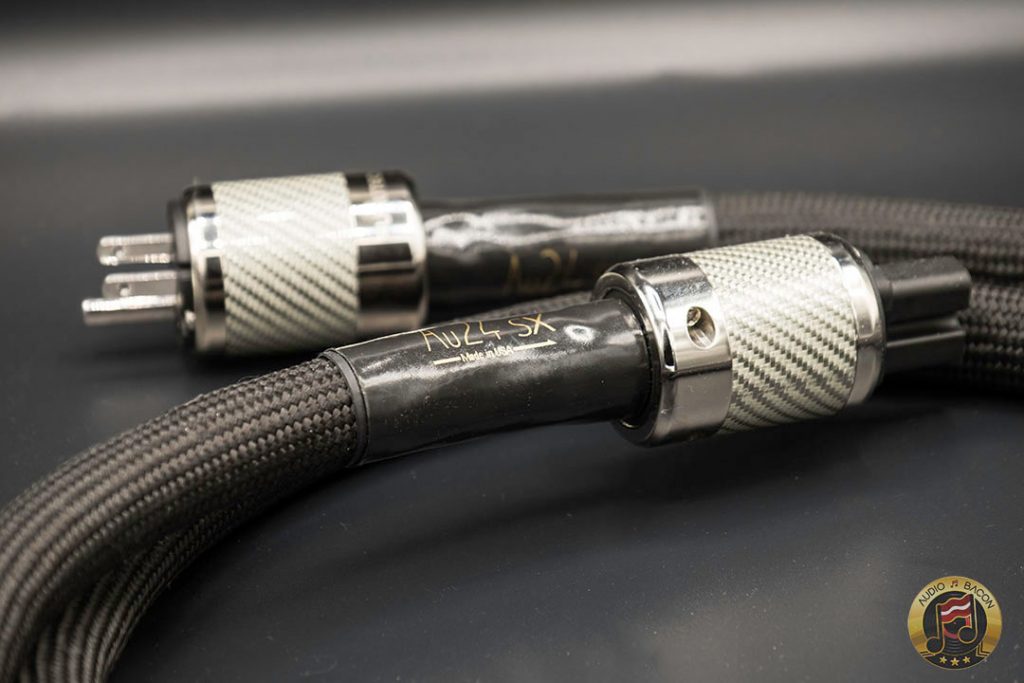 As you've probably guessed, each of these looms sound superb and have their own signature.
The Synergistic Research comes off a bit more forward and "heavy" while the Audience was more light-footed and laid-back. As mentioned, the Audience sounds more like how the sound engineer heard it while the Synergistic Research sounds more front row, up-close and raw.
The Synergistic Research Excite loom was a denser, warmer sound with silkier textures.
The Audience loom had more spatial resolution – which converts to better depth and pinpoint imaging and focus.
The Audience loom had more clarity while the Synergistic loom had more meat and heft.
Both were musical in their own ways. Some are going to prefer one sonic signature over another.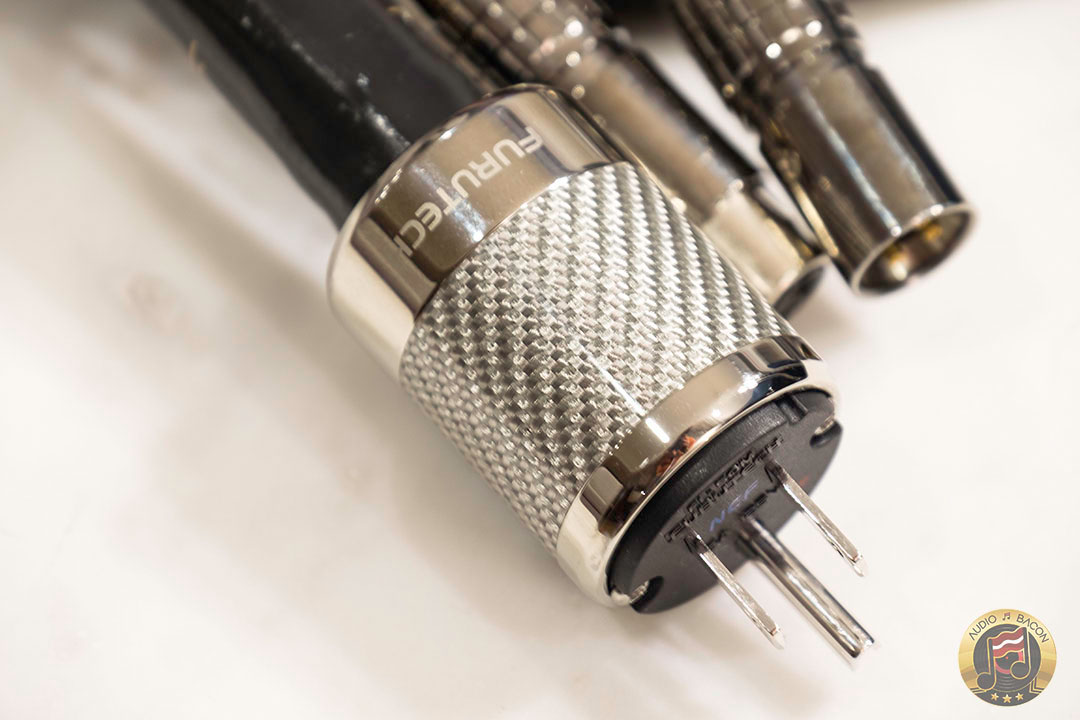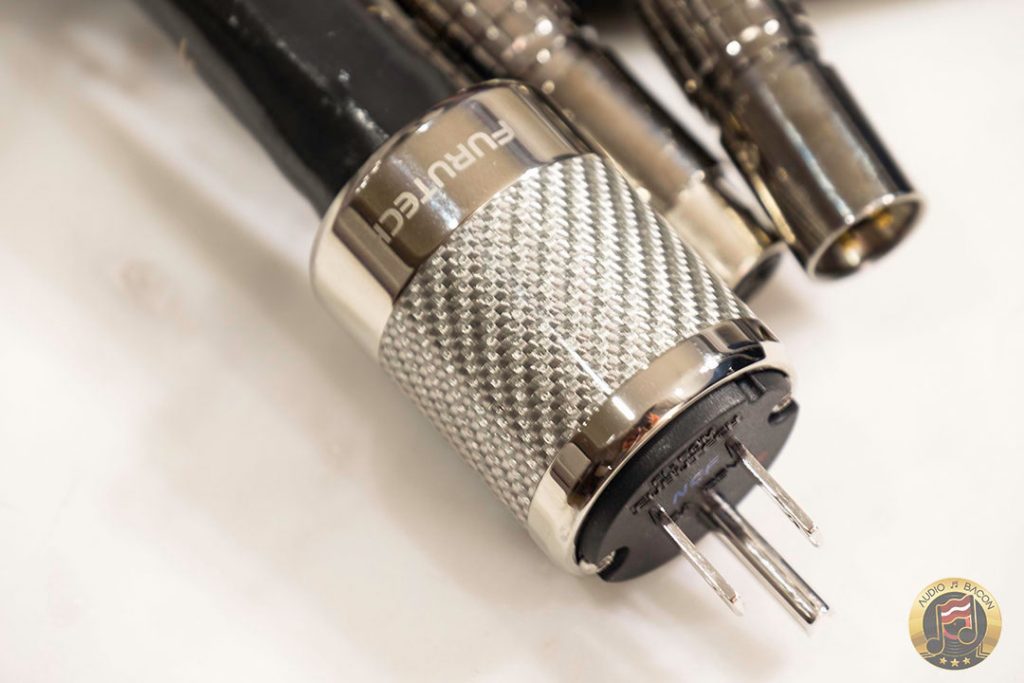 Concluding Commentary
Our full loom experience has really changed our views on how these cables work together. Both in the synergies of different brands and within the same brands. The cable and cords are incredibly transparent with a very neutral tone. It's neither dark in character or overtly forward or aggressive in its presentation.
There's also an abundance of resolution that brings across a focused and controlled image with a lot of precise sense of height and depth. There's something really natural and engaging about the midrange that draws you in and keeps you glued to your seat without fatigue. In short, the Audience Au24 SX series is tangibly musical.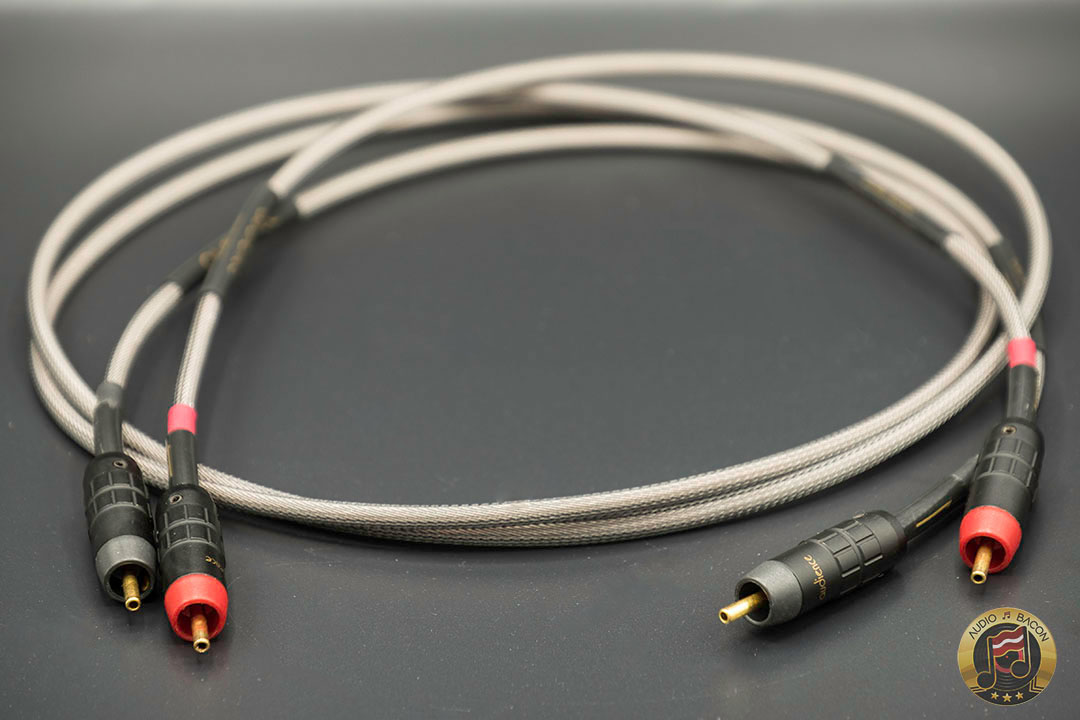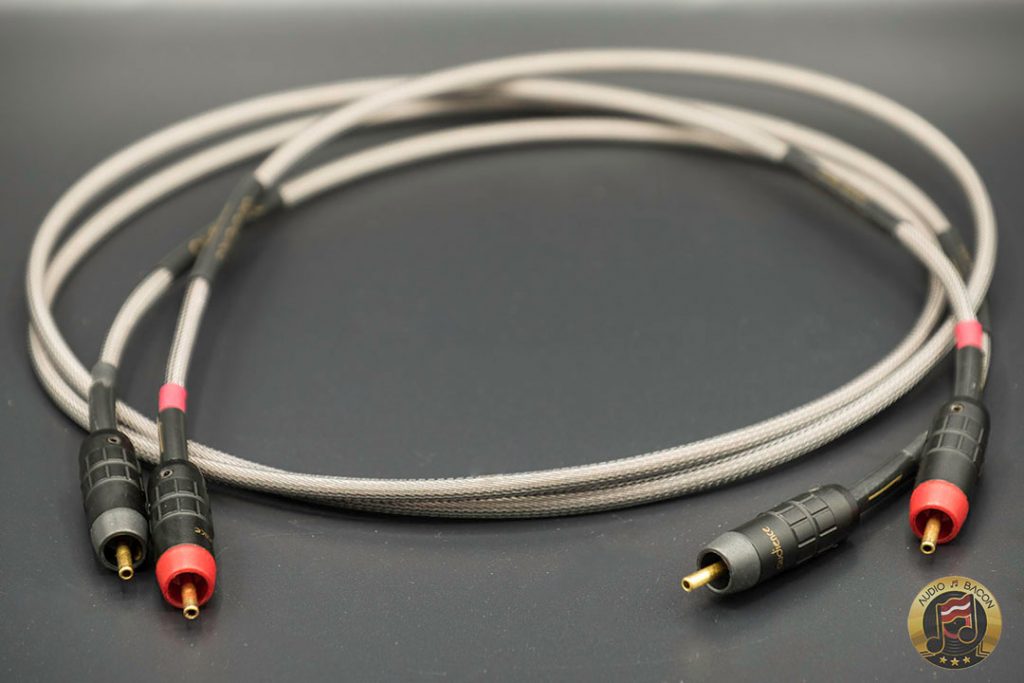 When you get to the premium price points Audience's Au24 SX signal and power, there's an expectation of performance. And a question of whether it lives up to the hype. The answer is enthusiastic "Yes!" We're particularly fond of their Au24 SX PowerChords. They're easily top-tier, regardless of price. We'll go into more depth in our forthcoming power cord shootout – which should be pretty interesting.
The Audience Au24 SX series is nothing short of impressive. Especially in the way it tracks dynamics, remains dimensionally present, and preserves tonal beauty. These qualities compound to form enthralling vocal harmonies, lucid string arrangements, and accurate depictions of the sheer gravitas of a large ensemble.
The Audience cables reaffirm to us why they remain one of our favorite cables to recommend to the most scrupulous of audiophiles. So much so, we're chomping at the bits to try out their new Hidden Treasures in-wall A/C cables. Personally, I think this is a highly underrated component. Their Adept Response power conditioners are also of interest.
We have no reservations with giving the entire Audience Au24 SX line of cables the most coveted Finest Cuts award.
Check out Audio Bacon's SNEAK PEEKS on, YouTube, Facebook, and Instagram!
Pricing:
Au24 SX powerChords

HP – $5,060 @ 6ft. (+/- $198 per ft.)
MP – $4,621 @ 6ft. (+/- $182 per ft.)

Au24 SX RCA pair

$1999 @ 1.0m (+/- $632 per meter)

Au24 SX XLR pair

$2,640 @ 1.0m (+/- $880 per meter)

Au24 SX Speaker Cable pair

$3,300 @ 2.0m (+/- $632 per meter)