A precision DAC that delivers category-leading performance and value
March 2021—Ventura, CA—Periodic Audio proudly announces the Rhodium, an ultra-compact high-resolution DAC that offers the music lover incredible performance, value ($49), and versatility.
"The Rhodium is a no-brainer for anyone looking to seriously boost their digital music's sound quality," said Periodic Audio co-founder Dan Wiggins. "Its simple plug-and-play design and tiny size make it perfect for music lovers working from home who may not have the space to dedicate to a full-size audio system.
"Although the Rhodium is extremely desktop-friendly, in keeping with our 'Mobile-First' design ethos," Wiggins continued, "of course it also fits in your pocket, and can easily be used to enhance music from your mobile devices. While we suggest that the ultimate portable system would be a Rhodium paired with our Nickel amp and award-winning in-ear monitors, the Rhodium delivers proper hi-fi performance no matter how or where you listen."
Periodic co-founder Ben Webster continued the story: "Creating an audio-signal path comprising a Rhodium DAC, Nickel analog power amp, and a pair of our IEMs was no accident. We saw an opportunity to emulate the highly successful and logical signal-path architectures represented in the high-end audio component space. The Nickel's high-input impedance effectively turns the Rhodium into a precision DAC-preamplifier, and the pristine signal feeding the Nickel's analog input stage does wonders for the sound quality of the high-efficiency IEMs we build. The combination sounds like a system of perfectly matched high-end components—the difference is that you can stick it in your pocket!"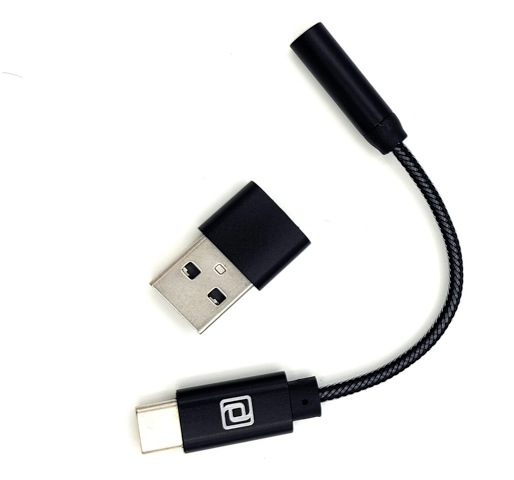 Ideal for devices lacking a 3.5mm output, the Rhodium provides signal conversion up to 32-bit/384kHz, to directly feed a high-power amplifier output stage for wired headphones.
This tiny yet complex package incorporates precision audio-grade passive components in all audio pathways. High-stability power supply bypasses guarantee low noise and minimize distortion.
To ensure years of trouble-free use, the Rhodium incorporates proprietary, high-strand, oxygen-free copper (OFC) wire inside a robust woven textile jacket and molded aluminum shells.
In addition to handling hi-res files of up to 32-bit/384kHz, the Rhodium delivers an astonishing frequency response of 2Hz-192kHz at +0/–3dB, a dynamic range of 113dB, and a signal/noise ratio of 108dB. All of that comes with less than 0.007% total harmonic distortion in a device that, out of the box, is compatible with Android, iOS,* MacOS, and Windows operating systems, and weighs less than a nickel (the coin, not our spectacular Nickel amp).
About Periodic Audio
Founded in 2016, Periodic Audio is obsessed with producing highly portable products that do not compromise on performance. The company is led by the seasoned team of Daniel Wiggins, Mike Kim, Zeke Burgess, and Ben Webster, who collectively have more than 140 years of consumer-electronics experience in electronic, mechanical, firmware, acoustic, and industrial design for a wide variety of brands, including Apple, Blue Microphones, Dolby, Event Electronics, Flextronics, Harman International, Mackie, Microsoft, SONOS, and Starke Sound. For more information, please visit www.periodicaudio.com.
Follow Periodic Audio:
Twitter: @PeriodicAudio
Facebook: www.facebook.com/periodicaudioinc
Instagram: www.instagram.com/periodicaudio/
*iOS requires use of an Apple Lightning camera adapter.