New future-resistant McIntosh preamp offers upgradable DAC that moves with the times
In what could be described as the ideal preamp for savvy vinyl and streaming/CD lovers, McIntosh's new C49 offers an upgradable DAC module that keeps it current as technology evolves
Binghamton, New York, USA, May 21st 2019, McIntosh, the global leader in prestigious home entertainment and ultimate-quality audio for 70 years, is proud to announce the C49 Preamp. (£5,495) mcintoshlabs.com
McIntosh has launched one of the world's most versatile and future-resistant preamps, the C49. In what could easily be thought of as the ideal high-performance preamp solution for shrewd and discerning LP and streaming/CD lovers, the C49 combines plug and play turntable compatibility with an upgradable high-resolution DAC (the company's DA1 Digital Audio Module) that keeps pace with fast-moving changes in digital technology.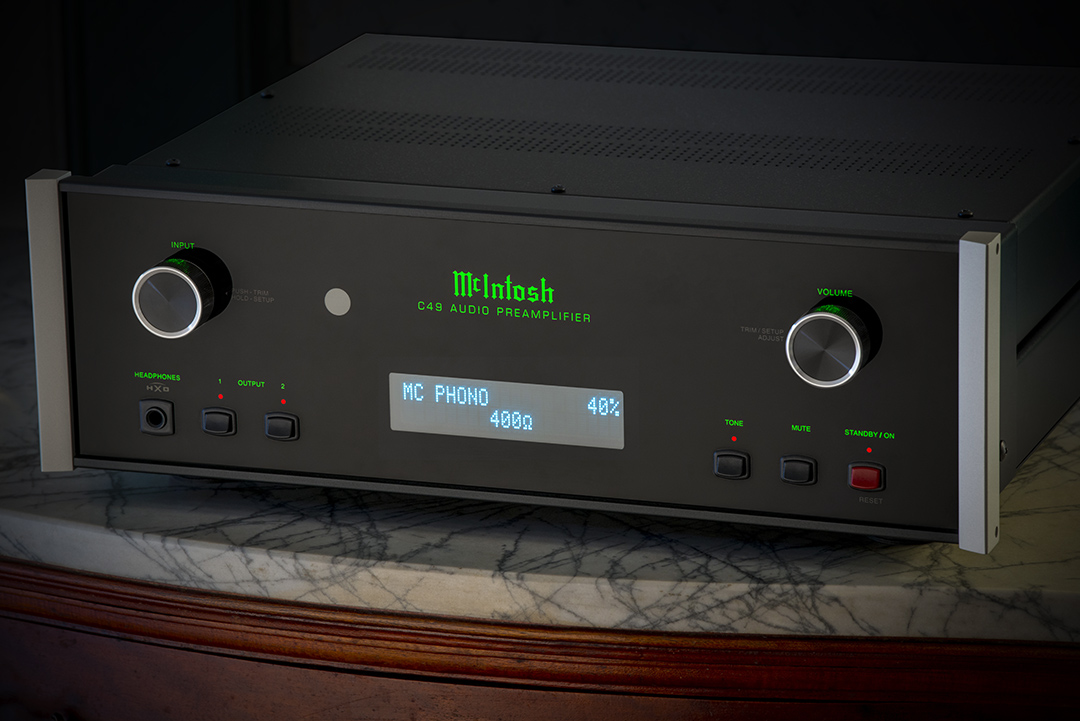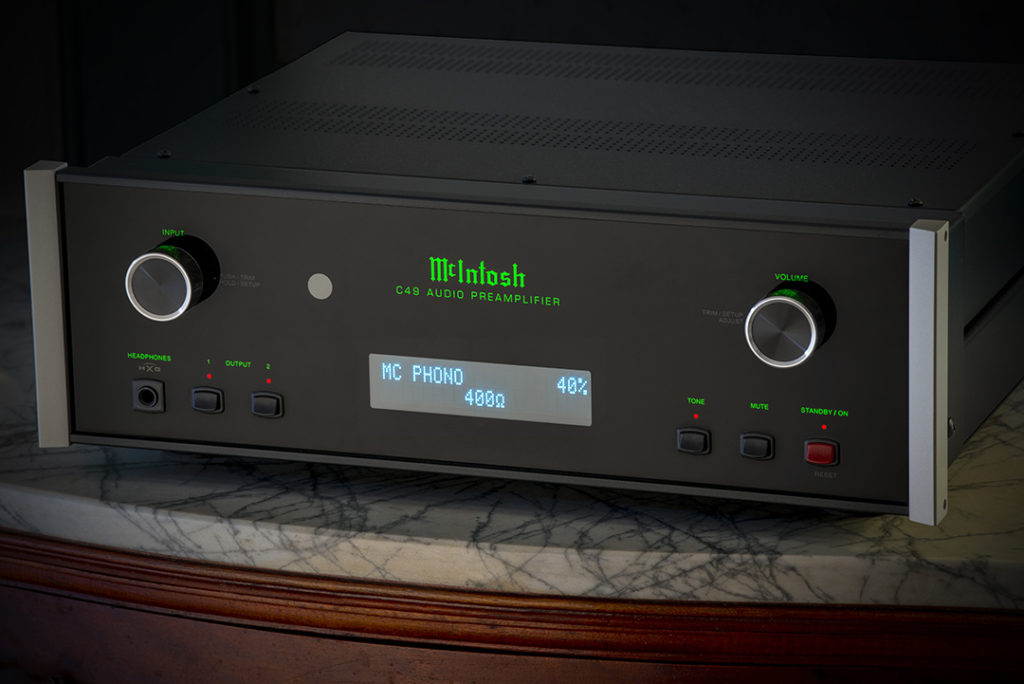 Allowing the C49 to always remain up-to-date in the digital age, the six-input DA1 Module can be replaced by newer McIntosh digital audio modules as new technologies and formats emerge, making the C49 a very attractive audio investment well into the future.
Offering incredible versatility for existing equipment and future additions, the C49 has an impressive 13 inputs, each of which can be given user-defined names to simplify system set up and control. For the analogue inputs, the C49 has two balanced, three unbalanced, one Moving Coil and one Moving Magnet.
For digital, it offers six inputs (in the DA1 module): two coaxial, two optical, one USB and one proprietary MCT (for use with McIntosh's MCT-enabled SACD/CD transports). The upgradable DA1 module is powered by an advanced eight-channel 32-bit DAC (run in Quad Balanced mode) which supports high-resolution audio including DXD 384kHz and up to DSD256.
The C49 has two balanced variable outputs, two unbalanced variable output and one unbalanced fixed output; the outputs are designed for easy use when bi-amping speakers so that neither the highs or lows are inadvertently turned off.


In a further nod towards the C49's versatility, the preamp also offers fine-tuning of its bass and treble output via tone controls, an invaluable feature when introducing high-performance electronics into the myriad listening rooms around the world.
Power Control ports allow for the triggering of other connected McIntosh components, while the C49's Data Ports can send remote control commands to connected source components. The C49 can also be seamlessly integrated into home cinema systems via the Home Theater Pass Through.
For personal and late-night listening, McIntosh's High Drive headphone amplifier with Headphone Crossfeed Director (HXD®) is also included.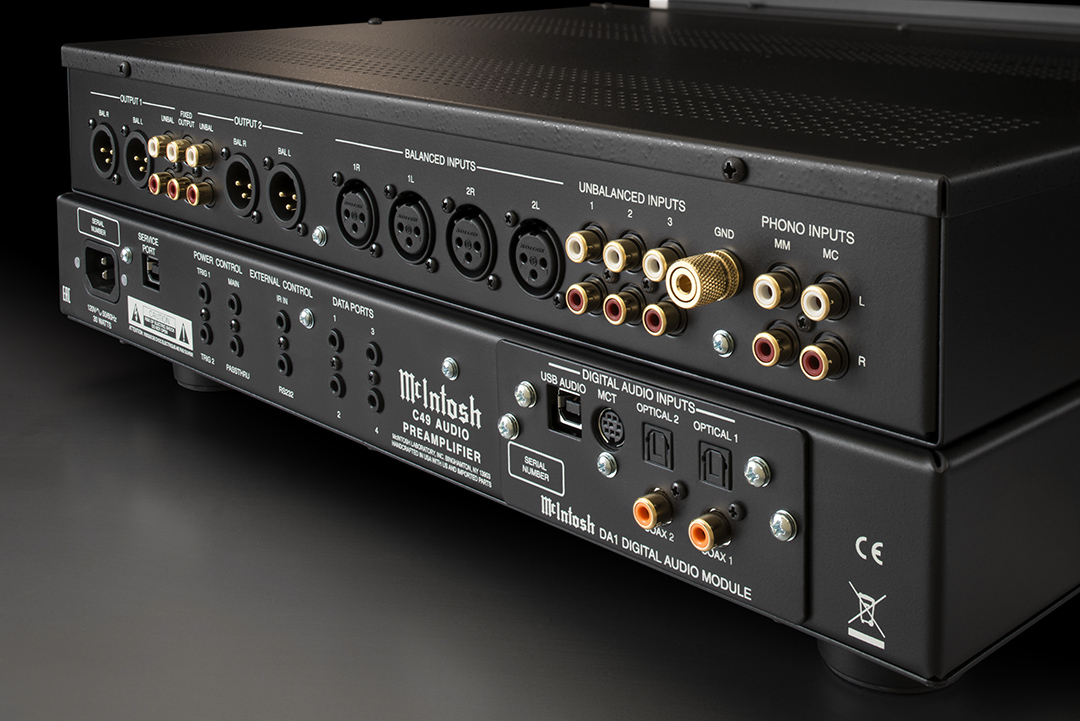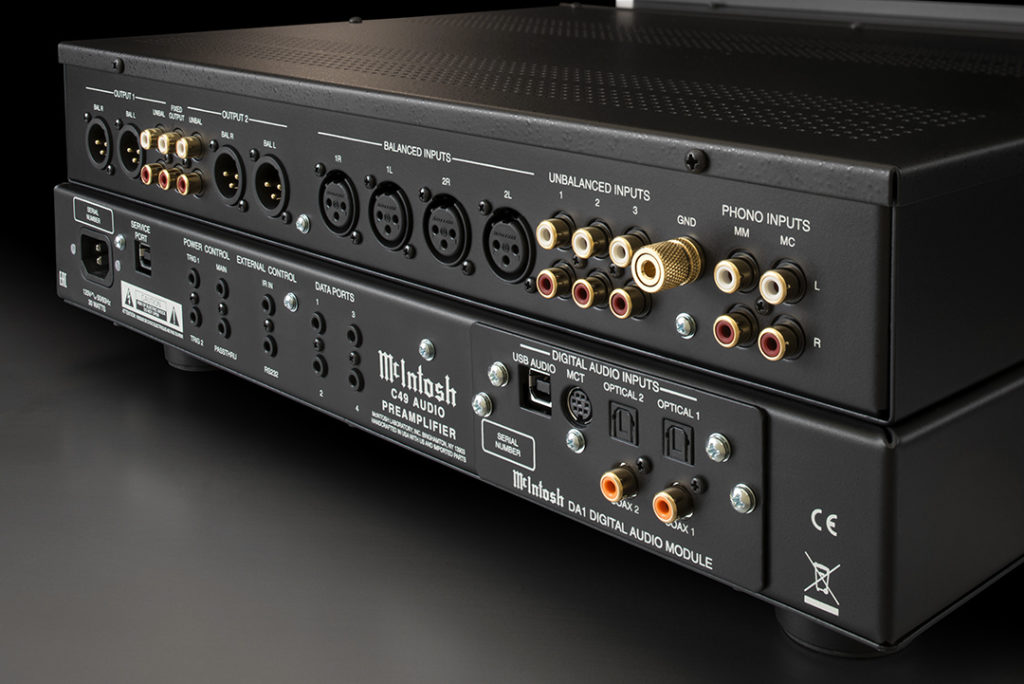 The C49 comes complete with classic McIntosh design staples such as a black glass front panel, distinctive knobs, an illuminated logo and aluminium end-caps.
Pricing and availability
Orders for the £5,495 C49 can be placed with Authorised McIntosh dealers now.
UK shipping June/July; United States shipping May 2019; the rest of the world shortly thereafter.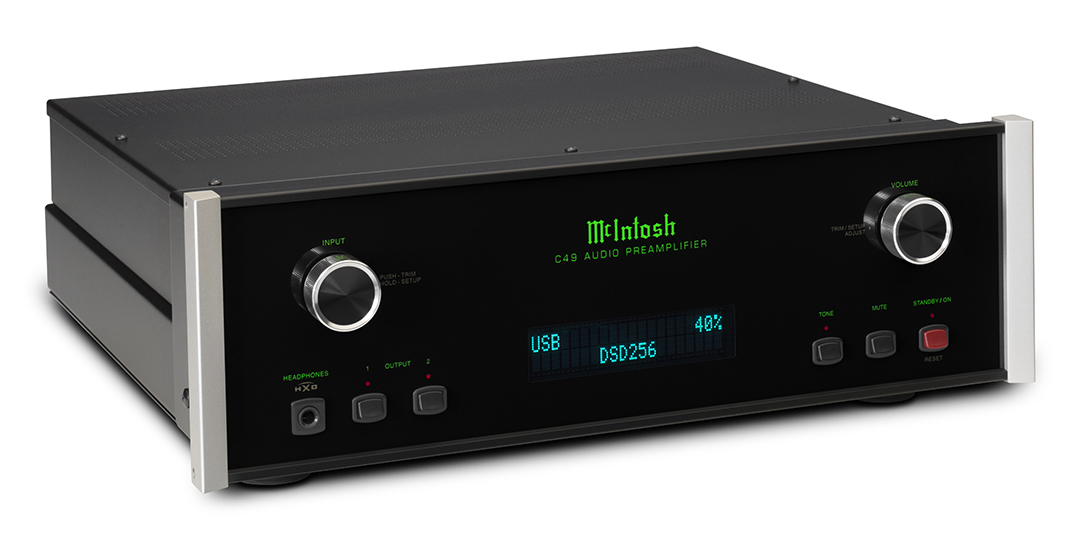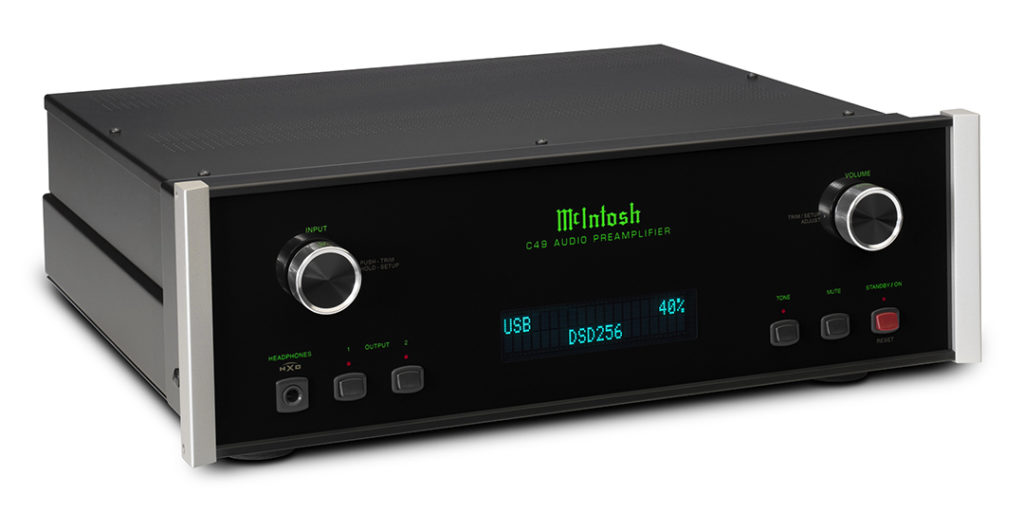 McIntosh C49 Features
Future-resistant preamp with upgradable DAC that moves with technology
Box-ready for connection to turntables and streaming/digital sources
McIntosh sound quality for TVs, consoles, smart devices and much more
McIntosh's High Drive headphone amplifier with Headphone Crossfeed Director (HXD®) for late-night and personal listening
Bass and treble controls to suit room acoustics in international homes
Future-resistant digital technology coupled with a timeless aesthetic
Hand-built to last in the New York factory
£5,495 available to order now for delivery in June/July (UK); May (US)
About McIntosh
Founded in 1949, McIntosh Laboratory is known for offering distinguished quality audio products, superior customer service and the ultimate experience in music and film. All McIntosh products are handcrafted at the Binghamton, NY factory by over 150 employees with a passion for music and the McIntosh heritage. McIntosh continues to define the ultimate home entertainment experience for discriminating consumers around the world, with the iconic "McIntosh Blue" Watt Meters globally recognized as a symbol of quality audio.
Since its inception, McIntosh has been powering some of the most important moments in music history and pop culture. From President Lyndon Johnson's inauguration speech to Woodstock to the famous Grateful Dead "Wall of Sound," McIntosh has not only witnessed history, but it has also shaped it. With McIntosh, customers have the ability to create their own premium audio experience – and truly live their music. Visit http://www.mcintoshlabs.com to learn more.