Active speakers aim to simplify the setup. They have a full array of digital inputs and only require you to plug in one power cord. No need to buy a separate amplifier, DAC, interconnects, or even speaker cables.
So what's the catch? Unfortunately…sound quality.
This is why many audiophiles are a little apprehensive about active speakers. All the extra functions inside are bound to compromise sound somehow. Especially in regards to noise.
It's definitely possible to have an active speaker system that rivals traditional rigs. We have the Kii Three and Eikon systems – but we're looking at five-figure price points.
Well, two engineers at Vanatoo are aiming to change that. Their most expensive pair of active speakers is priced under $600.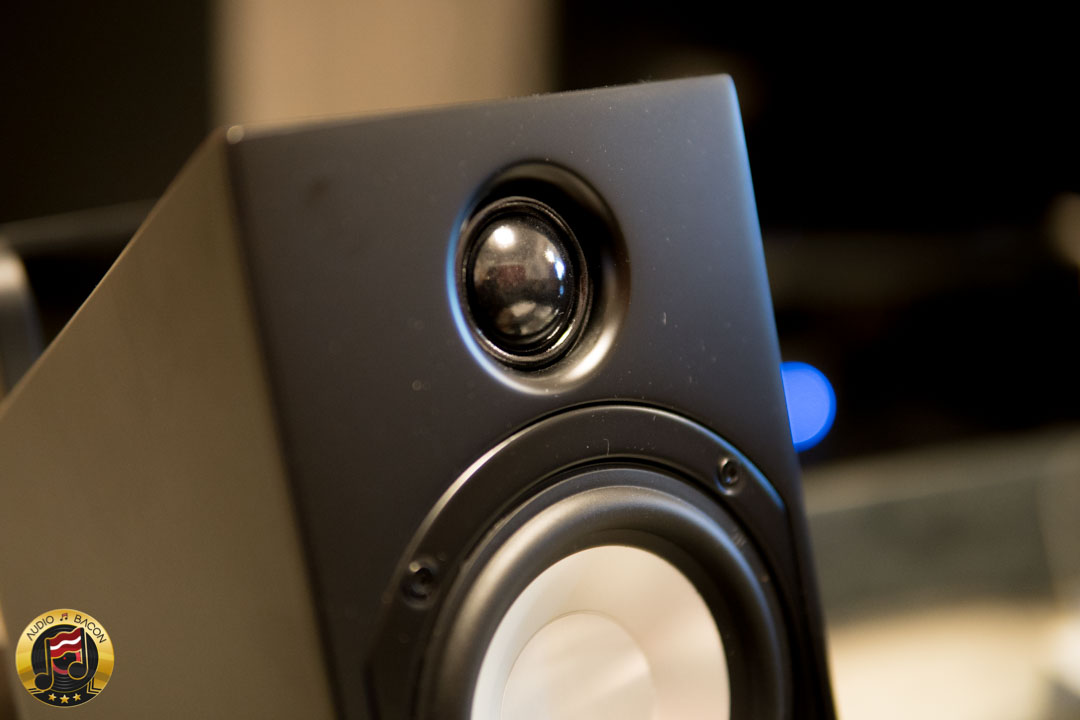 Vanatoo aims to create affordable, versatile audiophile quality powered speakers for today's music enthusiast.

Gary Gesellchen has been building custom speakers and obsessing over the perfect speaker since the mid-80's. When others were focused on "big hair", he was writing his Master's thesis on "Acoustic Radiation Characteristics of Short Horns".  Gary has over 25 years in the high tech industry, in both engineering and management. Gary's amateur endeavors include a recent "Best in Show" award from the Northwest Audio Society for a set of custom speakers he built for a friend.

Rick Kernen also shares a lifelong love of electronics and audio equipment. For Rick, it all began back in a small town in Iowa, where, as a child, he would blast the Star Spangled Banner through his uncle's PA system as loud as possible for the neighborhood. Rick has over 35 years of experience in microprocessor-based electronics and software design. His executive management experience includes positions in Research and Development, Manufacturing, Quality Control, and Factory Repair. Rick is also an accomplished woodworker who builds Arts and Crafts style furniture for his home.
I'll be reviewing the Vanatoo Transparent Zero (T0). The focus will be on function and performance – solely from listening tests. If you're looking for measurements or technical discussion, there are nerdier reviewers out there.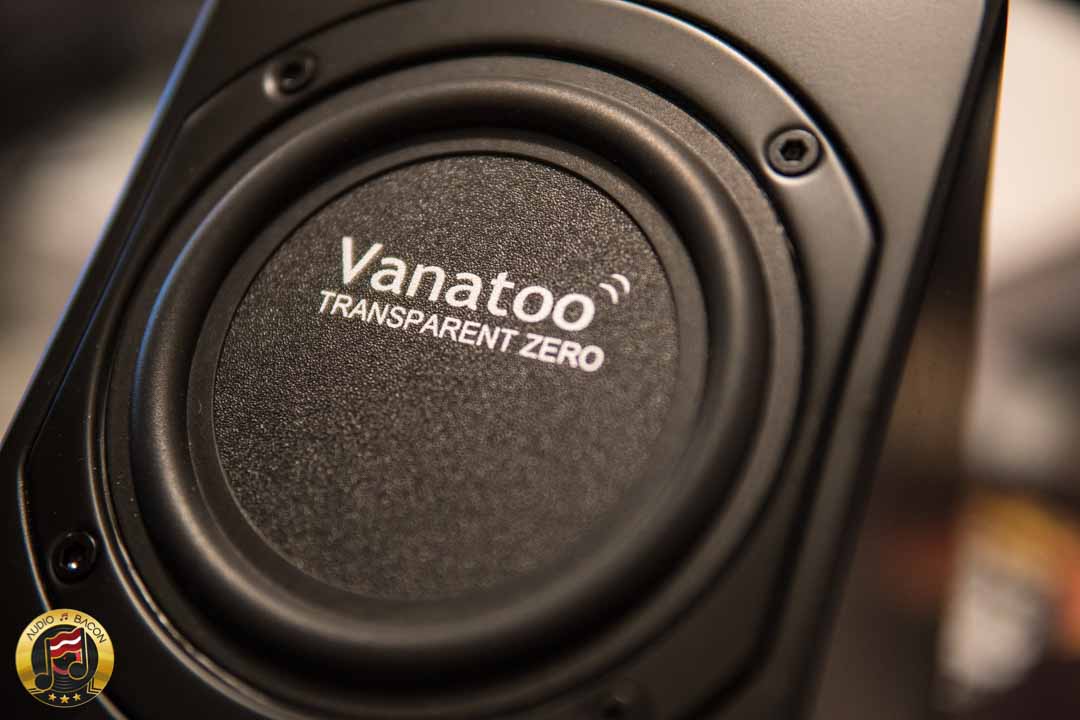 Build & Features
The Transparent Zero is made of all bespoke parts – even the drivers are designed and built from the ground up. It has a truncated square pyramid shape – which helps in smoothing out internal resonances. Although these tiny speakers won't win any awards for aesthetics, the silver woofer and shiny tweeter look great when the grills are off.
Admittedly…the engineer-esque design really grew on me.
Speaker

10mm (~3/8") thick enclosure with black satin finish
 Drivers

4″ aluminum diaphragm
4″ passive radiator
1″ tweeter

Amplifier

Direct Digital Class D
4×48 Watts per channel
DSP resolution of 48K at 24 bits

Frequency response

56Hz – 20K Hz ±3dB (Shelf Mode in room)
52Hz – 20K Hz ±3dB (Flat Mode in room)

Left and right channels could be swapped

Inputs

USB
Bluetooth (aptX)
Toslink Optical
Analog inputs (3.5mm)

Remote control
Volume, bass and treble controls
Subwoofer output with AutoSense

Shelved DSP Mode (Desktop) – Crossover: 125 Hz
Flat DSP Mode (Stands) – Crossover: 80 Hz

Magnetically attached grills
Customizable configurations

LED brightness
bass response
subwoofer crossover
amp limiters
mono mode
sleep settings
Enable key function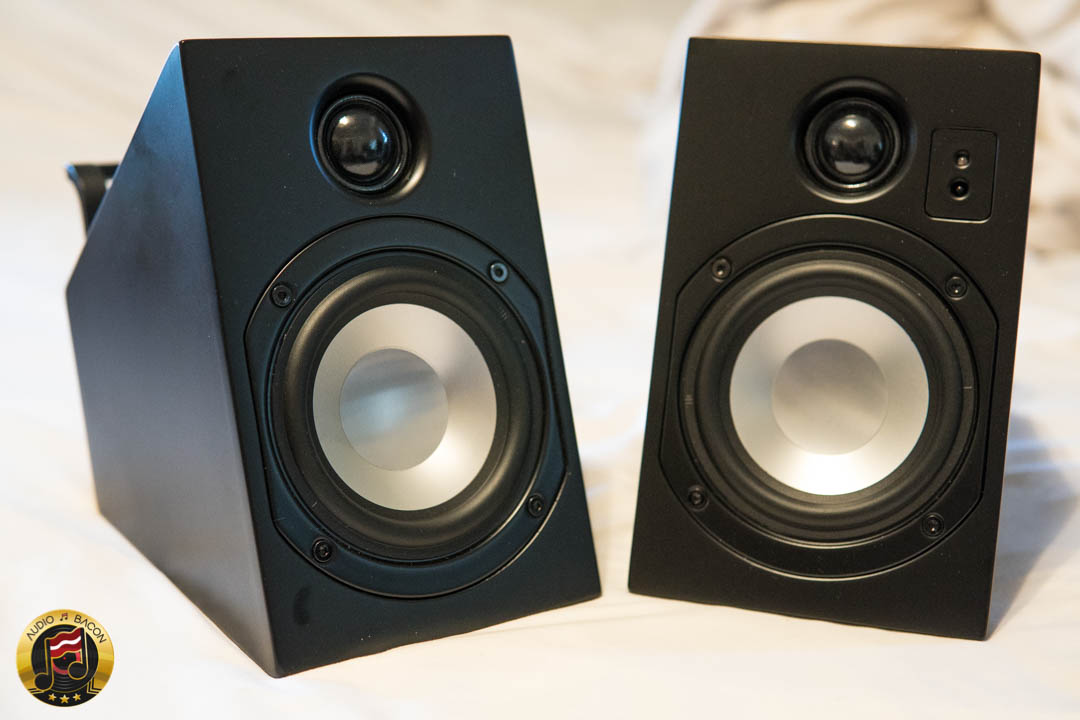 I'll let the photos speak for themselves. For more details, check out the product page.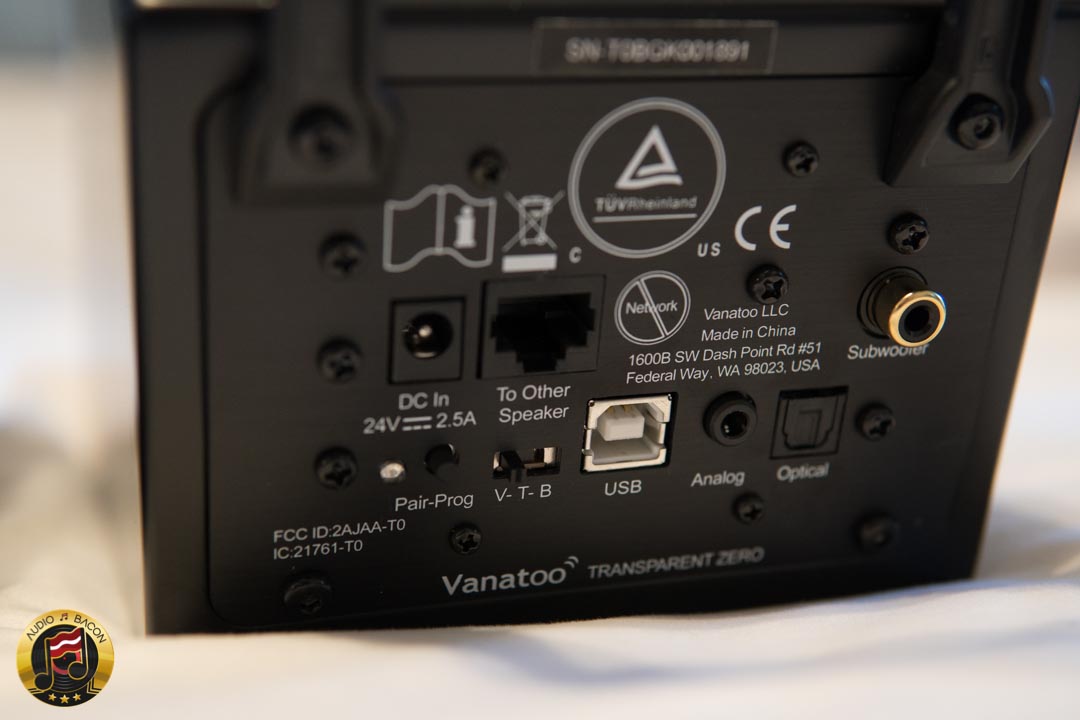 Speaker Configurations – Volume Treble Bass (V-T-B)
You'll notice this switch on the back panel. Intuitively you could adjust volume, bass, and treble by moving the slider and turning the knob. These controls are also used to swap left and right channels, change DSP modes, reset to factory defaults, etc. It's a little awkward having to unplug the power cable (there's no power button on the T0), but in most cases, you probably won't be needing to make these adjustments often.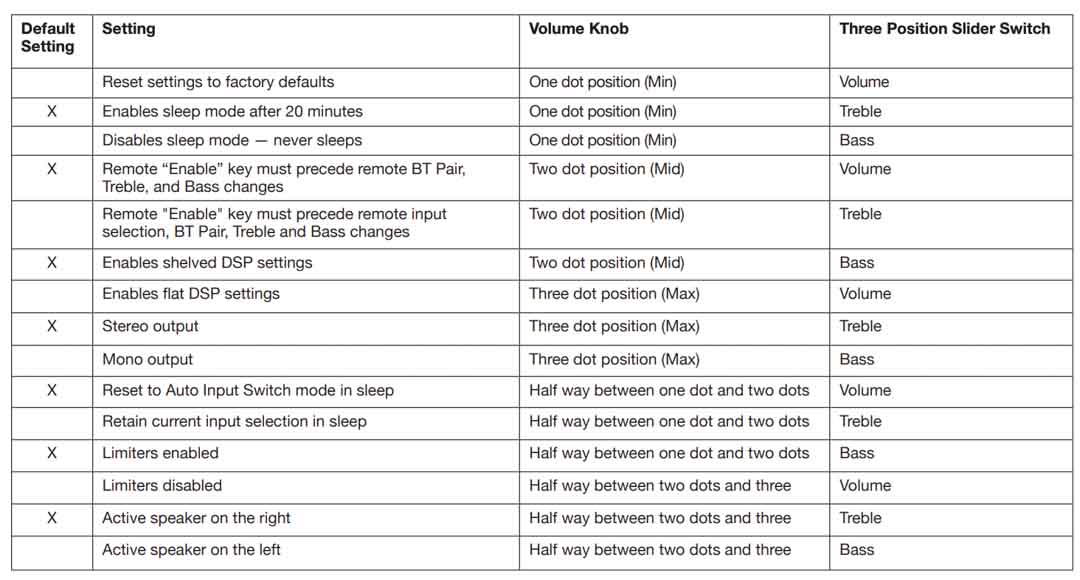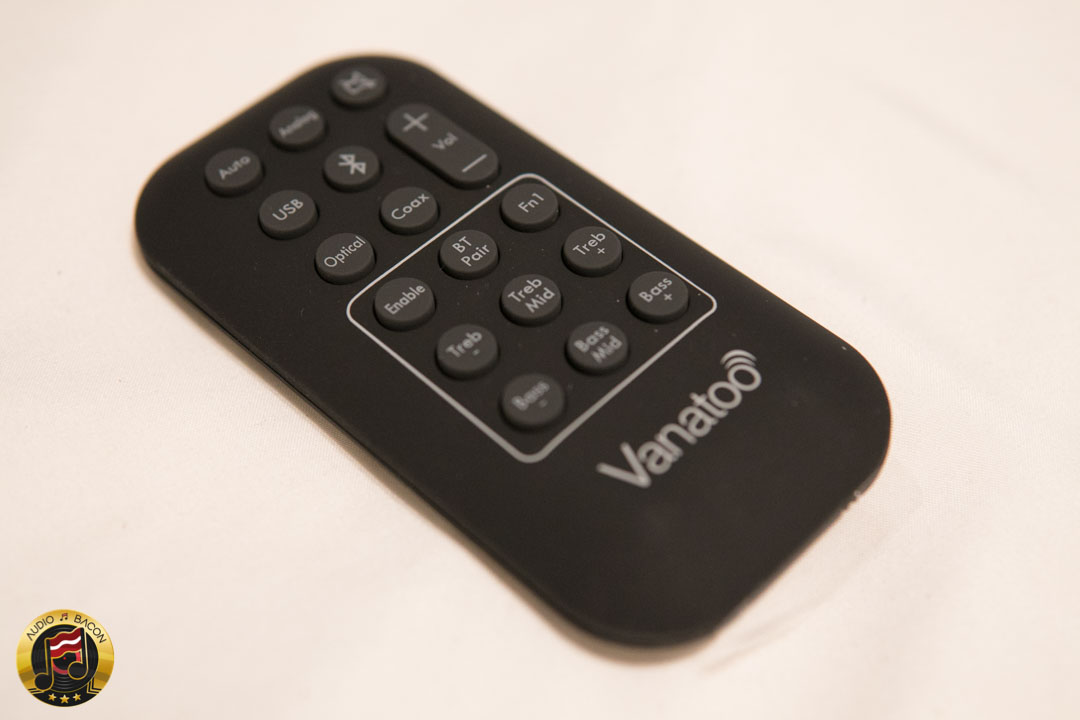 The Remote
The remote is mostly self-explanatory. When switching inputs, I usually just hit the "Auto" button. The volume button could be held down for speed up the adjustment. The Fn1 and Coax buttons are unused.
One thing to keep in mind is that you have to hit the "Enable" button in order to activate Bluetooth pairing and to adjust treble or bass. The "Treb" and "Bass" buttons have to also be pushed incrementally (not held down).
Bluetooth setup with my Google Pixel phone was as easy as just enabling Bluetooth on my phone.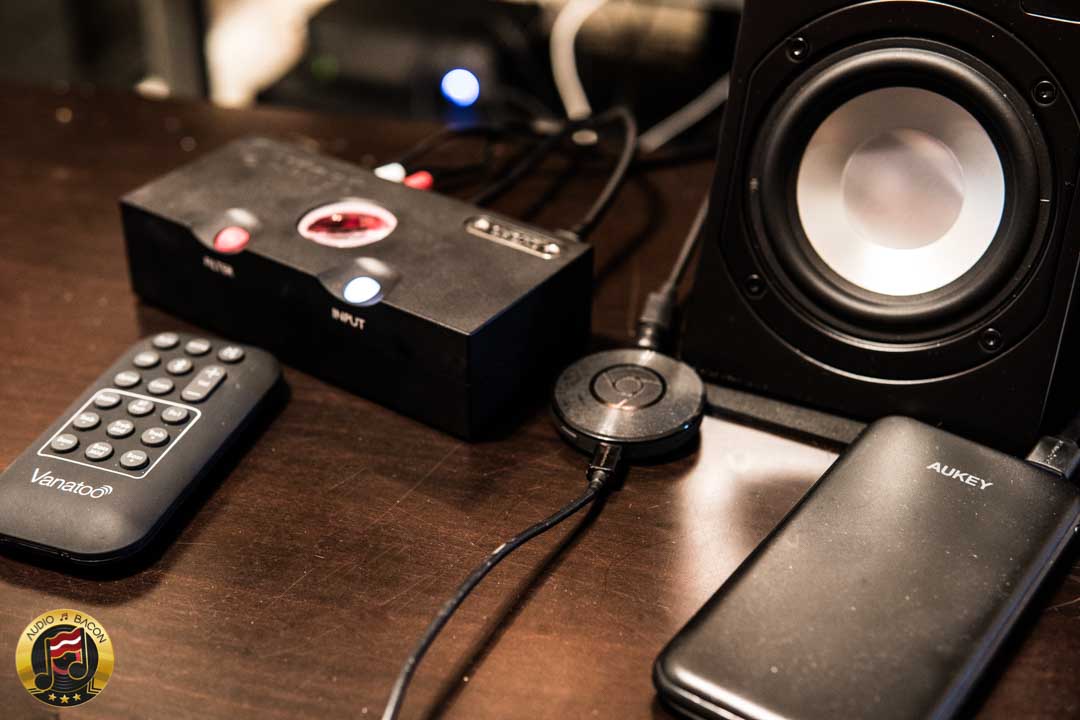 Setup
These speakers will sound harsh and disoriented if they're not set up properly. Although it is recommended to have them equidistant, this really depends on your room (and desk). Since I had a close wall (first reflection), I had to move one of the speakers forward an inch to get a proper center. Given their weight and size, it was easy to make adjustments. I preferred a 25-degree toe-in.
You're able to arrange the speaker with the passive radiator pointed up or down. For my desk, I prefer to have them in their default, angled-up position.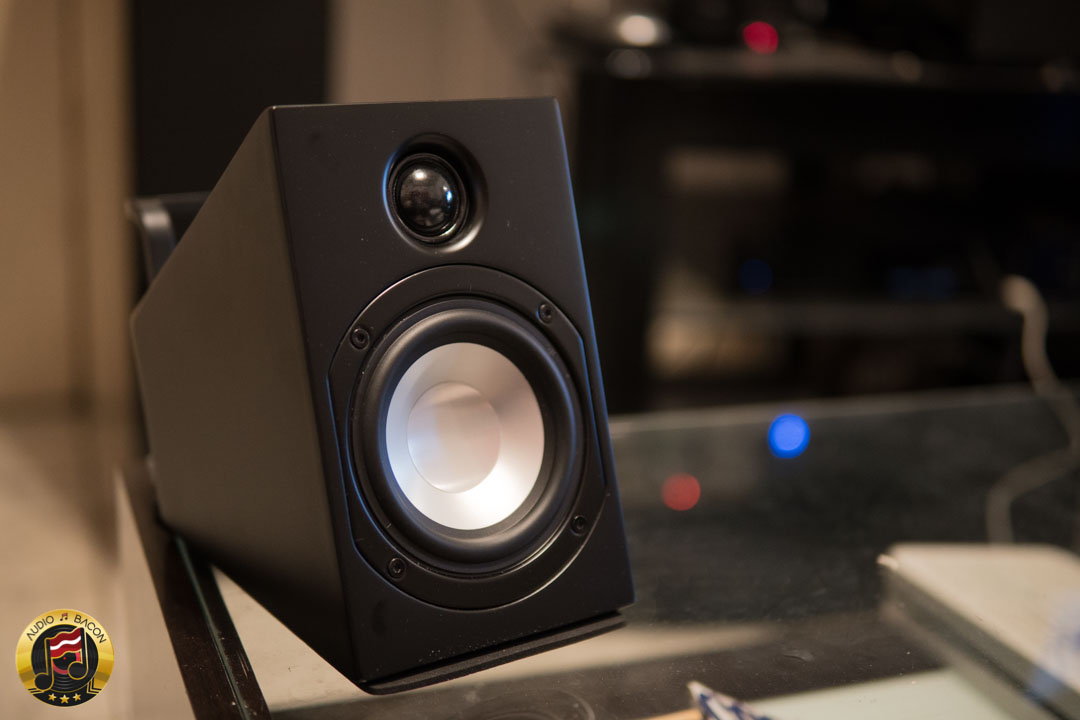 Bass & Treble
I enjoy the option to adjust bass and treble via the remote. After hours of listening, I decided to keep the treble at default (0 dB) and sometimes -1.0 dB. Treble adjustments are pretty coarse.
I've consistently set bass three clicks higher (+3.0 dB). This configuration provides a more natural density while keeping resolution intact.
Any increase to the treble beyond his point resulted in a bit of dryness and edge. Any increase to the bass and the bass loosens up and gets muddied, the midrange gets veiled, and the soundstage flattens. You'll definitely hear distortion as you increase these settings to their maximum.
Ethernet Cable
The supplied RJ-50 (10-pin) cable sounds perfect with the Transparent Zero. Six wires are used for the woofer and four for the tweeter. I've tried a few of the RJ-45 (8-pin) cables I had here and they actually seem to make it sound worse in some cases. Just keep in mind if you need a longer wire, you could crimp your own.
I feel the designers spent a long time voicing this speaker with its stock cables. I would just stick with them.
Isolation
At +3.0 dB and +4.0 dB on the bass, the vibrations aren't too bad. Anything above that and everything starts to shake, including the floor under the desk. Luckily, placing the Transparent Zero on a pair of IsoAcoustic Aperta stands worked out perfectly.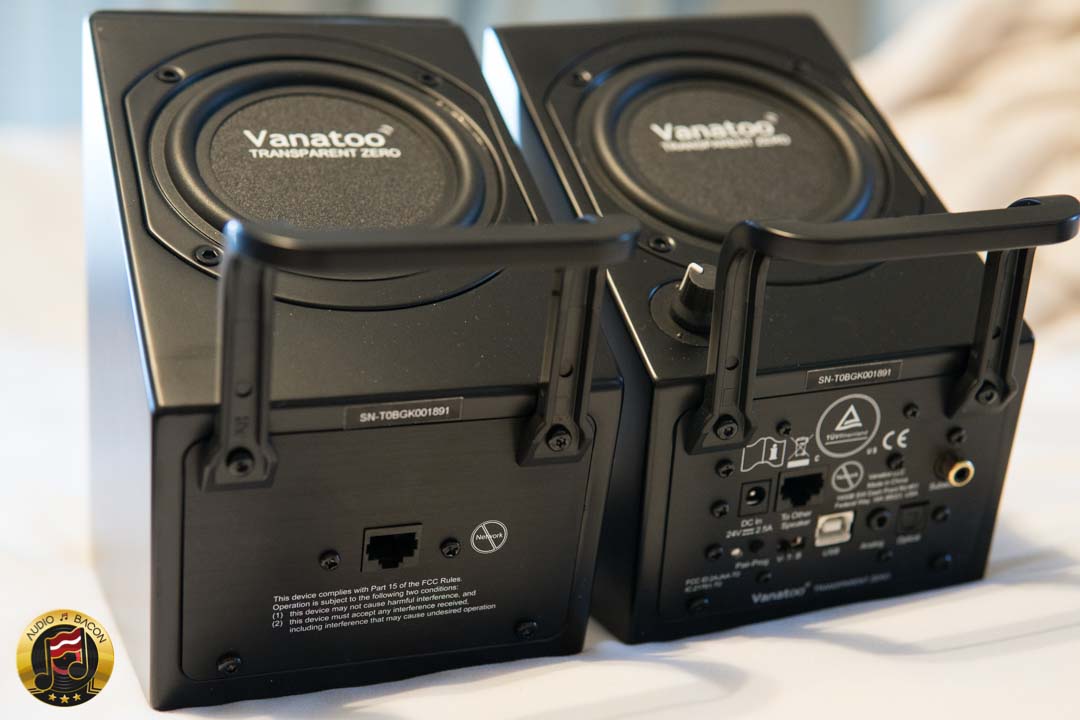 Volume
So the volume knob isn't absolute. Even with the knob set at the far right, the remote could still lower its volume. So in essence, this knob sets the "boot up" volume rather than the actual power output.
If you don't find yourself changing inputs often, I would set the volume of your source to a few clicks lower than the maximum. Then from the T0's knob, adjust for a practical maximum from your listening position.
If you're constantly changing inputs, I would keep the T0's knob at the mid-point or lower. All too often I had to lower the volume with every input swap. This is most common for Roon sources that are set at a fixed volume, etc. I also had my laptop's volume at maximum as the built-in speaker has very low output.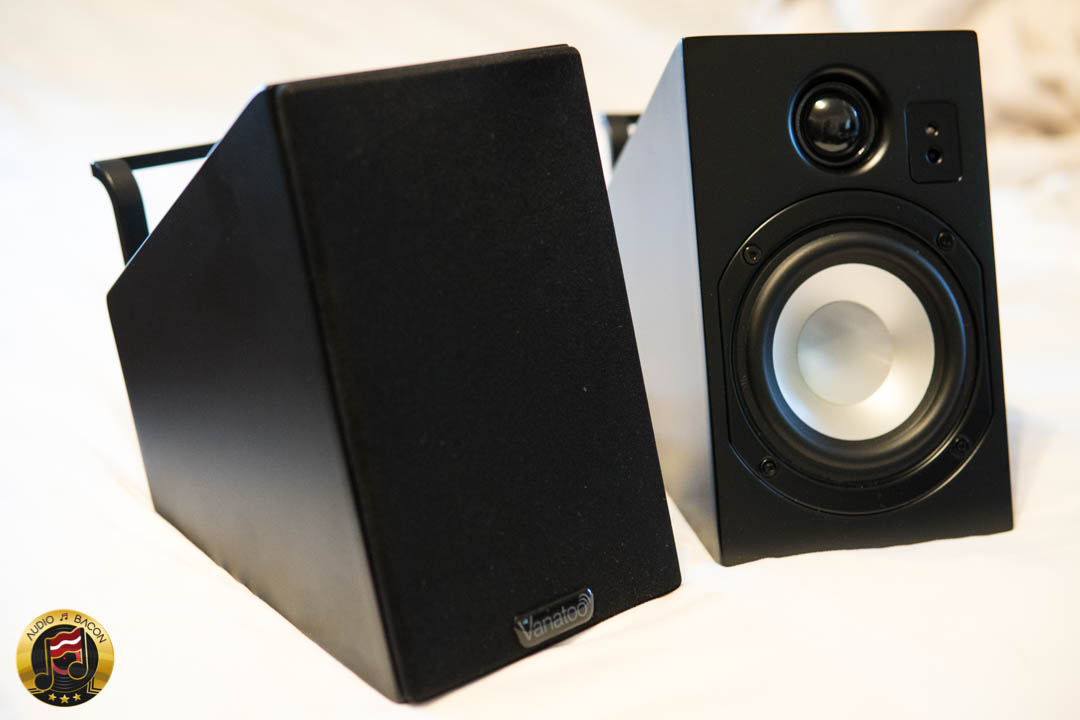 Subwoofer
For casual desktop use, I didn't really feel the need for a subwoofer. Although I did feel some loss in the bottom octaves, having the bass tuned 3-4 dBs up was satisfying.
However, after I tried connecting a Polk Audio PSW111 – it was difficult to go back. There's just more bottom grunt, groove, and definition.
Add a subwoofer if you could.
External DAC
You could opt to use an external DAC with the Transparent Zero via the 3.5mm input jack. I used a Chord Electronics Qutest and the improvements are substantial – but we're talking about a ~$2,000 DAC. I also had to use a custom-made cable to get the tone right. This experiment actually speaks more on the performance of the Transparent Zero. It's able to scale so effortlessly.
That said, the Transparent Zero's internal DAC sounds superb out of the box. It'll also be much better than your cell phone's DAC. No complaints whatsoever – especially at this price point.