You've seen the award-winning Totaldac DACs and servers at many high-end shows. They're difficult to miss due to their elegant boxy, glossy, black and yellow-lit appearance. Vincent Brient, the founder of Totaldac, had his beginnings as a telecommunication technician in the French Silicon Valley. Due to the cost of some high-end DACS, he started building active filters and DACs of his own. He would later design amplifiers and low-frequency loudspeakers. One look at his bass horns and you'll get an idea of what lengths an uber-passionate audiophile is willing to go.
After having many awe-inspired listeners at his home, he started building DACs for his inner-circle of friends & family and have since distributed his DACs across the globe. They are unequivocally some of the finest sounding DACs in the world today.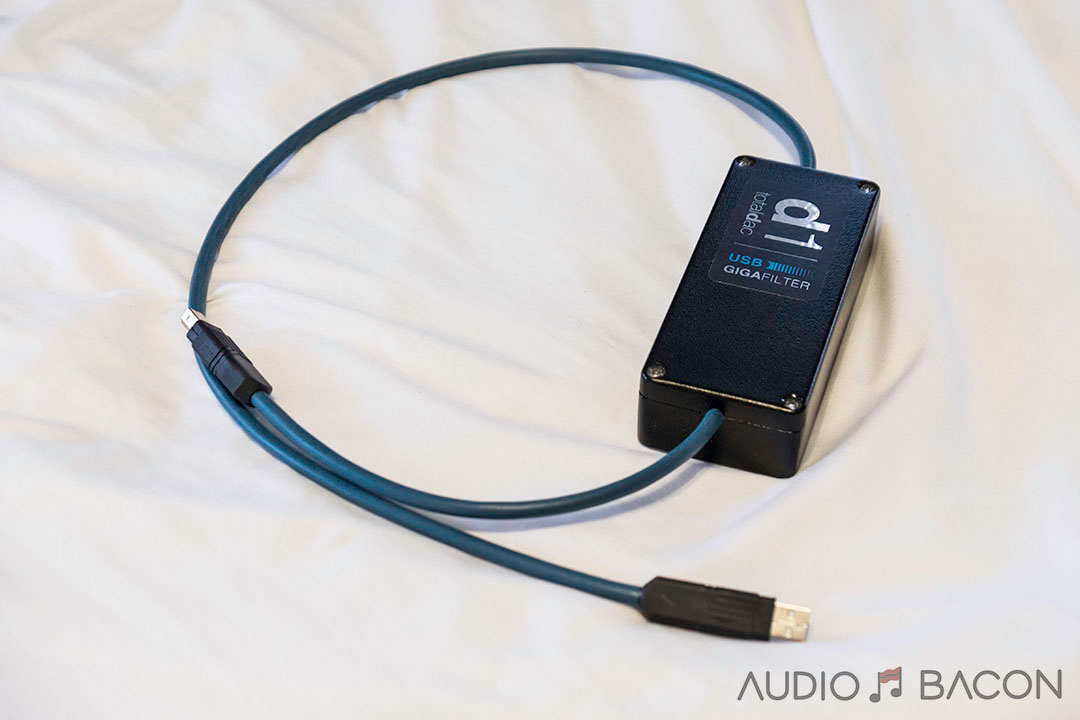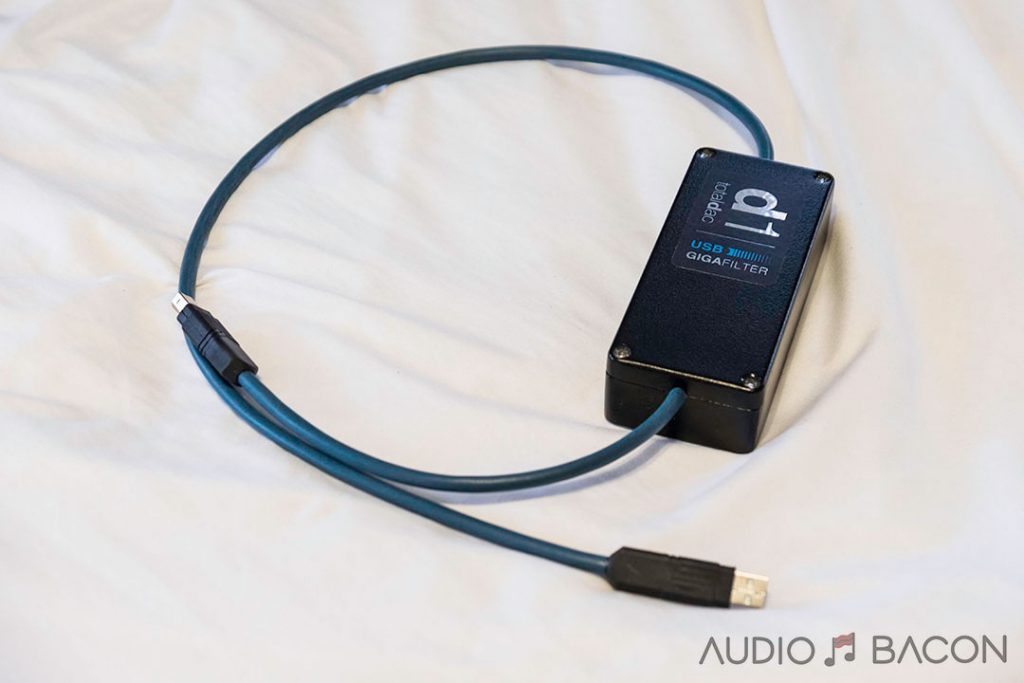 As with all things digital, USB is the most prevalent form of connecting server to DAC. The quality of this interconnect heavily determines the quality of the entire system. For reasons why they're not just zeros and ones, please refer to my review of the Curious USB cable. The goal is to filter as much noise from the signal as possible. Various designs involve changing out the dielectric, shielding, or adding ferrites. Totaldac has developed a USB cable with an actual filter block. As far as I'm aware, the only other USB cable that has a filter block is the one from SOtM.
The USB filter/cable is a Totaldac exclusivity which improves the sound of any DAC or music server using a USB link. A shielded aluminum box embeds high-performance filters to suppress digital pollutions coming from the computer or the music server. The sound is then more natural, more transparent and without harshness, the result is surprising and helps to improve playback quality from a computer-based source. It can even be used to connect a CD-drive to a computer a rip CDs with a better sound.
Totaldac has since improved upon the previous design with their new USB Gigafilter cable (~$2,000 USD).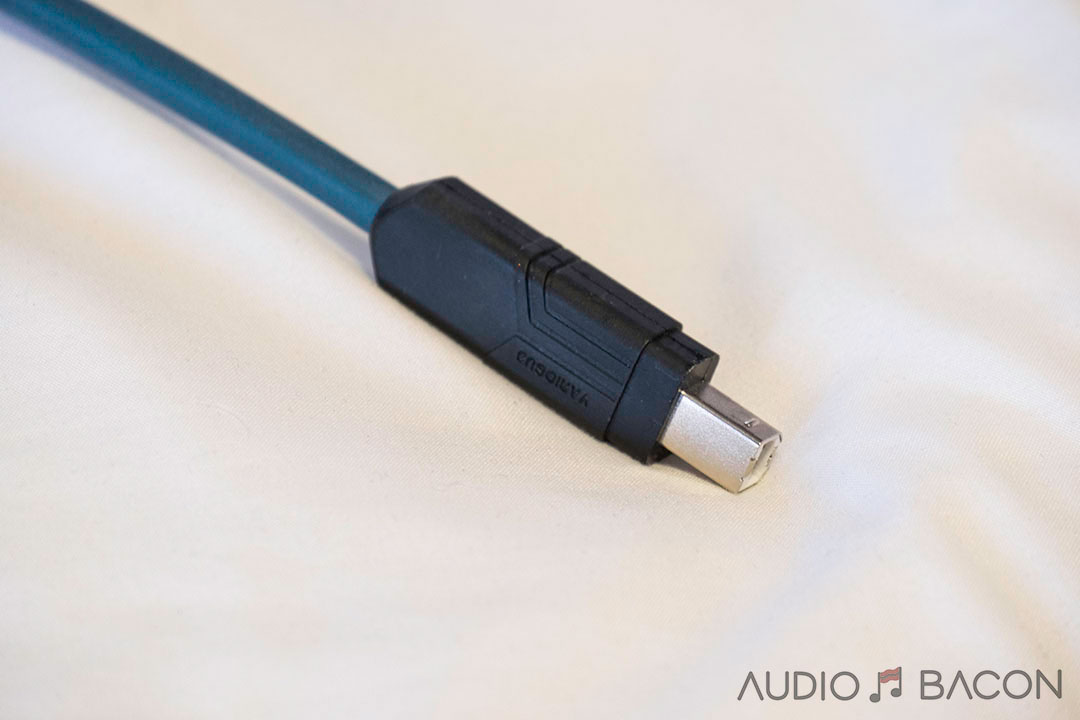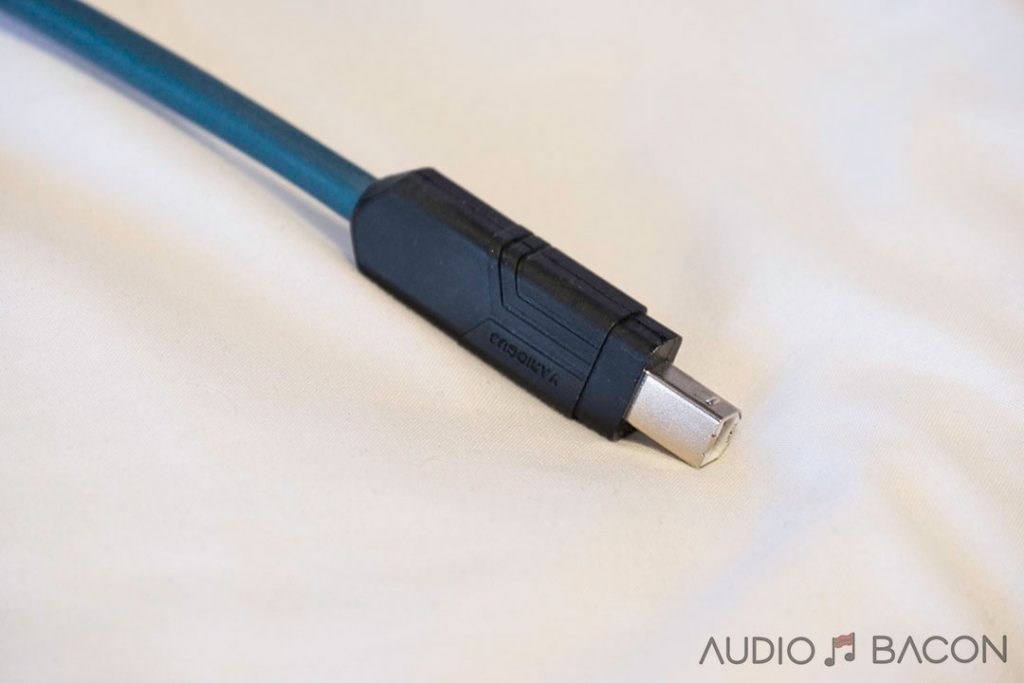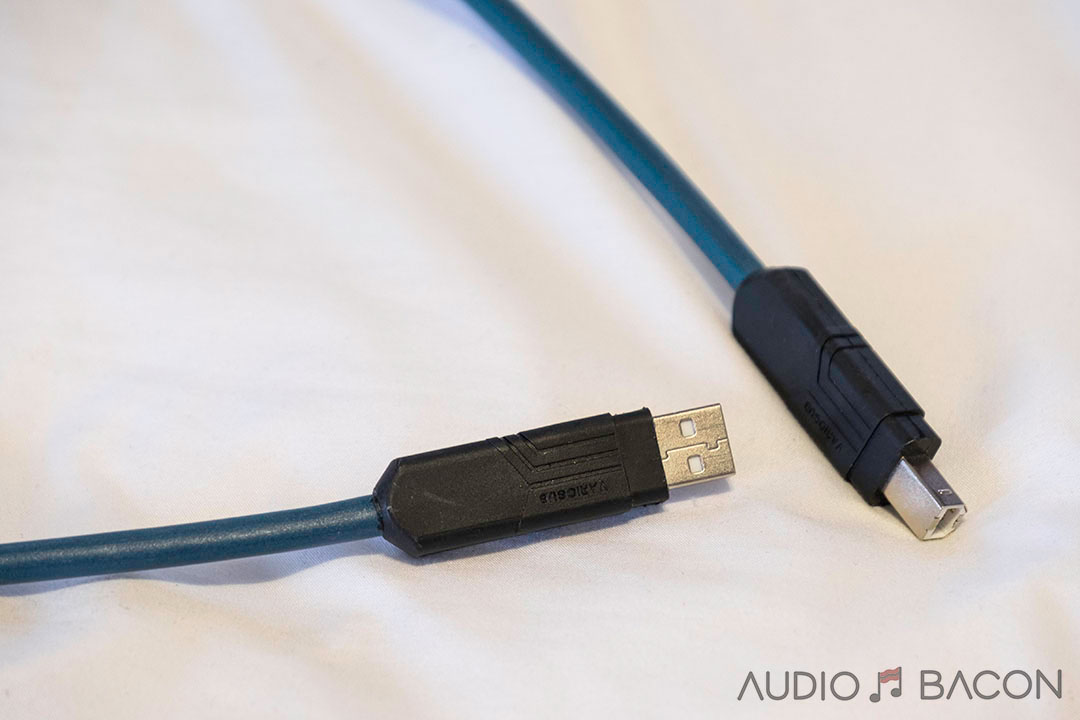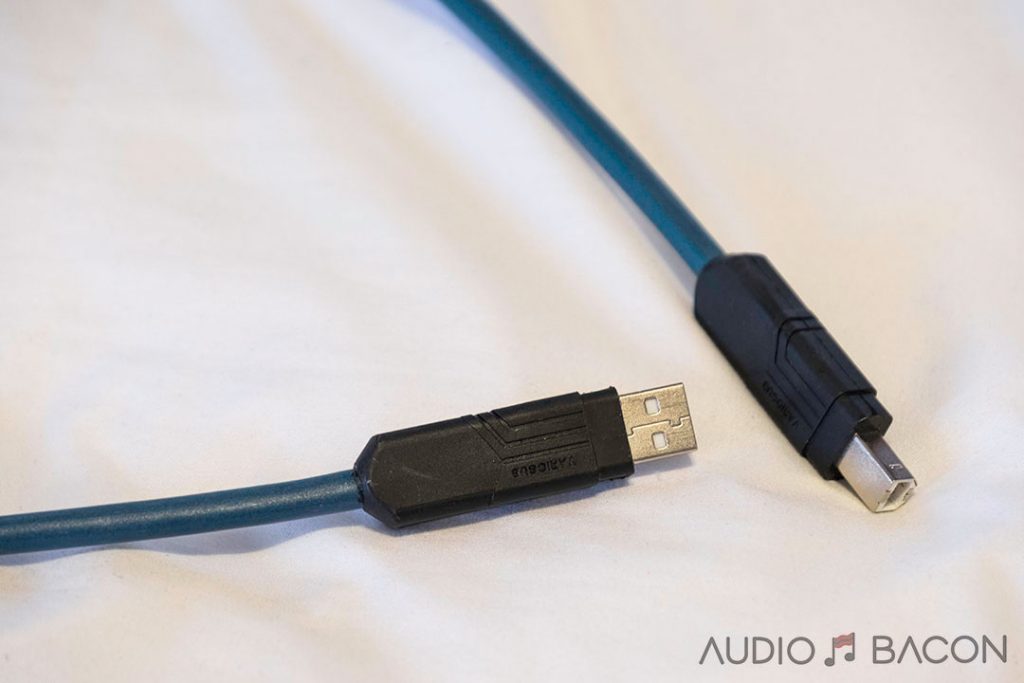 Build & Pricing
Price: Gigafilter, very high-end USB filter/cable 0.6m or 1m or 1.5m:
1750euros incl VAT in Europe
1600euros excl VAT out of Europe
As could be seen from the photos, the filter block is quite a bit larger than the USB cable/filter. The shield aluminum box measures about 6 in. x 1.5 in. x 2.5 in. and weighs about 14.5 ounces. The screws are potted for obvious reasons. Although I do have my Chord DAVE DAC situated above the Innuous Zenith SE server, the size and weight wasn't an issue. It sits behind the rack anyway so it cable aesthetics never bothered me.
The cable itself is quite flexible and uses Phoenix Contact VARIOSUB series connectors. These connectors make as good a connection to the server/DAC as any of the cables I've tried.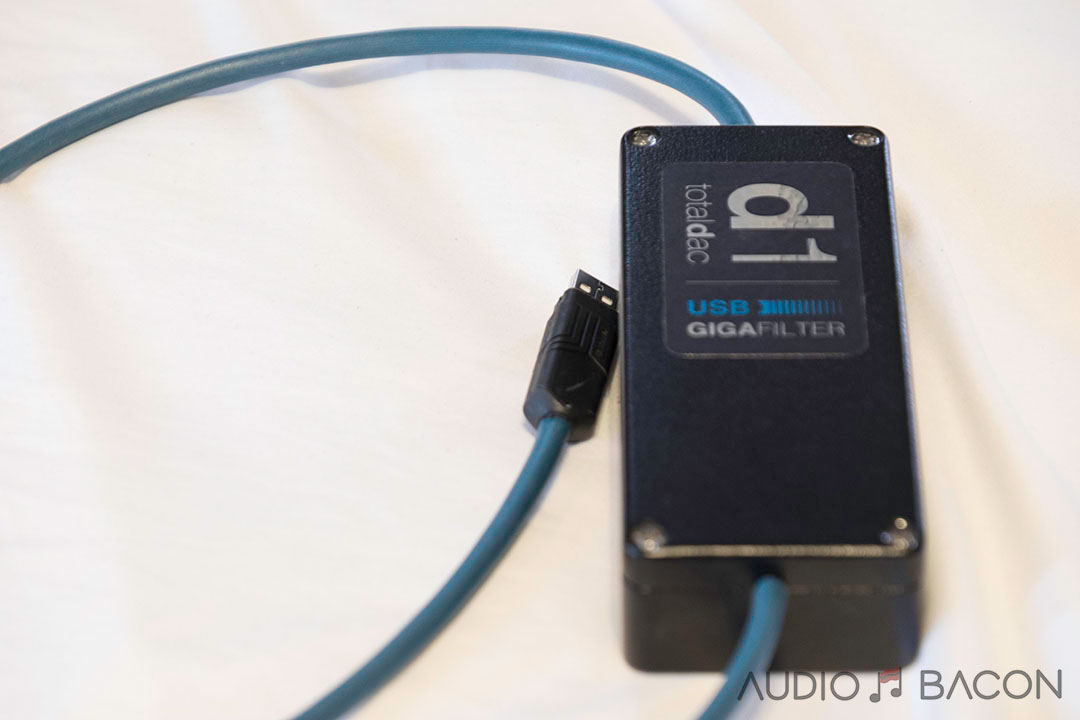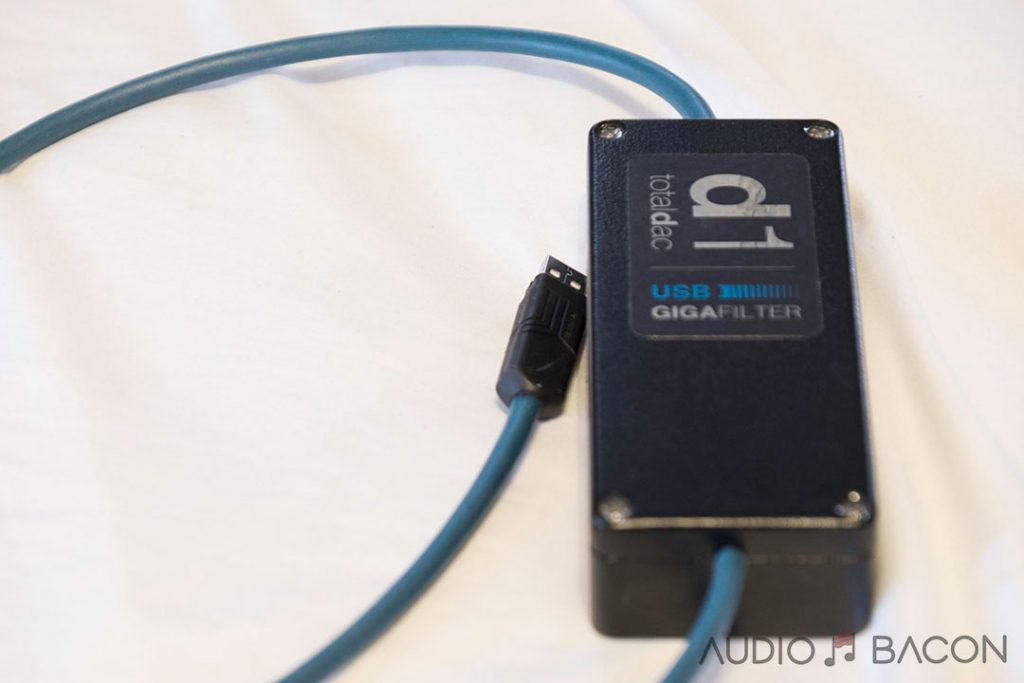 The Sound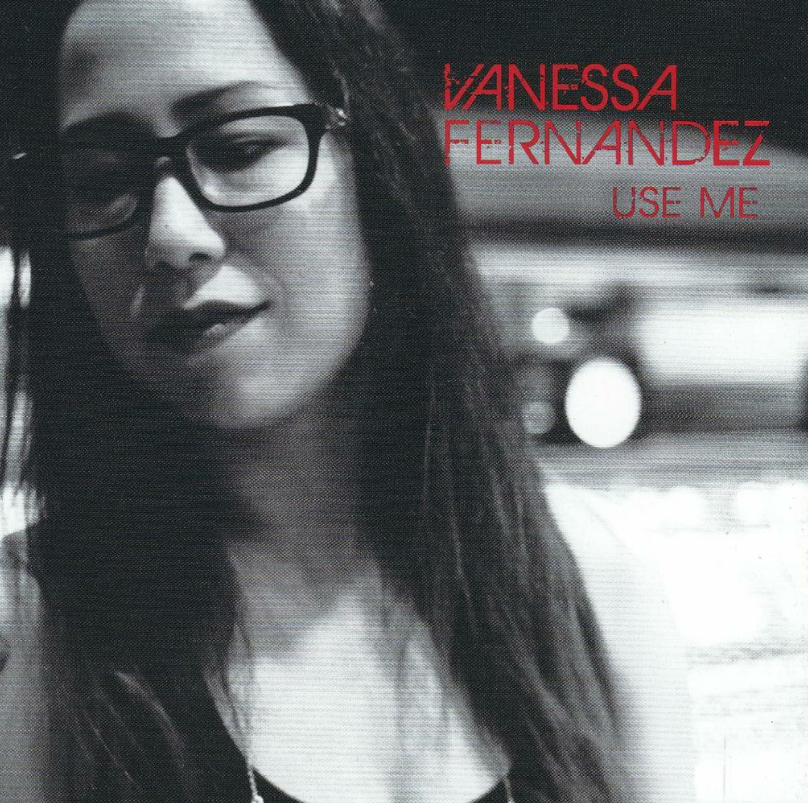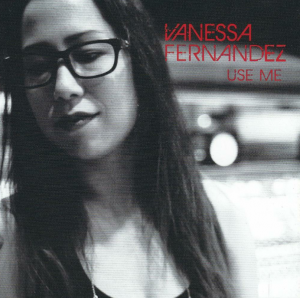 A Few Recordings:
Vanessa Fernandez – I Just Wanna Be With You
Natalie Merchant – Beloved Wife
Why Worry – Dire Straits
Kodo – Daraijin
Beck – Paper Tiger
Gaia – James Taylor
The Gigafilter has a distinct sound most Totaldac owners will be familiar with. It's very relaxed, smooth, neutral-ish/warm and provides a very easy listening experience. There are an ease and tameness to the lower and upper registers while maintaining a pseudo-densely relaxed tone across the entire spectrum. The first impression that comes to mind is "relaxed liquidity" and secondly "midrange forward and fullness." Although there is a trade for smoothness over texture, this midrange presence makes voices very full-bodied and intelligible. There is absolutely zero grain or harshness with this cable. Probably the least amount of grain and grime I've heard on any USB cable. Instead of being airy and tactile, it has a more "antique", sweeter, and softer allure.
One of my favorite tracks with the Gigafilter is Vanessa Fernandez's I Just Wanna Be With You. It's rhythmically rich with a naturally weighted and shaped voice. There are an effortlessness and soft-hue to the guitars which leads to a groovy and palpable listening experience. Same could be said about the male vocals and instrumentations in Dire Strait's Why Worry. There's an ever-lingering layer of sweet and smooth in all my listening sessions. Where the Gigafilter really shines is in its midrange forwardness and body.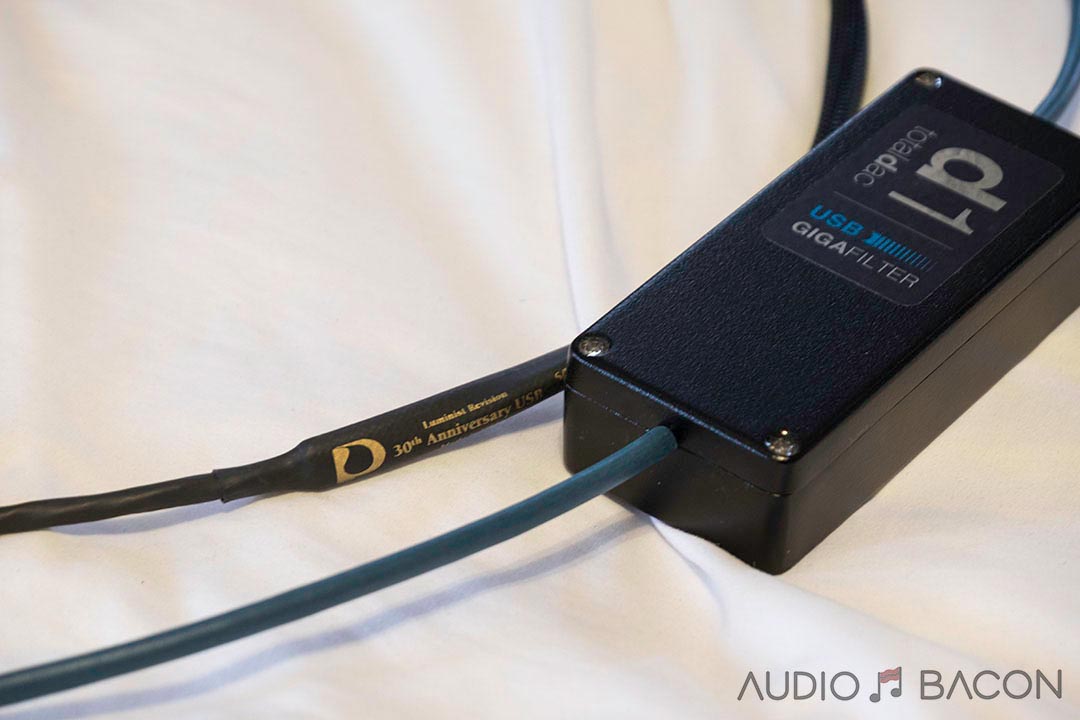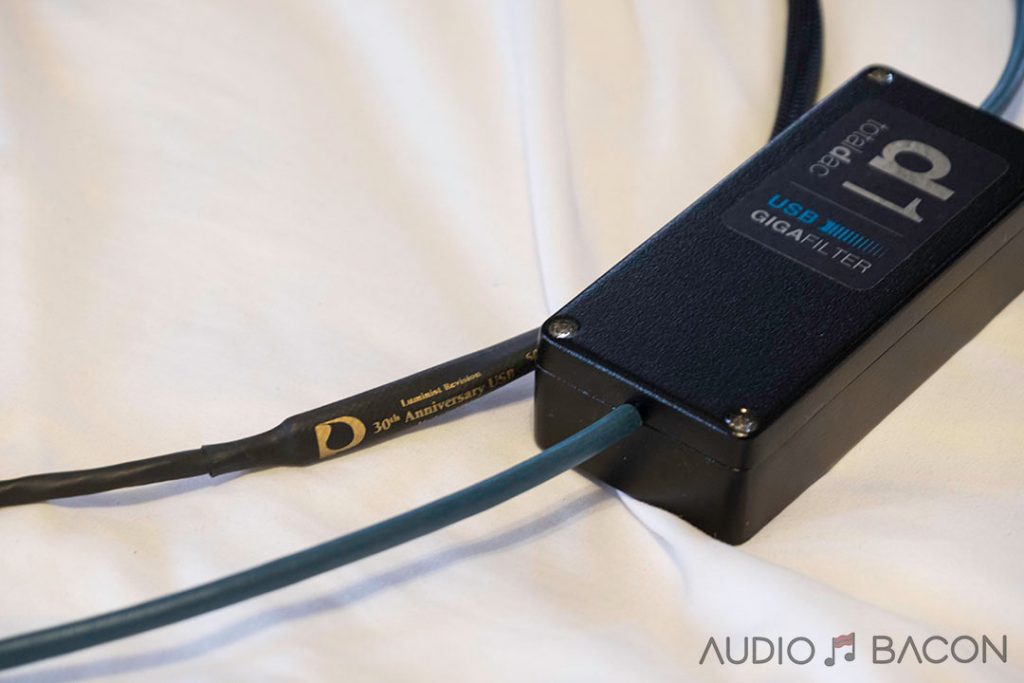 Comparisons
The only USB cable I have here at around this price point is the Purist Audio Design 30th Anniversary cable ($1,500/1.5m). It is one of my favorite USB cables due to its coherence and balanced sound. Purist Audio Design tends to do a great job of keeping musical flow without many compromises.
In comparison with the Gigafilter, they have slightly different design philosophies. For one, the PAD uses a ferrite in the middle of the cable instead of a filter block. Both sound very liquid and grain-free. There's no hint of digital harshness from any of these cables. They're both very similar in tone as well, with the Gigafilter being very slightly more warm with a denser coat.
As far as soundstage, the Gigafilter is more intimate and "meaty." The PAD is larger and quieter with better layering. The PAD is relatively thinner sounding with more defined vocal/instrumental outlines while the Gigafilter is thicker with softer shapes. Mids on the Gigafilter are more fleshed out and pronounced while the PAD is on an equal plane in its entirety. The PAD has more clarity and air while the Gigafilter has more weight and silkiness.
As usual, there are always tradeoffs and the choice is whatever sounds better to you.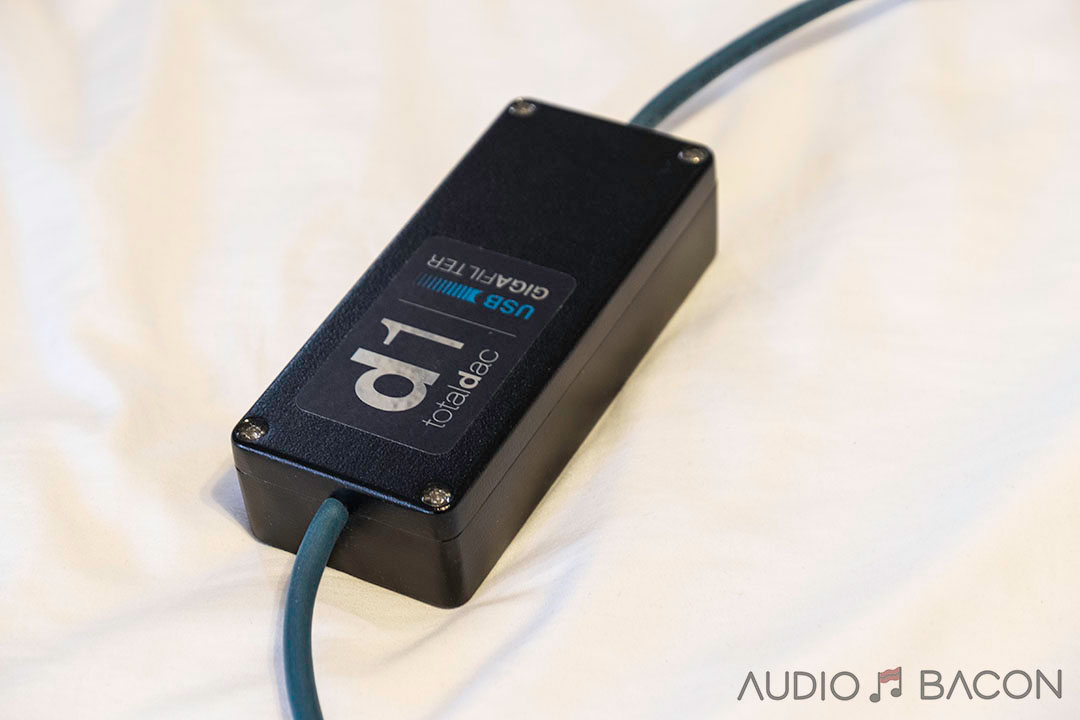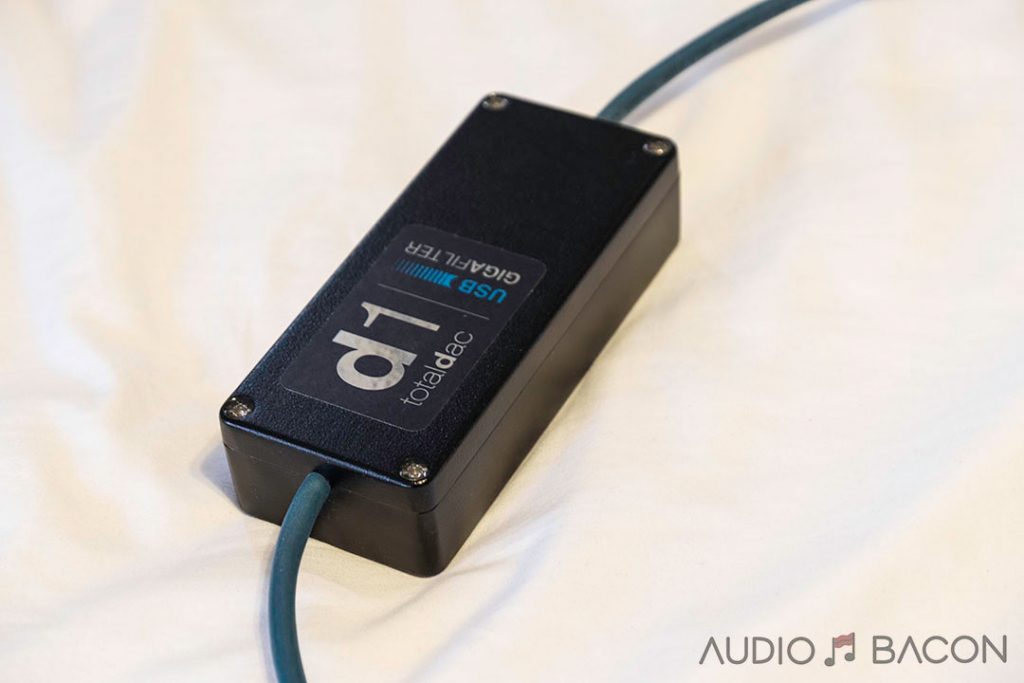 Final Thoughts
The Totaldac d1 USB Gigafilter cable has a very relaxed and liquid sound. The mids are more forward and very well-contoured, which gives vocal recordings a pleasingly sultry and bloomy sound. It's free of any digital harshness and has a very analog-sounding presentation. The best thing about this cable is its solidity in the mids. This makes listening to vocal recordings a sheer joy.
A simple search will reveal that there are plenty of happy customers with the Totaldac d1 USB Gigafilter cable in their systems. For current owners of Totaldac server/DAC, I suspect this USB cable will synergize very well. Here's one system. At a price of around $2,000 USD, this cable isn't inexpensive. Luckily, Totaldac has a 14-day trial which is plenty of time to see if it'll work on your system.
For more information on the Totaldac d1 USB Gigafilter.