Chord Company's new XLPE technology gives two further loudspeaker cables the X factor.

New OdysseyX and EpicXL are the latest cables to benefit from the XLPE-tech performance upgrade
25th January 2019, Wiltshire: Chord Company has introduced its latest insulation technology, XLPE, to two further loudspeaker cables. The Wiltshire A/V cable specialist, who has been hand-building its cables in England since 1985, has upgraded both its Odyssey and Epic cables with XLPE as part of its commitment to continual improvement.
The new OdysseyX and EpicXL have both been upgraded from PTFE (often referred to as Teflon™) to XLPE (Cross-Linked Polyethylene) and will join a number of recently launched loudspeaker cables offering improved performance over their predecessors.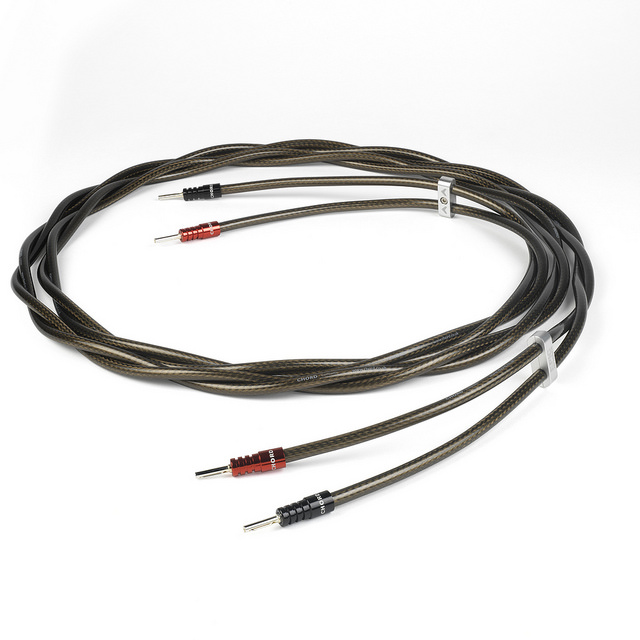 XLPE doesn't suffer the same phase issues as PTFE and following extensive listening tests at the factory, the phase properties of XLPE became apparent, giving a marked improvement over the previous PTFE insulation; the benefits of the new XLPE-equipped speaker cables will be a focus for Chord Company's demonstrations at The Bristol Hi-Fi Show 2019.
XLPE made its first appearance in the September 2018-launched SignatureXL speaker cable and has since trickled down into RumourX and ShawlineX, which have now been joined by OdysseyX (A/V cable) and from Chord Company's mid-price options, EpicXL.
OdysseyX Loudspeaker Cable – A 20-year Journey
OdysseyX is a heavier-gauge version of Chord Company's RumourX loudspeaker cable. It uses the same materials as RumourX, yet its heavier-gauge conductors (also found in Chord Epic and EpicXL speaker cables) bring more detail and dynamics, along with greater control and definition across a range of A/V loudspeakers, large and small.
The original Odyssey was launched in 1998 and quickly set new standards for performance at the time. Its neutrality, wide compatibility and consistency of performance from system to system, rapidly made it one of Chord Company's most popular loudspeaker cables.
The new OdysseyX has silver-plated OFC conductors in a twisted-pair configuration. Its white PVC outer jacket has an 8mm diameter which is discrete enough to be unobtrusive in a typical A/V system.
EpicXL loudspeaker cable – Affordable Luxury
EpicXL combines elements of Chord company's Epic and (more expensive) SignatureXL speaker cables. It mixes the separately shielded conductor design from Chord SignatureXL with the silver-plated, XLPE-insulated 12AWG conductors of Chord Epic. The cable takes a crucial step forward in performance by using separate shields for each conductor. This gives greater neutrality, less noise, plus a bigger and more immersive soundstage.
Also featured, is a specially chosen soft PVC internal jacket which is added to correctly space the shielding and minimise mechanical noise. A high-density braid and foil shield is then applied to each set of conductors which is protected by a translucent outer jacket; again, chosen to reduce unwanted mechanical noise.
The conductors are twisted together and clamped in place before being terminated with either ChordOhmic 4mm banana or ChordOhmic spade connectors. By separately shielding the positive and negative conductors of each speaker cable run, a version of Epic that sounds markedly more refined and musically coherent can be produced. EpicXL is particularly good at carrying micro-dynamics and detail, and brings great separation and definition to instruments and voices. EpicXL is built to order and factory-terminated.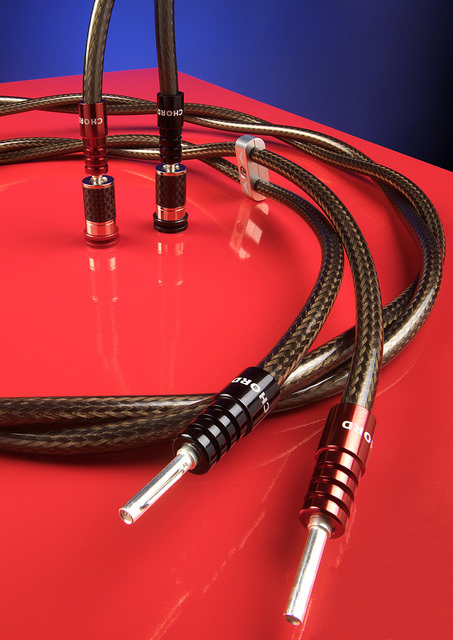 About XLPE – Xtra special
Chord Company's design engineers devoted considerable time investigating the different types of XLPE, first for SignatureXL and then for the subsequent models, and following extensive listening sessions, selected a version which, during testing, was found to be superior to the previous dielectric.
With material technology constantly developing and improving, alternatives to PTFE, such as XLPE, have allowed Chord Company to make performance improvements where the prohibitive cost of the flagship Taylon® insulation otherwise prevents its use at a given price point. Additionally, the new, improved speaker cables have been developed to harmoniously complement the company's unique ARAY technology interconnects.
The latest XLPE-based speaker cables offer a notable performance upgrade over their predecessors and are supplied with a *lifetime guarantee.
ChordOhmic plugs now fitted to all factory-terminated speaker cables
In addition to the new XLPE dielectric, all factory terminated speaker cables are now supplied with the new ChordOhmic speaker plugs. The silver-plated ChordOhmic plugs have drawn on the company's 34-year history in UK cable design and manufacturing, and are engineered to bring both the proven electrical and sonic benefits of silver to speaker cables. The plugs offer the conductivity and signal-preservation benefits of silver, backed up by the UK market-leader's legendary build quality.
Price and Availability
OdysseyX is available now priced at £30 per metre
EpicXL is available now priced at £600 for a factory-terminated 1.5m pair; £200 per extra (mono) metre
OdysseyX and EpicXL cables are available both off-the-reel or terminated at the UK factory. Demonstration sets are available at most Chord Company retailers.
*OdysseyX and EpicXL are offered with a lifetime warranty which includes defective materials and workmanship but excludes normal wear and tear, failure to follow instructions and/or any unauthorised repairs or modifications.